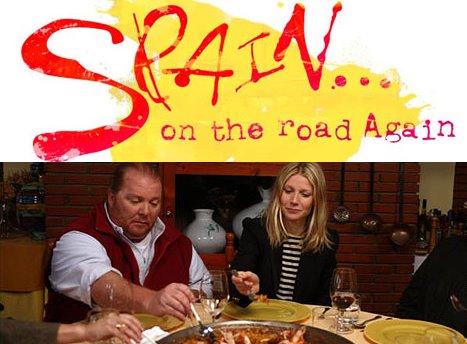 What do you get when you combine a Spanish road-trip, lots of wine and food and a cast featuring a world-renowned chef, an Oscar-winning actress, a fidgety New York Times food writer and a Spanish speaking native model?
A great show!
Description of Spain…on the Road Again:
"Settle in for a tasty ride through Spain with two of New York's most notable culinary figures, Maria Batali and Mark Bittman as well as two popular actresses, Gwyneth Paltrow and Claudia Bassols as they taste their way through the country."
Though the show has been airing for weeks now, I discovered it last week. I saw my first episode last Sunday night and loved it!! I will definitely be tuning in from now on. The four travelers have hilarious chemistry, and they each bring a unique perspective to the trip:
Batali, the expert on all things culinary.
Paltrow, with her plentiful philosophies about life, food and all things lifestyle related.
Bittman, the pessimistic-toned food writer who is apparently quite picky yet curious.
Bassols, the Spanish beauty whose perkiness and native phrases, have no end.

It's so fabulous. Watch it! Check your local listings. Or you can buy the DVD set on the Spain : On the Road Again, website.
Here is a clip:
A few more clips after the jump…. MORE CLIPS: