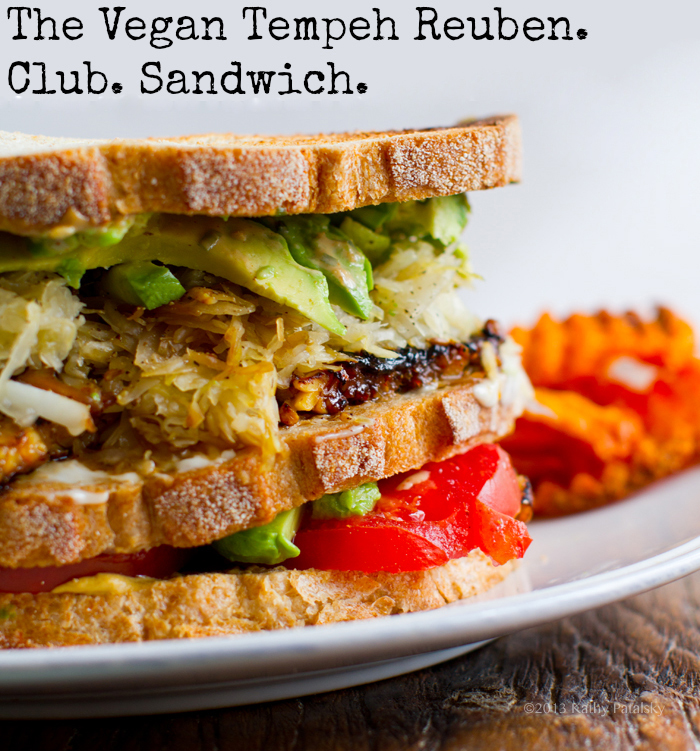 What is better than a delicious sauerkraut-stuffed, blackened tempeh infused, sassy stacked Tempeh Reuben Sandwich? How about a Tempeh Reuben Club Sandwich! This monster of a sandwich is built for two to share and tiny mouths need not apply. OK, tiny mouths are welcome, but you may need to unstack as you devour this amazingly yummy dish. Get my recipe and find out what all the buzz is about when it comes to vegan reuben sandwiches!..
Pile it op..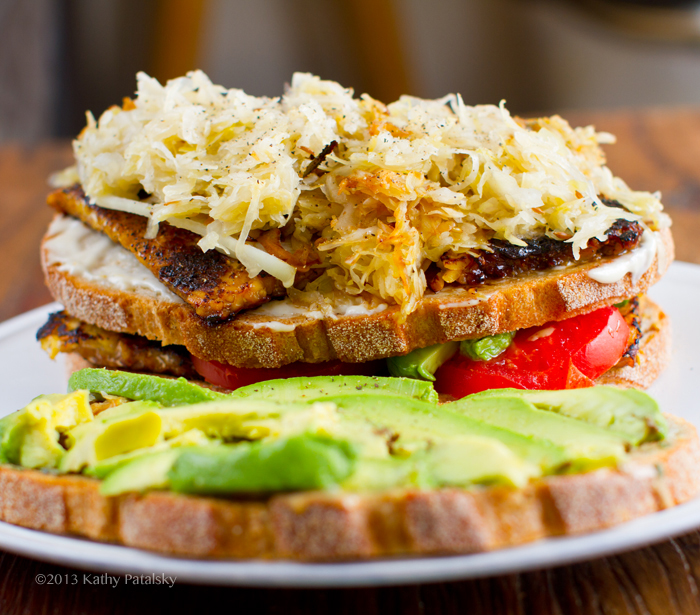 Monster 'wich. for two..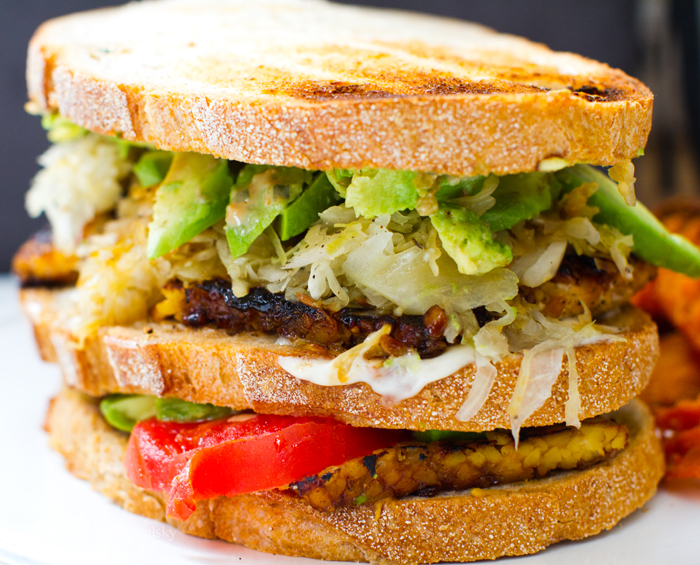 Blackened tempeh for stacking..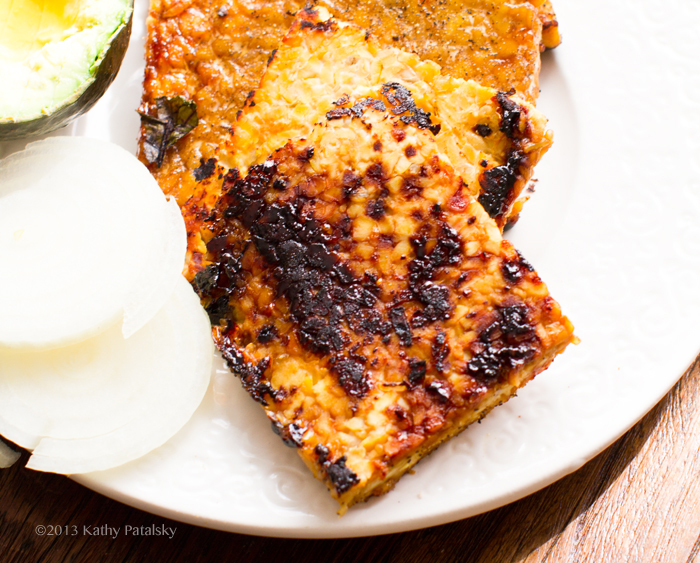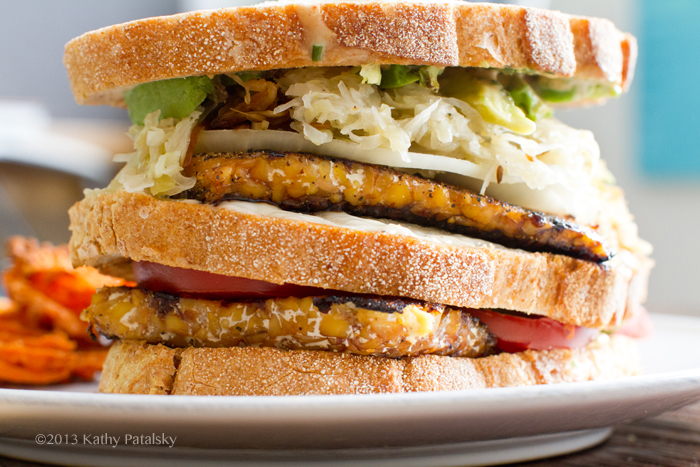 Three slices. Three spreads.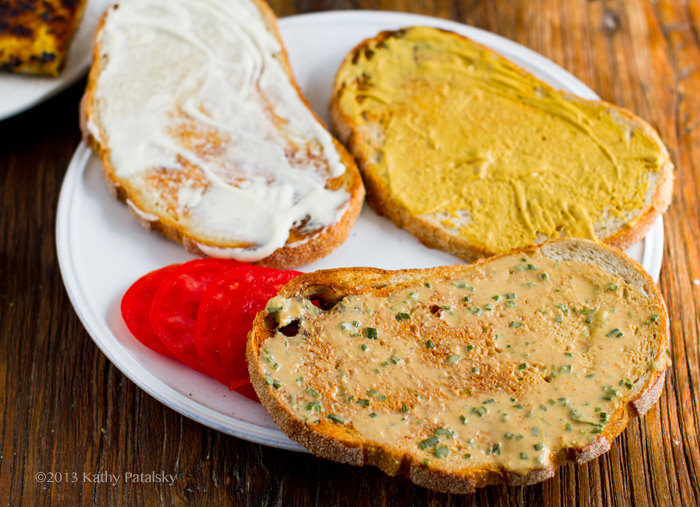 All those goodies…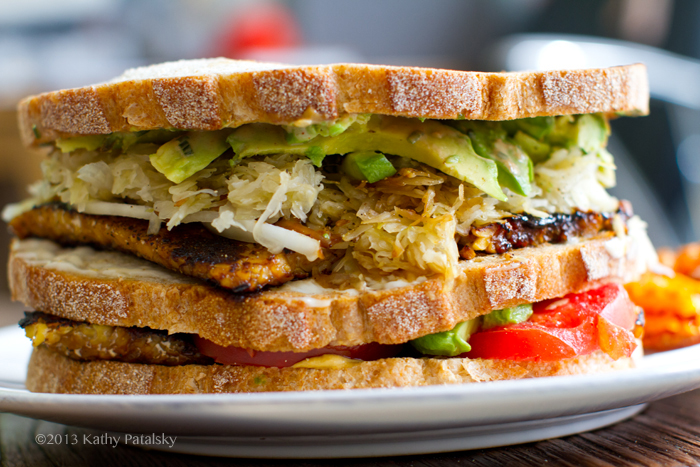 My professional advice: Add sweet potato waffle fries..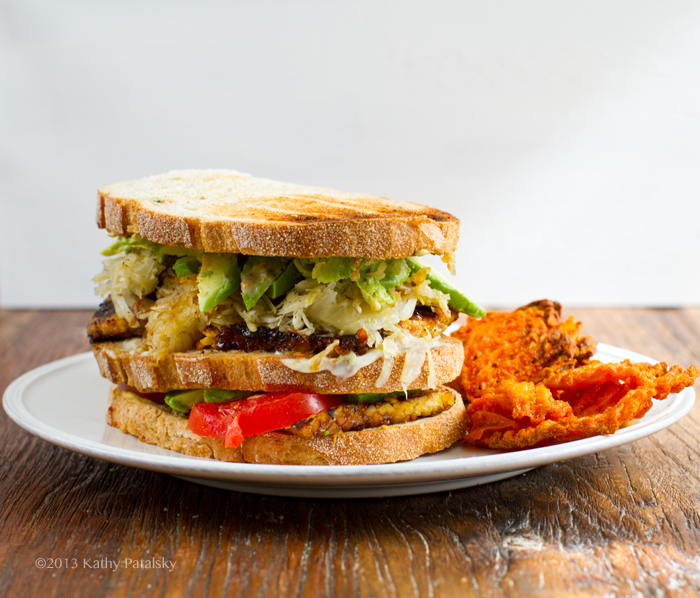 Hello Reuben. Sandwich. I have to thank my husband for turning me on to "reuben" sandwiches. Growing up in Santa Cruz California, I actually never really knew what a "Reuben" was. Corned beef, what is that anyways? (Back then when the foodie world was smaller, it was more of an NYC-ish thing, yes?)
Well this legendary (classically meat-stuffed) sandwich has made its way into the vegan world with a proud stance and long line of fanatical followers. (Me included!) If we go to a new restaurant that has a vegan reuben on the menu, we kinda have to order it just to compare how it stacks up (ha) against the vegan reuben competition.
But this divine darling of a sandwich is actually terribly easy to make at home. Perfect dinner if you ask me. Pair with a nice side salad and maybe some sweet potato fries and boom. Dinner is amazing.
..actually more like AH-MAY-ZING.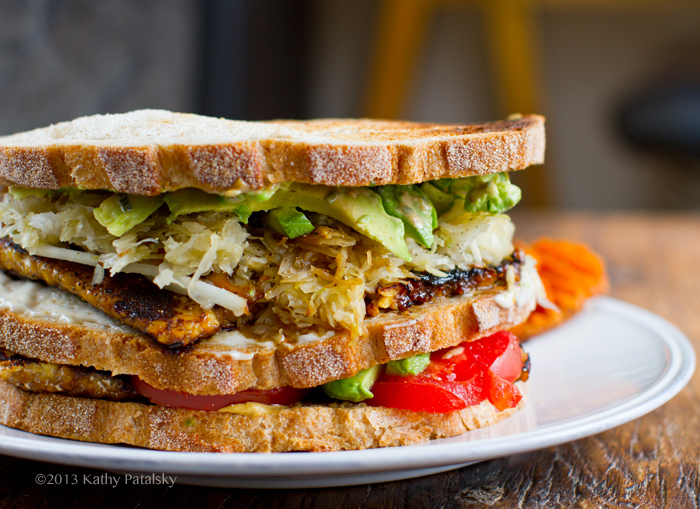 Make Ahead Sandwich. And even better. I made this sandwich around lunch time. Stuck it in the fridge and reheated it in the oven (350 degrees for 15 minutes) and it was AMAZING reheated. I was kinda shocked at how well the outer layers of bread toasted up and that inner layer stayed moist yet not mushy. Tempeh is good at staying firm in the fridge since it doesn't hold too much water (like say tofu would). So yes. Totally make this ahead of time and reheat it later that evening of for lunch the next day.
Sandwich for Two. I find it SO much funner to make ONE sandwich and just split it. Because in sandwich making there is ALWAYS one sandwich that looks a l'il better than the other one. This way you both win the best version. And you don't walk away hungry. Because really, one average stacked sandwich is sometimes not enough to satisfy. So, in swoops the mighty CLUB sandwich to save the day. Three layers of bread and toppings split between two people.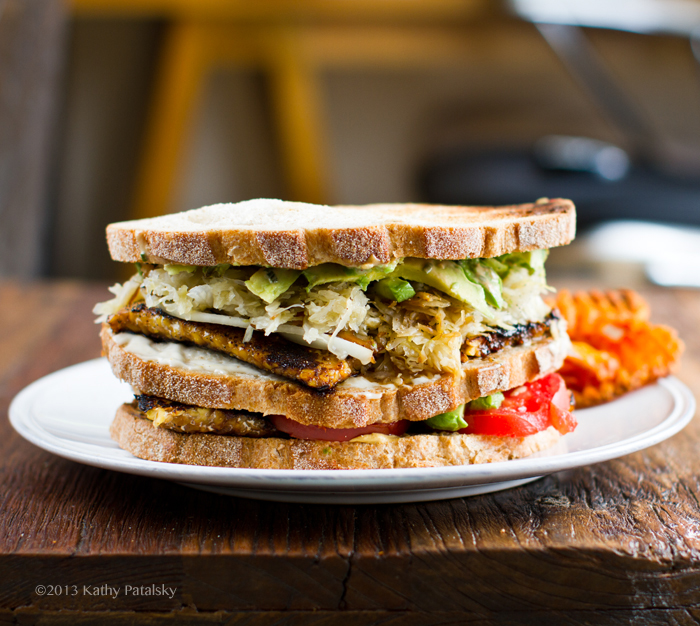 Now grab some ingredients and make this dish!
Tempeh Reuben Club Sandwich
vegan, serves 2
Maple Tempeh:
8 ounces tempeh, sliced in half then down center to make thin square slices
1 tablespoon maple syrup, grade B
2 teaspoon tamari
dash of fine black pepper
optional: a few splashes of liquid smoke
For Sandwich:
3 slices sourdough bread* (the long wide slices from the middle part of a bakery round)
1 ripe avocado, sliced and splashed with lemon juice
1 small tomato, sliced
¾ cup sauerkraut
3 rings of onion
vegan mayo + Dijon mustard for spreading
optional: add some melted vegan cheese if you dare)
Russian Dressing Recipes – three options:
version one, rustic & nutty:
2 teaspoon tahini
1 teaspoon maple syrup
½ teaspoon tamari
1 teaspoon lemon juice
1 teaspoon chopped chives or parsley
pinch of paprika
version two, easy and creamy:
1 tablespoon vegan mayo
1 teaspoon maple or agave syrup
dash paprika
1 teaspoon finely chopped chives or parsley (opt'l)
¼ teaspoon horseradish or dash of cayenne
version three – sweet, sassy & classic (adapted from Martha Stewart)
2 tablespoon vegan mayo
2 teaspoon ketchup
1 ½ teaspoon pickle relish
2 teaspoon lemon juice (fresh)
½ teaspoon vegan Worcestershire sauce (try Annies brand)
⅛ teaspoon coarse salt
pinch of fine black pepper
Notes:
* If you only have square bread you should be fine, but the portion will be smaller and you will have leftover toppings so the longer the bread slice the better.
Directions:
1. Prep all veggies and slice up tempeh. Whip up your Russian Dressing. All three recipes will work.
2. Toast all three slices of bread. Add vegan mayo to one slice, Dijon mustard to another and the Russian dressing to another. Set aside, this helps spreads absorb in the toast a bit.
3. Heat up skillet. Add a tiny splash of veggie oil to pan and then add the sliced tempeh. Add the tamari and maple too. Allow to cook for about 2 minutes on each side. Edges should blacken from the tamari and sweet maple syrup. Add some pepper before turning off heat. Note: I know many of you prefer to steam your tempeh before sauteing. If this is you or your really hate any bitterness in tempeh, feel free to steam before adding to saute pan.
4. After you remove the tempeh from pan, quickly add the sauerkraut. I like tot do this because it warms the kraut, blackens a few of the edges and adds more flavor. Or you can simply use raw cold kraut if desired.
5. Start stacking! Add one layer of tempeh, then some tomatoes on top. Then add the avocado. The avocado will happily mush into the dry bottom of the middle layer of toast you stack next. Add middle toast. Then another layer of tempeh, onion, and all that heavenly kraut. Last, add more avocado and the top layer of toast.
Serve now or you can add to the oven to make your sandwich extra toast and warm. Or chill in the fridge until ready to serve. For reheating: 350 degrees for 10-15 minutes will do it.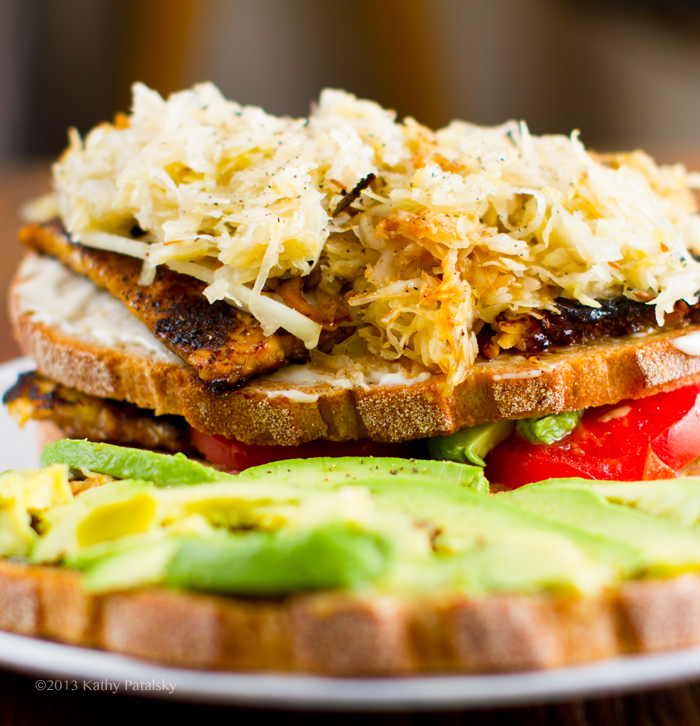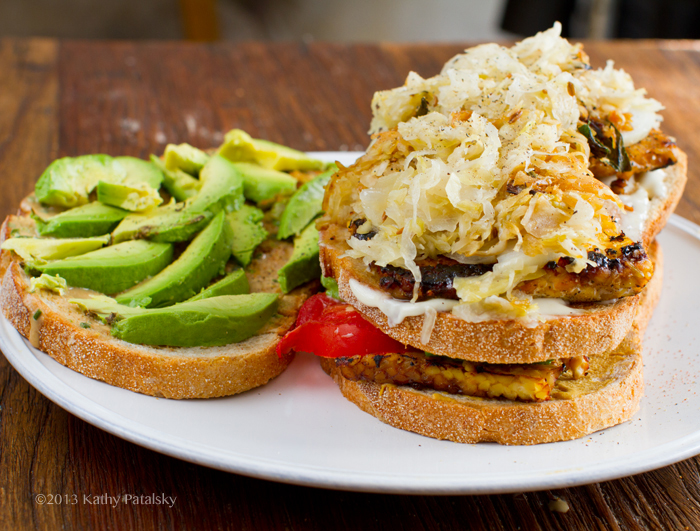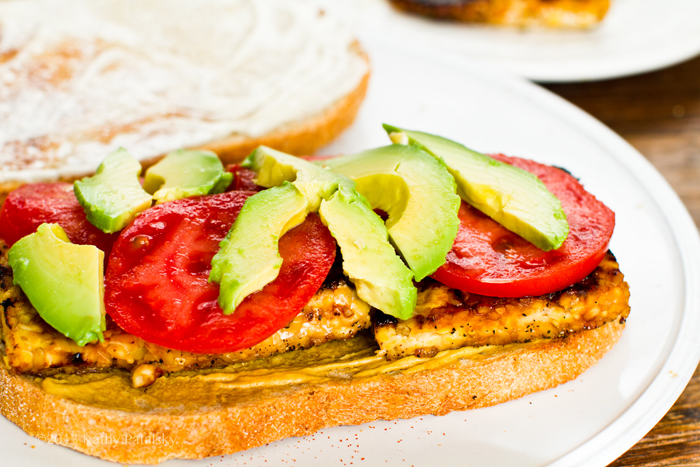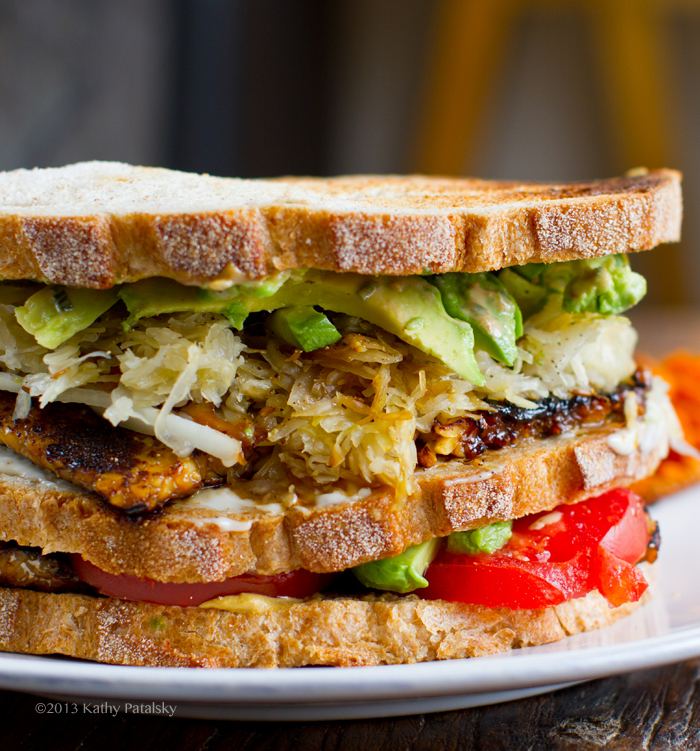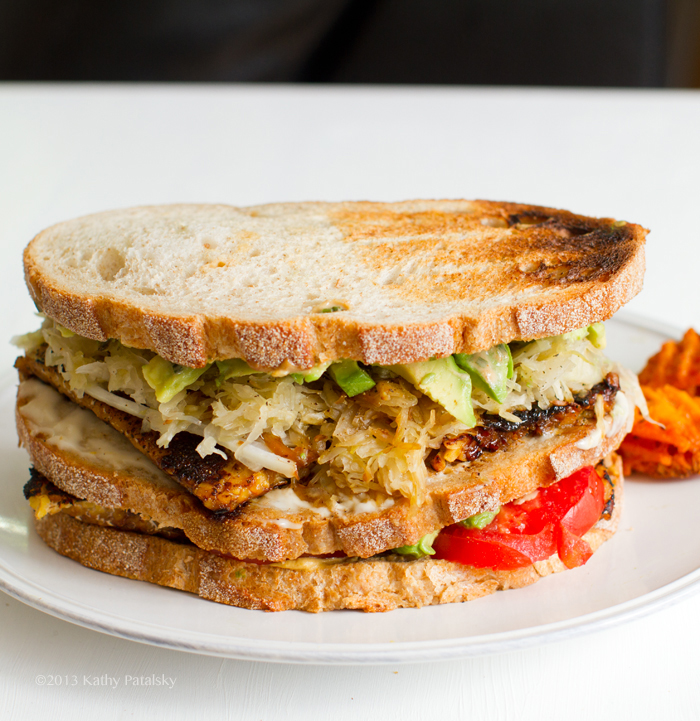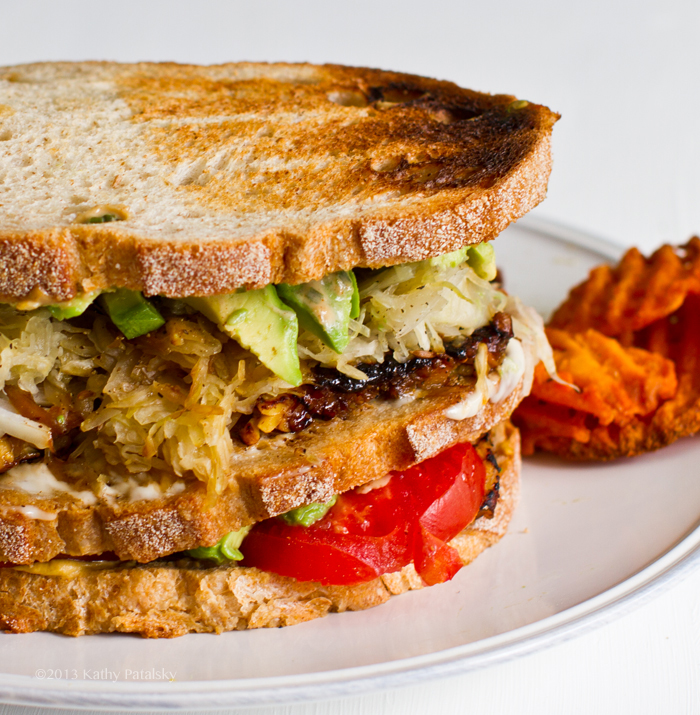 Oh and my backyard hummingbird friends are doing well. Here is the mommy feeding the chickies. (Boo strong winds this week!) I need a super zoom lens.. 🙂