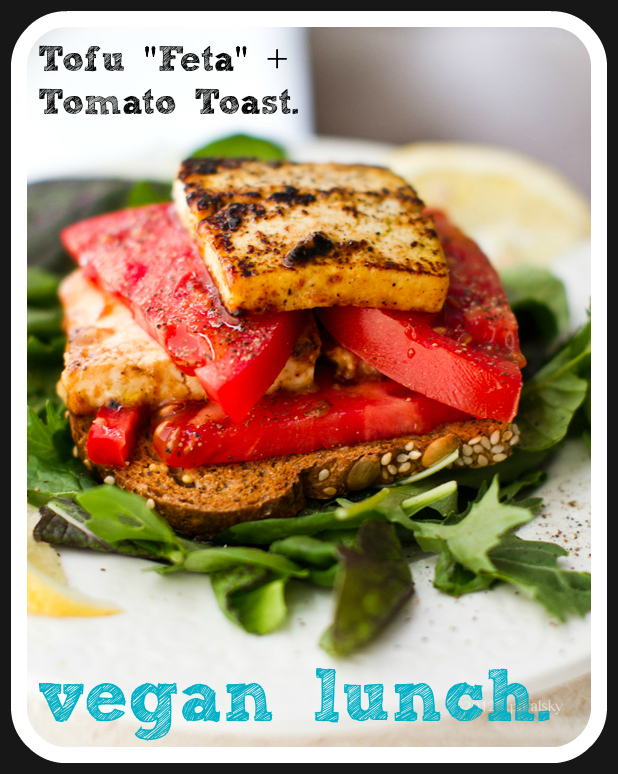 I love a challenge. So when I saw the Bon Appetit Magazine "Cook the Cover" Photo Challenge laid out with a beautiful slice of tomato + feta + herb topped toast – I was craving to verganize this rustic, open-faced, summer sandwich and snap my own pics to submit to their challenge.
As you can see from Bon Appetit's recipe – those hunky slabs of white feta were really the only component that I needed to veganize. And since I'm a huge fan of tofu-feta – like the cubes I used in my Watermelon Basil Tofu Feta Salad – I knew exactly what to do.
Then I threw in a few ultra juicy, fire engine red, farmer's market tomatoes and some spicy summer greens and my simple slice of grain toast is made all fancy in a flash. Get my vegan tomato toast recipe – inspired by Bon Appetit's cover..
Tweak the recipe.. An idea worth trying – slather some Avocado Dream Dip on the toast… (Or layer with buttery sliced avocado.)
I love this sandwich because it it elegant and rustic at the same time. The simple layers and minimal components make it elegant while the juicy, messy, flavor-infused aesthetics of each bite makes it quite cravable. Slice into quarters if you want easy eating bites. Or go all in and munch on the whole slice.
Pile a few pinches of greens on top as you eat – pinch a few and eat as you would potato chips. Tell me you've eaten handfuls of greens like potato chips before, yes? These greens are a spicy mixed green blend.
Tomato Tofu Feta Open-Faced Sandwich
vegan, makes two slices
2 slices whole grain bread, toasted (I used this bread.)
1 large heirloom tomato, sliced into half moons (or a few small)
4 slabs of tofu feta (recipe below)
2 handfuls of mixed greens or herb salad
extra virgin olive oil (to drizzle. I used a garlic infused variety)
fine black pepper over top – to taste
optional: cayenne or chili oil or chili spice for some heat

Tofu Feta
4 rectangle slabs of tofu
½ large juicy lemon, juiced
1 heaping tablespoon white miso paste
1 teaspoon maple or agave syrup
sprinkle of fine black pepper
salt to taste if desired (use sparingly since miso is already salty)
garnish: lemon slices
Directions:
1. Prep the tomatoes and slice them.
2. Take your chilled tofu. Slice into rectangles and squeeze dry with a paper towel.
3. Combine the miso and lemon juice in a shallow bowl and stir until the miso thins. Soak the tofu in this thick wet paste until it lightly coats both sides of the tofu. Add some pepper to the tofu.
4. Add a splash of cooking oil to a saute pan. Wait until it is hot. And add the miso lemon soaked tofu. Sear on both sides – add the sweetener half way the cooking process.
5. Remove the tofu from the pan and allow to cool. Add more pepper if desired.
6. Toast the bread, drizzle with oil and begin stacking the tomato and tofu on top. Pile the toast on top of a plate of greens. Add additional pepper and oil as desired to plate. Lemon slices on the side. Slice for easier eating.
Also try: avocado would be tasty on this stack..