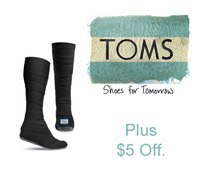 I'm a big fan of TOMS Shoes. For every pair you purchase, TOMS will give a pair of shoes to a child in need. Pretty awesome.
Vegan Wrap Boots for Fall! Not only does TOMS do a world of good for tiny feet in need across the globe, but they also have a few beachy-urban-chic vegan shoe styles. I've already ordered my vegan boots for fall, they look super cozy and sleek. Find Vegan TOMS Shoes!
in the feel-good-while-you-shop online store.
Click ahead for a few of TOMS fall styles and get a limited time offer of $5 off your shoe purchase…