If I were to hand you a big bowl of cherries and cashews, what would you think? Oh, healthy snack! Or. Mmmm, dessert! Maybe both, but most likely, you'd consider the duo a healthy combo to nosh. Well then. This recipe today, is a healthy bite. In the form of a decadent ice cream dessert.
Today I share Vegan Amaretto Cherry Ice Cream, a recipe from the bowl-tastic new cookbook by my friend Jackie Sobon, Vegan Bowl Attack. This recipe is made using creamy cashews and plump, sweet cherries. I am in love…
Jackie is the talented blogger + photographer behind Vegan Yack Attack. She is also a regular contributor to Finding Vegan – check out her gallery of recipes. Yum. I always get excited when one of her creations pops up on my screen. They are always fun, creative, colorful and delicious — non apologetic vegan food.
So first off, Jackie's first book is awesome! The book is packed with delicious BOWLS. I don't know about you, but I pretty much eat every meal out of a bowl these days, so this is perfection. My plates feel very unloved.
Jackie shares bowl recipes for every meal including breakfast, snacks, soups, entrees and desserts.
My fave recipe in the book is probably the Spicy Sushi Bowl. I tried it at Jackie's book party and love the concept! I also love the gorgeous shot of the Mezze Fusion Bowl. Perfect party platter.
And anything in the desserts section.
The book is beautiful with a hardbound cover and vibrant photos throughout. Snag Vegan Bowl Attack on Amazon and start loving your vegan bowls. And ps, I bet Jackie would really appreciate your review over on Amazon too,
So anyways, I had signed up to make the amazing Corn Chowder for this review, but I was just completely craving cherry ice cream yesterday, so I whipped up her Amaretto Cherry Ice Cream.
I had to make a few tweaks, but the ice cream still turned out so so good. I had this big bowl for lunch. I mean it is basically cherries and cashews, right??? Healthy. 😉
The original recipe is below, but here are the tweaks I made:
* I used all water in place of non-dairy milk. I was worried this would hurt the "creaminess" of the dessert, but nope! The cashews are SO creamy on their own. (Why, you ask? Because I just got home from a trip and literally had zero non-dairy milk in my fridge)
* I did not have amaretto. I know, I know! But I used real vanilla bean extract in its place, about ½ tsp.
* I reduced the maple syrup to ¼ cup.
* I added in an extra ½ cup of cherries
* I used frozen organic dark cherries, not fresh
* I didn't make the sauce, since no amaretto, but I am absolutely making it next time! I know it will be the perfect addition to this dessert.
..I know that is a lot of little tweaks, but that is kinda what I love about this book and Jackie's recipes. You don't have o always be perfect with ingredients. Bowls are very forgiving. If you are missing an ingredient or two, you can make smart subs, if you feel comfortable doing that.
LOVE this book! Congratulations on all your hard work paying off Jackie!
Snag Vegan Bowl Attack on Amazon!

* Recipe provided courtesy of Jackie Sobon.
* Photos in this post are by Kathy Patalsky
* Amazon affiliate links are present in this post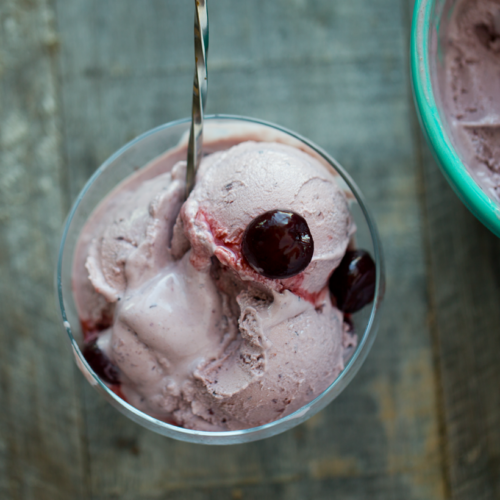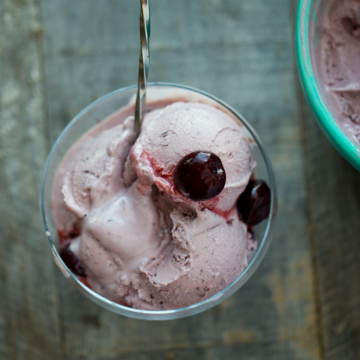 Amaretto Cherry Ice Cream
Gluten-free Booze plus dessert is one heavenly combination that is hard to mess up. But it is even easier to make right when the recipe includes beautiful dark, sweet cherries and an ultra-creamy ice cream.
Print
Pin
Ingredients
Boozy cherry sauce:
1 pound dark sweet cherries, pited

½ cup amaretto

2 tablespoon organic brown sugar
Ice Cream Base:
1 ½ cups (210 g) raw cashews, soaked in warm water for 1 hour

1 ½ cups (355 ml) unsweetened plain soy milk

⅔ cup (103 g) dark sweet cherries, pitted

5 to 6 tablespoons (75 to 90 ml) maple syrup

2 to 3 teaspoons (10 to 15 ml amaretto)

⅛ teaspoon salt

Dark sweet cherries, pitted and chopped (optional)
Instructions
To make the boozy cherry sauce: Place all of the ingredients in a small pan over medium heat and bring to a simmer, uncovered. Adjust the heat to medium-low and simmer for 15 to 20 minutes, stirring occasionally. You want the cherries to be soft and breaking apart a bit. The sauce should coat a spoon once it has cooled slightly. Transfer the sauce to a small bowl and refrigerate.

To make the ice cream base: Drain and rinse the cashews. Place the soy milk and cashews in a high-speed blender and purée until completely smooth. Add the rest of the ice cream ingredients to the mixture and purée until smooth; you will see specks of cherry skins, which is fine.

To assemble: Pour the base into an ice cream maker and churn for 25 minutes or until thick but not frozen solid. In the meantime, prepare a 9 x 5 x 3-inch (23 x 13 x 7.5 cm) loaf pan by lining it with parchment paper. When the ice cream base is ready, take the cherry sauce out of the refrigerator. Begin filling the loaf pan, alternating layers of the base and the cherry sauce and making 4 layers of the base and 3 thinner layers of sauce. Drag a butter knife through the mixtures to create swirls. Place the ice cream in the freezer for 1 to 2 hours. When you are ready to serve, take the ice cream out and let soften for 5 to 10 minutes before scooping, if necessary. Garnish with fresh cherry pieces, if using, and servein small bowls.