Try something new for pizza night.. A veggie-based crust!
Have a family fun, vegan + gluten-free pizza night with this Vegan Cauliflower Pizza Crust with pizza-y herbs and chickpeas. Load on your fave toppings, add a big side salad and maybe some fizzy drinks like ginger ale, sparkling water with lemon or kombucha. And dive into a few warm slices of pizza.
This was my first attempt at making a cauliflower pizza crust (I was dying to see what all the fuss is about) and now I totally get why this recipe is so hot right now! This is a delicious, healthy option for pizza night. LOVE.
And I was so happy that I pulled off a vegan, egg-free version of this popular recipe! Check it out..
I was seriously doubtful that this was A) going to work and B) taste good. But I had to try, right? So I whipped up these pizzas on a sunny Saturday afternoon. In just 40 minutes we had the most amazing pizzas! I was pretty surprised how much I LOVED these.
Cauliflower pizza crust. Kathy approved! New dinner night fave.
The mixture of "pizza dough" aka cauliflower goodness!..
It actually tastes really yummy baked just as is!..
But of course we added sauce and toppings..
For sauce.. try pesto, marinara, BBQ sauce… so many options!
Toppings.. vegan pepperoni, mushrooms, onion, vegan cheese, garlic..
Warm from the oven!..
Vegan + gluten-free + grain free pizza night..
So, what does it taste like? The crust is tender and has a caramelized and hydrated texture while being bread-like in a strange and lovely way. The flavor is salty and cheezy and again, caramelized. The cauliflower has a mild and lovable roasted veggie flavor that pairs well with the cheeziness and herbs. Truth be told, it is really hard to describe. You just need to give it a try for yourself. (And really try to snag some of the egg replacer I link to in the recipe… I haven't tested it with other replacers yet.)
The cauliflower crust thing is awesome! I kept ogling them on blogs, but they always had eggs. But I did a few things to make this work and improve the nutrition profile of the crust.
– I added chickpeas! When in doubt, use chickpeas, right? That is the vegan chef way! This totally worked because the mashed beans binded the crust well and also added nutty flavor and loads of added nutrients like fiber, iron, protein and b vitamins.
– I used Follow Your Heart's new egg replacer! I had tried it for scrambled "eggs" a good month ago and really wasn't very impressed. Tofu scramble works much better for a vegan scramble. BUT for baking and egg replacer uses like this, this egg replacer ROCKS. It has a VERY eggy flavor which is perfect for a cauliflower pizza crust.
So really try to find the Follow Your Heart egg replacer for this recipe… it adds a lot of flavor and binds perfectly.
I listed a few other options in the recipe if you need those. And side tip, black salt is a great 'eggy' flavor accent too if needed.
Oh and so what did we do with our fresh-from-the-oven afternoon pizzas? Nibbled as much as possible and placed them back in the fridge for an easy re-heat and done dinner tonight.
*this post contains Amazon affiliate links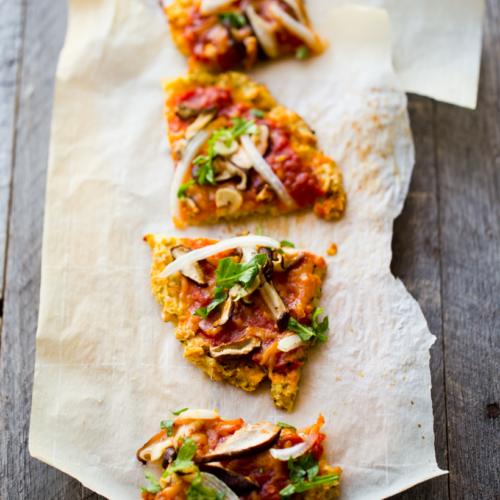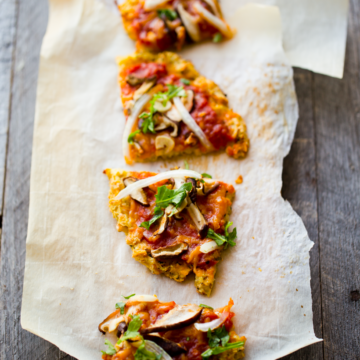 Vegan Cauliflower Pizza Crust
This cauliflower pizza crust is flavorful, tender and totally holds together. Such a delicious grain-free way to make pizza!
Print
Pin
Ingredients
3 cups riced cauliflower ** I specifically used Trader Joe's frozen riced cauliflower and had success. I have tried using a larger "grain" cauliflower rice with mixed results and less binding power. I highly suggest using the TJ's frozen riced cauliflower! — Otherwise, you will need to grate or "rice" a whole head of cauliflower. The bits need to be about the same size or smaller a white rice. The smaller the "grain" the easier the binding will be. I would also try experimenting with steaming and freezing your riced cauliflower to achieve the same quality of texture that the TJ's product that I used has.

1 ½ cups chickpeas, canned or boxed, drained/rinsed

1 tablespoon extra virgin olive oil*** You could try subbing with water or lemon juice if you are trying to use less oil.

1 Vegan Egg (see options below)

1 teaspoon salt-free pizza herbs (oregano, thyme… – I used Penzey's Spices Frozen Pizza Blend)

2-3 tablespoon shredded vegan cheese (I used Daiya cheddar)

optional: 1-2 teaspoon nutritional yeast (I skipped this, but it would add an extra cheezy flavor — or use this in place of the cheese shreds)Vegan Egg Options:

1 – I used the Follow Your Heart VeganEgg egg replacer — 1 egg worth

2 – Try a flax egg or some silken tofu, pureed or even a mashed sweet potato (about ½ cup)
Instructions
Preheat oven to 400 degree. Line a pizza baking tray or baking sheet with parchment paper.

In a blender or food processor (or with a hand masher) puree or mash the chickpeas with the extra virgin olive oil until a chunky puree/mash forms. It should look like really thick and chunky hummus.

In a large bowl, combine the riced cauliflower, bean puree, herbs, cheese, egg replacer and optional nooch. Stir and fold to create a very thick 'cookie dough' texture pizza 'dough.'

Using your hards, press out mini pizzas onto the parchment paper. I made two mini and one medium in size.

Bake the crusts at 400 degrees for about 20-25 minutes or until the edges start to brown lightly.

Pull pizza pans out, add toppings, crank oven up to 450.

Bake pizzas with toppings for 10-15 minutes longer at 450 degrees. (Longer time is needed for larger thicker crusts)

Slice and serve right away! The pizza cools off pretty quickly, so keep it in a warm oven until ready to serve.