I hope you guys are having a long, relaxing, lazy-day, happiness-filled holiday weekend. I am embracing the 'lazy day' part of all that. After a good week and a half of traveling up the east coast I am pretty excited to have a few days of doing nothing, back here in LA. I played around in the kitchen all weekend, watched some shows, went for a few walks under the sunny blue sky and soundtrack of birds chirping, and played with the kittens – a lot. Happy cats. I guess in my family, we never really got into the Memorial Day barbecue thing, but the Memorial Day lazy weekend thing, we are pros at that. So however you spent this long weekend, I hope you found some bliss.
And while I love the long weekend, I have to pause a moment and remember all those who died in active military service. I cannot imagine being a family who never gets to say goodbye. Or even to be one of the millions of families who constantly worry about their loved ones serving far away from home. My love and thanks goes out to all of you. Thank you.
Summer Salad. Memorial Day also seems to be the unofficial start of summer. And with summertime, comes salads and smoothies. My two fave things. And for salads, I love the variety of toppings that pop into my mind for the summer season.
For this salad.. I had been craving corn and black olives – salty-sweet toppings. So this Vegan Summer Fiesta Taco Salad with plantains, corn, olives, avocado and fajita tofu just kind of made itself. This salad reminds me of early summer suppers. And I loved it so much I am making it again tonight!..
Vegan cheese on top!.. (optional)
Taking a photo of your taco with your right hand and macro lens, with your left hand holding the taco.. Yup, that's about right. Last shot before we eat..

Giveaway. And don't forget to enter my $100+ giveaway with a bunch of awesome prizes including a $100 cash gift card, thanks to DOLE's Get Up And Grow fruit + veggies tour. (There were some problems with the link the first few days, but it it fixed now!)
And I have a feeling my next craving, once the heat really kicks into gear, is going to be watermelon-y..
Bring me all the watermelon https://t.co/3bTyebqmF5 Watermelon Frosty #365vegansmoothies 🍉🍉🍉 #SummerStartsNow pic.twitter.com/eSV6Md2gAu— Kathy Patalsky (@lunchboxbunch) May 30, 2016
vegan cheese..

or no vegan cheese..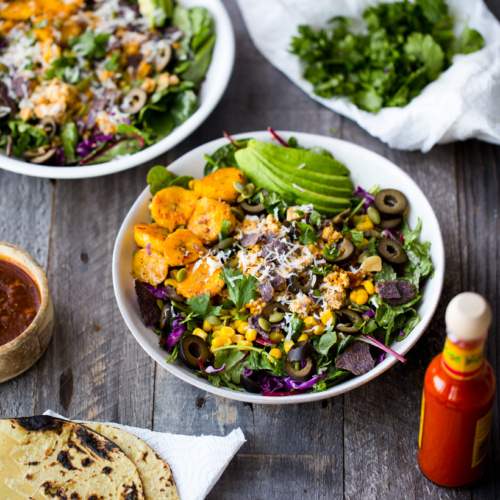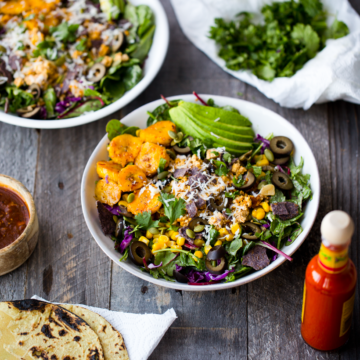 Vegan Summer Fiesta Taco Salad with Plantains, Corn, Avocado
This summery salad is an entree salad with fiesta flavors. Fajita tofu, sweet corn, sweet plantains and colorful cabbage is just the start of this feisty bowl!
Print
Pin
Ingredients
5-6 cups leafy greens, mixed

1 cup red cabbage, finely chopped

¼ cup black olives, sliced

1 cup sweet yellow corn (fresh and steamed or canned)

6-7 blue corn tortilla chips, crushed

½ – 1 avocado, pitted and thinly sliced into two fans

1 plantain, ripe with blackened peel – sliced into half inch rounds

1-2 tablespoon vegan shredded cheese (Daiya jalapeño havarti used)

2 tablespoon pepitas

extra virgin olive oil, as needed for pan
Fajita Tofu:
1 ½ cups firm tofu, crumbled

1 tablespoon fajita seasoning mix

2 tablespoon nutritional yeast

salt and pepper to taste

optional: 1 teaspoon maple syrup

extra virgin olive oil, as needed for pan

side: hot sauce or salsa

side: blackened tortillas

dressing: your choice – I used a creamy mustard dressing
Instructions
In a large mixing bowl, combine the greens, cabbage and salad dressing. Toss.

Pour the greens into large serving salad bowls. Top with the corn, pepitas and olives. Set aside.

Warm up a skillet over medium-high heat and add a splash of EVOO to coat the pan. Add the tofu, along with the fajita spices and nutritional yeast. Toss well while the tofu cooks. For a sweet accent, fold in the maple syrup. Add salt and pepper to taste. (I used Penzey's Spices fajita spice which contains salt, so no additional salt was needed.) When tofu is crumbly and seasoned and warmed, remove from the skillet and add a generous scoop to each of the salad bowls – dividing the tofu between the two bowls.

For the plantains: rinse out your skillet if needed. Warm the pan over high heat and add a splash of EVOO to coat the pan. Add the plantains and allow them to cook for 1-2 minutes before flipping. Cook for another 1-2 minutes. Optional: add a splash of maple syrup for extra sweet plantains. Scoop the blackened plantains onto the salad bowls. Tip: When plantains are done they will be shiny and blackened on the outsides and soft and tender through the middle. You do not want the center to be starchy, but rather super tender.

Add the avocado fans to the salad bowl along with the shredded vegan cheese. Optional: serve with vegan sour cream or cashew cream or Vegenaise. Serve with blackened corn tortillas and hot sauce or salsa.