Spooky, scary, creepy, crawly fun is all around us because it's (VEGAN) Halloween Week!
So gather up your closest ghouls, goblins, ghosts, zombies, skeletons, witches, black cats, pirates and vampires and get prepared for a Halloween Weekend of fun frights and fantastic vegan treats!
Here is my Vegan Halloween Round-up of some fun vegan recipes, vegan treats (from gourmet goodies like the Cocoa V chocolates shown above to Drug Store stand-by's like Swedish Fish!) and resources to make your Halloween vegan-tastic..
Treats! You can't have a happy (vegan) Halloween without a few vegan treats. And that includes both treats to hand out at your door, and treats for an at-home Halloween party as well.
Vegan Blog Halloween Treats Bonanza..
Here are a few Halloween Treats cooking up on the vegan blogs..
Devils Food Cake Halloween Cupcakes by MeetTheShannons
Homemade Candy Corn lemon-flavored by VegSpinz
Festive Halloween Maple-Glazed Doughnuts by VeganGoodThings
Asparagus Skeletons in Puff Pastry by VegSpinz
Halloween Gingerbread Cookies in black cat shapes by The Mommy Bowl
Fried Wonton Ghost by VegSpinz
Pumpkin S'mores Cupcake (with ghost face) by NewVeganing
Ghoulish Green Cupcakes with Purple Frosting (no artificial food dyes!) by BittersweetBlog
Instant Vegan Candy chocolate-coated by BittersweetBlog
Ghastly Tortilla Chips and Ghoul-ca-mole by ManifestVegan
Jack-o-Lantern Halloween Biscuits by WeeklyVeganMenu
JUST ADDED (10/27)
Raw Vegan Pumpkin Cookies in festive jack-o-lantern and fall leaf shapes by G0lubka
Halloween Black Coffin Cake by WingItVegan
Chocolate Spider Cupcakes from GoVeganMeow
Vegan PB Cups (VegWeb.com recipe) made by VeganAwakening
Witch Fingers with Witches Brew (Cheezy Broccoli Soup) by WeeklyVeganMenu
Bat Pancakes by WingItVegan
Mashed Potato Ghosts by WingItVegan
A few festive fall bevies..
Almond Chai Latte by MeetTheShannons
Scary Cherry Fizz Punch by (moi) Lunchboxbunch
Fall Mocha with Whip! by Lunchboxbunch
..All the above finds were founds on www.FindingVegan.com #Halloween – (Finding Vegan is my new site that launched a few months back)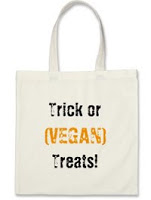 Trick-or-Treating Candy
Check out VegNews Guide to Halloween Candy to discover which mainstream brands are indeed vegan. That includes sweets like Pez, Swedish Fish and Sour Patch Kids – all vegan. Yes!
VegNews also has a nifty Halloween Craft Guide up this year.

PetaKids Guide to Candy is also a great resource – it contains both vegan candy and vegan snack ideas (who knew Nabisco Gingersnaps, Nutter Butter Bites and Triscuits were vegan?) – this page also lists a few helpful ingredient definitions.
Ecorazzi also has a Top Ten vegan Halloween Candy List (with commentary).
And a SheKnows list of fave vegan Halloween candy. Twizzlers stuck out to me on this one!
Ready to Start Shopping for some vegan Candy??
Check out the Natural Candy Store's supply of yummy, cute, spooky Halloween candy. Those ghost and bat lollipops are adorable. And the vegan peanut butter cups – yum!
Another vegan peanut butter cup I love: Gone Pie Bakery in NYC. (mail-order available!)
Cosmo's Vegan Shoppe with a Halloween Candy 'store' has a few fab treats like marshmallow ghosts!
Also check out Vegan Essentials Vegan Candy for sale online.
GoMaxFoods Vegan Candy Bars are pretty darn awesome. I love the Mahalo Choco-Coconut flavor.
Craving a few Gourmet Treats?
Check out Blossom Restaurant's vegan chocolate-themed cafe/bar: Cocoa V for seasonal Halloween treats and festive goodies like ghost lollipops, orange-frosted cupcakes and more. In NYC.
The Cocoa V truffles and chocolates are fantastic. Some of the treats I picked up last time I was there…
Cocoa V PB Chocolate:

Cocoa V Caramel Chocolate:

Cocoa V Halloween Cupcakes:

Check out OneLuckyDuck's Halloween Macaroons! Orange and black colored. Raw. Vegan.

Babycakes Vegan Bakery in both LA and NYC also has a wide range of festive vegan treats.
Or try a vegan cinnamon roll with Pumpkin Spice frosting from Cinnaholic. In Berkeley, CA.

Not into edible treats?.. Try Stickers! This article has a great idea to hand out stickers instead of candy. Because really, what kid doesn't love stickers??
Peta has some cute vegan stickers if you want to spread a message.
Or you can find a huge variety of stickers (Halloween Themed!) at Oriental Trading or Zazzle. Here's my Ghosty Tomato Trick-or-Treat Sticker.
More Vegan Halloween Fun from the Web: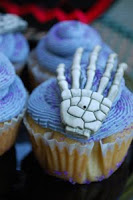 These spooky skeleton hand Vegan Halloween Cupcakes are amazing! Made by MegaTom via Etsy.

GirlieGirlArmy has a fabulous Vegan Halloween Guide with a recipe for Vegan Peanut Butter Cups!
Cute and Delicious's vegan Ghost Cookies are just that: cute and delicious-looking!
A Vegan Halloween Party Menu from VegParadise
SpookyVegan's blog is a great site to find Vegan Halloween Sugar Cookies decorated as tombstones, scary pumpkins and more. Lots of spooky fun on her site.
And the NoTrickTreats website is genius! Find homes in your neighborhood that are giving out candy that fits your child's needs! Vegan, organic, kosher, raw and more! You can even add your home's goodies to the growing database.
Epicurvegan has a great list of Vegan Halloween Recipes!
Lots of creepy, gross, spooky Vegan Halloween Party Food ideas at Very Vegan Holiday's blog.
Here are a few vegan Halloween EVENTS!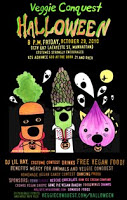 NYC – 10/29 If you are craving a vegan Halloween Party and live in/near NYC I'd check out Veggie Conquest's Halloween Bash! Tickets on sale now. Candy-making contest, vegan goodies, music, fun and party emcee Michael Parrish Dudell (of Ecorazzi.com, Vegdaily.com and Live a Dam). The VC folks throw great events!
Berkley, CA – 10/30 Go Vegan Week's Costume Party.
Need a Trick-or-Treat Bag? Try these designed by me:
"Trick or (VEGAN) Treat" Halloween Bag
Halloween Lunchbox Bunch Bags
And lastly costumes! For veg*n's who like to dress-up like their food…
Have a safe and Happy Vegan Halloween!!
*if you want your link featured on this page – all you have to do is email me! Or post link in the comments section.
Cocoa V Ghost Pop: