Warm Sunday night's were made for vegan ice cream. And that's why I'm so incredibly lucky to be living in a city where there are two of the most delicious vegan ice cream shops – in the world. No, really. STOGO and Lula's Sweet Apothecary are simply brilliant. They each serve up gourmet 100% dairy-free "ice cream" that is better than the real thing. Bases like soy, coconut and hemp are used. Try a banana split at Lula's or grab a few pints to-go from STOGO. Find your bliss on top of a vegan sugar cone. Lick. Smile. Bliss.
Review Rewind. I am madly craving some STOGO or Lula's and so I decided you should all join me in shamelessly ogling some vegan ice cream bliss. Check out my vintage review of STOGO NYC. I posted this review a few weeks after it opened early last year. I predicted big success for the East Village shop. I was right…
Warning: May result in extreme vegan ice cream craving.

Flavors tweet from Lula's: "PBFudge, MapleWalnut, Vanilla, Drumstick, Strawberry, CoffeeNCookies, Chocolate, ToffeeCrunch, CaramelGingerCookie, MintChip, CookiesNCream."
Flavors tweet from STOGO: We have the salted caramel, peanut butter fudge AND chocolate chip cookie in today!!! Yippeee! Stop on in!
Vegan Transformations. It took me a long time to finally give up dairy because I was addicted to frozen yogurt back when I lived in Los Angeles. Cookies and Cream fro yo was an everyday treat for me! But I finally kicked it cold turkey. Er, cold dairy. And just think, this was all before the big Pinkberry craze hit. I've never even tried Pinkberry – and that's quite OK with me. Hand me over some soft serve Cake Batter from Lula's or a Salted Caramel Pecan scoop from STOGO over dairy fro yo any wday.
STOGO are Lula's are both genius. Both are located downtown on the east side of Broadway. Lula's is a bit further east than STOGO. STOGO is just a hop away from St Mark's Place and Thompson Square Park. Right across the street from another NYC fave of mine: Liquiteria. My review has more about STOGO.
If you are in NYC (vegan or not) do yourself a favor and put one or bot of these spots on your "must try" list! Even if you adore dairy ice cream – give your taste buds a new experience. I promise you'll be pleasantly and uberly surprised by the decadent and cravable flavors that await you.
Here's a quickie look at Lula's sundae (photo by a-soy-bean.blogspot.com) :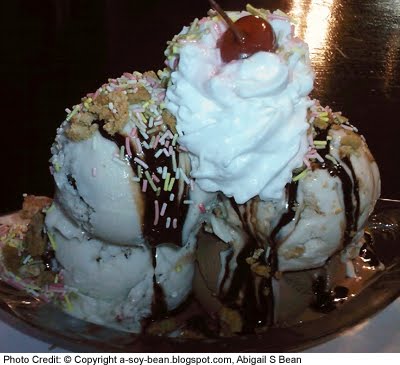 Read my Vintage review of STOGO here.
..lots more yummy pics in my review post…
Links:
http://www.STOGOnyc.com
@stogonyc
http://www.lulassweetapothecary.com
@lulasweet