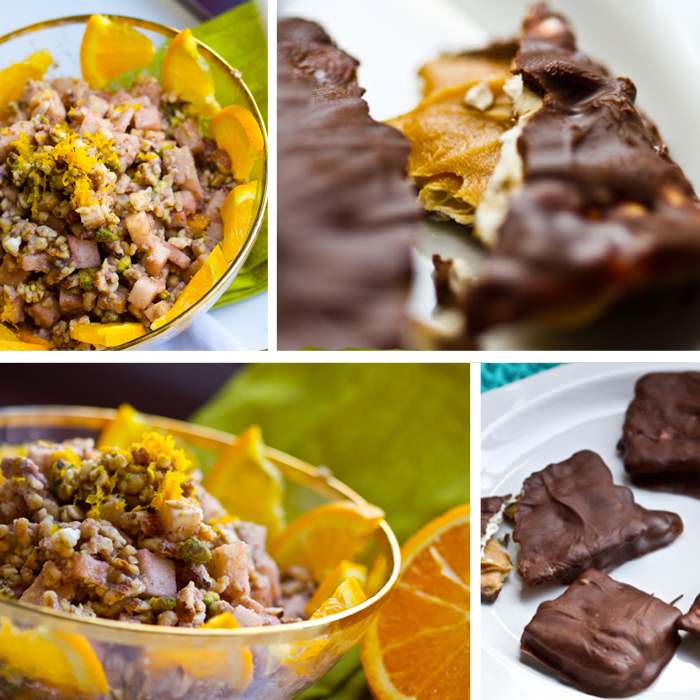 I often get requests for vegan Passover recipes. And while I don't think I'll be able to "veganize" an entire Passover Seder menu anytime soon (I'm simply too un-experienced in Passover cuisine) – I can offer you a few treats and nibbles that I whipped up. First off is a delicious fruit and nut mixture called Charoset. And then three different peanut butter chocolate Matzo treats. Passover delights made easy – and vegan!..
When I first started sifting through Passover menus online I realized that there is not a whole lot of room for vegan cuisine in the traditional recipes. However, the big fat loophole is that the number one staple of Passover – Matzo – is vegan! So you can certainly get creative with Matzo (as I did with my assortment of chocolate pb treats).
..and yes, you can totally veganize Matzo Ball Soup by using veg-based stock instead of chicken. And Kugel could be made vegan as well – add sweet potatoes for texture instead of eggs.
Another totally vegan-approved recipe – that is indeed traditional – is called Charoset. It is a sticky fruit and nut mixture accented with cinnamon, red wine and more. I gave this recipe a whirl and loved it!
Choco PB Flat Crisp..

Charoset:

Though I celebrate Easter, I love vegan Passover recipes and food! And I was thrilled to discover this traditional Passover recipe a few years ago. It is not only traditional and delicious – but also quite healthy!
Charoset, is packed with fruit and nuts! I give my recipe a few unique accents. The traditional recipe also calls for a splash of red wine. Interesting, right? To be honest, I had no idea how this muesli or granola-like concoction would turn out. But once I blended the ingredients and took a taste, I was thrilled with the results. Try it for yourself!..
What is Charoset exactly? Wiki says: "Charoset, haroset, or charoses is a sweet, dark-colored, chunky paste made of fruits and nuts served primarily during the Passover Seder. Its color and texture are meant to recall the mortar. The word "charoset" comes from the Hebrew word cheres — חרס — "clay." Before eating the maror — in the present day generally horseradish or romaine lettuce— participants dip the maror into the charoset and then shake off the charoset before eating the maror. This action symbolises how hard the Israelites worked in Egypt, combining a food that brings tears to the eyes (the maror) with one that resembles the mortar used to build Egyptian cities and storehouses (the charoset). Despite its symbolism, the charoset is a tasty concoction and is a favorite of children. During the Seder meal, it may be eaten liberally, often spread on matzah."
Walnut Citrus Spice Charoset
makes 4-5 cups
2 ½ cups assorted raw nuts, chopped/pulverized (I used walnuts and pistachios)
1 green apple, peeled/diced (about 1 ½ cups diced)
½ teaspoon cinnamon
⅛ teaspoon cayenne
¼ teaspoon ginger powder
¼ teaspoon sea salt
2-3 tablespoon maple or agave syrup
3-4 tablespoon red wine
1 tablespoon fresh orange juice
¼ cup tiny orange slices (plus extra for garnish)
¼ teaspoon orange zest – grated over top
Directions
1. Prep your nuts by pulverizing them in a high speed blender or food processor. The nuts should be very finely ground – a few chunkier bits are a nice touch. Peel and dice your apple and slice your orange.
2. Combine all the ingredients in a large mixing bowl and toss well. Plate in your serving bowl and grate orange zest over top.
3. Chill until ready to serve.
Easy right?
Version 2:
Citrus Ginger Pear Golden Almond Superfood Charoset
2 ½ cups chopped almonds
1 ripe Bosc pear, peeled/diced (about 1 ½ cups diced)
½ teaspoon cinnamon
⅛ teaspoon cayenne
¼ teaspoon sea salt
2-3 tablespoon maple or agave syrup
3-4 tablespoon white wine
¼ teaspoon grated fresh ginger
1 teaspoon chia or crushed flax seeds
1 tablespoon fresh orange or apple juice
2 tablespoon golden mulberries
¼ cup tiny orange slices (plus extra for garnish)
¼ teaspoon orange zest – grated over top
Same prep as above.
PART TWO – FUN WITH MATZO..
I made three varieties of treats:
1) A Chocolate Peanut Butter Matzo Sandwich
2) Chocolate Peanut Butter Swirled Flat Crisp (more like the Brittle)
3) Choco-PB Birds Nests
Chocolate Peanut Butter Matzo Sandwiches or Flat Crisps or Birds Nests
vegan, makes about 10 sandwiches or 3 large flat crisps
3 Matzo squares (large size – as packaged)
1 ¼ cups dark chocolate chips
2 tablespoon canola oil
pinch of sea salt
2 tablespoon sugar
⅓ cup creamy peanut butter, kosher-certified (almond or sunflower butter also works)
Directions:
1. If you are making flat crisps leave the matzo as is. However, if you are making sandwiches you will want to carefully chop the Matzo into squares. It's OK if the squares are not perfect – just try to break them into large shapes that match up in some way. If you have lots of leftover Matzo crumbles – you can make a few birds nests.
2. Heat a double broiler and add the chocolate, canola oil, salt and sugar to a stainless steel bowl or pan above the steaming double broiler. Melt the chocolate until creamy – do not burn! When chocolate is melted turn off stove an cover with lid to preserve melted state. Work quickly – as freshly melted chocolate is easiest to dip.
3. To make sandwiches: spread a small amount of peanut butter between two Matzo squares – enough to cover the surface. Then roll the squares in the chocolate – and place on a baking sheet with wax or parchment paper. Repeat until all your sandwiches are completed. If you are making the flat crisps you will be able to swirl the peanut butter right into the chocolate and spread over top the top surface of each matzo square. Also place on the baking sheet. And lastly, if you are making all – or a few birds nest crisps, crush the Matzo squares and toss right into the peanut butter and chocolate mixture – also add in the slivered almonds. Scoop portions into cupcake liner or silicone baking cups – arrange on baking sheet.
4. For a quick chill – I place my baking sheet in the freezer. your treats should be ready to eat in just about ten minutes – the flat crisps take a tad longer. Yippee!
Enjoy! These treats should be stored int he fridge or freezer until all gobbled up – I'm sure that won't be too long!
**note: Thanks to your comments, I now realize that peanut butter is not always Passover approved! – I guess make the matzo treats after Passover!

Happy Passover