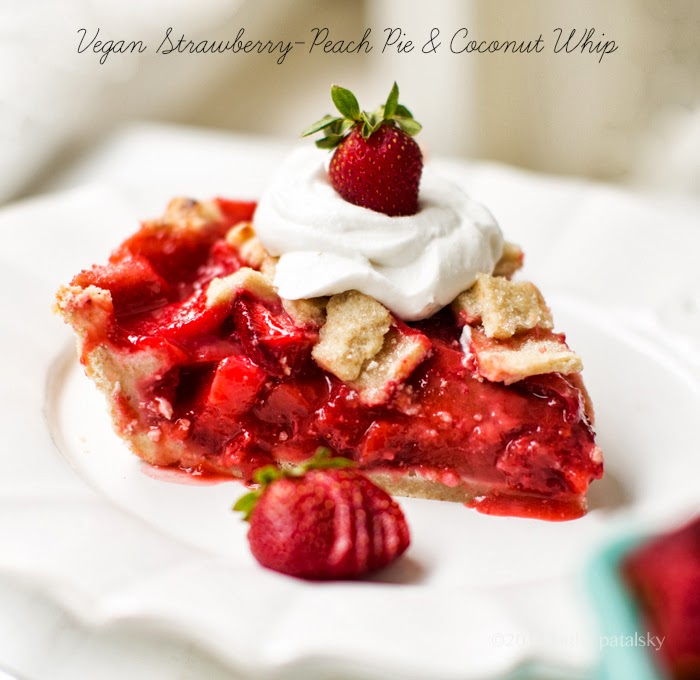 One blog post at a time, as my dear friend Gena advised me. Today I am happy to share a recipe that I've had in my drafts folder for a few weeks – since I'm still not up to cooking and photoshooting new recipes. (RE: this post) Good thing I have plenty recipes all ready to go from all the kitchen time I've enjoyed this summer.
This Vegan Strawberry-Peach Pie is simply delightful and each bite is bursting with the sunny sweet flavors of a warm, long summer with ripe fruit, golden sun and blue sky days. This is the perfect end-of-summer pie celebration recipe. Add a dollop of cool, creamy homemade coconut whip on top and dive into fresh fruit, buttery pie crust, creamy coconut bliss.
Nelly. Plus ahead, I give you a nice long update on Nellycat, me and what I've learned about life, love, healing and figuring out how to tread water, and stay afloat through some very rocky waves..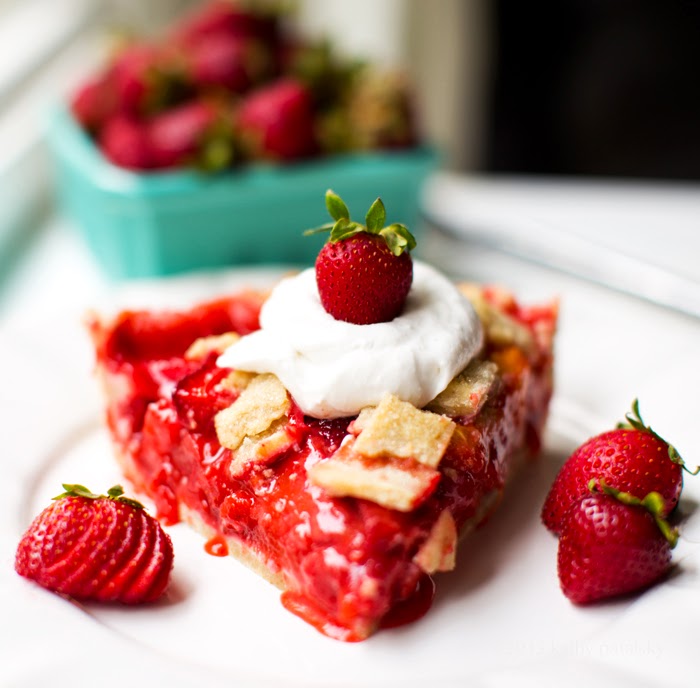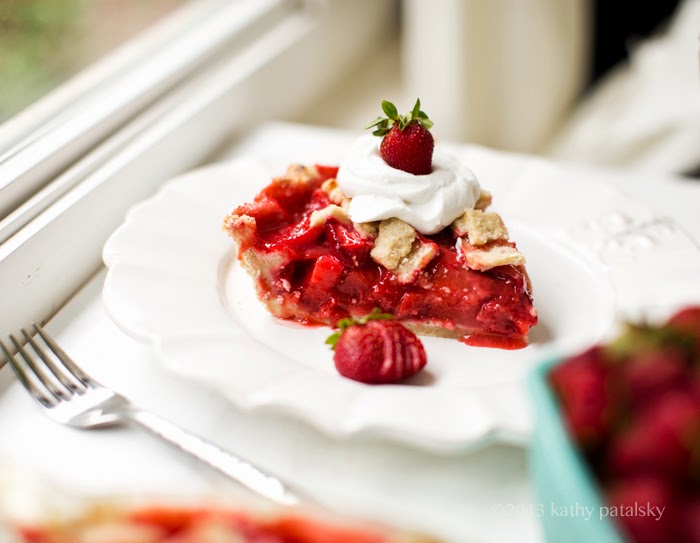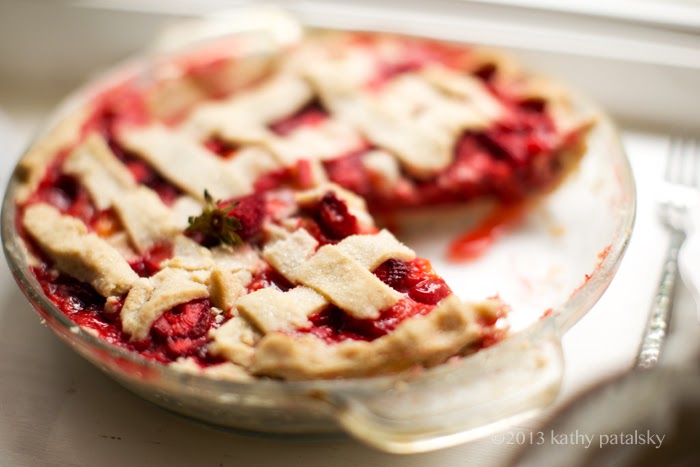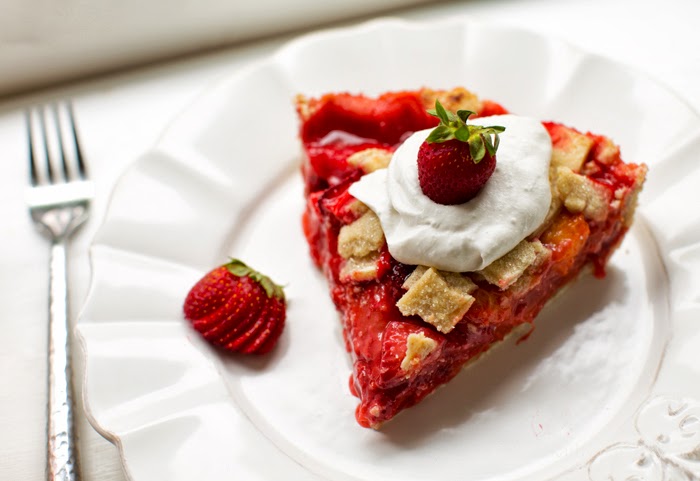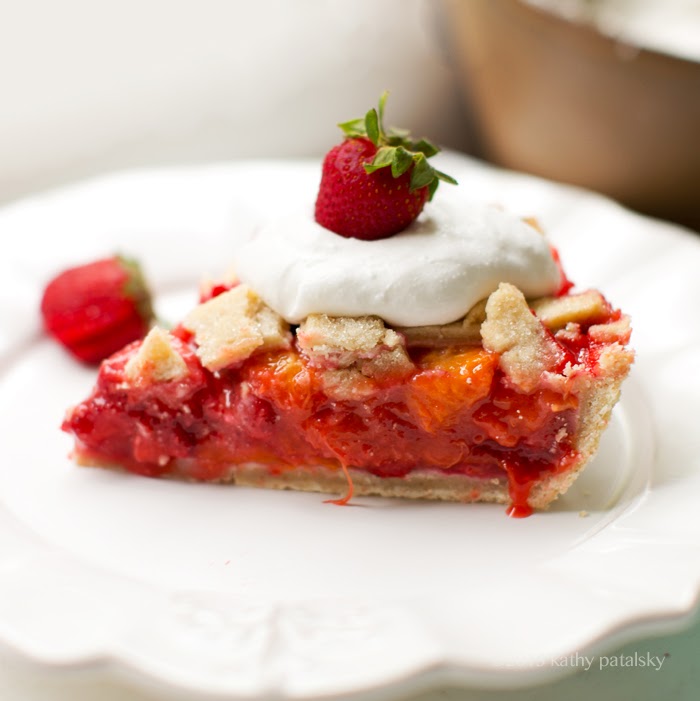 (Don't worry I didn't forget the recipe .. recipe below, after my Nelly update)
Sunday Morning. 4am. Dark blue light out my window. Deep I slumber I suddenly open my eyes as a perky little face comes into view. Nelly climbed on top of me and stuck her fuzzy little face to my cheek, her tender paws clutching my chest in an excited, loving grip. Her eagerness to obtain some snuggles from my hands and face and wake me from my slumber was apparent. So I happily darted out of bed with her, somehow not feeling tired at all – just excited to see her, and with happy high tones in my voice thanked her for waking me up to play.
It is now 7:30AM and we have been playing, snuggling and loving on each other all early morning. This has become a routine the past few days. One that I cherish and couldn't be more thrilled about. Yes Nelly please wake me at any hour, I'm just in love with you as you are with me, and that is something magical.
Updates. If you've been checking in with me, you know I've had some hideous news the past week. Nelly has cancer. I found out just one week ago – but it feels like weeks, months, lightyears ago. It is amazing how your life can literally be turned upside down in just a week. Just a moment even.
Last Wednesday I wrote a very sad, very long, very detailed blogpost draft when I was in a very dark and depressed state from this mess. I had literally not stopped crying for five days – since the first news last Saturday that something serious may be wrong. My eyes were constantly red and I spent all day huddled over Nelly in my bed, sobbing to her and fervently researching cures for kitty cancer.
This morning, I re-read parts of that post and I am really glad I never hit the publish button. Because even though I still fight every second to not break into those same gut-wrenching tears as I clutch my chest and roll into a ball feeling like someone pulled my heart out of my chest, I have (for now) chosen to leave that dark space of sorrow. And I learned some very important lessons this week…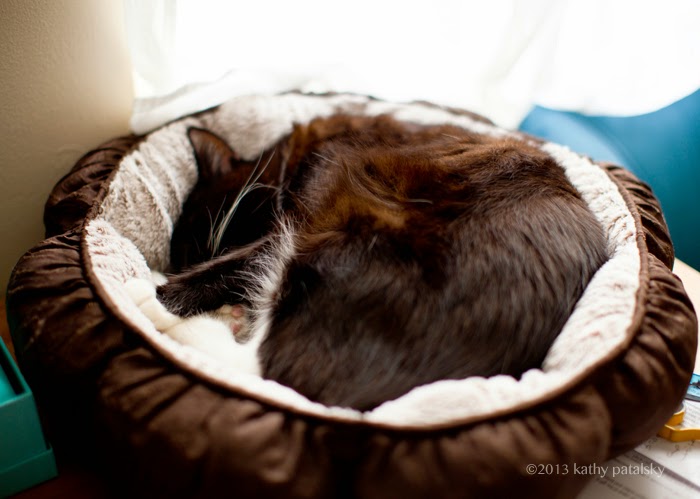 1. Joy Heals. The day I was at my lowest point, crying and sobbing uncontrollably right in front of Nelly I noticed she was at her lowest point too. She kept coming right up to my face and letting out low sad meows. Again and again. Her resting looking more like "giving up" as her head sunk lifelessly into my pillow. From her posture and sad meows, I thought she was in pain. Which made me sob even more. Then Thursday came, and I decided to just TRY something new. I downloaded some "healing" Reiki music on my iPad and started "love sessions" with Nelly where I just held her, smiled lovingly with bright eyes and stroked her as she calmly soaked in a sunbeam on my pillow. Look even though I love alternative therapies, I have never believed in all that "energy healing" stuff, but wow I could feel a change in her energy and mine ever since that session. The loving, joyful energy keeps her feeling good.
I keep thinking about hat Robin Williams movie "Patch Adams" and the true stories of cancer patients who improved via things like love and laughter. It makes so much sense to me now. They say cancer is something you have to FIGHT. I get that now. It is a physical fight, but also an emotional one.
So from that day forward I have tried my very best to be nothing but joyful and happy and loving in her presence. (It is HARD.) Because to have her brave, sweet, generous soul in my life – each moment is truly a miracle and blessing. In my smoothie book I thank Nelly in the acknowledgements. I said that even though I rescued her from a shelter twelve years ago, she was the one who saved me. She did. Her love and constant companionship has healed so much in my life. She has saved me from so much uncertainty and loneliness. Because with her to snuggle, everything was always OK. So right now, I know the best thing I can do for her is love her with all my heart – and literally not leave her side.
I have not left her side all week. .. well except last night when I had a sudden stomach virus and had to rush to critical care! I was moaning on the floor in pain and little Nelly kept coming up to me and sitting as close to my chest as possible to make sure I was fine. I feel better today thank goodness.
2. Intuition. The second lesson I have learned from all this is that I know Nelly better than anyone and "motherly" instincts do exist even in animal human relationships. When we first rushed Nelly into the Vet Cancer Center last Monday, they wanted to put a feeding tube in her ASAP. I said no. I knew it would stress her out immensely and I am with her all day encouraging small meals all day long. And I was right. She eats. It is a lot of work since the cancer affects her appetite, but together we get nibbles in and sometimes she chows down all on her own.
I also knew from the very beginning that this was not going to be a "chemotherapy" cured cancer. I was right. Nelly, I'm told by doctors in blue scrubs, has an aggressive and rare form of hepatic carcinoma. She had a long day at the vet Friday for a CT scan. The scan showed that the cancer tumor is wrapped around her gull bladder and even though the other side of her liver functions fine, surgery is not an option. Which SUCKS. And also the cancer has appeared to have spread to her lymph nodes and possibly lungs. Which sucks even more. If chemo would help her I'd do it. But in cats it doesn't provide a cure, but just prolongs the illness. And for a vet-anxious kitty like Nelly, it may make things worse. And actually, for liver cancer, chemo does not prove to be effective. So we are out of traditional treatment options. We have an appointment Tuesday with a holistic vet. But again, my instinct about "no chemo" was right. Moving forward I know it will be my instincts that make all the best decisions for her.
3. Darkest Before the Dawn. Moving ahead I know this experience of losing Nelly will be one of the hardest things I ever go through in life. I have no doubt in that. Some of you may not understand that or even believe me, but it is true. Luckily, some of my friends and blog readers have written me and said that when they went through similar events it was the hardest thing ever. For those sweet messages I feel less alone, so thank you. I still don't know how I will come out of this with joy. Nelly rents out a huge space in my heart and without her, a giant hole will be left.

But maybe. Just maybe, I hope, I can not feel a hole, but rather a light. I light that fills me forever from the sweet presence of this innocent creature's life that has touched me so profoundly for so many years. This sweet spirit that has been by my side through so much and shown me the powerful love that animals have inside them. Maybe that sudden hole in my chest, can be filled with light. I hope.
Some good news! The doctor (Dr Branten is amazing at the critical care center in Culver City FYI – she did the CT scan) – she said that the tumor right now does not cause any pain. So Nelly is not in pain, but just a bit tired from the stress on her immune system and such. But to me she acts so perky and happy right now. I know it will get worse, but right now is good.
Honestly if we had not taken her in for a routine checkup for her diabetes, I would have not clue she was even sick. But the liver blood work came back abnormal, so the ball went rolling to investigate all this.
ANYWAYS!
I'm feeling good today because today Nelly feels good. Her little head is resting on my legs right now and cuddling my bathrobe on a fuzzy blue chair. I keep praying for a miracle and in my pathetically optimistic mind I keep thinking she will be that rare cancer case where the doctors all crowd around, scratch their heads and tap their clipboards in utter amazement that Nelly is suddenly cured. Even though the doctor yesterday told us over the phone, "she has about 2-3 months" – in which I started sobbing uncontrollably again, I still have this pathetic feeling she will get well. Hope you say a prayer or send healing vibes Nelly's way to make a miracle happen. (Yup, pathetic optimist here. It will probably break my heart in the end, but I think it helps me survive this horrible situation for now.)
So for BLOGGING. I still haven't cooked yet. I warmed some Amy's chick'n noodle soup and toast with Earth Balance last night, but that was about it. I have been texting Gena (choosingraw.com) a lot because she is such an amazing friend and gives such honest and experienced advice. I told her I don't know how I can blog without little Nelly sitting on my desk, running around in the background, crunching up greenies at breakfast. Gena took some classic advice and made it for me..
"Take it one blog post at a time."
Genius. OK, I will try that.
And I think Nelly likes things seeming normal around here, so me on my laptop while she rests seems OK to do.

And Finally…. Strawberry-Peach Pie. This pie recipe is one I whipped up a few weeks ago and adored. Sorry I'm just now posting it, but happy things like baking pies, strawberries and peaches and coconut whip all remind me of Nelly and happy days. So I think Nelly will like this recipe too…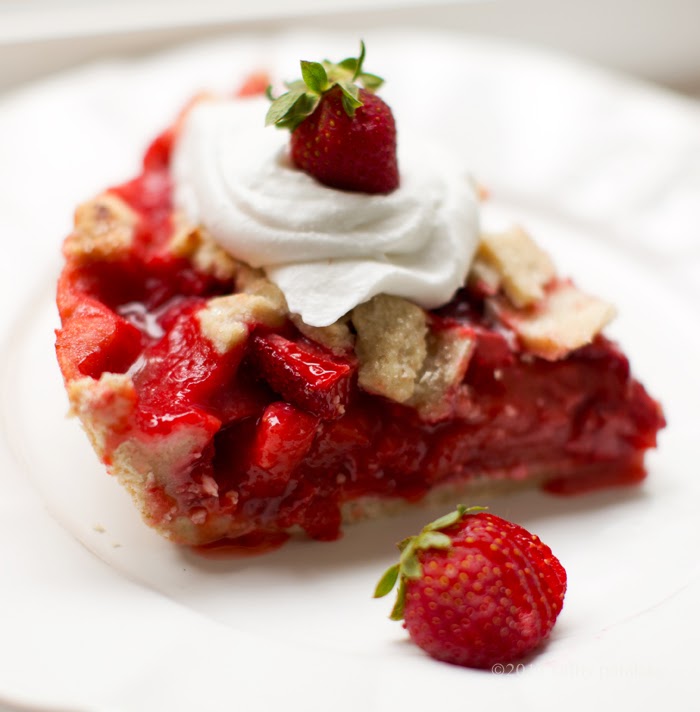 Vegan Strawberry-Peach Pie
vegan, makes one pie
1 vegan pie crust – recipe here (make gluten free by subbing gf flour)
Ingredients – Pie Crust:
2 cups flour, any variety – see notes
½ teaspoon baking powder
1 tablespoon sugar
1 cup vegan butter, cubed
⅓ cup soy milk
⅓ cup water
extra flour for dusting/pressing out
Pie Filling:
1 large peach, sliced (I leave skin on)
2 cups organic strawberries, washed/stems removed, sliced
¼ cup raw vegan sugar (Add a few tablespoon more for a sweeter filling)
1 tablespoon vegan buttery spread, melted (Earth Balance) – or substitute coconut oil (optional)
2 tablespoon lemon juice + pinch of zest
1 teaspoon vanilla extract
3 tablespoon arrowroot powder
⅛ teaspoon salt
add slight spiciness:
½ teaspoon fresh grated ginger (optional)
dash of cayenne (optional)
Coconut Whip Topping – full recipe here, plus inspiration + recipe here and here
Ingredients:
Chilled can of full fat coconut milk (use the coconut cream, firm white stuff)
confectioners sugar
vanilla bean or extract (optional)
notes:
* crust – use white flour for most traditional flaky texture results. I used sprouted grain spelt for a more rustic texture.
* If you do not have arrowroot you can substitute with cornstarch. If in a bind, you can sub with flour.
* Add sweetener to taste, my pie was moderately sweet, which I like. Also take into consideration how ripe and sweet your fruit is!
Directions:
1. For the pie crust, follow instructions in this post. Contains a how-to video.
2. Fold all fruit filling ingredients together in a big bowl.
3. Preheat oven to 400 degrees. Roll out dough and lay in bottom layer of crust, into greased glass pie dish. I pre-bake the bottom layer of my crust for about ten minutes in the hot oven, then remove from oven to cool and crisp up a bit. Fill warm pie crust with fruit filling. Roll out top layers of crust and lay any way you'd like on top.
4. Bake pie for 15 minutes at 400 degrees. Then reduce heat to 350 and bake for another half hour or until crust edges begin to bronze.
5. Cool pie for a few hours before serving.
6. Coconut whip can be prepped while pie is cooking and stored in the fridge until needed.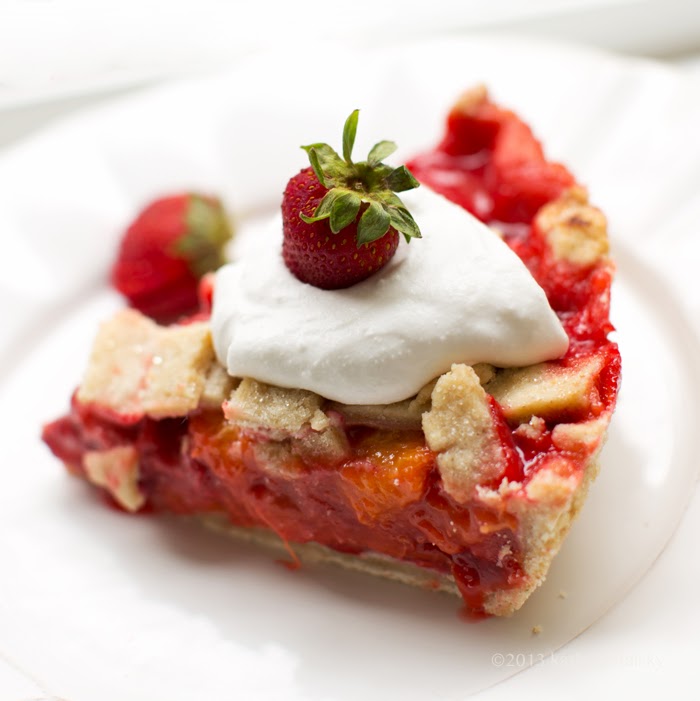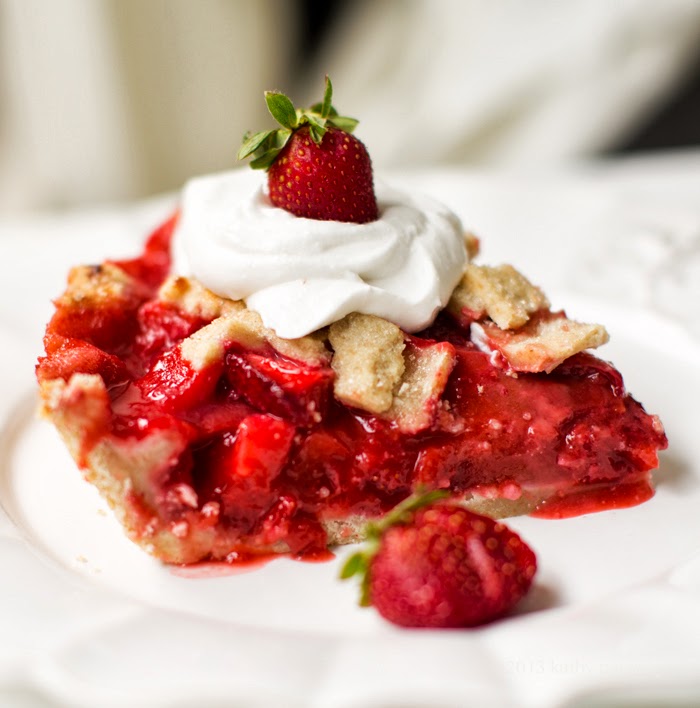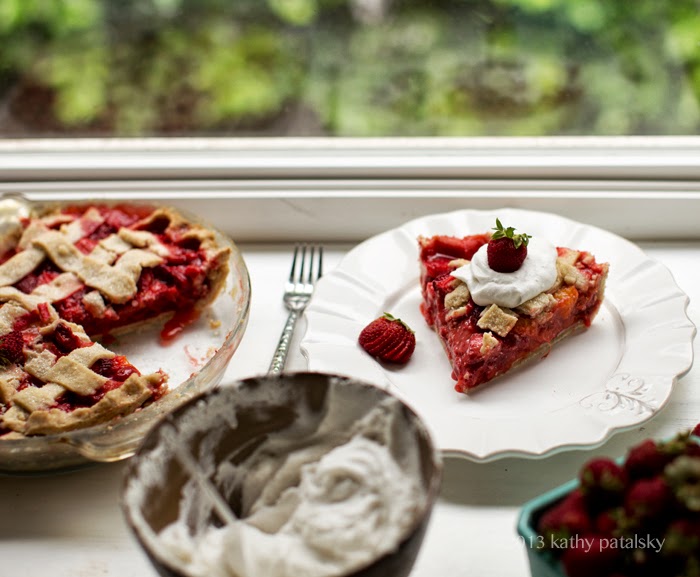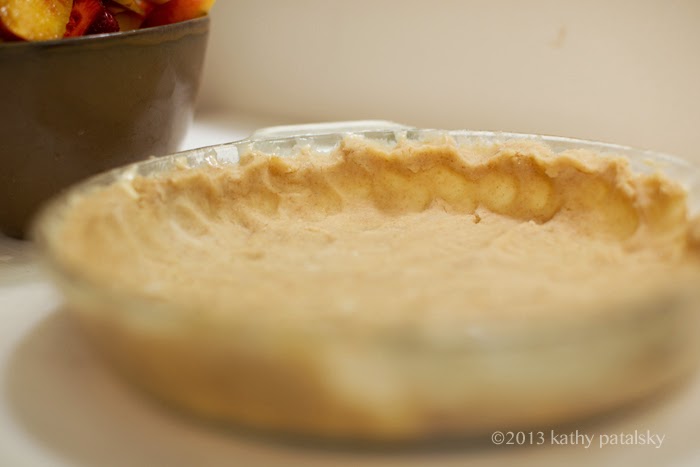 Before baking: