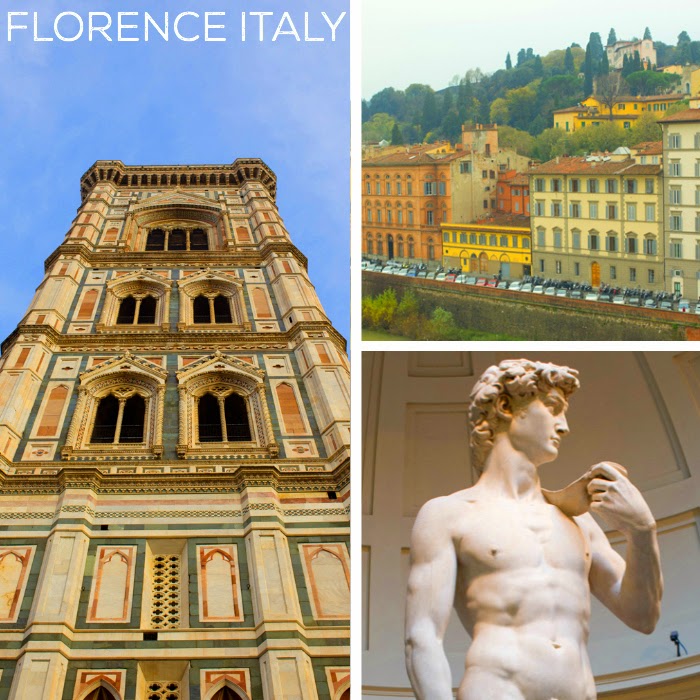 The adventure continues! I am so glad you all enjoyed my first part of this Vegan in Italy and Switzerland Travel Feature. Read part one here. Now I leave the land of snow-tipped mountains, cobblestone castles, swans, mist and fairy dust and move into Italy! Wine, food, art and drama. Florence here we come..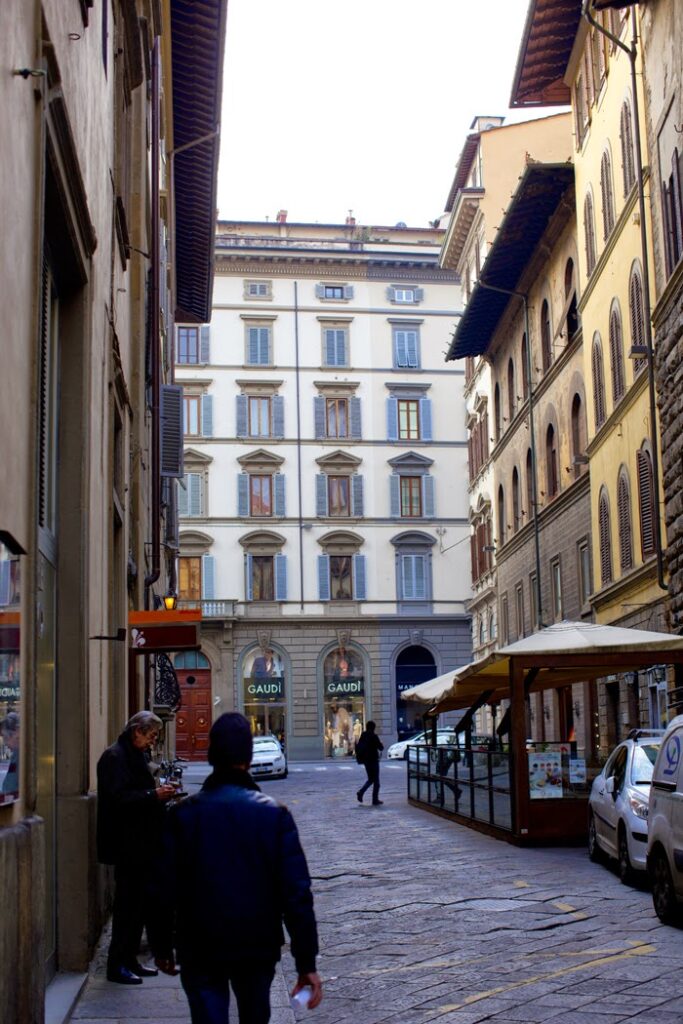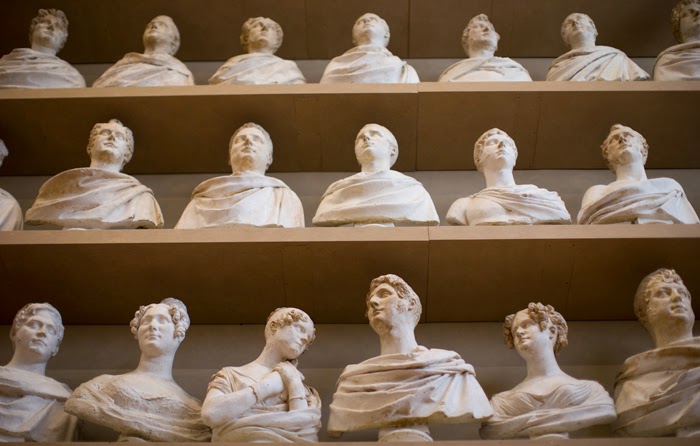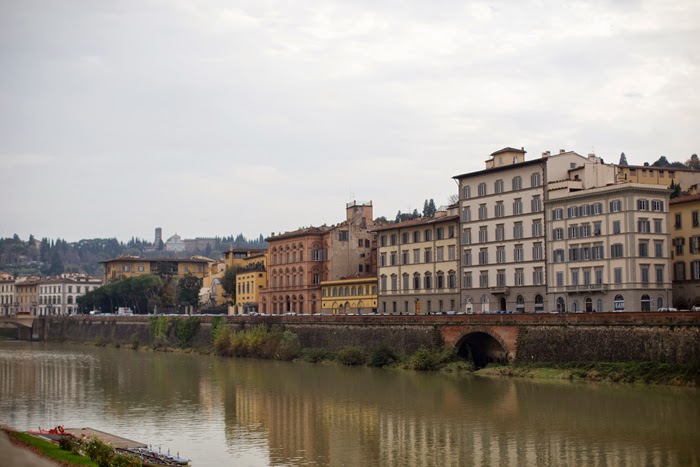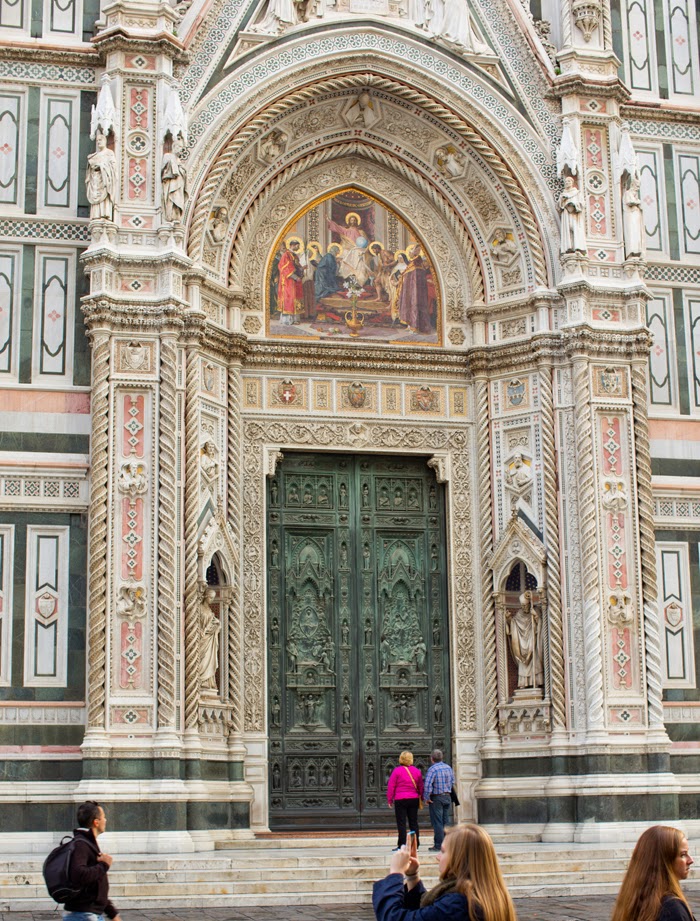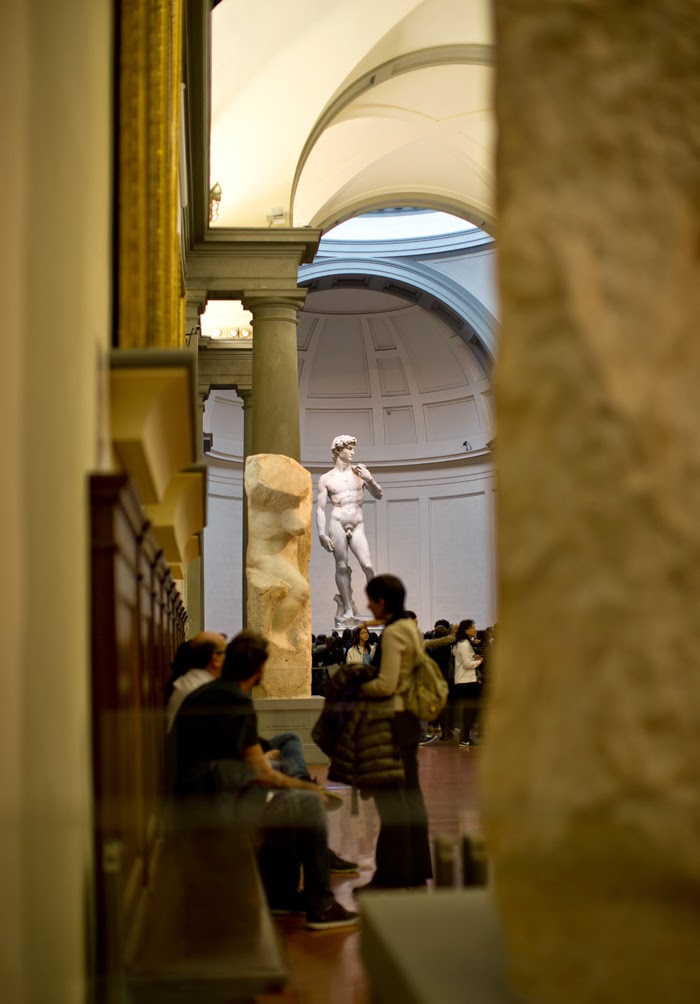 *this trip was taken in late November 2014*
It is 4am in Florence Italy and jet lag has now consumed (swallowed whole) my sleeping schedule, good thing I am running on European adventure adrenalin. But what better way is there to pass the time, in these dark morning hours of non-sleep, than by writing more in my travel diary — as I curl up on the floor in the corner of our hotel room. We are scheduled to leave Florence today at 9am, via car with a private driver, for an adventure into Tuscany, on our way to Rome. But before I say goodbye to this old and beautiful city called Florence, let me tell you about it!
First of all, arriving into Italy via train from Switzerland was what I would describe as extreme culture shock. Not like driving into NYC from a sleepy town in upstate New York, no this was like walking into NYC after living in Disneyland your entire life. Switzerland –> Italy, quite a contrast.
To transition from the peaceful, modest, serene allure of Lucerne and crash straight into the loud, social and energized Italian world was quite an experience. Our entire train ride (which was many hours yet gorgeous with vivid scenery) was spent next to two very loud, or should I say lively, Italian men who literally talked the entire time. It was fascinating to hear the Italian language being spoken in Italy — and at such length. My only experience with Italian language in the past was listening to my father ramble phrases (he spoke it fluently coming from a very Italian family), or hearing it in movies or once in a while in Italian restaurants. Having just left the hushed misty landscape of Switzerland, I will admit I was a bit caught off guard (and yes even annoyed!) by the brashness and volume of the conversation just one seat away, but I guess it was the travel god's way of saying, "Welcome to Italia!"
Looking back, I think I was also severely sleep deprived from jet lag and needed a nap. Luckily I did pass out for a good hour or so on the rocking train. And in a few hours I was in LOVE with the Italian people. I am over half Italian so it is in my blood, and the warmth and energy of the people truly resonates with me. Passion, warmth, touch (I am a hugger!), friendliness and a love of food — all imbedded in my soul.
As we arrived at our hotel, the St. Regis Florence around 5pm, we were exhausted. Running on fumes as they say. We unpacked, gawked at our gorgeous view from our room and hopped down to the Winter Room for a champagne toast. We were about two hours too early for the traditional cocktail and snack hour (total Italy newbs at this point), not on "Italy time" yet. As I learned in about a day, the Italians have strict hours for certain things, and you simply have to conform to them.
Another interesting fact: there are zero Starbucks in Italy. Zip. Crazy. At the train station I actually tried to order a soy latte from the "train station" cafe and received a warm tiny cup of dairy milk. Red. Face. Whoops. In Italian latte means milk, so if you order a "latte" they think you just want warm milk. And do not even think about ordering what we Americans call a "latte" — just get a cappuccino and go with the Italian flow. It is all about the amazing espresso topped with a dollop of perfect foam. And yes I found vegan options at more than a few places. Luckily, around the corner from our hotel there was an amazing cafe that had soya milk!
That night we had a little too much Italian fun. Too much bread (via bruschetta, pizza and appetizers, a too much wine (a bottle was so cheap how could we resist!) So we crashed into bed, waking the next morning feeling not as peppy as we would have liked.
Our one full day in Florence was magical and brilliant! But exhausting. Let me recap my sleep schedule.
After our one full day, I went to "bed" at 5pm because I was so tired. I slept through an Italian evening dinner! (It is day 4 and I still have not adjusted my sleeping schedule to this time zone.) I literally could not pry myself out of a deep slumber when my husband whispered that it was 7pm and we should eat dinner. "No, no I will sleep through dinner." I groggily said and went back to sleep. That meant I missed our plans for dining out at BioVeggy, a highly rated vegan-friendly spot.
Florence is kinda beautiful in an old-world, rustic, walking-through-an-oil-painting sort of way..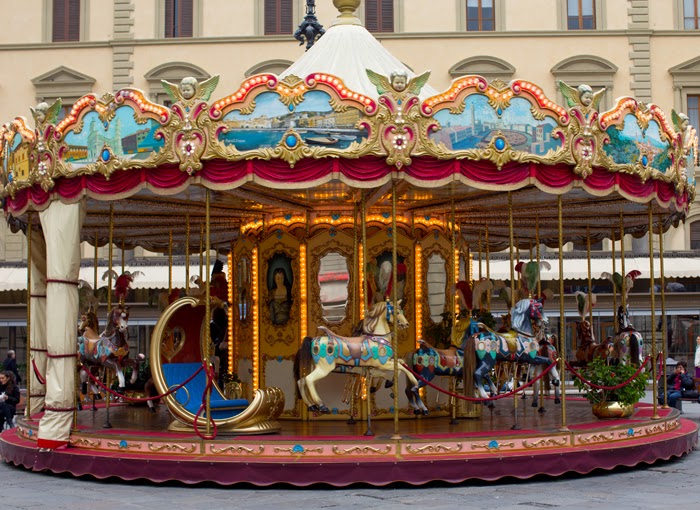 So lets finally get to the good stuff, here are Ten Amazing Things We Did (Or Discovered) in Florence, Italy:
1. Panino Vegano. – I had been researching "vegan in Italy" for months before our trip. I loved my friend Kristy's Italy blogposts – since she actually lived in Florence for some time! I also downloaded the Happy Cow App which help a bit too. So one of those researched spots was Panino Vegano.
Just a short stroll away from the famous Duomo, along the narrow cobblestone streets of Florence, lies this tiny but adorable Florence cafe. With wooden tables, large light filled windows and loads of delicious sounding things on the menu. I was starving by the time we found them, and even though it was only like 11AM — they had just opened for the day, I ordered a full lunch meal complete with fresh juice and a few desserts. They offer a variety of "sauces" all of which are amazing. I loved this meal, it tasted so fresh and homemade. There were loads of locals and students wandering in and out as well. I even love that they had what looked to be Italian-version animal rights brochures on the counters. Vegan voice in Florence.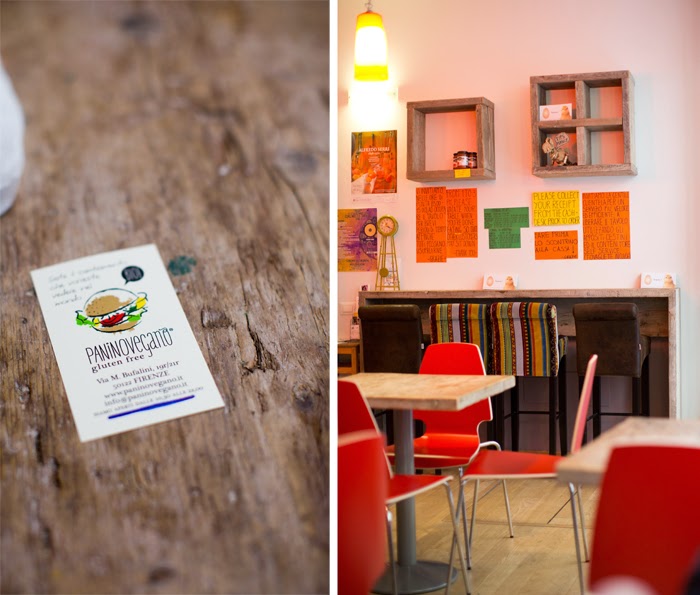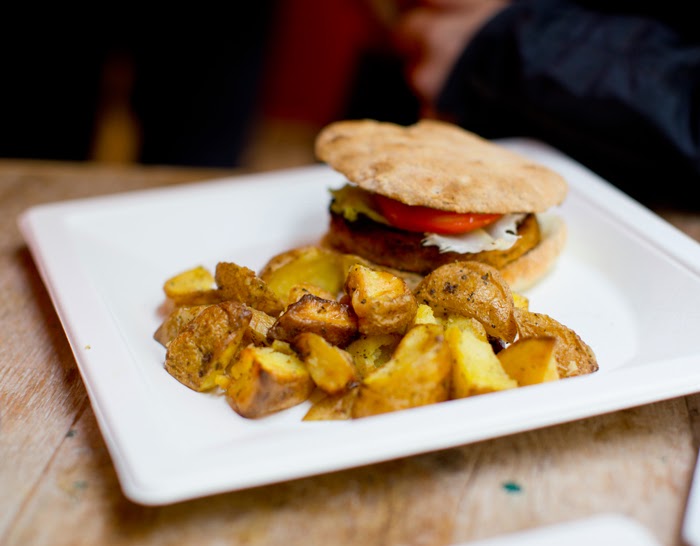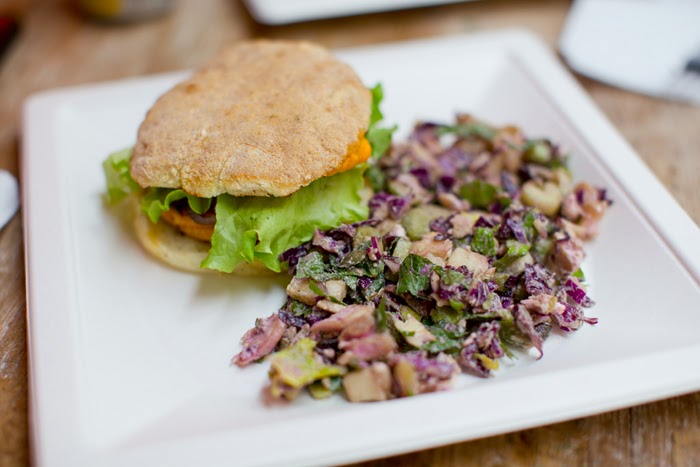 2. Shake Cafe – We totally stumbled along this place, about ten minutes from our hotel. It is a tiny little juice shop with a seriously Californian-style vibe! This is a spot that serves up fresh juices, fruit salad, coconut water, vegan pastries (like a vegan croissant!) salads, sandwiches and more. And espresso, of course. We went here more than a few times. Loved it!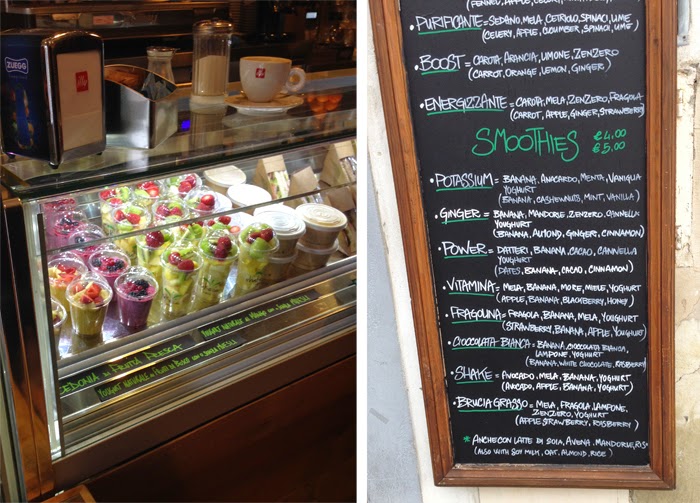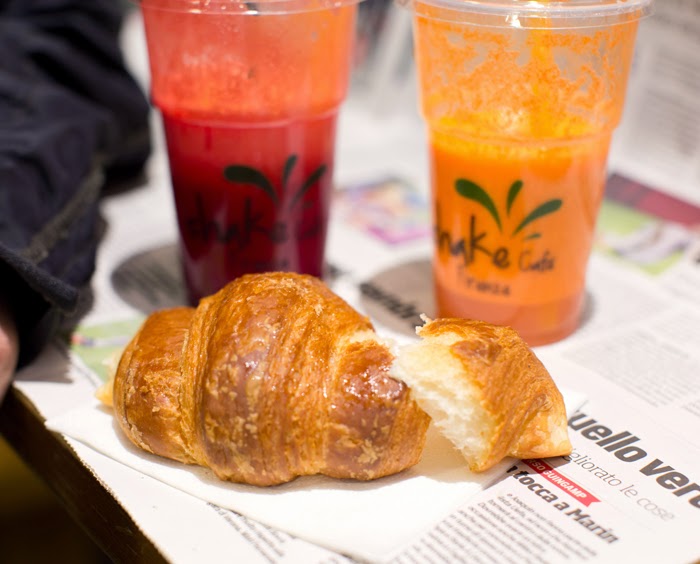 3. Perche No! – I was devastated that we spent about an hour wandering around the neighborhood that this vegan gelato spot lives in, only to find that it was closed on the one day of the week we were there. Super sad about this, but ah well. It is supposed to serve up the best vegan gelato in Florence, so be sure to check it out for me if you ever get to it!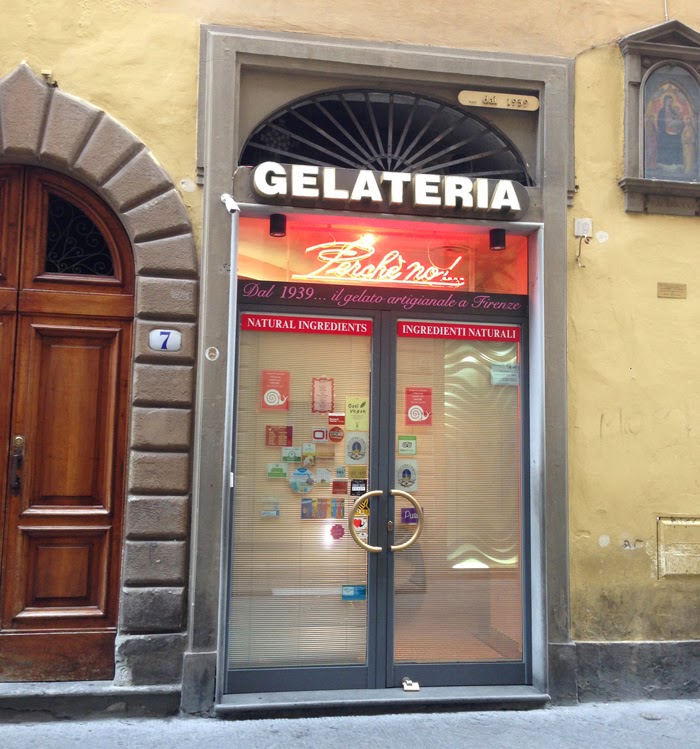 4. Dolce and BioVeggy and Il Vegetariano – Oh time. If only we had more days in this city I would dine at all of these spots! All vegan-friendly and highly rated. Now I just have to figure out how to stay longer and not sleep through dinnertime!
5. The Duomo – A gorgeous must-see landmark, or I should say, THE landmark of Florence. The Duomo at the Cattedrale di Santa Maria del Fiore is a short stroll away from Panino Vegano, so check it out then pop over to PV for a bite. The signature dome is still today the largest brick dome ever constructed. The structure was completed in 1436.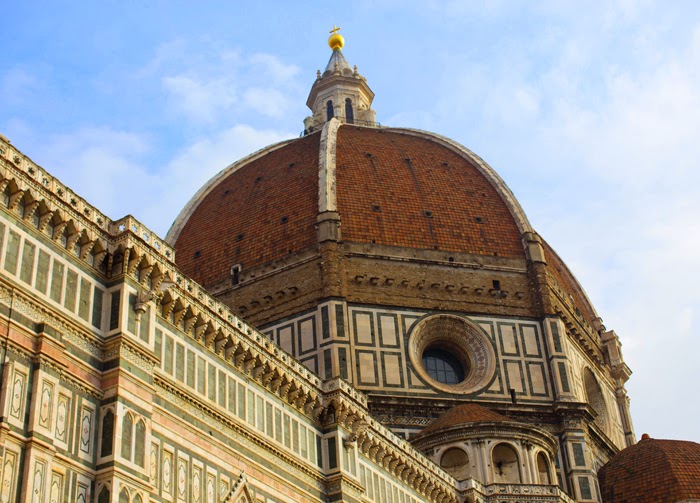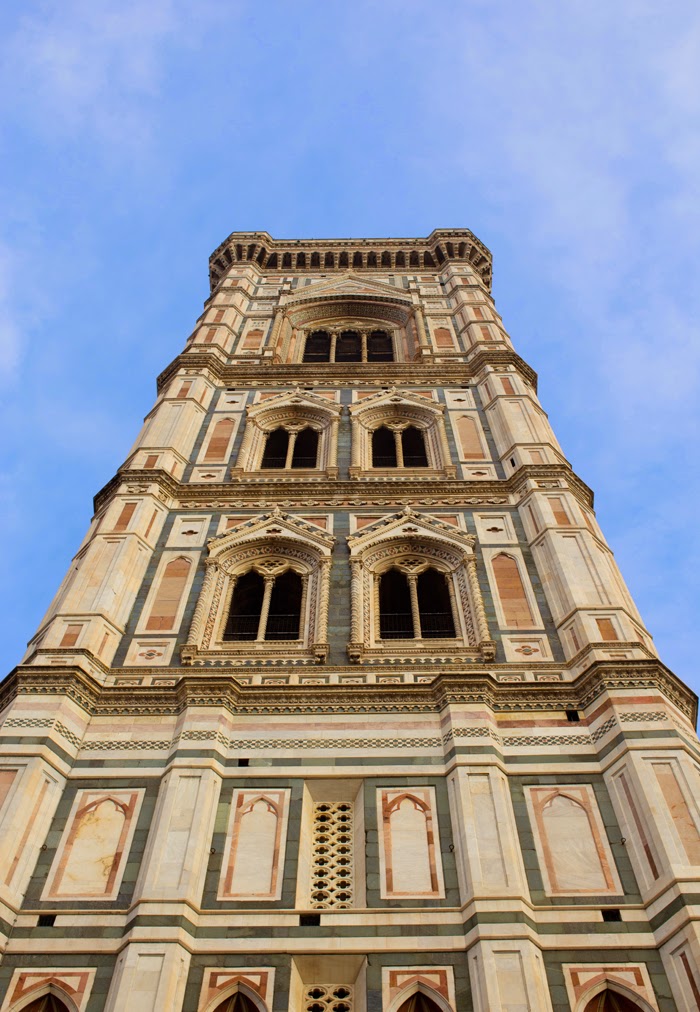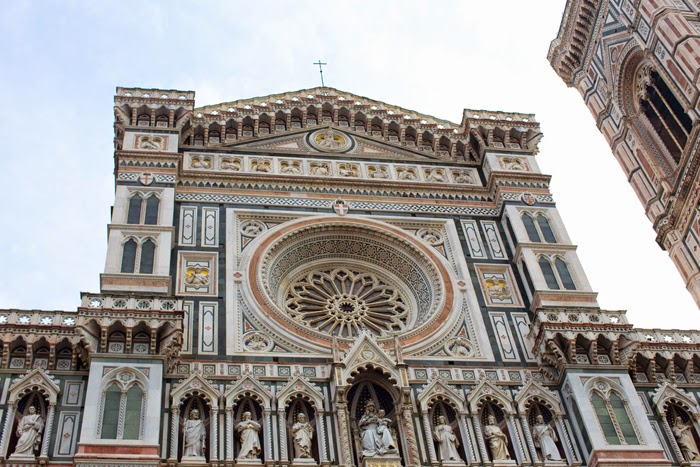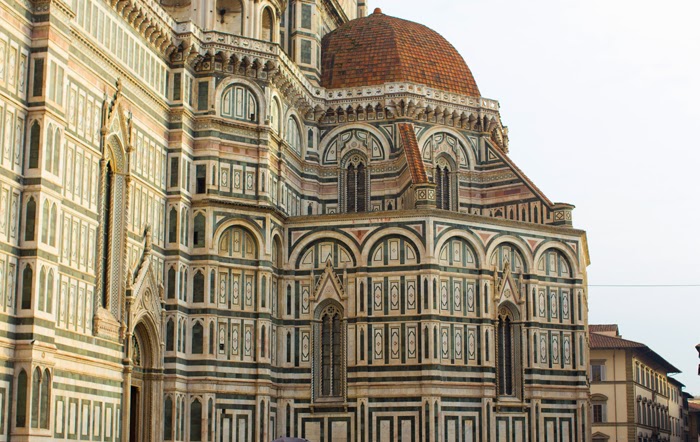 6. Uffizi – This is known as one of the most amazing galleries in the world and I can see why. Housing a ginormous collection of fine art works and sculptures and more, it is a lot to take in in one visit, but definitely worth a visit. Your brain and heart will fill pretty full when you stroll out of this gorgeous piece of amazingness on our planet.
Inside the Uffizi..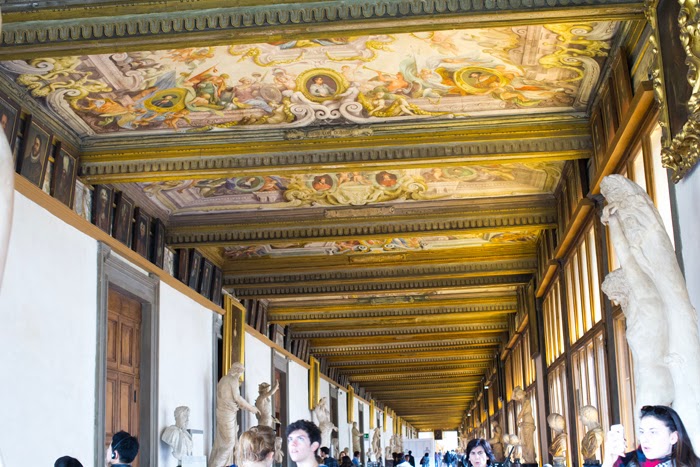 7. The David – Over at another gallery, The Academia De Arte, you will find one of the world's most famous pieces of sculpture, The David by Michelangelo. Just like I saw the Mona Lisa in Paris, I felt this piece was something we had to see. I wasn't expecting much, to be honest. But wow, the statue is glorious and beautiful, tall and grand. A must see in Florence!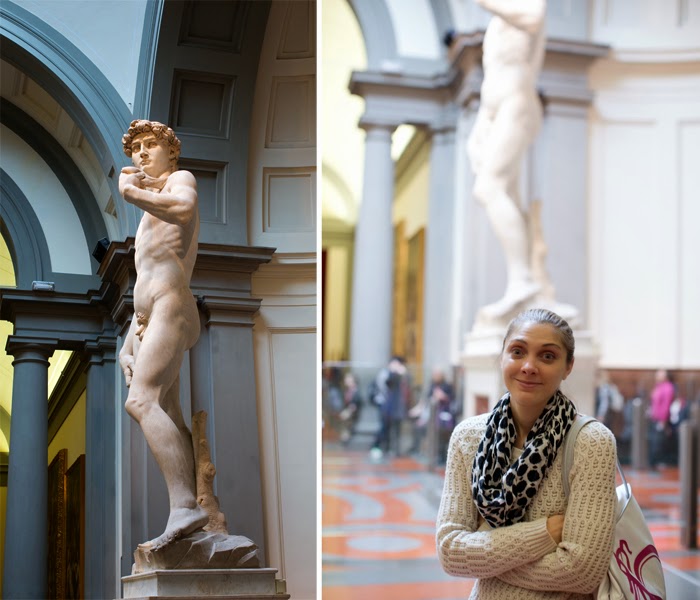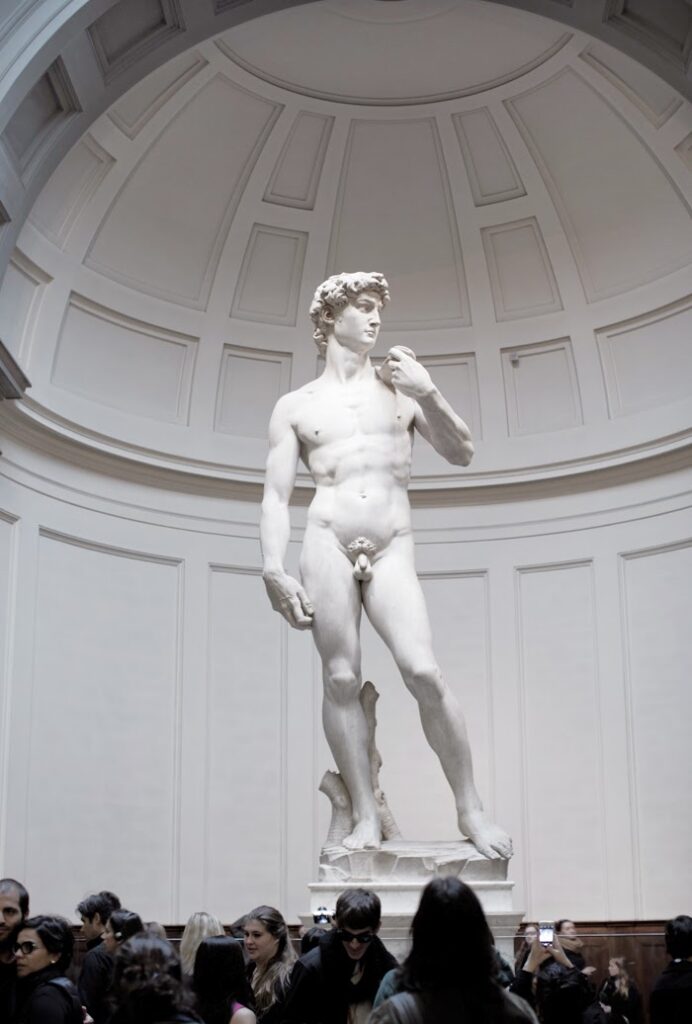 8. River Strolls + Old Bridge – Walking to the Uffizi, we strolled the Arno River which gives a stunning view of Ponte Vecchio, aka the "old bridge." This bridge dates back to Roman times and is noted in a document in 966. Yup, that's a three digit date. Pretty amazing to see in person. The views from the river are classic Florence, it felt as though I was staring into an oil painting the entire time.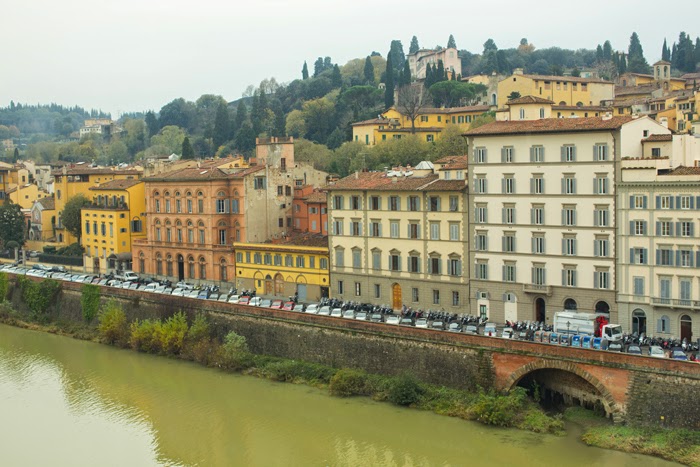 Old Bridge..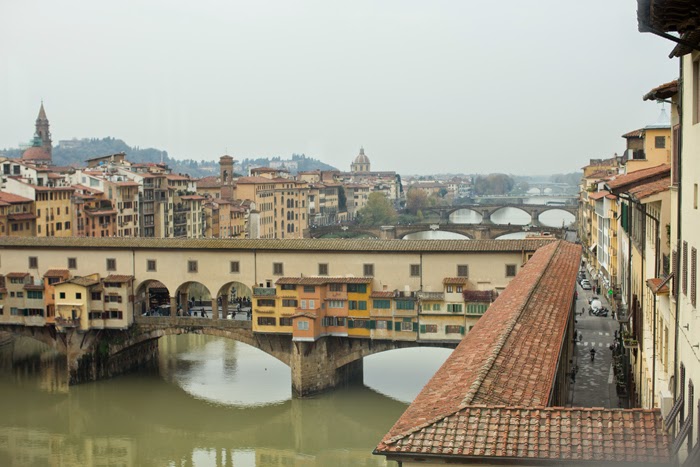 (Yes the river is pretty green .. we are not in Switzerland anymore!)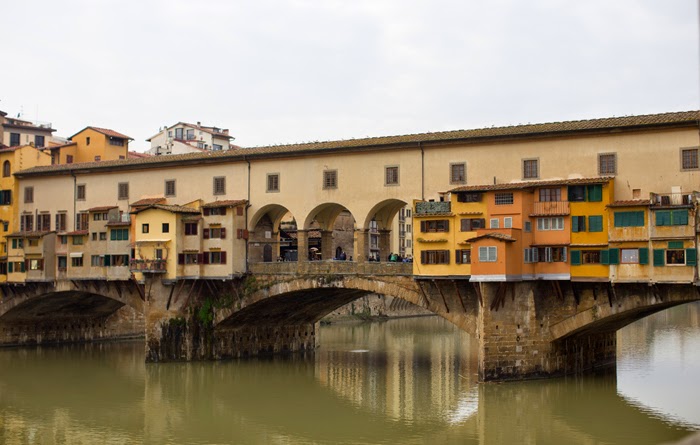 9. Beverages – Wine and Espresso – Not sure if you knew this already, wink wink, but Italy is a great place to quench your thirst. So hopefully you like wine or cappuccinos or both. Because the wine bottles are cheap and always taste amazing. The espresso is remarkable and "coffee time" is on a whole other level. I love watching the locals crouched over the coffee bar sipping their espresso, chatting with their coffee buddies and the workers behind the counter before heading out the door for their day. "To-go" just isn't the way here, take your espresso to stay!
10. Bookstores – My Book! – Florence is home to many bustling bookstores packed with books, people and energy! I think one of the highlights of my entire trip was trying to visit every bookstore in search of the Italian-translated version of my book 365 Vegan Smoothies — it was like my heart stopped when I found it perched on the shelf of a giant bookstore just a few streets down from The Duomo. There sat MY book, with my face and my photographs and my recipes, all in Italian. Wow, what a cool moment I will never forget.
Check out my Italian-version book, 365 Frulatti Vegan!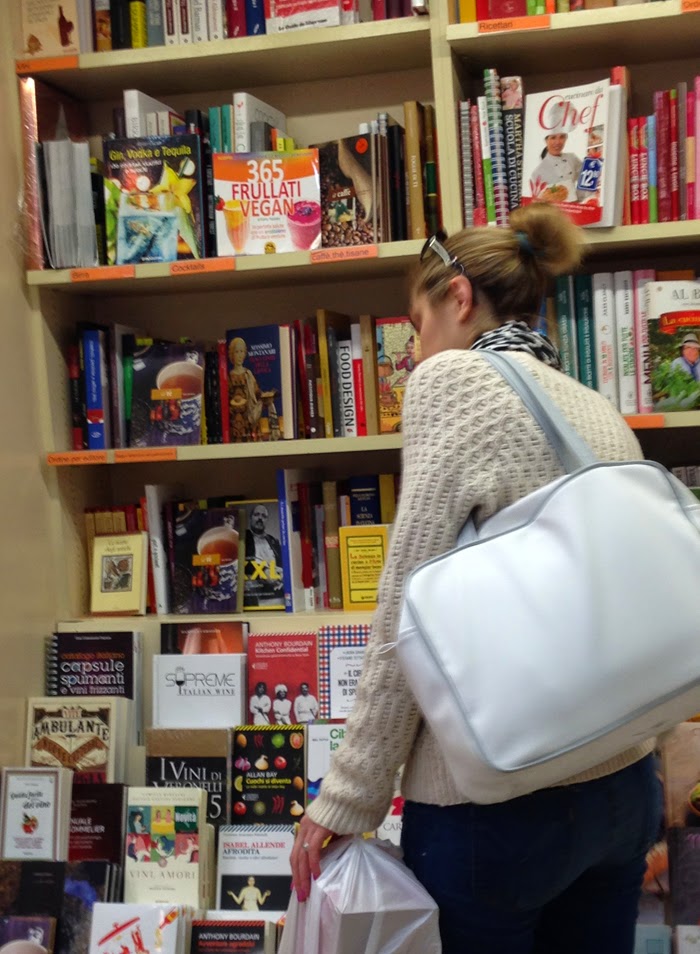 Florence was beautiful and rich in drama and culture. But as much as I adored our time wandering the grey cobblestone streets and being immersed in the sea of locals, shops and art, I was super excited for our next adventure .. Tuscany! Rolling hills, a visit to Montepulciano, wine tasting, the best lunch of our trip and more moody (beautiful) misty rain.. stay tuned for more!
Catch up on my Italy + Swiss Series: Part One Switzerland, aka Fairytale Land.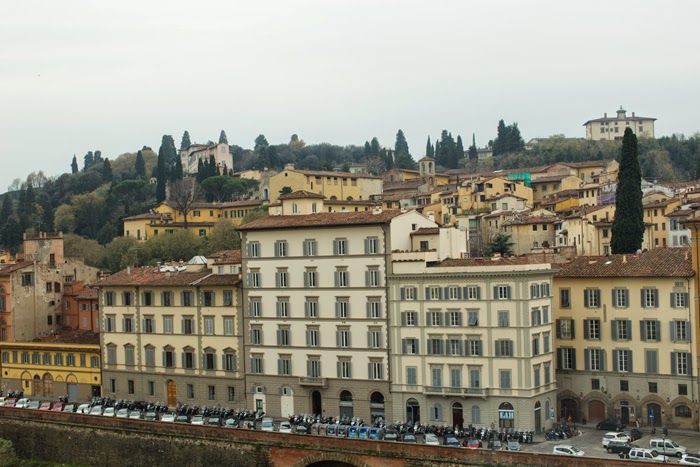 Selfie after about 5 hours of sleep (at most) + a beautiful painting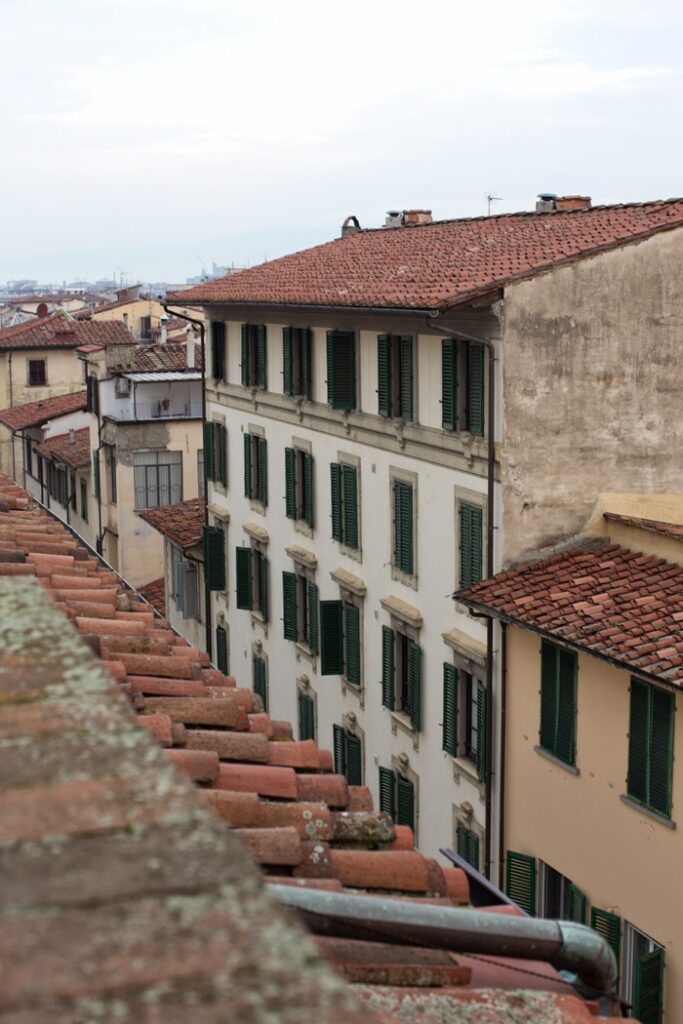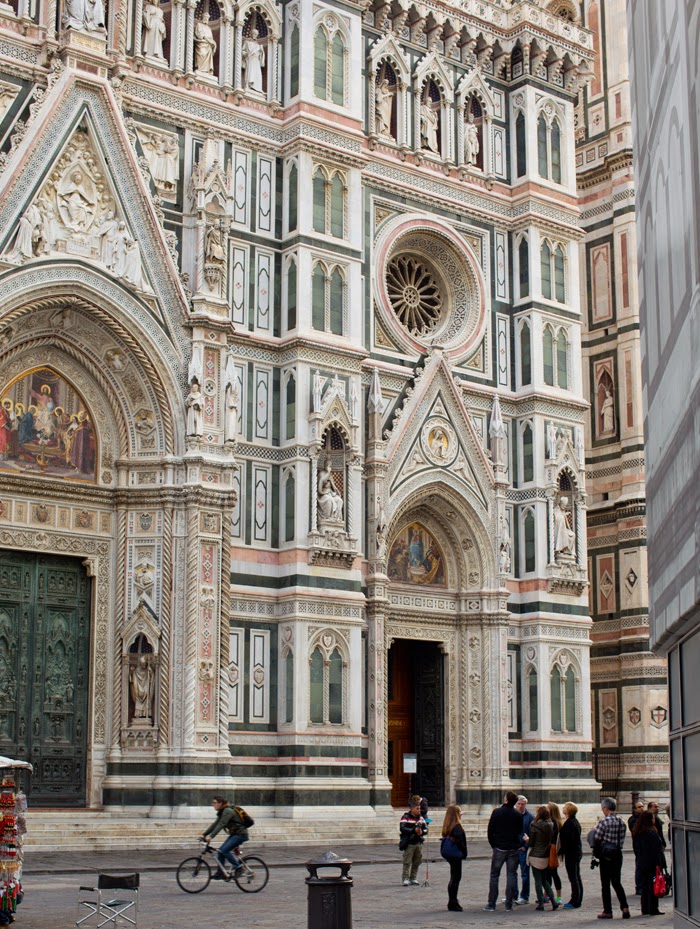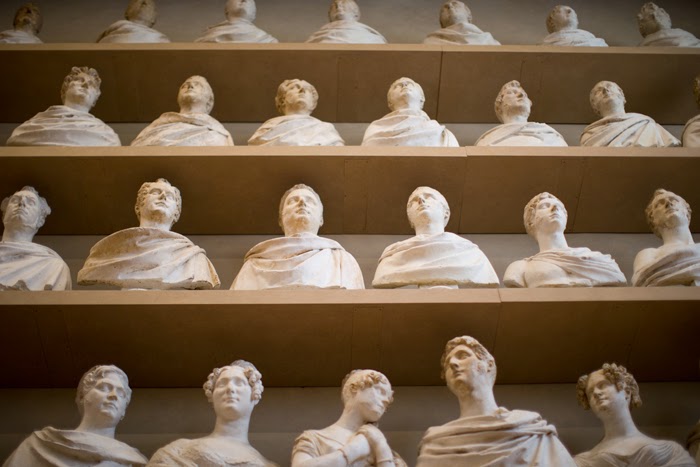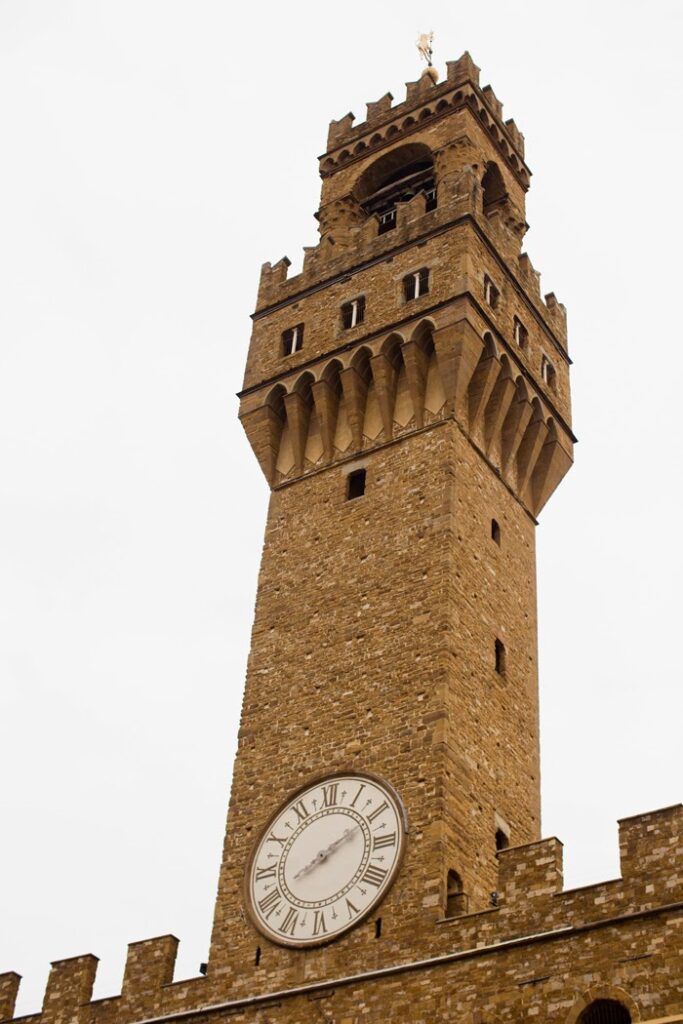 Ahh so cool..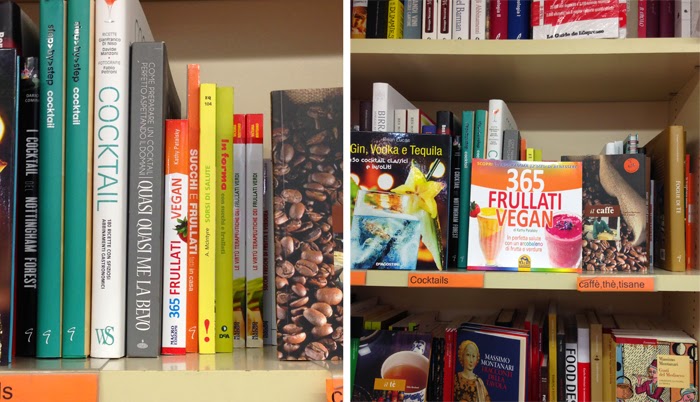 all photos by moi, Kathy Patalsky ©2015 all rights reserved