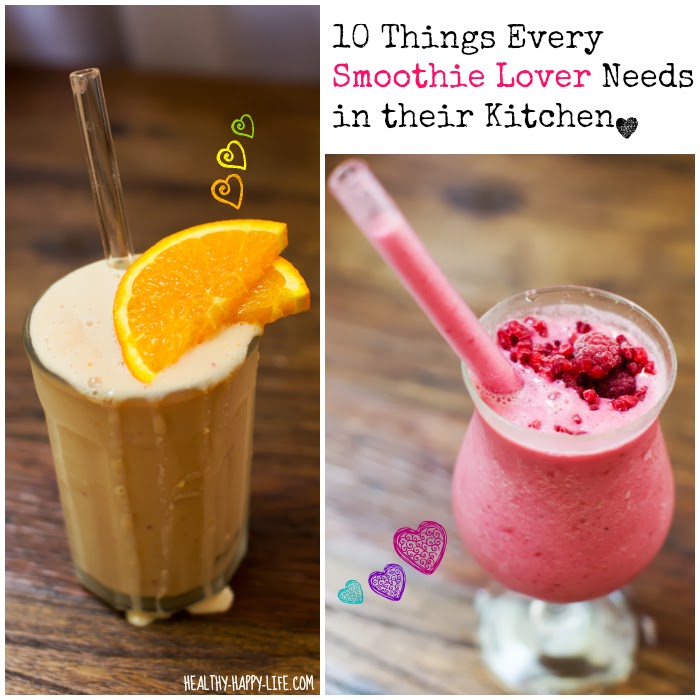 Corny voiceover voice: Do you consider yourself a smoothie lover? Me: "Yes, yes, yes!"
You too? Smoothie cheers to that!
And since I literally wrote the book on smoothie-making, I want to share with you what I think are the ten things every smoothie lover should have in their kitchen. So hop in your kitchen and give your smoothie tools, ingredients and goodies a good look to see how many of these ten items on my list you already have, which ones you want to add soon and which ones will be on your "smoothie kitchen dream list."
..Everyone needs a smoothie kitchen dream list, right?
So stock your kitchen with these goodies and you will be more than ready for summer. Many creative, delicious, wellness-enhancing smoothies and shakes await you. My list plus some exciting CONTEST news ahead…
In Anticipation… With just a few weeks until my book 365 Vegan Smoothies hits store shelves, I am doing some fun and fabulous stuff here on HHL. First off, in a few days I will announce a Dole-sponsored contest and giveaway with some amazing prizes .. many featured in this list! (Hint: lets just say high-speed blenders and more will be shipped…)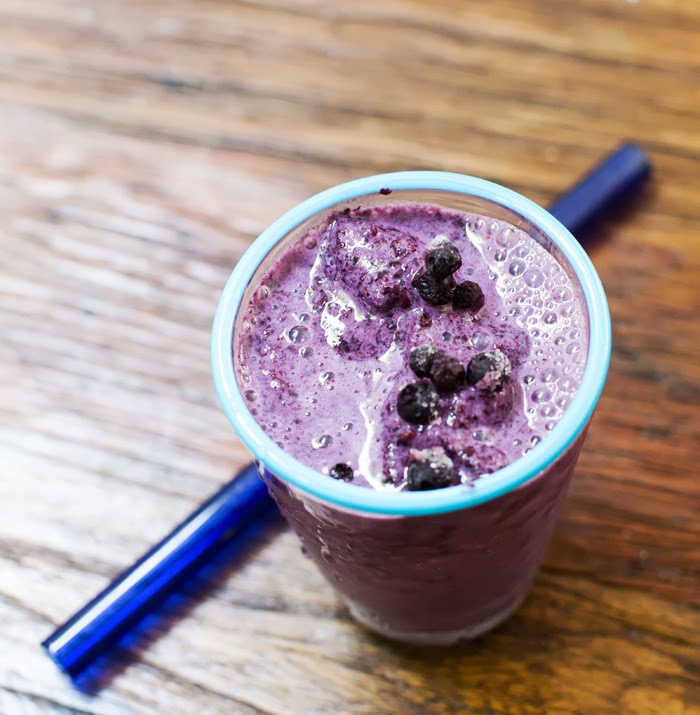 10 Things Every Smoothie Lovers' Kitchen Needs

1. An Amazing Blender.
Yes I am a huge fan of high-speed blenders and if possible, I think every smoothie lovers' kitchen should have one. But I also understand that they are not cheap! So if you don't have a high-speed blender and are simply placing a Vitamix or a BlendTec on you "dream list," just make sure you do still have a reliable blender that you love. One with a BPA-free or glass container. And one that you simply feel good about using! And one day when you can take the plunge into buying a more expensive brand you will be so glad you did. High-speed blenders are life changing .. especially if you are a smoothie fan.
-> Buy a Vitamix or a BlendTec via these links and get free shipping.
2. Glass Straws.
Buy at least one glass straw and glass straw brush (for cleaning.) In the long run, the straw will pay for itself in no time since you do not need to buy throw-away straws anymore. There are two main brands I love: Be Strawesome
and Dharma Glass Straws
. Straws in this post are Strawesome.
3. Nut Milk Bag.
Every smoothie lover should try making their own nut milk. Here is my almond milk recipe. And cashew milk. A nut milk bag makes this process sooo much faster and easier. Cleaning Tip: to clean my bag I simply flip it inside out and start streaming hot tap water through it. Squeeze well and hang to dry. You can buy nut milk bags online at OneLuckyDuck.com
4. Mini Spatulas.
I always use a mini spatula to scrape out every last bit of my thicker shake-like smoothies. Mini spatulas allow you to scrape in between the blender blades. You can find these online or in most kitchen supply stores. Mini Spatulas on Amazon.
5. Microplane.
I love adding fresh citrus zest, grated fresh ginger and grated spices to my smoothies! A microplane allows me to do this! Widely available or buy online: Microplane
.
6. Vegan Protein Powder.
I love having a vanilla and a chocolate protein powder on hand for when I want to add some flavor and protein to my blends. Not sure what brand to choose? Check out my Big Vegan Protein Powder Guide!
7. Superfoods!
It is a good idea to have a nice handful of a few of your favorite superfoods on hand for when you want to boost your blends. You do not need ALL the superfoods out there, just a few. I think 3-5 is a good number. Here are a few of my favorites: spirulina powder, maca powder, goji berries, cacao powder, cacao nibs, hemp seeds, flax seeds or oil, chia seeds, acai powder, mesquite powder, lucuma powder, wheatgrass powder, superfood blends, green tea powder (matcha) and more.. Choose a few and experiment with boosting the nutritional wellness of your blend. Browse at One lucky Duck or Amazon: Superfoods
8. Frozen Fruit.
This one is pretty obvious. But besides the usual items like frozen peaches, strawberries, blueberries and more, make sure you try these fruits and veggies in frozen form: watermelon cubes, cantaloupe, sliced/peeled orange and grapefruit, grapes, kiwi, cucumber, apricots and more. The point is that you can freeze your own fruit and really get creative with flavors, textures and recipes for your smoothies. My book will show you some creative recipes using foods you freeze yourself. Oh and a giant freezer-friendly container of frozen bananas is a MUST.
9. BFF Smoothie Glass(es).
You really must have a few smoothie glasses that you LOVE. And one that is giant in size for when you want a tall, big, XL smoothie. Head over to your fave kitchen store and pick out a few glasses that you will specifically use for smoothies. I also think every smoothie kitchen should have a few non-breakable glasses in addition to glass glasses for those days when you want to take your smoothie outside and sip under the sun and blue sky. Search far and wide for your BFF glass .. I have a few and it took me a few years to find them!
10. Ice Cube Trays.
Even if you have an ice maker, you need a few ice cube trays. This is so you can freeze your own "creative cubes" to blend in smoothies! I talk a lot about this in my book, but a few examples are coconut water cubes, almond milk cubes (I make a skinny vanilla milkshake using them!), coffee cubes, juice cubes and more. With these cubes, you get that desirable frostiness that ice contributes, without watering things down.
BONUS —> 11. 365 Vegan Smoothies Cookbook.
Well ok, this is a MUST for any smoothie fan in my opinion. My book! With 365 vegan smoothie recipes, ingredient info, nutrition facts for each recipe, smoothie blending tips and FAQ's, a 12-month wellness program, fun smoothie names like "rosy cheeks delight, pineapple shake shake shake and poolside peach," yummy photos and more .. this book needs to be in your kitchen. I hope you love it just as much as I do! Pre-order 365 Vegan Smoothies + more info. (Thank you to everyone who has already pre-ordered! I cannot wait to see the smoothies you make from my book!)
Alright, now you tell me … what did I miss, what is in YOUR smoothie lovers' kitchen??
Other things…
* a juicer for making fresh juices.
* giant fruit bowl for storing all those bananas you plan on freezing once they get super ripe.
* an array of colorful plates and napkins to serve alongside smoothies .. party-approved presentation.
* nut and seed grinder for grinding flax, pumpkin, chia seeds and more.
* a reliable knife for chopping fruit and veggies.
The Contest… So stay tuned friends for how you can WIN these amazing goodies and more! #SMOOTHIETUDE is coming
(recipes? the recipes for the smoothies shown in this post will be in my contest announcement post.)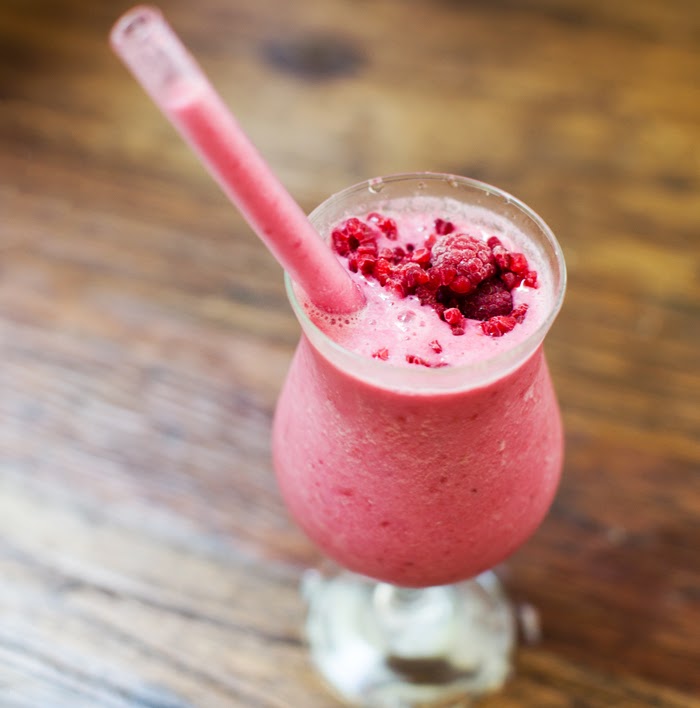 Disclosure: I am a Vitamix affiliate and any links to their products are via my affiliate account.