Vegan Chili is one of my most favorite easy, nourishing meals. And this Simple Bean Chili is loaded with hearty + healthy beans! To keep things simple, (and speedy!) minimal ingredients and few veggies are added. (Sure, you can add them if you want to and have more time…)
This recipe is really just a tomato-y, spiced-up flavorful, rich — bean-loaded chili.
This bean-loaded chili is so fast and easy to whip up! I made this batch is just around fifteen minutes yesterday. Really! You can serve it with optional easy polenta cakes (recipe included below) or some fluffy cornbread. Both recipes ahead!..

Plus a how-to video!…
Dinner in fifteen minutes
Yes! It is possible when you have your ingredients on hand and recipe planned out. This Simple Bean Chili is a very basic chili recipe that is very bold and delicious when it comes to flavor. And bonus, since it is rich in beans, spices and veggies, it is packed with fiber, a good source of iron and protein – among others. This chili is cozy, comforting and satisfying.
The speed comes from the lack of veggies that need a long time to cook. The onions quickly soften in some oil – as does the garlic. And the beans are already cooked so things whip together quite swiftly!
And a few cubes of polenta cake or corn bread on the side is the perfect starchy side.
Watch Me Make it..
Chili Toppings to try:
avocado
vegan cheese shreds
vegan sour cream or mayo
sliced jalapeño
crushed peanuts
cilantro or parsley
Beans.
This is a bean-based chili. It's really just a simple blend of tomato and beans with a few veggie accents.
I like kidney beans best for chili. But for this version I did hald kidney, half black beans and it worked really well. Use what you have! Chickpeas and even white beans are other options.
The basic ingredients:
– onion
– beans
– chili spice (I used chipotle, because that's what I had on hand)
– canned diced tomatoes
– tomato paste
– broth or water
– salt + pepper
Heat + Spice.
For this Simple Bean Chili, you can really customize the heat. I like either chili powder or chipotle powder for me spiciness source.
Start off with ¼ teaspoon chili powder and add more to taste. Sometimes I pile it on for some really spicy chili and other times I want just a mild kick or none at all.
Other ways to add heat: jalapeños, cayenne or even hot sauce over top to serve.
..Easy, right?

I added in a few other ingredients that are optional like garlic, a bay leaf, brown sugar and cacao powder.
The fifteen minute breakdown:
– 5 minutes: chop the onion and garlic. Open cans. Rinse beans. Warm oil in pan.
– 2 minutes: saute garlic and onion.
– 1 minute: add everything else. stir
– 5 minutes: close lid and allow to simmer.
– 2 minutes: remove lid to cook down a bit + taste test.
And of course for a more developed and marinated flavor you can also choose to keep simmering on low for 20-30 minutes. Or even make this ahead of time and serve the next day. But really, I tasted this in my 15-minutes cooking sesh and it was delicious!
Side of polenta cake! Here is my recipe for 4 servings:
Quick Polenta Cakes:
½ cup corn grits
¼ teaspoon salt
1 ½ cups water
1 tablespoon vegan butter
oil for bowl
Add the water and salt to a small pot. Bring to a boil. Add the grits. Reduce heat to medium. Stir continuously for about five minutes. Keep stirring until the mixture is thickened and the grits are soft and cooked through. Continue stirring on and off for another ten minutes. Then transfer the grits to a well-oiled bowl. Cover and set aside for ten minutes. Flip bowl and slice and serve.
Go-to dinner recipe, right here. Try this Simple Bean Chili tonight…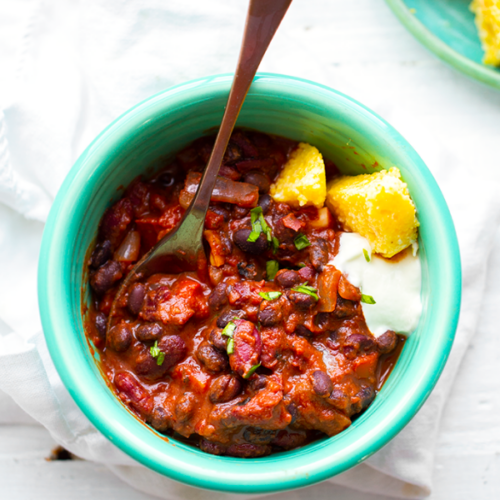 Simple Bean Chili
This thick and cozy, warming and satisfying bowl of vegan chili is packed with beans, tomatoes and spice.
Print
Pin
Ingredients
1

tablespoon

extra virgin olive oil

1

red onion

,

chopped

5

cloves

garlic

,

chopped

14

oz

can of chopped fire-roasted tomatoes

2 ½

tablespoon

tomato paste

14

oz

kidney beans

,

canned, drained/rinsed

14

oz

black beans

,

canned, drained/rinsed

½

cup

veggie broth or water

½-2

teaspoon

chipotle or chili powder

,

or to taste

1

bay leaf

,

optional

2

tablespoon

coconut or brown sugar

,

optional

2

teaspoon

cacao powder

,

unsweetened – 1 square dark chocolate could also be used (optional)

½

teaspoon

salt

,

or to taste
Instructions
Prep: Chop onion and open your cans/boxes. Drain and rinse beans.

Warm a large soup pot over high heat. Add the olive oil. When oil is warm, add in the onion and garlic. Stir and saute for 1-2 minutes to soften and brown the edges.

Add in the beans, tomato paste, diced tomatoes, broth, chili powder, optional bay leaf, optional sugar, optional cacao and a starting pinch of salt and pepper. Stir well.

As mixture begins to bubble, reduce heat to low-medium and cover with a lid. Allow the chili to simmer, covered, for about 4-5 minutes.

Remove lid and stir. Taste. Adjust salt and chili powder if needed. Simmer for another few minutes to cook down to desired consistency/thickness.

When texture and flavor is optimal, turn off heat and serve! Add optional vegan sour cream or mayo over top. Corn bread or polenta cakes on the side are a nice starchy touch.
nutrition estimate | per serving
Calories:
346
kcal
|
Carbohydrates:
59
g
|
Protein:
20
g
|
Fat:
5
g
|
Saturated Fat:
1
g
|
Sodium:
506
mg
|
Potassium:
1199
mg
|
Fiber:
19
g
|
Sugar:
7
g
|
Vitamin A:
366
IU
|
Vitamin C:
16
mg
|
Calcium:
105
mg
|
Iron:
7
mg
You can see the bowl-shaped polenta here..