Today I am sharing The Best Vegan Cornbread. Cornbread might not seem like the most summery of recipes, but when you are using fresh corn, it certainly qualifies!
One of my favorite additions to most any meal is a fluffy nugget of warm, golden yellow corn bread – crumbly, buttery and cake-like. This recipe really satisfied every characteristic I look for in a cornbread! I enjoyed it warmed up with some vegan butter and maple syrup, and I also crumbled it over top a vegan ranch summer salad – similar to this BBQ tofu Ranch Salad. And of course, if you are making veggie chili, cornbread is the perfect side.
If you are a cornbread fan like me, hope you can give this recipe a try!..
Warm bread, vegan butter and maple syrup on top..

Bake until the edges crack and the texture feels spring-y to touch…

Love this texture! Fluffy and cake-like yet crumbly and rich. My perfect corn bread texture for sure…

Slice into squares and serve!..

This Cornbread. I was so happy with this recipe! There are a few tips for success..
* Bake Time. Make sure you bake the cornbread long enough. Don't be afraid of letting the tops and corners of the bread brown a bit. Also do not be afraid to watch the edges crack a bit. That is all a part of the baking process, and it doesn't actually effect the bread once it cools. This bread slices so perfectly and hold up very well, just crumbly enough, but mostly hearty and sturdy and cake like too.
* Fresh Corn. Using fresh corn cobs is the best way to get amazing flavor and texture. If you have to use a canned or frozen corn, just be sure to drain or dry the corn as much as possible so things do not get soggy.
* Add-ins! You could add green chilis, jalapeño, diced onion, shredded vegan cheese, scallions, black olives and more. Fold them into the batter before pouring into your baking dish. I love vegan cheddar cheese and jalapeño in my cornbread!
* The Milk. Try to find a really rich dairy-free milk. My preference is a full fat soy milk – the kind that has at least 100 calories per cup, unsweetened. Eden is a great brand for that. Or a rich almond milk like Califia Farms will work too. Just be sure you use unsweetened or original flavor. You could even experiment with subbing in vegan plain yogurt for the milk!
* How to Store? I slice the bread into squares and then pile it into a plastic bag. Seal it up and this bread keeps well in the fridge for up to a week. Longer storage, place in the freezer.
Why do you use masa harina instead of corn meal? Basically, the masa harina acts like a highly absorbent flour, rather than a grittier corn meal texture. Masa harina is usually used to make corn tortillas or tamales. But I love it for cornbread! Especially when you are using fresh corn in the batter too. It really helps achieve that cake-like, almost spoonable, but still fluffy texture that I love! If you cannot find masa harina, you may be able to sub with a finely ground, corn meal – like a corn flour – though I have not tested that version yet. Chowhound has a nice explanation for the two ingredients here.
I updated my popular Tempeh Bacon recipe page with new pics, a video and a few related recipes too.
Next time around, I am going to make this batter into muffins!
Vote in the Veggie Awards! The 2017 VegNews Veggie Awards are posted. I am very proud to be nominated in two categories again. Though I have never won, it is always so humbling to be nominated. It reminds me that all my many years of hard work with vegan recipes and sharing inspiration and writing cookbooks has actually been reaching people! And that is such a comforting and inspiring feeling. So if you feel like voting in the survey, I would so appreciate your vote.
When you vote you are automatically entered to win a bunch of amazing prizes too! Like a cruise, a year's supply of ice cream, meal delivery and more.
My nominations: Favorite Website: FindingVegan.com + Favorite Blog: Healthy. Happy. Life.
Vote in the survey / enter the contest here.
I really like the slight texture of corn in this bread. you can barely tell it is there, but it adds some oomph!



I also wanted to mention… You may have noticed that there was not a new meal plan this week for MealPlanSundays! Well, the truth is, putting together the plans was quite a time-consuming project. And while I love the idea of posting one for free on a monthly basis, I think that weekly is going to be too much for me. Plus, I found it took away too much time from recipe development for new recipes, which is my main love and passion.
So I will be sharing a new meal plan once a month. And of course you can always go back and check out the previous plans! I did three already and those are LOADED with recipe ideas.
I am also experimenting with different formats, maybe using grocery lists, or just featuring only dinners. So if you have any feedback at all, please let me know in the comments, or you can always email me at kathy at lunchboxbunch dot com.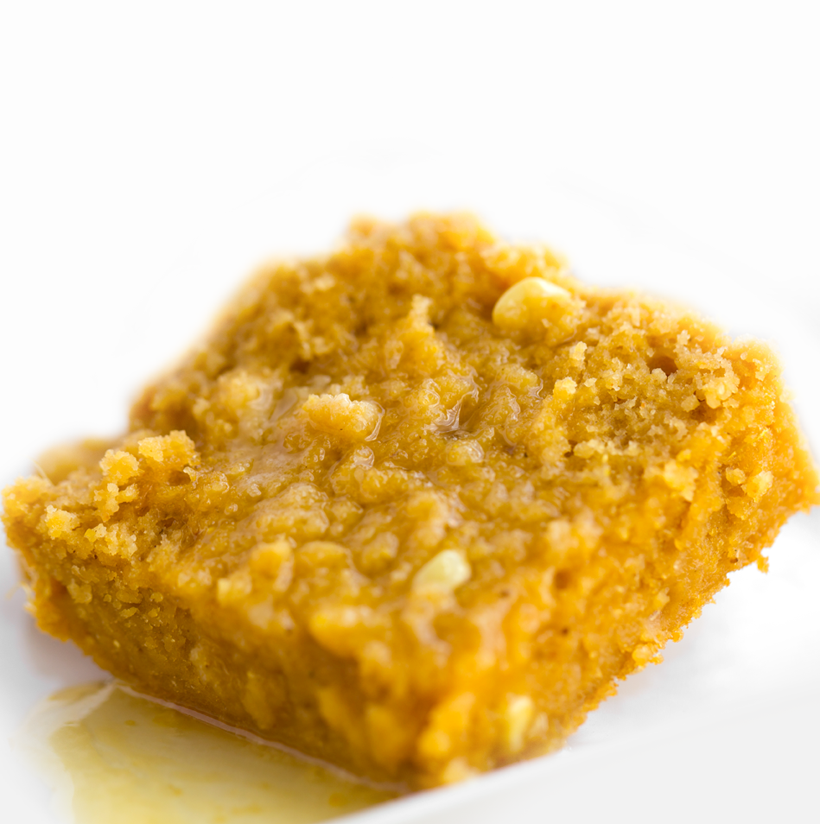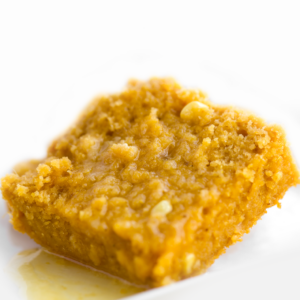 The Best Vegan Corn Bread
This fluffy, crumbly, super moist and tender, sweet cornbread is so incredibly satisfying. It tastes delicious all on its own or when vegan butter or sweet maple syrup is added. This will be your new go-to cornbread recipe! 
Print
Pin
Ingredients
2 medium ears of fresh corn, kernels sliced off (about 1 ⅓ cup kernels) – reserve about 2 tablespoon of the kernels

⅓ cup raw cashews

⅓ cup coconut sugar

¼ cup vegan butter (½ stick)

1 ½ cups non-dairy milk (soy used)

1 tablespoon fresh lemon juice
Dry:
1 ½ cups masa harina

½ cup white flour

½ teaspoon sea salt

2 teaspoon baking powder

⅛ teaspoon black pepper
Instructions
Preheat oven to 350 degrees. Line an 8 or 9 inch baking dish with parchment paper.

Add to a blender, corn kernels, cashews, coconut sugar, vegan butter, non-dairy milk and lemon juice. Blend from low to high until smooth – all the kernels and cashews should be smooth, and the mixture a thick liquid consistency.

In a large mixing bowl, combine the masa harina, flour, baking powder, salt and pepper. Whisk together.

While hand whisking, pour in the liquid mixture. Whisk very well until the batter is thick and smooth. It will have a rough texture from the masa harina, but will be free of any large clumps. Fold in the two tablespoons of reserved corn kernels. (These are optional, but that add a hint of whole corn texture.)

Pour the batter into the baking dish. Bake at 350 degrees for 40-50 minutes. I used an 8 inch dish and baked for 50 minutes. You want to bake until the top begins to crack open on the edges, and a toothpick inserted in the center of the bread comes out dry. Note: You could also bake up muffins or a thinner corn bread in a large dish, but baking times will vary.