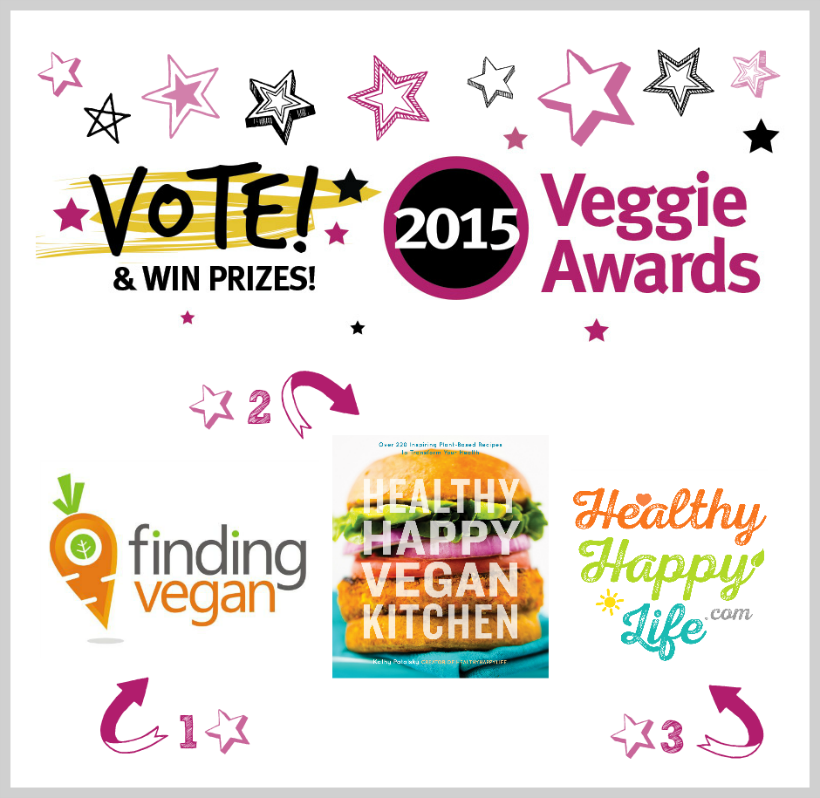 The 2015 Veggie Awards are well underway and I have all the details on my three nominations, and how you can enter to win a Vitamix, year's supply of vegan ice cream and more! Plus my SXSW 2016 submission I hope you check out. (And don't miss the end-of-post bonus happy video I wanted to share..)
Three self-serving, but totally heartfelt requests for you today. Three in one post because it is SO much easier to get my vote-begging done in one swift post for the year 🙂
1. Veggie Awards. I always adore the VegNews veggie awards. My blog has been kindly nominated for "favorite blog" a few times, so I am thrilled to again be nominated among a stellar list of bloggers.
But I am especially excited about this year's awards because I am nominated in three categories this year, which is pretty exciting and a huge tribute to the very busy year of work and projects I have completed.
Seriously, being nominated makes the exciting events from the past year feel that much sweeter.
My three nominations:
– HealthyHappyLife.com for "favorite blog"
– Healthy Happy Vegan Kitchen for "favorite book"
– FindingVegan.com for "favorite website"
..this is the FIRST time FindingVegan has been nominated after me "writing it in" and asking fans to "write us in!" in years past – so being on the ballot really made my heart swell with joy.
When I saw it, I believe I dropped my phone on the couch and squealed to my husband.
And to be nominated in such talented company is beyond amazing.
I love the Veggie Awards because they celebrate such a wide array of vegan superstars. Products, places, people, websites, organizations and more. The awards are a great way to discover new vegan finds, as well as vote for your faves.
When you vote, you will be entered to win some fantastic prizes. Vitamix, $500 gift card to vegan essentials, loads of ice cream and more.
—
2. SXSW Panel Picker.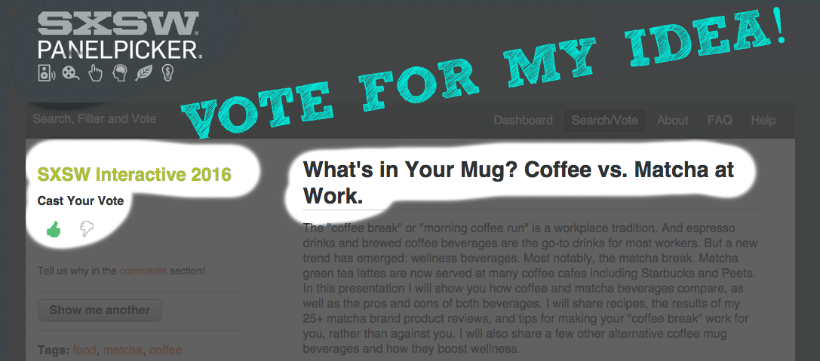 SXSW. Another vote request, but really I am so passionate about this.. You guys may remember I had SO much fun hosting the official Vegan Meetup at SXSW in Austin last year.
Well for SXSW 2016 submissions, I went out on a "food" limb and submitted a presentation about wellness beverages at work. "What's in Your Mug? Matcha vs. Coffee!" I loved all the food-themed presentations at SXSW last year, so I would love to be a part of that this spring.
But my event NEEDS your vote, aka a thumbs up via the panel picker. A huge percentage of the deciding process comes from the public vote. Thumbs Up My Submission for SXSW 2016. (thank you thank you thank you)

3. Amazon Reviews.
And lastly, (last one I promise!) If you haven't already, please please hop on over to Amazon and leave a review for my cookbooks, if you own them. I LOVE reading the feedback and greatly appreciate the time it takes to write something for the world to see. Even a super quick 1-2 sentence review is greatly appreciated!
More positive reviews means more people are likely to find my book and infuse their lives with vegan recipes = win for people, the animals and the planet!
—
OK, I have now completed my vote begging, review-writing-request post of 2015.
To show my gratitude I offer up this photo with a caption, one of my faves from my collection of kitty instagrams blogpost..
"OK mom, now STOP asking the kind people to vote for you ….. and open me another can of food." – Sochi the cat..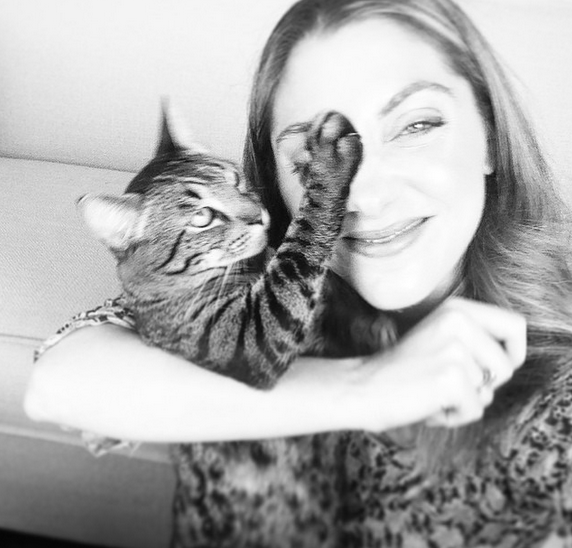 AND a bonus for you guys who made it through this post. THANK YOU. I need to share this beautiful video with you today…
(function(d, s, id) { var js, fjs = d.getElementsByTagName(s)[0]; if (d.getElementById(id)) return; js = d.createElement(s); js.id = id; js.src = "//connect.facebook.net/en_US/sdk.js#xfbml=1&version=v2.3"; fjs.parentNode.insertBefore(js, fjs);}(document, 'script', 'facebook-jssdk'));