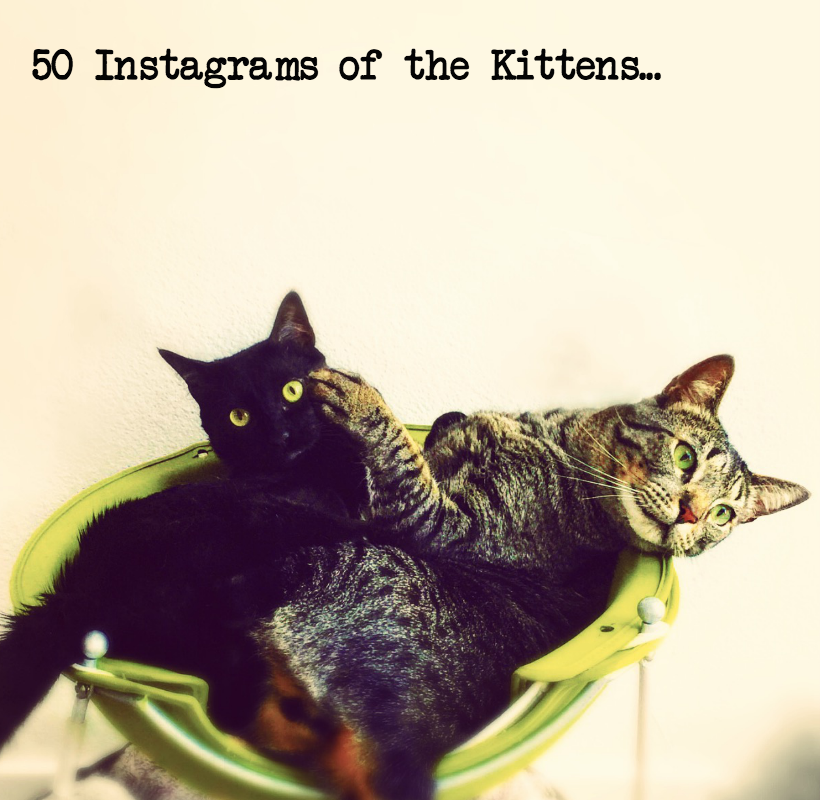 In honor of a very serious and important holiday in our house, International Cat Day, my two kitties Sochi and Mr.White asked (er, demanded) that I post a blogpost chronicling their most fur-tastic and famous kitty cat Instagram photos and videos.
I, of course, happily agreed to comply with their request.
However, I did point out that most of the photographs would emphasize their frequency of napping in odd positions, chasing inanimate objects and being overall silly-cute-and-weird at the same time. They did not oppose this point and authorized me to move forward with the assignment.
So without further delay, let me share (in collaboration with my cats) the Top 50 Sochi + Mr White Instagrams for International Cat Day..
Top 50 Sochi + Mr White Instagrams for International Cat Day – follow me on Instagram
(note: do not miss the cat disclosure at the end of this post. Important stuff.)

(In no particular order)

1. Paws in the air for International Cat Day..

2. This gem. Mr.White's famous sleeping position..

3. And this. I am convinced MrWhite is half bat.. Bat cat.

4. One of the first kitty videos. They have not changed one bit!..

5. Sochi fell asleep on a skin brush. I repeat. He used it as a pillow.

6. That time MrWhite had one a rough night (or one too many cat treats) and ended up in my Cykochik bag…

7. That time Sochi had one too many cat-mommy selfies. And fought back. This is a mom-put-the-phone-away paw whack…

8. He tried sooooo hard to make it our of bed that morning…

9. Favorite things on my desk: my cat.

10. Napping on the brand new couch..

11. MrWhite displays his famous leap-froging hop to catch that darn red light..

12. And his dehydrated cranberry-attacking skills..

13. MrWhite's face… Me, like everyday.

14. Glad this happens to other people too..

15. MrWhite's impressive ball handling skills..

16. I mean. Too much cute in one photo..

17. This impressive nap position..

18. That time Sochi helped me promote my cookbook. Thanks Soch..

19. Sochi napping in a disposable litter box because … why not?

20. Sochi either loves me or…

21. Love love love..

22. Just for the record, there is a version of this photo where I photoshopped MrWhite wearing a tie..

23. Sochi doesn't understand good manners…

24. Sometimes we dance.. (OK, every day we dance)

25. Kitty pillows…

26. These two..

27. Colorful cuteness..

28. Typical…

29. Meow or never, friends forever. Or maybe fur-ever…

30. Paws in the air nap time..

31. This was a confusing photo. No MrWhite was not leaping over the moon, although I wouldn't put it past him.

32. Sochi's first Instagram..

33. So cozy..

34. BFFs..

35. Sochi loves Gena's book too..

36. Sunbeam buddies.

37. That time when Sochi wanted the sun turned down so he could nap.

38. Some late night screen time on the iPad cat game App..

39. Mid-air kitty stretches from MrW..

40. Sometimes Sochi likes to be proper and discerning.

41. Typical snooze time..

42. MrWhite's fave spot to nap… LAPS. Total lap man.

43. He actually found a way to fit…

44. MrWhite's unveiling to the world. Right before I unveiled him to my husband. (Now they are BFFS) 🙂

45. Sunbean kitty..

46. Playing nice. Or plotting their world domination..

47. It never ends. The snoozing..

48. So little!..

49. Love these two.

50. Purr. Thank you for reading! Sochi and MrWhite send you kitty kisses and huge head rubs!

Happy International Cat Day! Please consider checking out a few of my favorite kitty charities..
Cat Disclosure: This has been a Sochi and MrWhiteCat Production. All above photos are sole copyright of Sochi and MrWhite and must never be used unless their paws approve usage and context. Sochi and MrWhite would also like to give a shoutout to all the cats out there and specifically not include dogs. I asked that dogs be included in the pet shoutout, but MrWhite firmly said, no dogs allowed. So while I adore dogs, the above shoutout is for cats only. All comments must be complimentary in form or they will be swiftly removed by Sochi's paw clicks. Sochi requests that you leave comments describing how cute he is and MrWhite requests comments telling his mommy, aka me, to buy him more treats and serve more dry food even though he knows the wet food is better for him. He also requests more play sessions and would like to point out that he does not have fingers or he would indeed be writing this entire blog for himself. Lastly, Sochi and MrWhite demand that you adopt and don't shop and that every household in America has at least one kitty cat head of household. Two is preferred. Sochi would also like to ask for you to donate to one of the above kitty cat charities … or at the very least hug a cat today. Thank you and goodnight… at least for all the napping cats out there.
Sochi and MrWhite also requested that I add a photo of miss Nellycat..