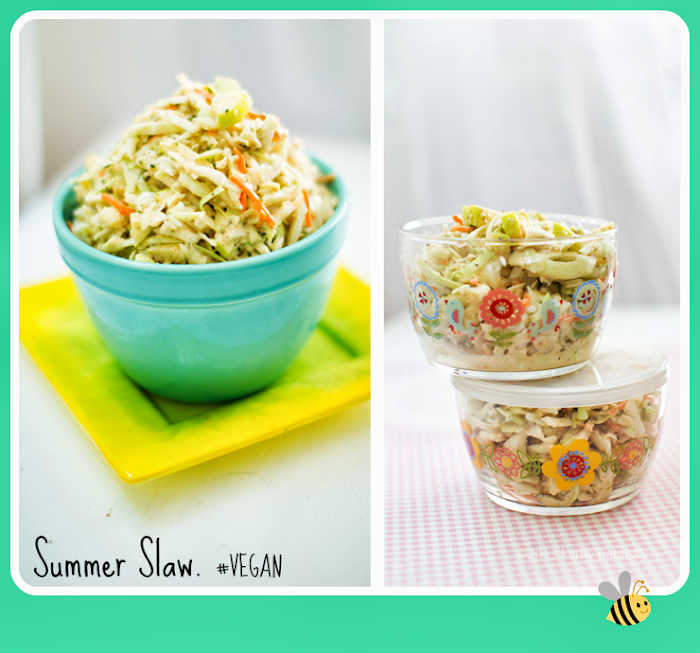 This new vegan cole slaw recipe is one of my favorites for spring and summer. I call it my Easy Peasy Creamy Perky Summer Slaw because it is all those things. Super easy to make, lightly creamy, perky and flavorful and ready to serve a crowd as a summer BBQ side dish or pile it on top of a veggie burger as a sandwich topping. Or do like I do and store it in small grab-n-eat containers for easy snacking at any hour of the day. You can even add a few sticky maple tempeh triangles on top and make it a meal. Or you can always pair it with the perfect veggie burger for a perfect summertime meal. Rainbow Sangria or lemonade frosty on the side.
Grab this recipe and make it all summer long!..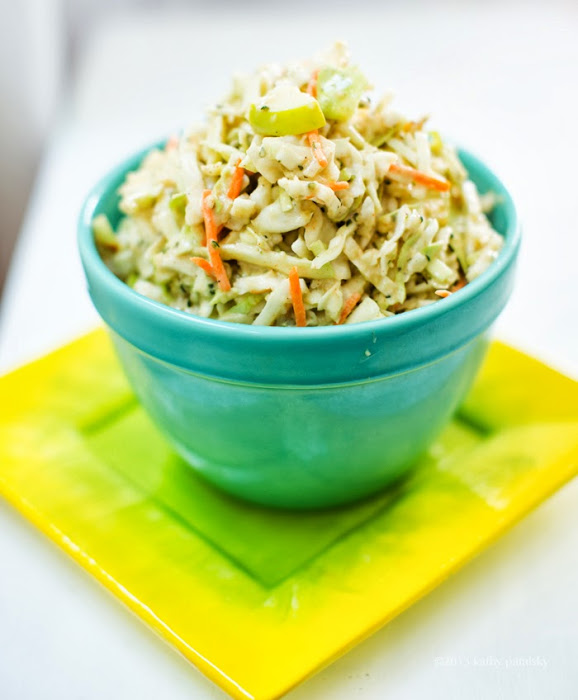 Slaw pairing? These cute little "Cali Veggie Burger" sliders go perfectly with slaw..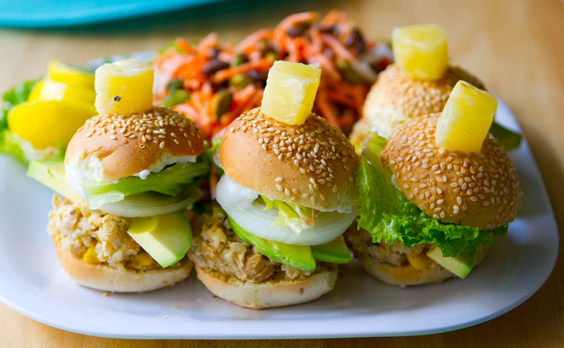 Frosty refreshment on the side: Lavender Lemonade Honeydew Frosty..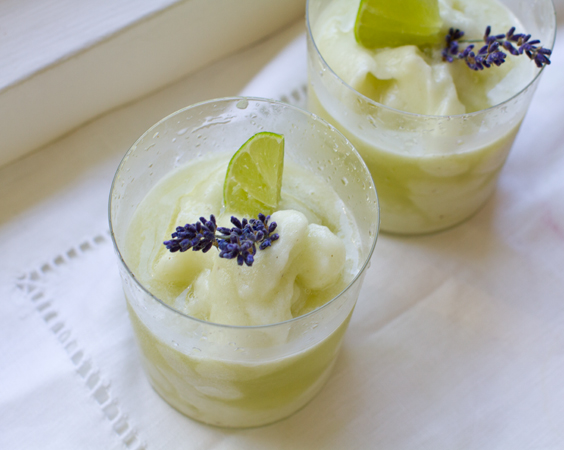 6 Vegan Slaw Recipes to Try:
1. Thick & Creamy Vegan Cole Slaw
2. Curried Tahini Carrot Slaw
3. Rainbow Slaw with Sweet Tahini Dressing
4. Sunshine Carrot Slaw
5. Ginger Citrus Napa Cabbage Slaw
6. Summer Slaw! Recipe below..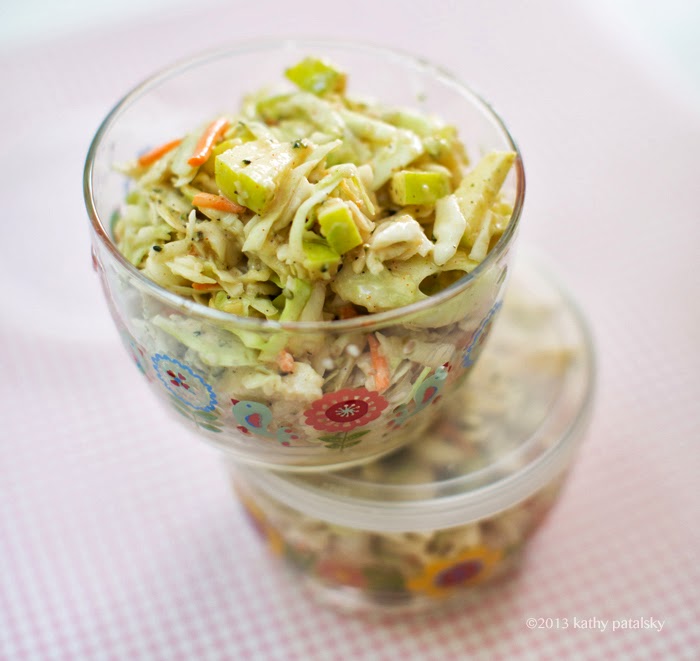 Kathy's Vegan Summer Slaw
vegan, makes 6-7 cups
1 lb shredded cabbage and carrots**
⅓ cup tahini
⅓ cup grade B maple syrup (or agave syrup)
⅓ cup apple cider vinegar
2-3 Tbsp Vegenaise (vegan mayo)
⅓ cup organic hemp seeds (or substitute with ground pumpkin seeds, chopped nuts or sesame seeds)
1 small sweet onion, chopped (optional)
1 small green apple, diced (optional)
spices: I add a few dashes of cayenne, fine black pepper, dried thyme and parsley
**For the cabbage: I make it super easy buy buying the "cole slaw mix" salad bags – you can also chop your own cabbage very easily and shred or slice your own carrots. Either way works!
Directions:
1. Add your slaw base to a large mixing bowl and start adding in al the ingredients any way you'd like.
2. Start tossing with a large spoon. Do this vigorous tossing for a good 2-3 minutes so that all the flavors are marinated into the cabbage.
3. Place the slaw in a covered dish or dishes and chill for at least an hour before serving. I actually think this slaw tastes best 1-2 after making it because the onions pickle in the fridge and everything becomes very creamy and the cabbage soft yet crunchy. This slaw keeps for about 3-4 days in the fridge. Add some lemon slices to the top of your slaw to help keep it even fresher.
Hope you try it! These flavors are incredible! (Let it marinate in the fridge overnight for best flavor!) Happy holiday weekend 🙂