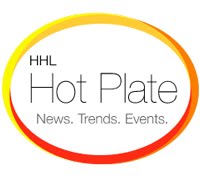 This week's Hot Plate Monday report:
* Smoothie Season is here!
* Summer sports kicks, rackets, swings, goals.
* Feed You Brain! With free recipes.
* Heirloom Eats, what would grandma make?
* Are You Hungry? the video sensation.
* Battle Papaya! and more foodie TV.
* Happy Bday Whole Foods! Win event tix.
…and much more in Hot Plate, Hot Plate News…
**HOT PLATE PIC** of the week:
Vegan Lasagna *the recipe*…

**VIDEO** of the week
Are You Hungry? video. Watch it. Share it.
**NEWS**
Summer is Here! Happy first day of summer!! It's officially smoothie season. Peruse my index of healthy, happy smoothie recipes to keep you cool all summer long!
Happy Bday Whole Foods! 30 Years of Whole Foods! Enter for a chance to win a trip to the WF birthday bash in Austin, TX, Sept. 17-19, 2010. Plus, WF Cherry Fest contest is also open to enter.
Battle Papaya! Iron Chef hosted a Battle Papaya. Did Bobby Flay master my favorite tropical tree fruit?? Good thing I DVRed it! Get the re-cap of the show here.
Uh-oh, SpaghettiOs!. Recall info for most appropriate headline ever.
Free Wifi at Starbucks. All-you-can-use wifi? Great, more reasons to order Soy Frapps. Good thing I have a back-up plan.
Jessica Simpson's Vegan Tweets?? It looks like her "Real Girls Eat Meat" T-shirt should be swapped for a "Real Girls Eat Tofu" tee. Or try one of these veggie tees on for size Jess. The tweeted details from Ecorazzi. Jessica gets my quotes of the week with these tweets:
"I ate tofu for the first time last night! It was yummy! You know your from TX when you have to dip it in ketchup. Ha."
"I just might like Earth Balance more than butter thanks to one of my vegan friends." -@jessicasimpson
**TRENDS**
Vegan Ice Cream …deserves some serious ogling. STOGO and Lula's all around!
Brain Food. Thinkfood Cookbook launched its Recipe of the Week campaign last week! Sign up for free brain-savvy recipes. I am thrilled to be a recipe contributor to book.
Top Chef DC. Did you watch? What do you think? Did you agree with John, the quirky/hippie Chef going home first? Fingers crossed for a vegetarian-friendly challenge. TopChef Contestants. Get the buzz and follow Top Chef Tweets.
Food Blogs. It looks like everyone wants their own food blog nowadays. Even CNN! They launched Eatocracy.cnn.com last week.
Avocado Recipes. Vegan Chef Jason Wyrick is featured in the NYTimes Well blog with a few of his diabetic-friendly vegan avocado recipes.
Summer Sports.
*Wimbledon started today! Fellow tennis fans, check out the buzz on twitter and the official site.
*World Cup Rages on..WC tweets/scores 24/7: Download a WC IPhone app.
Shaved Ice. It's hot outside! And shaved ice is a frosty way to beat the heat. Putting the Fresh in Refreshment, from the NYTimes.
Crunching on Nuts! I love nuts. A study reported in the NY Times finds eating nuts may help cholesterol.
Hungry for Vegan Eats. More and more everyday eaters are becoming curious about trying vegan food. I love that. However, there are a few folks who simply can't look past the word vegan. I made this video for them And for those who simply like to ogle yummy eats.
Heirloom Recipes. Share your heirloom recipes and peruse an index of recipe submissions. Hand-written recipes. Remember those? "Did grandma scribble 2 tablespoon sugar or 2 teaspoon sugar?"
Foodie Swag. Check out the Aspen Food and Wine festival Swag Bag. And it looks like Starbucks Via even gets a spot in these foodie-chic freebie bags. This is what I do with my Via packs.
Summer Smoothies! Get my smoothie FAQ's and substitutions list here! Smoothies/juice recipe index here.
Pretty Sunflowers! Welcome the summer season with these smile-inducing fleurs. Sunflowers are perfect for your dinner party tabletop. Whole Foods gives a few sunflower tips, facts and pics.
Summer Berries. Blueberries, raspberries, strawberries, olalliberries and blackberries for big berry bowls oh my!
…learn how to store your favorite summer berries here.
Sexy Veg Celebs. Vote for 2010's sexiest here.
Cherry Fest. Win tickets here.
Food TV Icons Slideshow. Looking back on the milestone faces (Martha, Julia…) that inspired us to shop, make, serve and eat.
Chef Curtis Stone. I still don't know if I love or hate him. But his recent comment about using "cage eggs" over organic free-range eggs has ruffled more than a few feathers. Maybe he should just not use any eggs.
Organic Wine Secrets. 8 'secret' facts about organic wine.
JSF. A new interview with Eating Animals author Jonathan Safran Foer at Good.is.
Summer Travel. In a few days I will be in LA! Yay! I'll be wearing my Lunchbox Bunch Cali tees as I compete in the DOLE Cali cookoff. Join me in wearing them this summer: California Pineapple tee And more character tees.
**EVENTS**
NYC Food and Wine Festival Tix went on sale today! Get them. Includes events with all your Food Network faves, like my friend Melissa.
Beverly Hills gathers the foodies in town for the Taste of Beverly Hills! Sept 2-5, 2010.
Restaurant Week NYC starts July 12th! Reserve now…
June 26th Los Angeles, CA: DOLE California Cook-Off – I'm a Finalist!
June 22 – Free Yoga in the Park, NYC.
July 31 and Aug 1 Farm Sanctuary NY Hoe Down!
VegFest DC: Sept 11, 2010
It's a while away, but plan ahead because VegFest DC is a fun, festive green gathering in our nation's capital.
Details at DCVegFest.com
PETA's 30 Year Gala. PETA's 30th Gala is this fall – Sept 25th, 2010 in Hollywood, Cali. Tickets and info here.
Don't forget to submit your green/foodie news, trends, hot plate pics and quips for next week's Hot Plate Monday Post! HotPlate (at) Lunchboxbunch (dot) com