Today's awesome Veggie Girl Power interview features Alex Jamieson!
Four words I'd use to describe Alex: empowering, compassionate, talented and lovable. Get to know Alex!..
Alex: Author Extraordinaire! You know how they always get the most talented, creative "authority of the subject" authors to write those yellow "For Dummies" books? Well Alex has "written the book" on vegan – for dummies. Or smarties even. Alex is a genius author who will inspire, intrigue and, using her word here, .. "empower" you!
Like most of you, I first learned of Alex when I was watching a tiny little 2004 documentary called "Super Size Me" – you may have heard of it. Ha! Super Size Me went on to receive an Academy Award Nomination for Feature Documentary – it was robbed at the podium in my humble opinion. 😉 If for some reason you have not seen this flick yet – rent it!
So, in the documentary, Alex swoops in at the end after Morgan (her then boyfriend, now husband) has trashed his body via his month-long McDonald's binge. She crafts an intense customized vegan diet for Morgan – which saves the day (and his body) – and the rest is history…
Since then, millions of men and women have looked to Alex for the same life-saving inspiration and body-changing advice that she gave to Morgan.
Alex's website features a treasure chest of advice and services to empower you to improve your diet, mind and body for a lifetime. Alex has sprinkled her vegan wisdom around the world in a friendly and accessible manner that make me very proud to be a vegan like her! Alex's positive spirit is undeniable! Alex is also a celebrated Chef.
More on Alex's impressive background, from her website: "She is a professionally trained healthy gourmet chef, having studied at New York City's Natural Gourmet Institute for Health and Culinary Arts. She refined her techniques by cooking professionally in Milan, Italy, as well as at a variety of popular New York City restaurants. In addition, Alex is a certified health and nutrition counselor. She studied with ground-breaking pioneers in the field of nutrition at the Institute for Integrative Nutrition, which is accredited by Columbia University's Teacher's College and by the American Association of Drugless Practitioners."
Now onto Alex's VGP interview!!…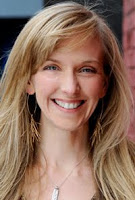 Veggie Girl Power Interview: Alex Jamieson
1. DRIVE: Yawn, sunrise, what is the first food/drink you reach for to start your "Veggie Girl Power" day?
Alex: BIG glass of WATER 1st thing!
2. SKILLS: What foods/veg products have you discovered that you simply couldn't live without?
Alex: Soy-Free Earth Balance, Daiya, Pink Himalayan Salt, Raw Cacao, Coconut Oil.
3. HEART: As a "Veggie Girl Power" trailblazer you inspire many girls, who or what has inspired you?
Alex: My clients – when they are brave enough to make major (or even minor) changes to their diets to either help themselves feel better or to help heal a family member's health.
4. EXPERIENCE: When people ask you why you 'went VEG' what is your usual answer?
Alex: First it was health, then it was the environment and the animals.
5. CREATIVITY: Anyone can eat carrot sticks and hummus, but give us your most creative/oddball vegan snack idea!
Alex: Leftover brown rice mashed in a food processor with a couple of dates and dried apricots and a big ol' spoonful of almond butter – delicious healthy macaroons in minutes!
6. DEDICATION: When you first "went veg" what was the hardest part? – and how did you overcome those obstacles?

Alex: Traveling and giving up cheese. I researched a lot online before traveling overseas, which helped me find healthy veg resources. Cheese cravings were sometimes hard to resist, but I've found other foods that are satisfying and healthier.
7. WISDOM: Words to live by: what is a favorite life tip or quote of wisdom?
Alex:"Life is a feast and some poor suckers are starving to death!" – Auntie Mame (Rosalind Russell)
8. GRACE: How do you respond to negative comments from critics, in real life or online?
Alex:I try not to take it personally. People like to complain – it's how we're raised.
9. PASSION: What is the one message that you always try to project to your fans/followers?
Alex: You can feel better with awareness, good guidance, and more greens!
10. PERSONALITY: Who would you award the "Veggie Girl Power" label to? And what have you learned from them?
Alex: Marisa Miller Wolfson is amazing – she's dedicated, smart, kind, not-at-all-snarky and fun to be around!
Bonus Holiday Question: Veggie Girl Advice! – How do you get through the (not-always-veg-friendly) holiday season smiling and feeling fabulous from the inside-out?

Alex: Cooking great healthy food for myself and others is fun – I love sharing it all!
* Hear more from Alex on her website: www.nutritionforempoweredwomen.com for group and 1-on-1 health counseling programs.
* Twitter: @AlexNutrition
* Vegan Cooking For Dummies – publish date 11/10/10
* Week In A Weekend – a new online cooking program that gives the home cook everything they need to create delicious healthy meals over the weekend for the coming week! (The first program will be available mid-November and is gluten & diary free!)
Complete VGP Series Schedule 2010
Last Years VGP Series 2009