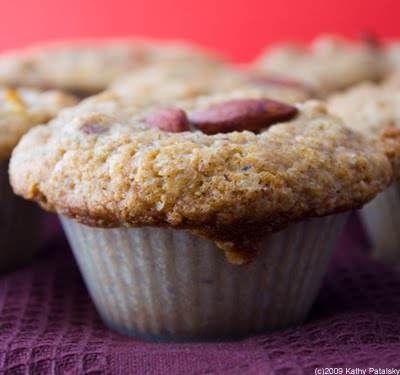 Almond-tastic. Almonds are packed with fiber, vitamin E, copper, manganese and riboflavin. Almonds are lower in saturated fat than most other nuts. They also contain a nice boost of protein. My Almond Pear Morning Muffins are packed with 5x the almond flavor: whole raw almonds, chopped roasted almond bits, almond oil, almond milk and almond meal. Hearty savory almonds pair perfectly with sliced bits of delicate sweet pears, a dash of spice, a hint of chai tea, and a squeeze of bright zesty lemon juice. And yes, you can eat these 'morning muffins' at any hour of the day. Get my recipe…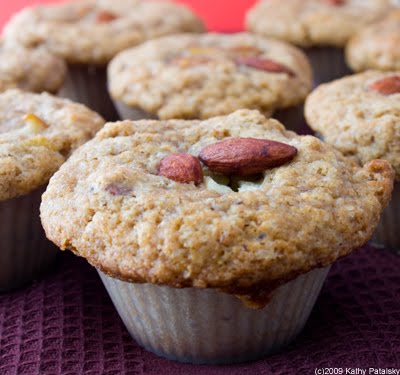 Almond Pear Morning Muffins
vegan, makes 1 dozen muffins
Dry Ingredients:
1 ½ cups whole wheat or spelt flour
1 cup vegan sugar, evaporated cane juice crystals
1 cup roughly chopped almonds
*plain roasted/lightly salted OR, I used TJ's Lemon-Spicy flavor of almonds
¼ cup almond meal
1 tablespoon flax seed powder
1 tablespoon baking powder
1 teaspoon sea salt
dash cayenne
3-5 dashes cinnamon
Wet Ingredients:
2 tablespoon lemon juice
1 teaspoon fresh grated ginger
½ cup almond milk (or soy milk)
½ cup chai tea concentrate
2 tablespoon almond oil
Fold in:
1 large ripe pear, diced into thin dime-sized bits.
Topping garnish: whole raw almonds, pear bits, dash of sugar
Directions:
1. Pre-heat oven to 375 degrees. Prep: roughly chop your almonds. Thinly slice your pear into dime sized bits. Set aside.
2. Combine all dry ingredients in a large mixing bowl: flour, baking powder, salt, cayenne, cinnamon, flax seed, almond meal and sugar. Mix well.
3. Add liquids: grated fresh ginger, oil, milk, lemon juice, chai tea. Stir until well blended, but do not over-stir your muffin mix. You want it to stay light and fluffy.
4. Fold in your chopped almonds.
5. Fold in your pear bits. Keep about 2 tablespoon out for topping garnish.
6. Fill your muffin cups. Add a garnish of pear bits, whole raw almonds and a sprinkle of raw sugar to the top of each muffin.
7. Bake at 375 degrees for 15-17 minutes, or until top is browned and has a nice crisp shiny top. Allow to cool for 15 minutes before removing from tin.
8. Serve with tea, chai or hot vegan cocoa. Delicious!
Notes and Alterations:
* Lemon Lovers! The fresh lemon juice adds a unique tart accent to these savory-sweet almond muffins. If you'd like, you can turn up the 'lemon' flavor even more by adding in another tablespoon of lemon juice and some fresh grated lemon zest.
* Oil Sub. If you'd like to substitute the almond oil with canola oil, feel free.
* Optional add-in: almond butter. Just make sure it's room temperature or slightly softened so it blends well.
* Sweeter mood? If you want to turn these muffins into a sweet tea-cake style bread, add a swirl of maple syrup in the batter and drizzle it on top of the batter before sticking it in the oven. Maple and almonds is a delicious flavor combo!