Chocolate. Sometimes you just need ooey, gooey, rich and fudgy brownies to satisfy your chocolate craving. And it sure doesn't hurt if the said brownies have a few healthy ingredients hidden away beneath the dark layers of oh-my-goodness-yum.
These Amazing Everything Brownies are gluten-free and vegan and totally rad. I love them with an extra drizzle of melted chocolate on top. I nibble them as they come, but really my fave thing to do with these and any brownie is to crumble it up and serve on top of some banana ice cream. Last night I did strawberry 'ice cream' with these brownies.
Oh and yes ok, while everyone else is starting to post giant Thanksgiving recipe round-ups, I am over here with my baking dish 'o brownies. Come say hi.
More chocolate on top? Sure.

My apologies for the chipped nail polish. I mean who has time for manicures when you are brownie baking? Not me.

Oh and ps. Looking for heaps and oodles of Vegan Thanksgiving recipes? Head over to FindingVegan.com (my other site) — and please like and share the Facebook page. I would so appreciate that!
A few recipe notes:

* You can absolutely add a bit more or less sugar if that is your preference – tiny changes won't effect the baking consistency too much.
* If you hate coconut, sub it by adding ¾ cups more chopped nuts or even more hemp seeds. Hemp seeds taste so buttery and good in brownies.
* If you don't have pumpkin you could sub with mashed sweet potato or if you want to get REALLY wild, try mashed black beans.
* No applesauce but yes apple? Try this recipe.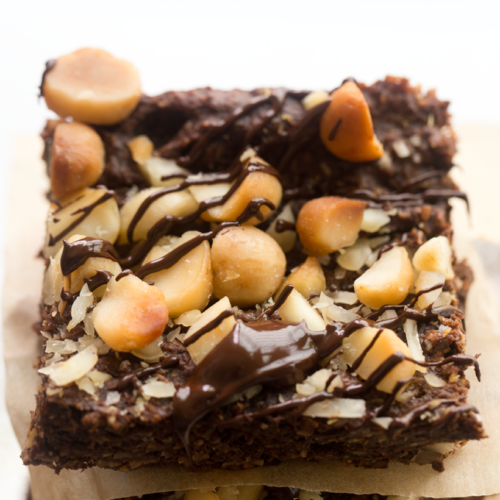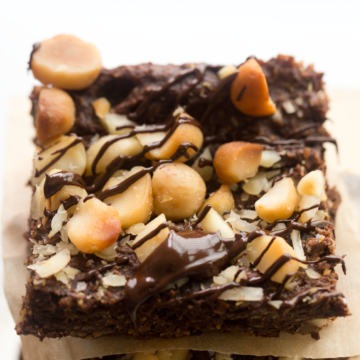 Amazing Everything Brownies
These rich and dreamy brownies and vegan and gluten-free with loads of goodies in each bite. Coconut, nuts and loads of chocolate flavor.
Print
Pin
Servings:
9
large brownies
Ingredients
Dry:
½ cup cacao or cocoa powder, unsweetened

½ cup oat flour (or any other flour you'd like to use)

½ teaspoon salt

½ teaspoon cinnamon

1 ½ teaspoon baking powder
Wet:
¾ cup applesauce – storebought or homemade

½ cup coconut sugar 

⅓ cup almond butter

1 cup pumpkin

¼ cup vegan butter, melted

2 tablespoon flax seeds

½ cup water

1 teaspoon vanilla extract
Fold in:
½ cup chopped nuts (any variety – Walnuts used)

½ cup hemp seeds (or another seed or nut)

1 cup shredded coconut, unsweetened
On Top:
1 cup chopped nuts (any variety – salted macadamia used)

½ teaspoon fleur de sel or another coarse sea salt

Optional: Vegan Chocolate Chips for chocolate drizzle
Instructions
Preheat oven to 350 and generously grease an 8 x 8 or 9 x 9 baking dish.

Whisk the flax seeds and water together. Let sit for a few minutes to thicken.

Pour the flax mixture and all the remaining "wet" ingredients into a blender. Blend until smooth. Keep blending on low for 1-3 minutes so that the mixture thickens up with all the flax seeds.

In a large mixing bowl, combine the dry ingredients.

Pour the wet mixture into the dry bowl and stir using a large whisk or a hand or stand mixer. Stir until the batter is smooth and fluffy.

Fold in the coconut, nuts and seeds.

Pour the batter into the baking dish and top with the nuts and salt.

Bake at 350 degrees for about 30-35 minutes.

Cool for at least a few hours if you want to slice to serve. Or eat all warm and messy right out of the pan. Or chill in the fridge and slice into bars.

Optional: Melt chocolate chips and drizzle the chocolate over top to serve. I use a double broiler to melt my chocolate.