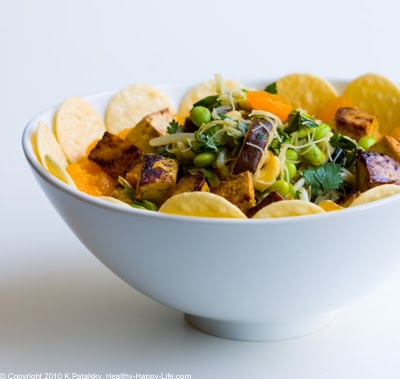 Continuing my Salad Tour Series, I put a fusion-style Asian spin on this salad recipe: my Asian Noodle Salad with Sticky Ginger Tofu Cubes. This recipe is swift to prepare and quite a filling bowl of yumminess.
Bowl-ing for Nutrients. This salad is packed with protein from the tofu and edamame. Plus it's loaded with antioxidants from the spinach greens and fresh cilantro. And don't forget the nice handful of sliced shiitake mushrooms and Maifun rice noodles – they are lots of fun! I've even thrown in a creamy-sweet wasabi dressing recipe. Add more wasabi and fresh ginger to everything for an extra spicy kick to the flavors. I am in love with this light, cool noodle salad recipe. Try it!…
Why is it Sticky Tofu?The Sticky Ginger Tofu Cubes are a lot of fun. I add in agave syrup (just a bit), and a nice drizzle of the leftover mandarin orange juice from the can (which contains sweet fruit juice and sugar). Then I add in some grated ginger during the tofu saute. The sugar from the agave and mandarin juice caramalizes the ginger and the edges of the tofu and makes a sticky sweet crust for the tofu cubes.
Sticky Ginger Tofu:

Maifun Noodles: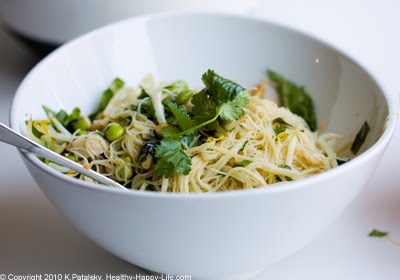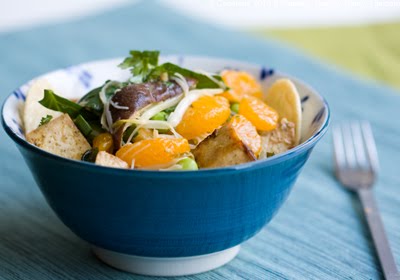 Asian Noodle Salad with Sticky Ginger Tofu Cubes

Cold Maifun Noodle Salad
1/2 box (4 oz.) Maifun Rice Noodles
*I used Annie Chun's brand
1 packet miso soup mix
1/4 cup liquid aminos "soy sauce"
OR 2 Tbsp traditional soy sauce
1 cup sliced shiitake mushrooms
1 1/2 cups edamame beans, frozen (heat in microwave or stove top)
3/4 cup fresh bean sprouts
1/2 cup chopped cilantro
1/4 cup raw or roasted cashews
1 tsp grated fresh ginger
1 tsp chili oil
black pepper
optional: 1 lime juiced and tossed with noodles
Sticky Ginger Tofu
12 ounces extra firm tofu, cubed
1 tsp EVOO
1/4 cup liquid aminos
OR 2 Tbsp soy sauce
1 tbsp fresh grated ginger
1 tsp garlic powder
1 Tbsp agave syrup
1/4 cup mandarin oranges canned juice
1 tsp chili oil
Other
4 cups spinach
wasabi rice crackers
wasabi-Vegenaise dressing
1 can mandarin oranges, drained (save the juice for tofu)
Wasabi Dressing
2 parts Vegenaise
1 part agave syrup
1 part soy sauce
1 part mandarin juice
1/2 part wasabi powder (more wasabi, more heat)
grated ginger – a touch
pepper
grated carrot, opt'l
Directions:
1. First prepare the noodle. Add your miso soup packet and liquid aminos/soy sauce to 3-4 cups of boiling water. Add noodles. Cook for 2 minutes.
2. Add the mushrooms and cover. Cook an additional 1 minute.
3. Drain noodles and shrooms. Rinse under ice cold water or dunk strainer in ice bath. Pat and air toss noodles ad dry as you can get.
4. Transfer noodles and shrooms to large bowl. Add chili oil and a fresh splash of soy sauce or liquid aminos.
5. To noodle bowl, add: edamame, cilantro, bean sprouts, cilantro, cashews, ginger and pepper. Toss very well. Set aside.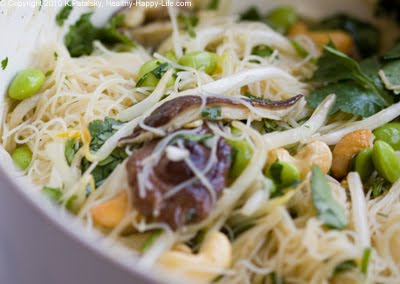 6. Next is the tofu. Open your can of mandarins and drain 1/4 of the juice into a cup.
7. Grab a saute pan. Add 1 tsp EVOO to pan. Add the tofu cubes – toss in oil a bit.
8. Turn stove on med-high and add soy sauce/aminos, agave syrup and mandarin juice. Tofu will be sitting in a nice 1/2 inch of liquid. Let tofu cook for 2-4 minutes – it will begin to sizzle and absorb some of the liquid.
9. Continue cooking tofu – toss tofu in sticky sauce. Add your grated ginger and pepper. Toss and cook until edges are crisp and sticky. Add in the chili oil towards the end of cooking.
10. Remove pan from heat – let cool for a few minutes while u assemble salad.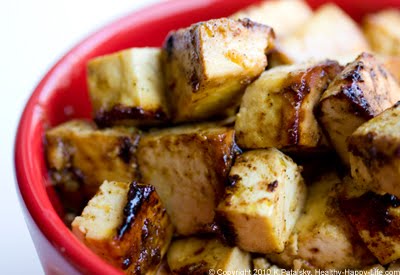 11. Whip together the dressing. You can also use a bottled variety if you desire.
12. Toss 4 cups of spinach in a spoonful of dressing. Set in serving bowl. Layer noodle salad on top of that. Add your drained mandarins to the edges of the dish and accent with wasabi rice crackers. Add the cubed tofu on top and fresh black pepper. You can drizzle more dressing over top if you'd like.
13. Serve! Tastes delicious chilled the next day too.
-> what are liquid aminos?
-> tofu tips
-> what is Vegenaise?
-> what are Maifun Noodles?