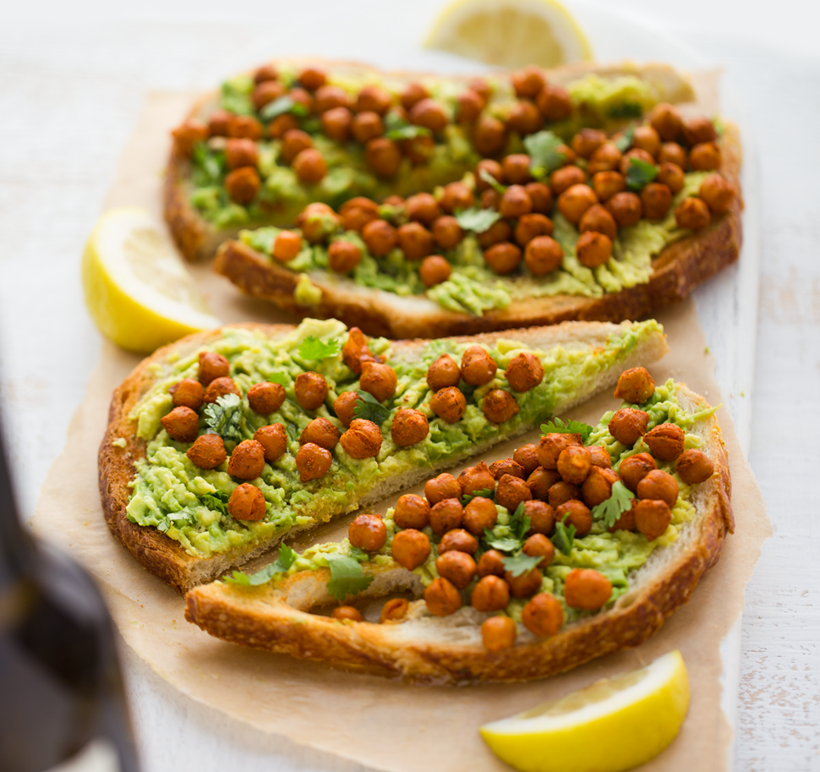 My goal with my blog (and my cookbooks) is to bring you guys recipes that you will actually make. Not just gawk at. Or dream about. Or gaze at from beyond your shiny, bright computer screen. But recipes that you will be able to see, smell, taste and experience in person. In your own kitchen. In true real, reality color. Recipes that you get to eat! Isn't that the whole point of all this cookbook-ing, food blogging, Instagram-food-photo beautiful mess we find ourselves in every day?
So today a truly simple and very user-friendly recipe. My Avocado Toast with Spiced Skillet Chickpeas is perfect for breakfast, lunch or dinner. Yup, this is a anytime of day kind of dish. But first, get my chickpea nutrition tip!..
Avocado Toast. With a Kick.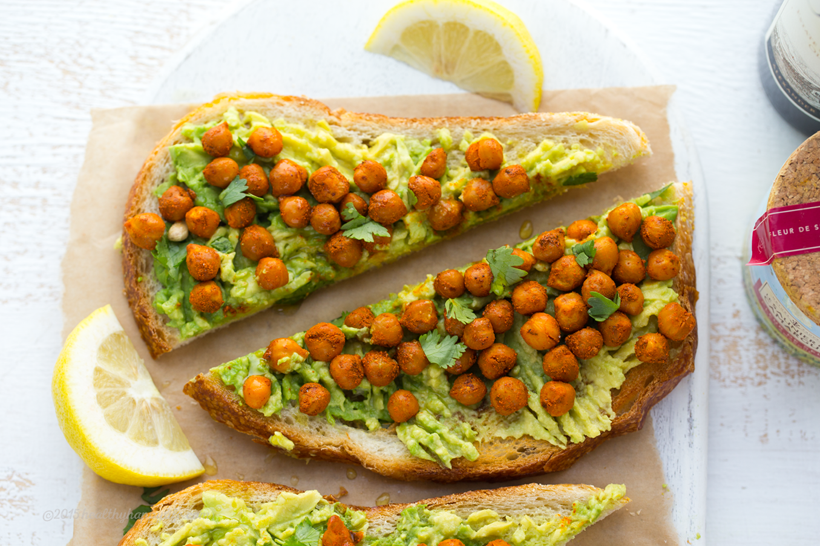 We start with sizzling, spicy-smoky, skillet chickpeas..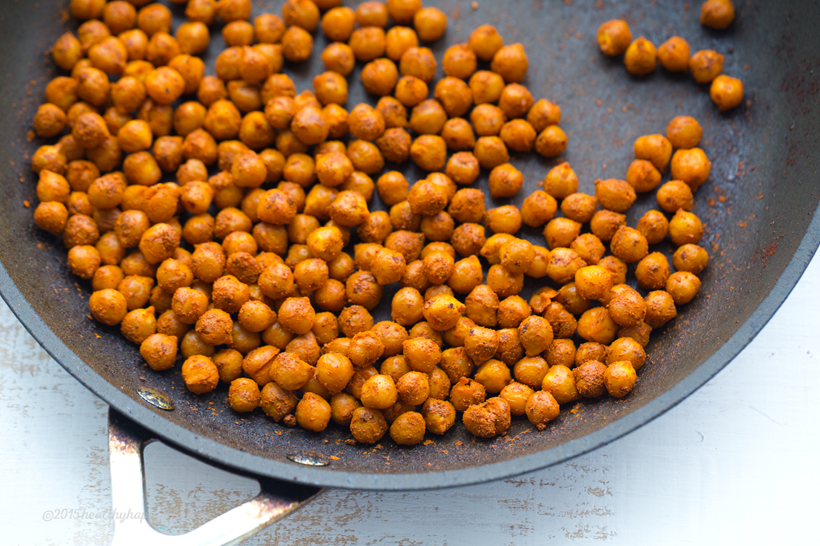 Then we add freshly sliced avocado for mashing on toast (I love giant slabs of sourdough)..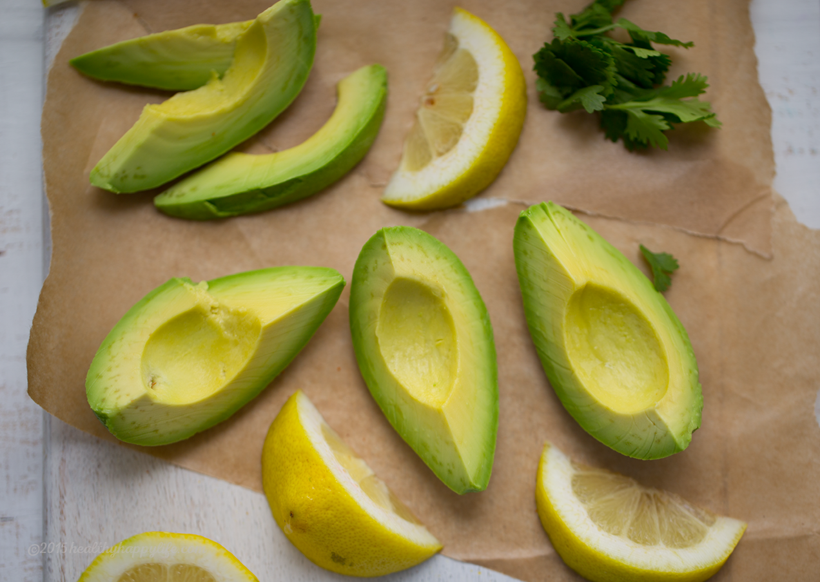 Before slicing..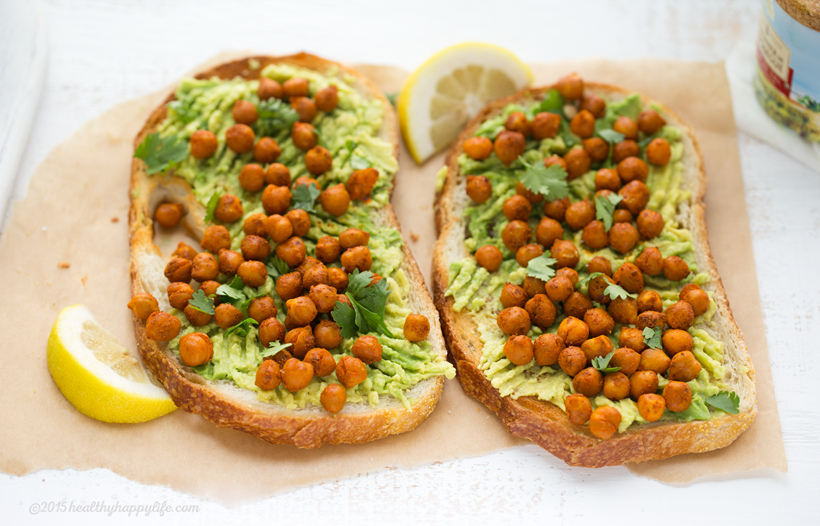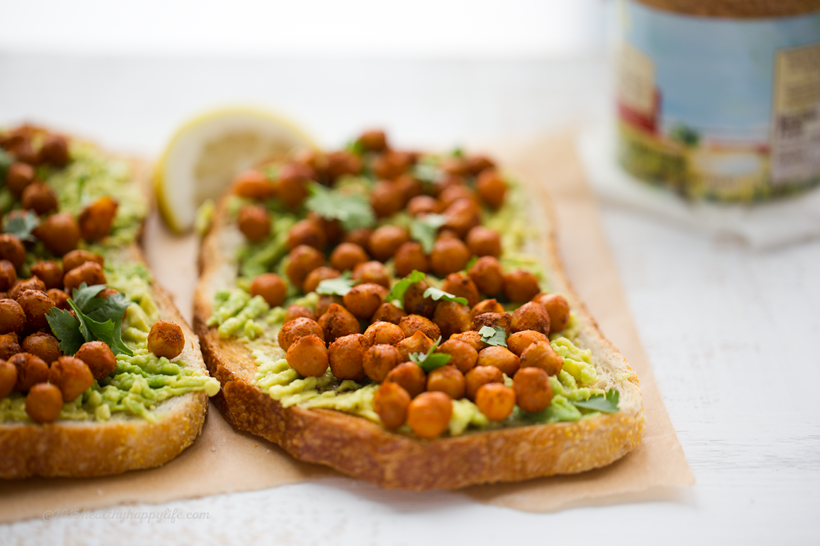 Add some lemon, sea salt, cilantro and slice and serve!..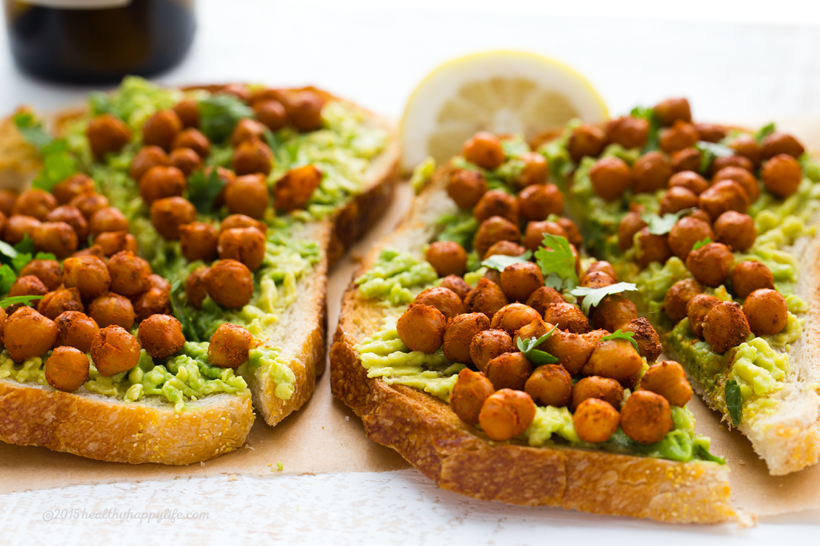 And I drizzled this on top.. Jordan Winery's 2014 harvest estate extra virgin olive oil — it is SO good. Such a luxury for adding to dishes like this. The flavor is buttery, rich and dreamy. You can snag your own bottle on Jordan's website.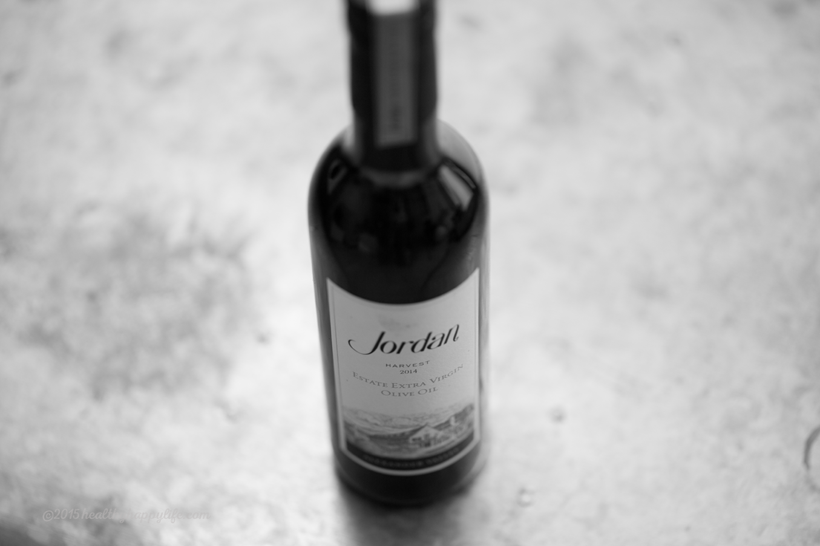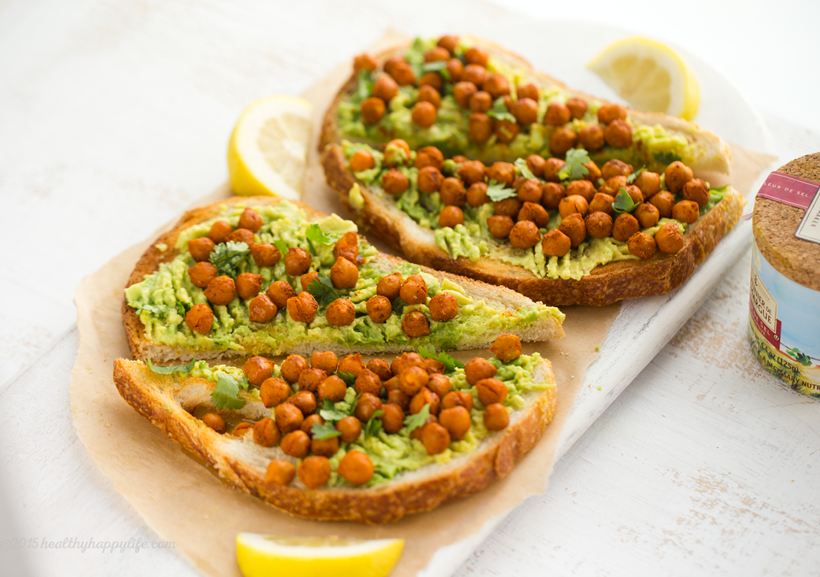 Start your day with chickpeas! Yes, really. A great nutrition tip is this. First thing in the morning, when you are whipping up breakfast, toss some chickpeas in a skillet – use the recipe in this post, or your own – and sizzle up some chickpeas. Or you could do popped lentils or even another variety of bean. Then pour those chickpeas in a bowl and pop them in the fridge. You can add them to recipes all day long. From salads and soups to pasta dishes or even as a stand alone snack.
Nutrition Bonus. Besides being delicious, hearty, nutty and satisfying, chickpeas are a good source of fiber, plant-based protein, iron, folate, copper and more.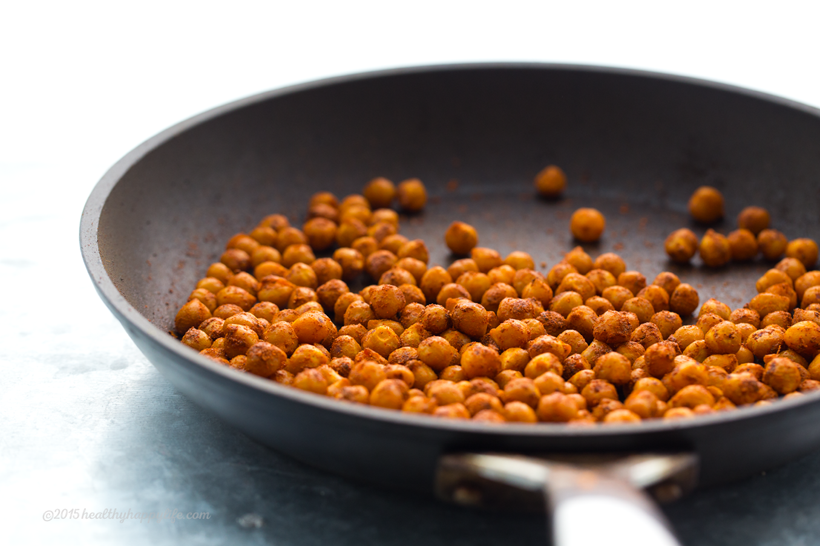 My skillet-popped lentils also work..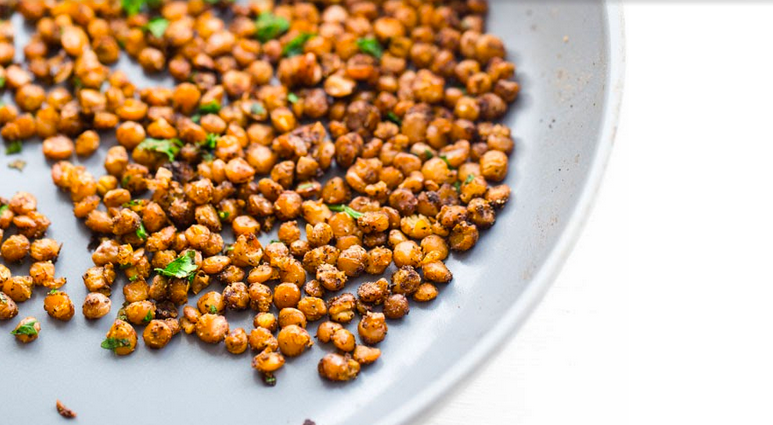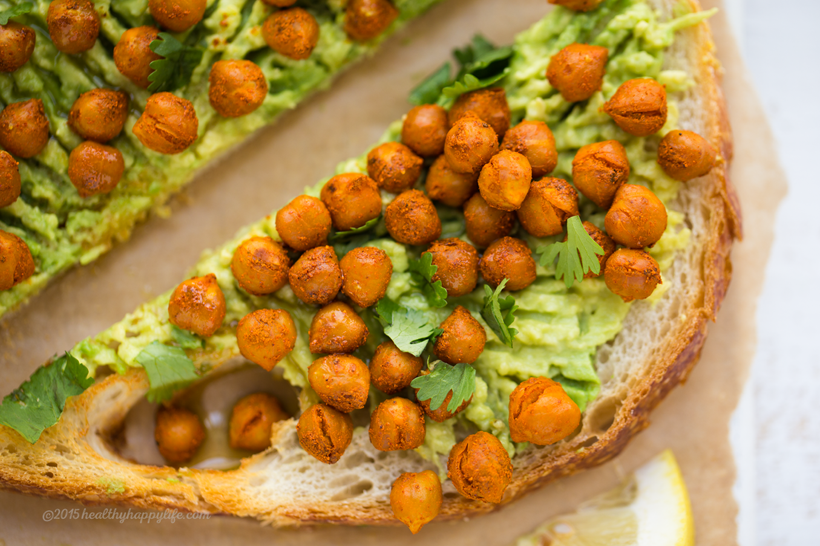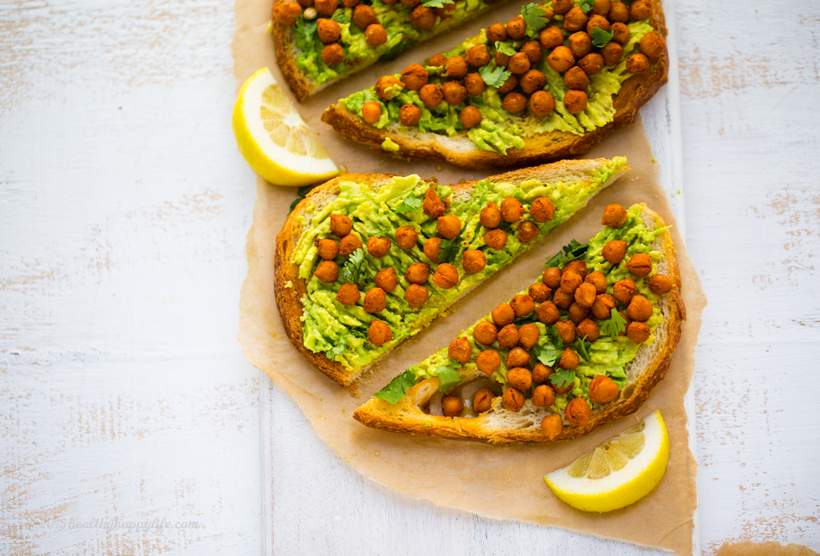 Avocado Toast with Spiced Skillet Chickpeas
By Kathy Patalsky
Published 08/18/2015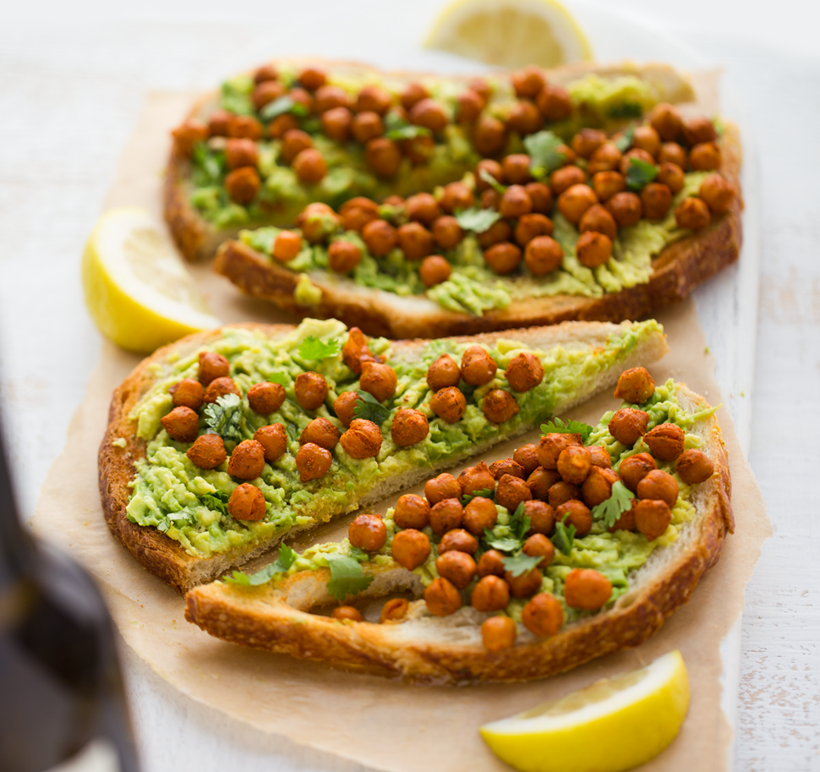 This spin on avocado toast, infuses some extra protein and fiber from spiced, smoky skillet-sizzled chickpeas.
Ingredients
chickpeas:
16oz can or box of chickpeas, drained/rinsed
1 teaspoon turmeric
1 teaspoon smoked paprika
1 ½ tablespoon lemon juice
1-2 teaspoon maple syrup, grade B
for the pan: 1 teaspoon extra virgin olive oil (use more for more decadent chickpeas)
coarse sea salt to finish
–
toast:
2 large sliced sourdough bread, toasted (use any bread)
1 avocado, sliced for mashing
2 teaspoon chopped parsley or cilantro
lemon wedges on the side
drizzle of EVOO over top to serve
Instructions
Warm a skillet over high heat and add the extra virgin olive oil to the pan. When oil is hot, add in the drained chickpeas. Shake the pan to disperse the oil. Sprinkle half of the spices over top the chickpeas. Let them sit, sizzling in the pan for 1-2 minutes, then shake the pan to disperse the spices – the chickpeas should be nicely coated with the red and yellow spices. Next, add in the lemon juice and maple syrup and shake the pan around again. Add in the other half of the spices and shake the chickpeas to distribute. Keep shaking for the next 2-3 minutes as you allow the chickpeas to cook and brown, absorbing the flavors. When the chickpeas are nicely dark reddish-orange in color and have toasted around the edges a bit – they are done. Sprinkle the coarse sea salt over top – I used fleur de sel. Set aside.
Toast the bread and using a fork, smash the avocado into the toast. Sprinkle the chickpeas on top, add the cilantro or parsley garnish and drizzle EVOO over top to serve. Serve with lemon wedges and squeeze lemon over top as you eat. Slice and serve!
Yield: 2 large toasts + leftover chickpeas
Prep Time: 00 hrs. 04 mins.
Cook time: 00 hrs. 06 mins.
Total time: 10 mins.
Tags: snack,chickpeas,lunch,sandwich,avocado,toast,avocado toast,vegan,entree,easy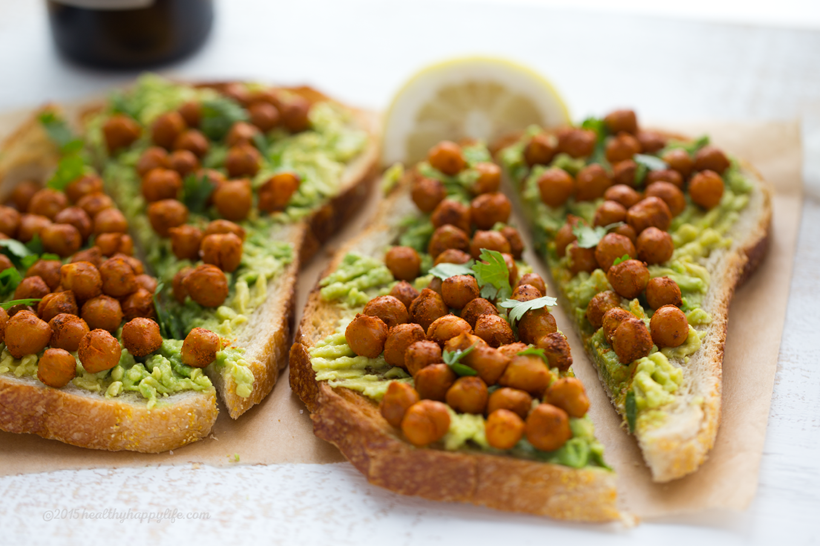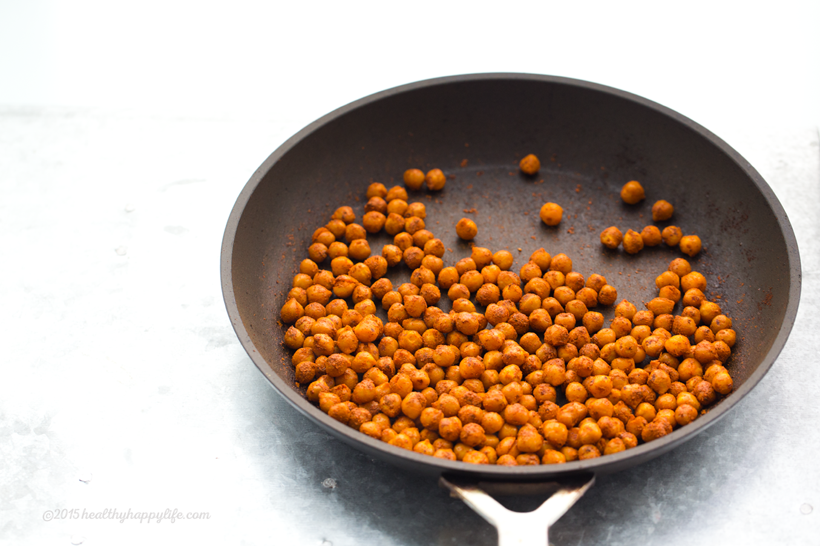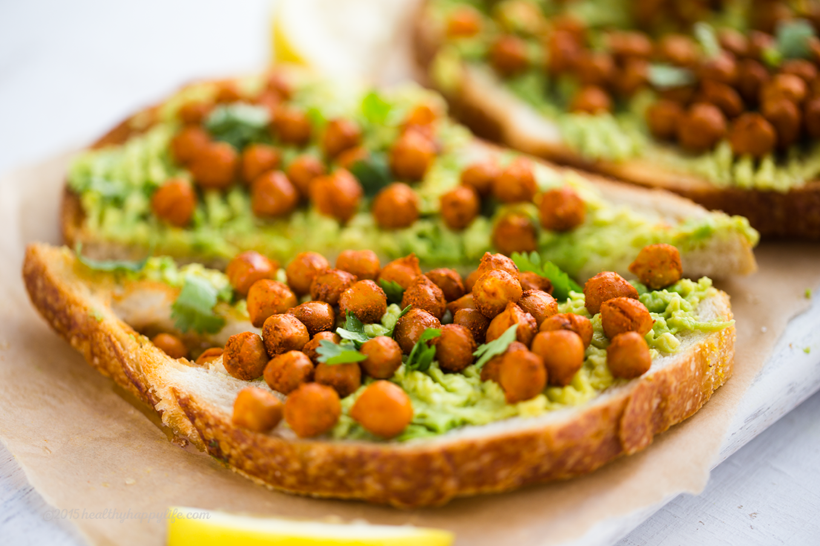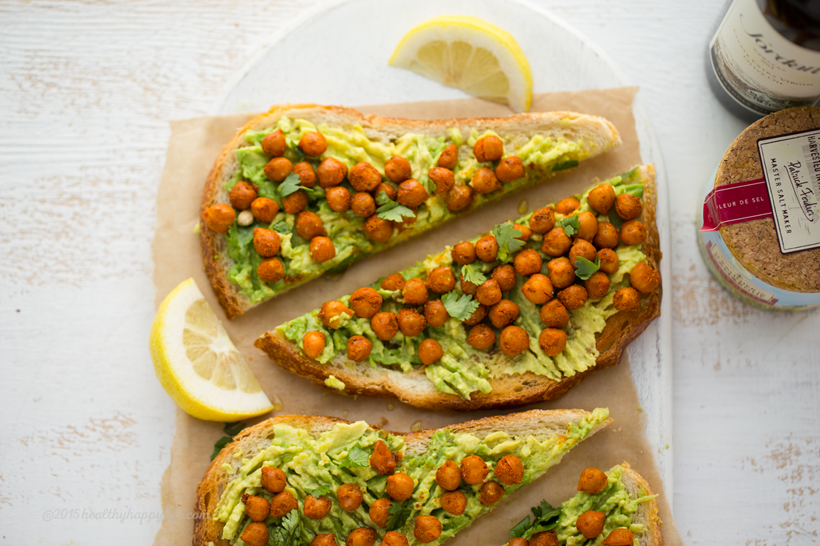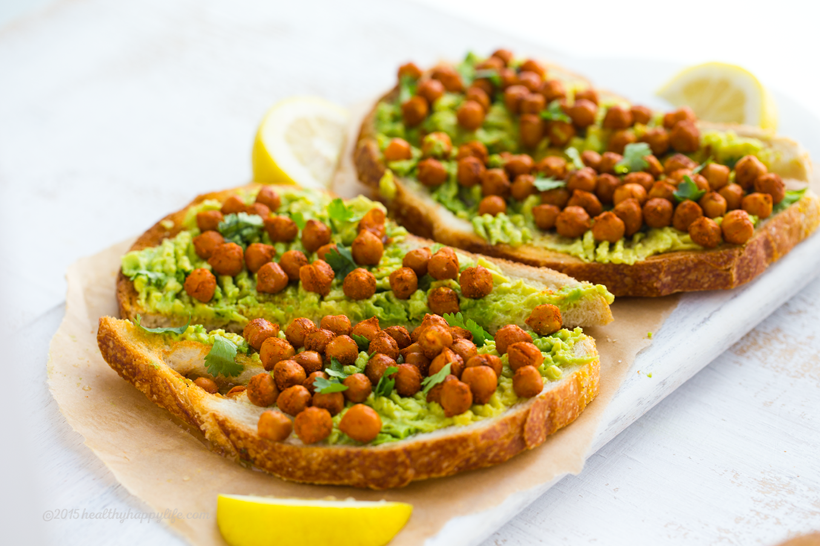 *disclosure: thank you to my friends at Jordan Winery for sending me two bottles of their amazing 2014 estate EVOO to try out! SO good.