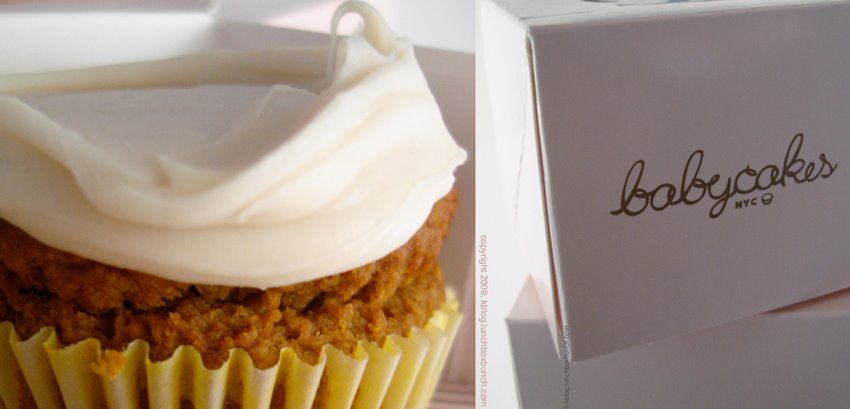 Babycakes is genius. It's a tiny bakery on the lower east side of Manhattan. There are powder pink frosted vanilla cupcakes, jam filled biscuits, winter white iced pumpkin bread and even a few berry red heart shaped cookies. But this is no ordinary bakery.
From the Babycakes website:
"BabyCakes offers all natural, organic and delicious alternatives free from the common allergens: wheat, gluten, dairy, casein and eggs. Rest assured, all sweeteners have been chosen responsibly and used sparingly. White sugar will never be found in our bakery, nor will we ever use toxic chemical sweeteners."
Nice right?
Continue reading for my review of my birthday Babycakes cupcake. And more yummy photos….
Babycakes Cupcake, Vanilla with Pink Frosting
Shelf-Appeal: It's a complete sensory experience of vanilla aroma, rows of cupcakes and 50's diner-wear. Babycakes packs your cupcakes in perfect-sized to-go boxes that hold the cupcakes in place. No smashed or de-iced bakery goods when you get home!
Label Check: Well it's vegan. And the portion size is normal. Petite almost, which I like. All organic, 'good stuff' for a cupcake. I am unsure of the exact calorie and fat/protein/carb content, I can only imagine that each cupcake is around 300 calories? Total guess. It's a treat for sure. But a gold medal treat on the ingredients front.
Taste Test:Now for the fun part! Yum. Frosting is thick and incredibly creamy. Tastes like real vanilla. Not too sweet, yet definitely a bold burst of sweet vanilla flavor. The cake is firm. Not that mushy light fluffy kind of cake you might get from a supermarket cupcake. This cake has substance and texture. Easy to savor in a few bites. And quite filling for a cupcake!
Price: $3.25 each. Yes, it might seem a bit on the expensive side. But you get what you pay for. Babycakes is a high quality product. After you eat it, the price will seem cheap! (Plus the perfect packaging design is priceless.)
Last Word: Babycakes will satisfy your sweet tooth, minus the guilt, minus the allergy worry.
Lower East Side, NYC
Babycakes is just one of the fabulous spots to hit if you are doing a LES day in NYC. Other great spots include:
Katz's, The Pickle Guy, Doughnut Factory, Russ and Daughters, The Tenement Museum, Dumpling House, Organic Avenue, Teany, Mercury Lounge and Earthmatters. Oh and for a fun dinner to end your day, head over to The Stanton Social.
Visit the Babycakes website.