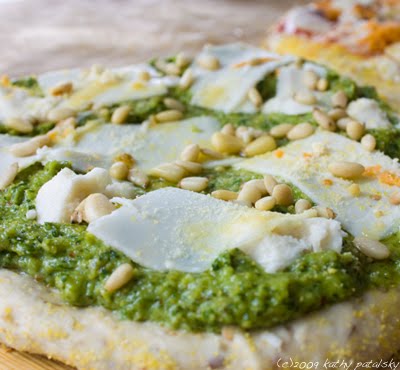 My favorite pizza is the kind I make myself: gourmet toppings, freshly made vegan pesto, finely shredded casein-free cheese and freshly pounded dough sprinkled with a dash of thick corn meal. Heavenly. But it's Labor Day weekend, and for most people, 'taking it easy' is a must. So for the final segment of my Back to School Series, it's time for a Pizza Party! But how do you make your pizza party vegan? Easy! Here is my Top Ten List of Vegan 'healthier' Pizzas in NYC and beyond: get your pizza delivered, eat it out, or maybe (because you really do love to cook) – make it yourself. Check out this Pizza Party list!…
Pizza Delivered, Vegan? Everyone enjoys the lazy-night fun of pizza delivery. And finding (or requesting) vegan 'healthier version' pizza has never been easier – if you know where to look.I'm often asked: how do I veganize my pizza party, and still make it delicious? Well here is my top ten list of 'healthier option' vegan-friendly pizzas in NYC (and beyond).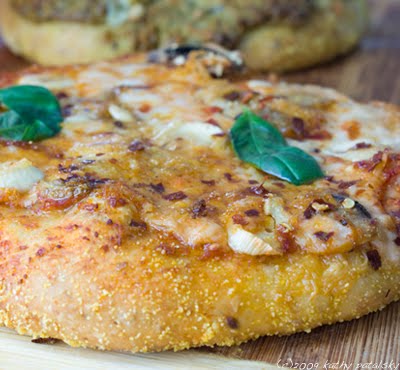 Top Ten Vegan-Friendly Pizza Ideas in NYC and beyond.
1. Do-it-Yourself Pizza!
Pizza night has a new meaning in our household. It means we roll out our own dough, slather on our own sauce, sprinkle on vegan cheese and pile on fresh cut, seasonal and organic toppings. I love it. Yes it's more work that simply dialing direct, but the result can't be beat.
Where: Whole Foods has some amazing fresh packed pizza dough. They even have multi-grain and whole wheat options. They also have fresh pizza sauce, but I prefer to make my own or just use tomatoes. Trader Joe's also has fresh dough in whole wheat and garlic herb flavors, although I prefer Whole Foods by far.
Veganized: Easy. Simply use vegan cheese (I love the Follow Your Heart brand Mozzarella) and use some soy-pepperoni or tempeh strips as your proteins. Or go all-veggie, with fresh veggies galore! Sometimes I'll pile on too many toppings. Soggy crust. Whoops. Choose a few faves and layer strategically. Try my recipes for a Beachy Green pizza or Classic Marinara pizza.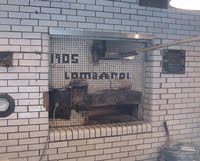 2. Lombardi's Pizza
Lombardi's is the very first pizza place in the USA. It's oven has a date inscription of 1905. And despite the long lines of tourists on weekend days and nights, they still serve a pretty yummy pizza in a well-operated joint. Very family-friendly.
Where: They deliver locally. Nolita/SoHo neighborhood of NYC. At the corner of Spring and Mott streets.
Veganized: Order it with no cheese. I pile on the toppings: olives, spinach, onions, mushrooms and roasted red peppers. So good! Order a house salad with oil/vinegar instead of the house dairy-containing dressing. I always say no cheese-allergic to dairy! They get the message.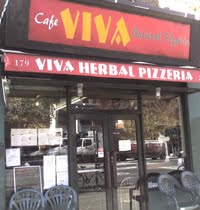 3. Viva Herbal Pizzeria!
All vegan pizza in NYC. This place rocks! You can get a spelt, whole wheat, corn meal or traditional crust. They have so many delicious options you have to taste them for yourself. You can even order by the slice and have a tasting-fest! My fave pizzas are the Canja Pizza which is loaded with hemp seeds, oils and hemp based products. Check out this description:
"Canja ( Vegan ) diced onions, tomato and garlic marinated in hemp oil roasted hemp seeds, hempseed nuts, hemp herbed basil pesto, calamata olives tempeh and roasted garlic on hemp herbed spelt crust with hemp herbed miso tofu or choice of soy cheese"
It tastes salty and nutty. Totally original. I also love the Zen pizza. It is loaded with veggies and a delicious vegan pesto sauce. I like to add kalamata olives and get one of their delicious soups or salads on the side. Viva is a pizza must-try in NYC! Mr. HHL (not vegan) loves the Mexicalli pizza. Super spicy on a cornmeal crust. They have an awesome vegan chocolate chip cookie too.
Where: They deliver. Est Village located.
Veganized: It's all vegan folks. Yum.
4. Two Boots Pizza
Two boots is the local pizza joint with all the oomph. They are everywhere. 11 locations. There is even a Two Boots in Los Angeles, who knew?! Expansion soon? Hmm. I love Two Boots. My first taste of their pizza was when we ordered a large no cheese spinach, mushroom and olive pizza on Halloween before heading out in our costumes. We couldn't stop eating the pizza-it was so good! I love how they glop their spinach into little spinach balls. And their sauce it super fresh tasting. Cornmeal bottom crust is thin and delightful.
Where: 11 locations in NYC. They deliver!
Veganized: Simply ask for no cheese. But be very stern about it-make sure they hear you! Toppings I love: spinach, olives, mushrooms, portobella mushrooms, peppers, broccoli, garlic and onions. Yum.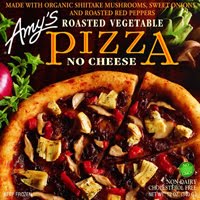 5. Amy's Kitchen Vegan Frozen Pizzas
It's not delivery-it's Amy's! I love buying a frozen pizza and sprucing it up with my own fresh veggies and toppings. I'll buy the vegan Roasted Veggie pizza from Amy's (cheeseless). Then I will add fresh tomatoes, onions, mushrooms, capers, roasted peppers, lemon slices, olives and even some tempeh and vegan cheese. It's always delicious. For the adventurous: spreading some of my sweet potato mash on top of pizza is a must-try. It's delicious.
Where: In a freezer section near you, I'm sure. Any Whole foods will have it. Also, Trader Joe's sells a great knock-off version of the frozen roasted veggie vegan pizza.
Veganized: It's vegan. Simply add vegan toppings, heat and eat.
6. Whole Foods Fresh Pizza
I don't know about your Whole Foods, but mine has an awesome pizza oven where they serve up delicious flat bread pizza all day and night. I've tried the vegan roasted vegetable pizza and it was pretty yummy. Buy it by the slice and they toast it for you in their flaming hot oven.
Where: Bowery and Houston Whole Foods in Nolita/SoHo/Bowery area.
Veganized: The pizzas are nicely labeled. The vegan pizza will say *vegan!
7. Pala Pizza
I've visited Pala once. Nice spot right on First Avenue. Next to the new Thompson LES hotel. Fun place, yummy pizza. However, they are very strict about how you order. Modifications weren't terribly welcome the time I went. However, they do offer several interesting vegan options. One vegan option: they can substitute your cheese with soy cheese. They even indicate that they have both 100% vegan casein-free cheese or non-vegan casein-containg soy cheese. Complicated, but nice to know they know the difference.
Where: 1st Avenue and Houston street on the Lower East Side , NYC
Veganized: Order the Arrabbiata pizza: fresh cherry tomatoes, hot pepper, garlic , for $14. It's vegan. Add the vegan cheese if you'd like, but not necessary.
8. Slice
Heaven. That's what Slice is. They offer amazing organic, vegan options as well as traditional organic-themed options. They have the traditional pizza eats and some new-age ones too, like the 'beginner-hummus' pizza: Herb crust, caramelized onions, organic hummus, kalamata olives. Slice is a must try, even if you do have to hike all the way to the upper east side.
Where: Upper East Side. They deliver, but not downtown. However they do say on their website: " WE DELIVER ANYWHERE IF THE ORDER IS BIG ENOUGH!"
Veganized: Pretty easy. Just get the vegan casein-free cheese or go cheeseless. Watch out because the whole wheat crust contains honey. However their herb, spelt and rice crusts are vegan. The rice crust is gluten-free! Yay for G-free options for pizza.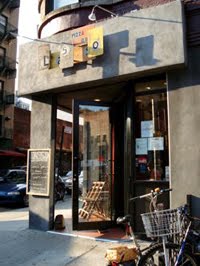 9. Lasso Pizza
If you can't get into Lombardi's, simply walk one block down Mott street to Lasso. It serves up 'more gourmet' style pizza in a locals-only style atmosphere, and it's totally healthy-approved. They have some amazing salads like the one with arugula, green apples and candied walnuts. So good. As for pizza, I simply order the Marinara pizza, cheeseless.
Where: One block down Mott street from Lombardi's in Soho NYC. 192 Mott and Kenmare. They deliver too.
Veganized: Order the Marinara pizza. You can even add a few more veggie toppings, at an extra charge.
10. California Pizza Kitchen
I had to include a National Brand that is vegan-aware. CPK is it! They have pretty-good pizzas that are served in a casual, fast, family-friendly environment. They even have an awesome PDF that indicates all the menu items that are considered vegan, lacto-ovo vegetarian and just lacto-vegetarian. Good job CPK.
Where: Around Gramercy in NYC. Or in a town near you nationwide.
Veganized: Here are the vegan options on the menu:
APPETIZERS
Lettuce Wraps (request with only wok‐stirred vegetables)
Tuscan Hummus (substitute Neapolitan crust for the pizza‐pita bread)
SOUPS
Asparagus Soup (no croutons)
Dakota Smashed Pea & Barley Soup
SALADS
Grilled Vegetable Salad
Field Greens Salad (omit candied walnuts)
House Salad (request without croutons, with olive oil and vinegar or
Dijon balsamic vinaigrette)
PIZZAS
Vegetarian with Japanese Eggplant (made with Neapolitan dough,
request without cheeses)
Tricoloré Salad Pizza (request without cheese)
PASTAS
Asparagus & Spinach Spaghettini (request without cheese)
Broccoli Sun‐Dried Tomato Fusili (request without cheese)
11. BONUS! Raw Pizza at Pure Food and Wine
I recently saw PFW tweet about their new flat bread pizzettes. I haven't tried them, but I'm sure they are amazing. Or as Rachel Zoe would saw 'amaze-balls'.
Tweeted: "Have u tried our new Pizzettes? almond rosemary crust, spinach pesto arugula, pizza margherita, crimini and kalamata with summer truffle"
Got a great vegan pizza place??? Leave it in the comments!