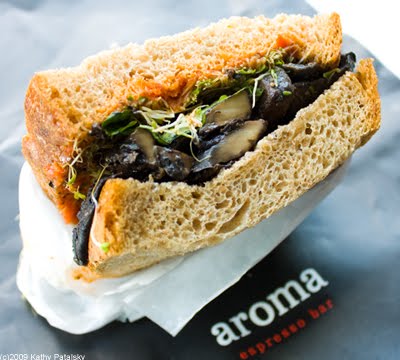 Recipe ideas and inspiration can come from a number of crazy places. Well here's one sandwich idea born straight from the world of reality TV. Bravo TV ran its first season of NYC Prep this summer, and if you watched at all you may have noticed the prepsters take frequent visits to a trendy cafe called Aroma Espresso Bar. Well one of my favorite menu items at Aroma is the Health Sandwich (shown in image). It's a blend of grilled portobello mushrooms, fresh basil, sprouts and a zesty sun dried tomato spread. Well I fell in love with the flavor combo of "portobello and tomato" and crafted my own recipe: the Prepster Mushroom Marinara. This back to school-worthy sandwich will make any student (prepster, hipster, drama-doll, bookworm, jock or rebel) feel super cool, trendy and super satisfied. Check out my recipe…
Aroma's Health: "Grilled portobello mushrooms, basil, alfalfa sprouts and a thick sun-dried tomato spread on our fresh baked Aroma bread."

My Version is just as 'healthy' but adds a 'pizza-esque' twist to the sandwich that everyone will appreciate…
Prepster Mushroom Marinara Sandwich
vegan, makes one whole sandwich
2 slices soft whole wheat bread, extra thick preferred
¼ cup fresh basil leaves, chopped
3 tablespoon sun dried tomato spread*
*Use a store bought spread or make your own using 3 tablespoon chunky marinara sauce with 1 tablespoon chopped sun dried tomatoes mixed in.
½ cup arugula greens or spicy sprouts
1 slice vegan mozzarella cheese
1 large portobello mushroom cap
1 tablespoon Balsamic vinegar
2 tablespoon olive oil
½ teaspoon salt
1 teaspoon pepper
optional: sweet onion slices, dash of red pepper flakes
Directions:
1. Clean and slice the mushrooms. Slice into thick finger-sized slices.
2. Saute mushrooms in a skillet with oil, vinegar, pepper and salt.
3. Turn off heat, but leave shrooms in hot pan, add your slice of cheese on top of the mushrooms-let it naturally melt. The cheese will cool off the shrooms which is good for your sandwich texture. Set aside pan until mushrooms are needed.
4. Spread your sun dried tomato spread (homemade or store bought spread) on both slices of bread.
5. Place a layer of chopped basil on top of the sun dried tomato spread.
6. Layer your portobello mushrooms and cheese on top of the basil. The mushrooms should be a nice hearty-thick layer.
7. Add a layer of sweet onions and a dash of red pepper flakes (both optional).
8. Add a layer of arugula or sprouts.
9. Place top slice of bread on sandwich and slice in half.