This vegan BBQ Tempeh Sandwich + Easy Cole Slaw is super cravable and packed with plant-based protein from tempeh. If you want a hearty, stacked, warm-n-spicy meets cool-and-sassy sandwich, give this one a try!
And yeah, this sandwich pairs well with how I spent my Sunday night (more JT concert pics at bottom)…

Dairy-Free Cole Slaw.
This vegan cole slaw can be whipped up fairly quickly. Serve it right away for a crunchier slaw texture. Or prep it the day before, or a few hours before serving, for more marinated flavor and a softer texture to the cabbage. I looooooove this slaw so much I will eat it all on its own, right out of the bowl. You can use green or red cabbage. The pink version is pretty awesome too.
BBQ Sauce
This BBQ sauce is awesome because it is fast and pretty simple. It has a base of tomato and cider vinegar with accents of pepper and maple and optional molasses. I have a much longer homemade BBQ sauce recipe here. I love both recipes. The long one comes out a bit thicker and with some very layered flavors. While this sauce is just really bold and yummy. Sassy sweet.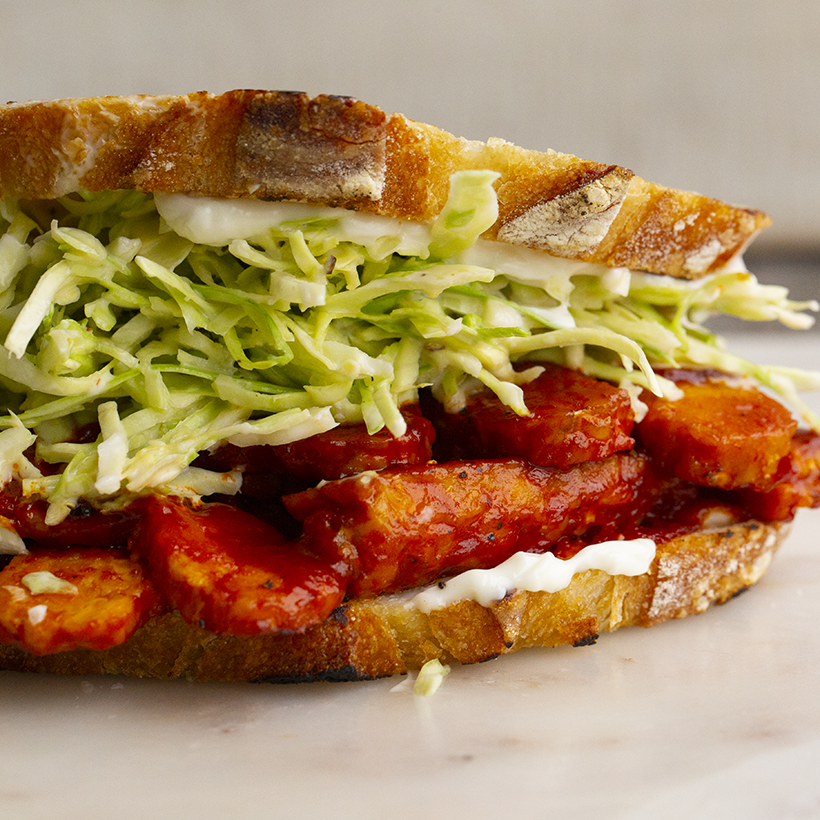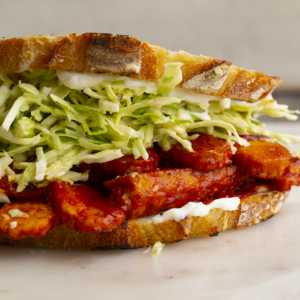 BBQ Tempeh + Creamy Slaw Sandwich
This flavorful sandwich is made using tempeh, homemade easy BBQ sauce and a quick cole slaw. Vegan and protein-packed.
Print
Pin
Ingredients
VEGAN COLE SLAW
4

cups

shredded cabbage

2 ½

Tbsp

apple cider vinegar

2

Tsp

maple or agave syrup

2-4

Tbsp

vegan mayo

⅛

tsp

black pepper

pinch of salt
BBQ SAUCE
2

Tbsp

tamari or soy sauce

¼

cup

tomato paste

¼

cup

apple cider vinegar

3

Tbsp

maple syrup

2

Tbsp

hot sauce

1-2

Tbsp

extra virgin olive oil

1

tsp

blackstrap molasses (optional)

a few drops of liquid smoke or ⅛ teaspoon smoky paprika

pinch of salt and pepper

⅛

tsp

cayenne (optional)
OTHERS
8

oz

tempeh, sliced

bread: sourdough or any variety of sliced bread or roll

additional vegan mayo and/or spicy mustard for spreading on the bread
Instructions
(Ideally, you will prep the tempeh and the cole slaw in the morning and cook later in the day – otherwise, prepping and cooking all at once is perfectly fine.)

Add all the BBQ sauce ingredients to a high speed blender. Blend from low to high until smooth and slightly warmed.

Pour the sauce into a medium bowl and add tempeh strips. Toss gently to coat. Cover bowl and place in the fridge for at least 5-10 minutes, optimally, letting them soak a few hours (or even overnight) produces a more intense, marinated tempeh flavor.

Cole Slaw can be made at the same time the tempeh is prepped (for a softer texture) or prepped a few minutes before serving (for a crunchier texture). Add all the cole slaw ingredients to a large mixing bowl and toss well until everything is coated. Cover, place in fridge until needed. (You can make cole slaw up to a day in advance, but texture significantly softens after hours of marinating.)

Tempeh: Preheat oven to 400 degrees. Lay a piece of parchment paper on a rimmed baking sheet. Bake at 400 degrees for 15-20 minutes, or until the edges of the tempeh get bubble and darker in color. Pull from oven, allow to cool a few minutes before using.

Bread: Brush bread with a bit of olive oil and either pan fry in a skillet for 2-4 minutes, or place in the 400 degree oven for about 2-3 minutes. You just want the bread to firm up a bit so it can hold all that heavy, saucy tempeh.

Assembly: Slather optional vegan mayo and/or mustard onto the insides of the toasted bread. Then top with tempeh and cole slaw – in generous amounts. Close sandwich, slice and serve warm. Enjoy!
nutrition estimate | per serving
Calories:
378
kcal
|
Carbohydrates:
37
g
|
Protein:
17
g
|
Fat:
19
g
|
Saturated Fat:
3
g
|
Polyunsaturated Fat:
3
g
|
Monounsaturated Fat:
6
g
|
Sodium:
1153
mg
|
Potassium:
800
mg
|
Fiber:
3
g
|
Sugar:
23
g
|
Vitamin A:
439
IU
|
Vitamin C:
47
mg
|
Calcium:
157
mg
|
Iron:
4
mg

Oh! And what did I do this past weekend? I feel like this recipe pairs really well with this concert…
Man of the Woods Tour. I had a fun Sunday night at The Forum, here in Los Angeles. We snagged some very last minute tickets to Justin Timberlake's latest world tour, Man of the Woods. I haven't seen Justin perform live in a very long time, and yes I have been a JT fan since my teens, so this was fun. He was an energetic and awesome as usual. Basically: He makes it look easy, when I know it's not. I mean, dancing and singing and commanding an entire packed arena for a few hours, without pause, is pretty impressive stuff. It was a really fun night and I am so glad it worked out that we could go.
And yeah, I think this BBQ sandwich with slaw feels very 'Man of the Woods' vibe-y. So, there ya go..
My Other BBQ Tempeh Sandwich.. If you are a regular reader, you may recognize that today's recipe is similar to this BBQ Tempeh + Avocado Sandwich. Though, today's sandwich is different mostly because you are making the sauce from scratch and you are pairing it very simply with a big stack of homemade slaw.
That recipe had more emphasis on the other veggie toppings, and less on the hot-from-the-oven tempeh in today's recipe..
…Both delicious! But different flavors for sure. Sure you could add avocado too, if you'd like. I mean, is there ever a bad time to add avocado to a sandwich like this?
Another BBQ Tempeh recipe I love: Vegan Ranch Kale Salad with BBQ Tempeh
Smoothie season. Snag my book…
⚡️Snap out of your smoothie rut with my cookbook: 365 Vegan Smoothies. A new recipe every day! Plus, loads of smoothie tips, tricks, ingredients, nutritional info, fun smoothie names and more! Check it out on Amazon: https://t.co/ne7n46rBlR pic.twitter.com/EJkhq8yWJJ— Kathy Patalsky (@lunchboxbunch) April 26, 2018