This post is sponsored by House Foods Tofu.
You had me at beer-battered. And vegan. All in the same sentence. These Beer-Battered Tofu Tacos are my vegan-spin on a beer-battered fish taco. The crispy-coated, Old Bay-seasoned tofu is wrapped in a warm corn tortilla and topped with homemade pickled onions, avocado and crunchy red cabbage. Vegan sour cream or chipotle mayo and/or hot sauce is also a nice touch. Have a tofu taco night with this delicious recipe!..
Can you believe that Memorial Day is next weekend?! The year is flying by for me. I am excited that the weather has been so sunny lately and that smoothie season is in full swing. I have been making at least one smoothie a day, sometimes two!
The two smoothies I usually make are purple and green. Purple meaning lots of wild blueberries and/or acai or other berries. Green meaning all things leafy green, avocado and usually orange-colored fruit like frozen mango and more. I will be sharing a few smoothie recipes here on the blog soon, or you can always snag my book 365 Vegan Smoothies. But today is all about these tacos!
So much flavor in these. You could also use flour tortillas, or some of those fancy new "alternative ingredient" tortillas with almond and coconut flour.
These tacos are inspired by Colorado in House Foods 50 States of Tofu Series. I only have one recipe to go and its probably my favorite because, #chocolate. Follow along all my tofu posts with the links at bottom.
These would pair perfectly with a watermelon frosty or my fresh mango margarita…
My '50 Plates of Tofu' Posts so far:
1 – California Avocado Toast
2 – Southwest Tofu Burrito with Avocado
3 – Creamy Cashew Tofu Pot Pie
4 – Gooey Butter Cake
5 – Cherry Tofu Parfaits
6 – Southwest Tofu Quinoa Bowl
7 – Salt and Pepper Tofu Skewers with peanut sauce
8 – BBQ Tofu Corn Kale Ranch Salad
9 – Beer-Battered Tofu Tacos
10 – Baked Alaska Inspired Pudding
Follow along on the House Foods Facebook Page.
disclosure: this post is sponsored by House Foods Tofu's 50 Plates Series, but all opinions are my own.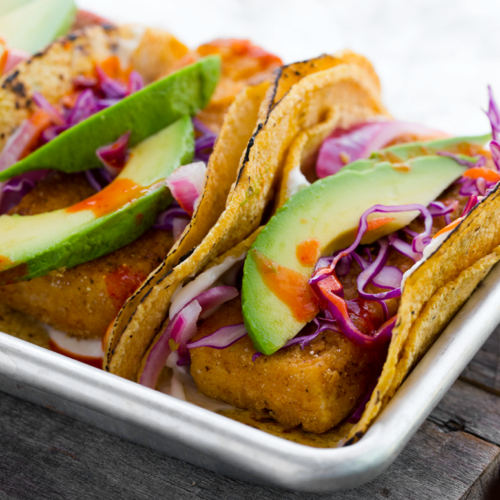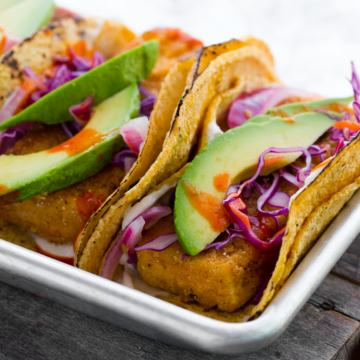 Beer-Battered Tofu Tacos
These cravable beer-battered tofu tacos make for a delicious crowd-approved entree! Colorado beer-battering makes tender slices of tofu even better. Avocado, pickled onions and fresh red cabbage on top.
Print
Pin
Ingredients
Beer-Battered Tofu
1 package House Foods Tofu, extra firm, sliced into 4 rectangle slabs

1 cup all purpose flour

¼ cup corn meal

1 teaspoon Old Bay seasoning

1 ¼ cups beer (alocohol-free option: kombucha)
Also:
8 corn tortillas

1 ½ cups red cabbage, shredded

1 avocado, sliced

4 teaspoon vegan chipotle mayo or sour cream

sea salt to taste

hot sauce or salsa

For pan: 1 cup canola or peanut oil
Quick Pickled Onions:
1 red onion, thinly sliced

½ cup apple cider vinegar

1 cup water

2 tablespoon vegan sugar

1 teaspoon salt 
Instructions
First prep your pickled onions. Bring a pot of water to a boil and submerge the sliced onions for a minute. Remove with a strainer and place the onions in a deep bowl or jar. Add the water, vinegar, salt and sugar. Stir well, cover bowl and place in the fridge for at least a half hour to allow them to chill, overnight is even better.


Prepare your tofu stations by placing the flour, corn meal and Old Bay seasoning in one bowl – stirring well to combine. And the beer in another bowl. Place some parchment paper on a large baking sheet – this will be where your tofu can cool.

Add your vegetable oil to a medium soup pot. Turn stove heat to medium-high. When the oil is hot, you can start coating your tofu and placing it in the pot.


Soak your tofu in the beer for a few seconds, then dredge in the flour mixture, then back in the beer for a second, then back in the flour, coating all sides. Then carefully place the coated tofu in the oil pot. Repeat with all the tofu until the pan is filled. Fry for 1-2 minutes on the first side, then flip using a slotted spatula, and repeat. When tofu is golden in color and crispy, remove from the pan and place tofu on the parchment paper to cool. Repeat until all the tofu is done. Sprinkle some sea salt over top the battered tofu if desired.

Start assembling your tacos! Use two layered tortillas per taco. Warm tortillas in oven, microwave or stove stop. Add a slathering of the vegan mayo, then add the cabbage, tofu, avocado, pickled onions and optional hot sauce. Serve warm!