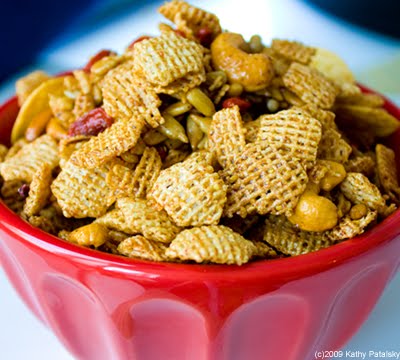 Square meal. Hexagon snacks! If you're like me, you have fond memories of chowing down on that classic hexagon party mix as a kid. At birthday parties, after school sports or studying at home on a rainy day. But like most kids, I didn't give much thought to the ingredients…

Hexagon Party Mix 2009: It's super easy to bump up the nutrition level of your snack mix recipe. The first step is to switch up the hexagon shaped cereal brand that you are using. Why use grains like rice, corn and wheat when you can use organic grains like quinoa, kamut, amaranth, buckwheat, spelt and millet! My recipe for "Better" Party Mix is crunchy, sweet, savory and salty. It's also vegan. You and your guests will love the flavor. But more importantly, you'll crave the good-for-you-feeling after you munch this mix…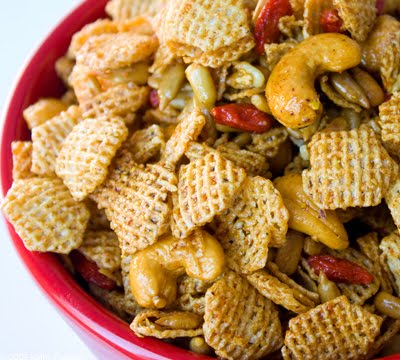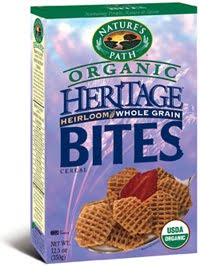 Comparing Cereals: Chex vs. Heritage Bites. Same shape. Same crunch. Different ingredients. OK, to be blunt, there a lot of cereal options out there that are much worse off (nutrition wise) than General Mills Chex. Actually the Wheat Chex cereal isn't all half bad with 5 grams of fiber per serving, made from whole grains. But why stop with whole wheat grains when there are a plethora of other grains available today. That's why it's clear to see how Nature's Path Heritage Bites are a better option when it comes to a crunchy hexagon shaped cereal. Heritage bites contain buckwheat, quinoa, amaranth, millet, kamut and spelt. Talk about a multitude of super grains! Plus it is sweetened with organic evaporated cane sugar instead of basic sugar. And Heritage Bites are organic.
Classic Party Mix. The classic recipe that was made famous by the Chex brand over 50 years ago, contains a trio of Chex cereals, butter, nuts, seasonings and bagel chips. Well I've created my own version by using healthier ingredients. I'm taking goji berries, flax seed, sunflower seeds and maple syrup! And trust me, the flavor is outstanding! Perfect for a study time munchie, sports team snack, after school bite or a big bowl party mix. Make a lot and munch it all weekend…
"Better" Party Mix
vegan, makes 5 cups
3 cups Heritage Bites from Natures path, organic
1 cup salted cashews
2 tablespoon roasted sunflower seeds
½ cup mixed nuts (any variety)
1 ½ tablespoon Goji Berries, dried
¼ cup pretzels or rice crisps
1 tablespoon flax seed meal
1 teaspoon vegan buttery spread
1 teaspoon olive oil
1 tablespoon maple Syrup
1 teaspoon soy sauce
2 dashes garlic powder
2 dashes paprika
2 dashes cinnamon
2 dashes onion powder
2-4 dashes black pepper
optional: ¼ teaspoon liquid smoke
Directions:
1. Combine all the dry ingredients in a mixing bowl: nuts, seeds, cereal, berries and pretzels or crisps. Toss well
2. Melt buttery spread, maple syrup, and olive oil in a small cup by microwaving for ten seconds. Stir in all the spices and soy sauce.
3. Pour spice/liquid mix slowly over cereal mixture. Toss very well.
4. Sprinkle flax seed meal over mix and toss well.
5. Serve OR for extra crispness I highly suggest toasting mixture in the oven at 400 degrees for ten minutes.
Store in a large bowl in the fridge or in individual snack baggies. Eat cold or toast and serve.