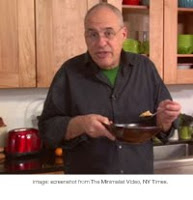 Bitty is saying bye bye. This is my nod to one of my favorite "eat more plants!" food writers, Mark Bittman. He is exiting his New York Times Column: The Minimalist after thirteen+ years and over 700 entries.
And as Bittman exits he reflects on how his diet has changed for the better over the years – most critical: his move away from a meat-centric diet. My fave quotes from his exit column and my thoughts..
Bitty's Cooking Style?..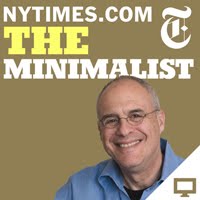 Any of Bittman's loyal readers can tell you that he doesn't like excuses or fuss – although he obviously has discerning (dare I say, picky) tastes – as featured in the Batali Road-Trip reality show "On the Road Again" in Spain. Bittman cooks in a sort of glorified, gourmet "bachelor-pad" style. Easy, high quality, delicious (and in recent years, more plant-focused).
Bittman was way ahead of the trend for "savory breakfasts" and his vegan recipes like "Sweet Potato/Black Bean Salad" and "Roasted Red pepper Puree" were always flavorful and easy!
And this genius food processor post influenced me to re-embrace a long-forgotten kitchen appliance! Now THAT'S a feat.
Here are my favorite Bittman outtake quotes from his Exit Column published in yesterday's New York Times:

Bittman on excuses: "Thus I have no patience for "I'd love to cook but I have a lousy kitchen."
..I totally agree! After living in my first shoebox-sized NYC apartment a few years ago, I realized that small kitchens suck. But they can be taken down. A passion for cooking always finds a way! About 75% of the recipes I have made on my blog are from a kitchen probably a quarter the size of yours.
Bittman on Meat: "The biggest change, as anyone who's followed The Minimalist closely knows, was a gradual shift of focus from meat, poultry and fish at the center of the plate to, well, something other than that. (Beefsteak, for example, appeared an average of one-and-a-half times a year for the first 9 to 10 years; since 2008, it's been featured only once.)"
Bravo Bitty! I love that you have moved your own diet away from meat and towards more plant-based recipes (even throwing in occasional vegan recipes which I loved!) You have in turn, influenced the diets of your readers. So I applaud you for using your voice and starting the "move away from meat" conversation.

Bittman on Healthy Diets: "My growing conviction that the meat-heavy American diet and our increasing dependence on prepared and processed foods is detrimental not only to our personal health but to that of the planet has had an impact on my life and on that of the column. You can see this in .. a number of bean dishes and the dozens of other meatless or less-meat recipes that have become dominant in the last five years."
..agreed! You don't have to be vegan to love vegan recipes. And you don't have to even be vegetarian to "move away from meat". Small steps will lead to big changes. Eating less (or no) animal products not only benefits your own health, but the health of the planet. But it doesn't have to be all or nothing. Eat more plants. And start your journey from there…
Bittman's Future: "I'll be writing regularly about this in the opinion pages of The Times, and in a blog that begins next week. That's one place to look for me from now on. The other is in The Times Magazine, where I'll be writing a recipe column most Sundays beginning in March."
Best of luck Mark Bittman! I look forward to more vegan recipes and plant-based thoughts from you. (Maybe moving on means a total move away from meat?? wishful thinking?) I truly hope you continue the "move away from meat" conversation..
Read Mark Bittman's "Exit Column" in its entirety here.