I whipped up this vegan Creamy Black Bean Mushroom Soup with lime cream and avocado, on the last rain-stormy day we had here in LA. It was the perfect day to stay inside, warm and cozy, as the long-missed rain soaked Los Angeles, giving it a well-needed shower. I love rainy days since they are so rare here in SoCal these days. I watched outside my window as glossy, silver puddles gathered on street corners as the calming echo of rainfall hummed outside. The sidewalks were empty, except for a few rushing-home umbrellas and dog-walkers clutching their pups in their arms as the jumped over puddles. The streets were slick black and clean, just one or two yellow headlight cars slowly bumbling along, the fluffy grey sky above, thick with clouds.
And I watched the rain show and smiled as I diced buttery avocado and drizzled rich lime cream over top this steaming black bean soup bowl. But you do not need a rainstorm to enjoy this recipe! Just a craving for warming, savory flavors.
I also LOVE how healthy this soup is! Black beans, mushrooms and nooch all create a recipe that is rich in iron, protein, fiber and b vitamins. Nourishing food. So let's go make this easy, blended soup!..
Creamy or Chunky Black Bean Soup? I started out making this soup thinking I wanted a chunky black bean soup. But somewhere along the way I just decided to go silky, and blend the entire thing. You could absolutely leave half of the beans/shrooms/onions etc chunky and whole if you want a more chunky soup.
If you want it more like a "chili" soup, really thick and rich, I would reduce the veggie broth OR add another can of black beans! Easy.
Protein Rich Soup. This soup is loaded with fiber, iron and protein – among other things! Each bowl has around 27g protein, 17g fiber, 4g fat and 55% RDA iron. Plus vitamin D from mushrooms and B vitamins from nutritional yeast and beans. I love this soup – and any bean soup – as a healthy soup for women because of all the plant-based protein and iron. I remember my nutrition teacher in college would always say beans were the perfect food for women.

..Girls, are you eating enough beans? If not, this is a super recipe to add to your weekly meals!
Oh and that doesn't even add in all those healthy fats and fiber from the avocado! Another fave superfood.
I loved the addition of mushrooms. They added some serious flavor depth as well as healthy benefits! Mushrooms are one of my favorite healthy, healing superfoods right now. You may have noticed in my recipes, I am using them a lot lately!..
* Mushroom Philly Cheese
* Maitake Purple Potato Meal Bowl
For the vegan lime cream, I simply used a vegan mayo (soy-free Vegenaise) and added a spoonful of warm water and a spoonful of fresh lime juice. Then I briskly stirred to create this rich, silky, vibrant cream. Tip: Add lime zest for added lime flavor!
I used my Vitamix to blend this soup to silky-smooth perfection! If you are curious about how to choose a Vitamix for buying and want free shipping, check out my Vitamix Buying Guide here. (The post contains affiliate links, fyi.)
Nutritional yeast was a key flavor-adder for me. I adore black beans or refried beans and nooch — so I used those same flavors for this soup. I also used chipotle powder, black pepper and smoky paprika. Warming spices galore.
For additional flavor and texture, you could add some crushed salty tortilla chips on top!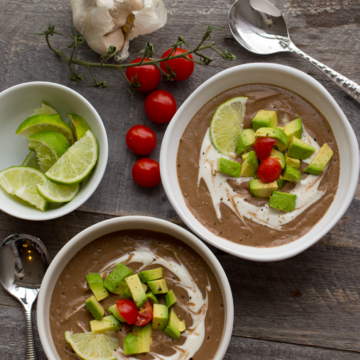 Black Beam Mushroom Soup with avocado
This easy, silky black bean mushroom soup is loaded with warming, savory flavor. Topped with a delicate lime cream and loads of buttery avocado.
Print
Pin
Ingredients
2 cans of black beans, drained

3 cups vegetable broth (1 cup additional if desired)

½ cup nutritional yeast

½ teaspoon smoky paprika

¼ teaspoon chipotle powder

⅛ teaspoon black pepper

¼ teaspoon salt

1 teaspoon extra virgin olive oil

2-3 cups shiitake and maitake mushrooms, sliced (or any variety)

1 small onion, diced

3 cloves garlic

1 avocado, diced

⅓ cup vegan mayo

2 limes

1 tomato, diced or chunky salsa (optional)

crushed tortilla chips (optional)

1 bay leaf

1 tablespoon warm water
Instructions
Warm a skillet over high heat. Add the olive oil. When the oil is hot, add the mushrooms and onion and saute until the onion softens and both veggies begin to brown on the edges. Remove from heat and set aside.

Add the black beans, veggie broth, nutritional yeast and spices to a blender. Blend from low to high until smooth — or chunky to your preferences. Next, blend in the onion, garlic and mushrooms. You can either lightly pulse and create a chunky soup or you can fully blend to create a silky smooth soup like I did. Add more broth is desired for a thinner texture.

Pour the soup into a soup pot and add bay leaf. Simmer on low for 10-15 minutes before serving.

You can adjust the texture and thickness by adding more or less broth — or you can add a third can of black beans for more beany texture and flavor. OR if you want more mushroom flavor, add additional mushrooms and adjust broth as desired. You can also play around with these spices if you want by adding more chipotle for a spicier soup, etc.

For the cream: Combine the vegan mayo and warm water. Then add in 1-2 teaspoon lime juice and a pinch of zest. Whip until smooth.

To serve: Pour soup into bowls and top with a drizzle of the lime cream. Then add the diced avocado. Also add a generous squeeze of fresh lime juice and a lime slice as garnish. Optional: tomatoes or chunky salsa and crushed tortilla chips.

Other topping ideas: diced red onion, roasted corn, sliced jalapeño, vegan cheese shreds, cashew cream, guacamole, skillet mushrooms, vegan tempeh bacon or shiitake bacon… just to name a few!
nutrition estimate | per serving
Calories:
324
kcal
|
Protein:
28
g
|
Fat:
4
g
|
Fiber:
17
g
*nutrition is an estimate using CalorieCount — does not include toppings