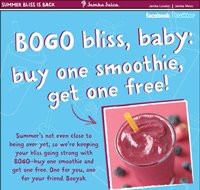 Great news for fellow smoothie lovers out there! Jamba Juice is offering BOGO until July 12th, at participating locations. That means you can buy one smoothie and get one of equal or lesser value for free! Awesome. (Click ahead for the coupon link and full details) I'm hoping for warm weather this weekend! And if you are hesitant about ordering healthfully at Jamba Juice (not every smoothie is healthy and vegan), Here are a few awesome tips for ordering healthfully at JJ….
Yay for BOGO at Jamba Juice, offer ends on July 12th. FULL DETAILS AND COUPON HERE.
How to Order healthy at Jamba Juice:
* My very first high school job was at Jamba Juice. And working there gave me a few tips and tricks about how to order a healthy smoothie. And yes, almost any smoothie they make an be modified to be vegan or at least a bit healthier…
1. Go All Fruit. It's true that JJ has an All-Fruit section on their menu, but you can actually order any smoothie and make it all fruit. All fruit meaning NO sorbet/sherbet/fro-yo as a filler. Simply say "please no sorbet/sherbet/fro-yo, and substitute (insert fruit here)" I like adding more blueberries to my blue smoothies and more peaches or bananas to my orange/pink smoothies.
2. My favorite juices offered at JJ are acai and orange. The OJ is usually fresh squeezed (except that one winter when the orange crop was bad…) Hopefully the OJ is back to normal now…I'd ask though. And I love their Acai juice. I'm not a big fan of the other juices-made from concentrate. Like the apple or passion fruit. I also love the lemonade. It's not really healthy, but it's a nice treat if that's what flavor you are craving. (I get it in the strawberry Surfrider).
3. My favorite Smoothies are: Acai Supercharger with no filler frozen stuff-all fruit. I also love the Acai-Soymilk smoothie with lots of protein in it. And lastly, I love the Strawberry Surfrider. Though it's made with sweet lemonade as the liquid, on a really hot summer day it is what I crave. I also have to remove the frozen fillers on this one. Oh, and I love getting a side of wheat grass juice-when I'm feeling brave to chug it. Not really a fan of that taste.

4. Healthy Food at JJ. Well now that JJ has a huge selection of food items, I still have to try the vegan ones, but in the past, I know that the apple-cinnamon pretzel is one of the only vegan baked goods. I love the healthy selection of snacks JJ stores have: nuts, popcorn and protein bars.

5. Boosts: I like the vita boost the best. It doesn't change the flavor at all. Of the extra charge boosts, I like the 3g and antioxidant boosts.
The best part of the Jamba Juice website is that they have a section that shows you which menu items are vegan-as-made. Yay. But like I said, you can easily modify a few of the smoothies to be vegan-and a lot healthier.