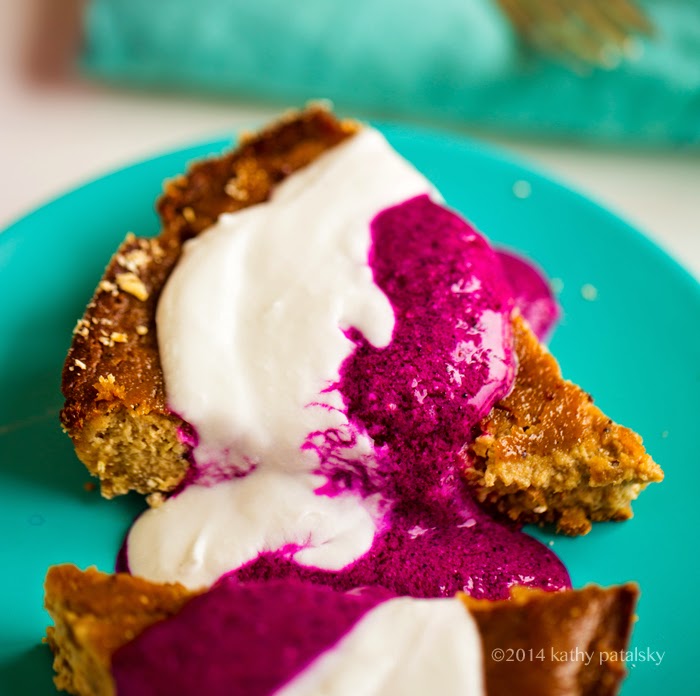 Pink and white and dreamy all over. I had a vegan cheesecake craving so I popped this recipe in the oven and decided to slather it in hot pink deliciousness and coconut breezes. The pink pitaya topping (substitute any berry if need be!) adds a vibrant tone that reminds me of pink lemonade, Saturday morning cartoons, sunbeams, My Little Pony, Jem, glitter, pink cotton candy sunsets, island happy hour, hot pink lipstick and all things in between. Get the recipe!..
Hooray! Have you noticed??? Check out the nifty new recipe formatting with easy to find print friendly button!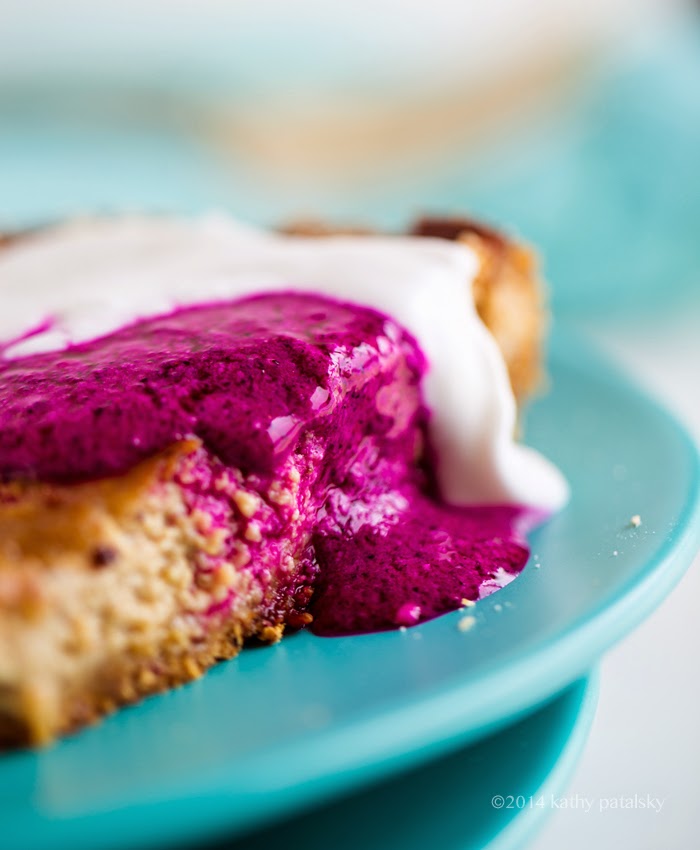 Today's dessert gets a little messy. Actually very messy. But in a good way. You know how you love chocolate fudge-y, melting ice cream, messy-amazing desserts? Well this dessert gets melty and sauce-y and messy in all those wonderful ways, but without all the unhealthy stuff.
This baked Brazil Nut-Tofu Cheesecake with Pink Pitaya puree & Coconut Cream on top is made using some of my favorite ingredients: Brazil nuts, extra virgin coconut oil, silken organic tofu, rolled oats, dates, grade B maple syrup, coconut milk and that pink surprise of pitaya, aka dragon fruit.
Substitutions. If you want, you can sub the Brazil nuts for raw cashews, but I wanted to try Brazil nuts since I always do cashews. Brazil nuts need an extra long time soaking – overnight is a must, and they still blend up slightly textured, adding some body to the cheesecake. For a silkier version use cashews. But I loved the Brazils!
And if you do not have pitaya, you can easily sub with frozen acai, raspberries, blueberries or even strawberries. Enough chit chat, lets get to this sweet thing..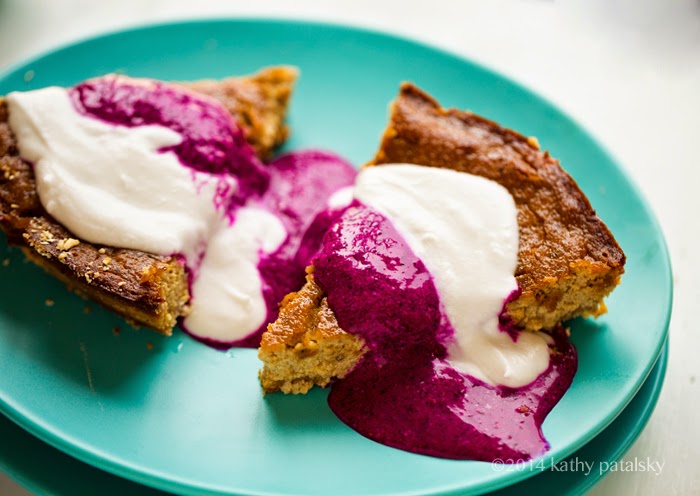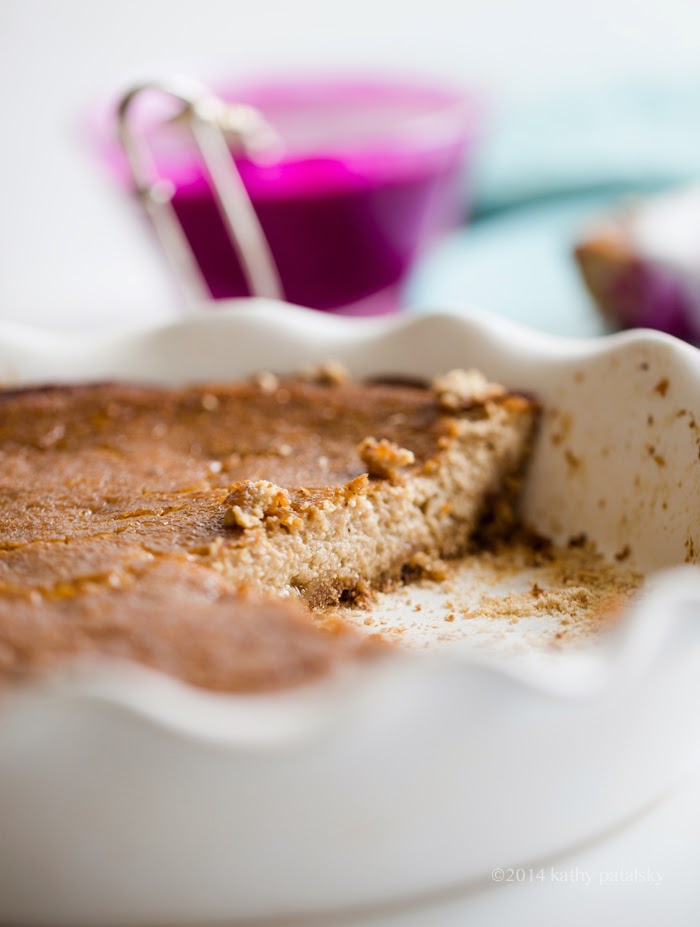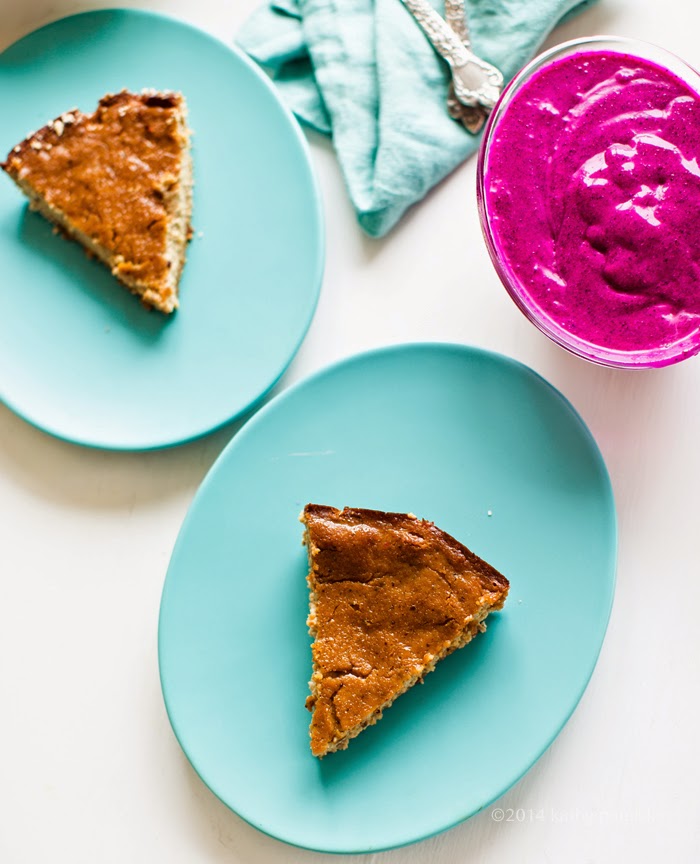 Pre-topping: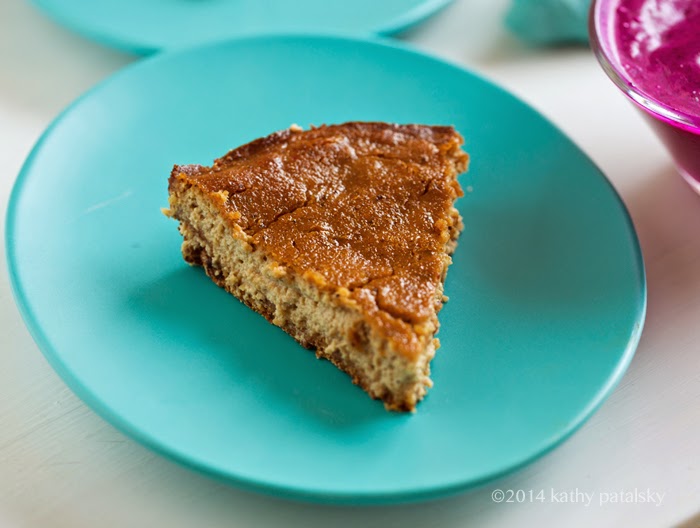 coconut cream – I made mine in my new Blendtec! Using the twister jar..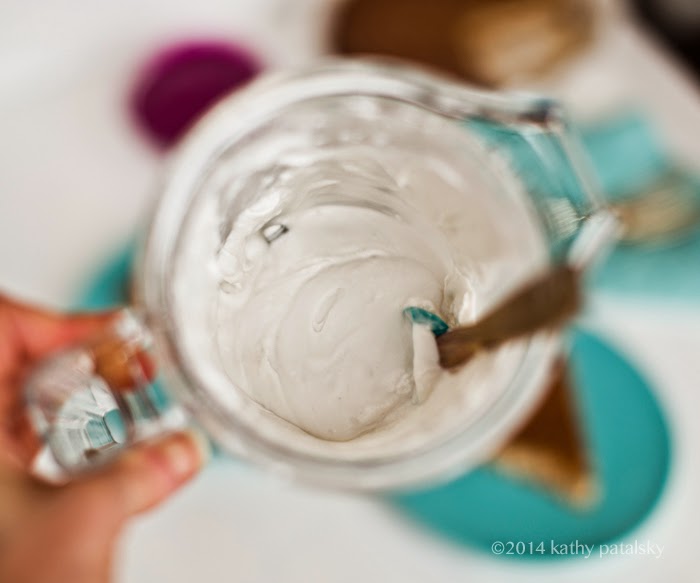 pitaya puree topping: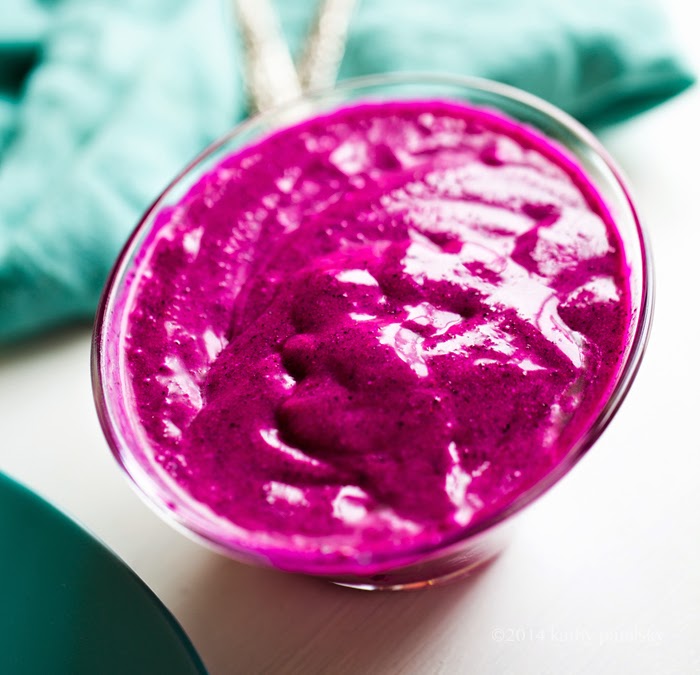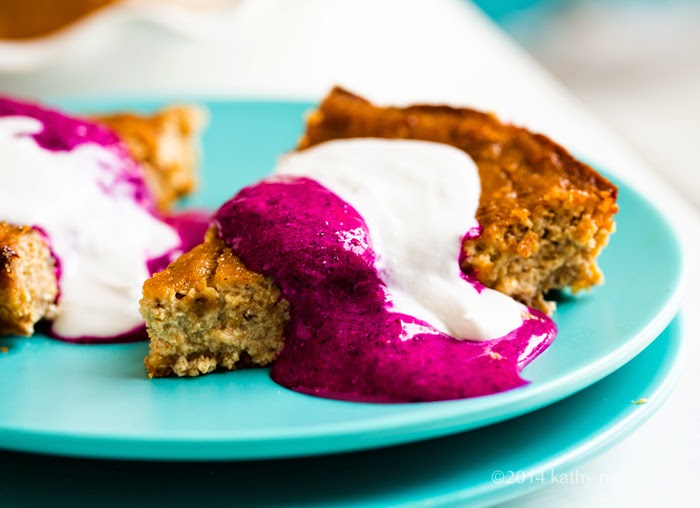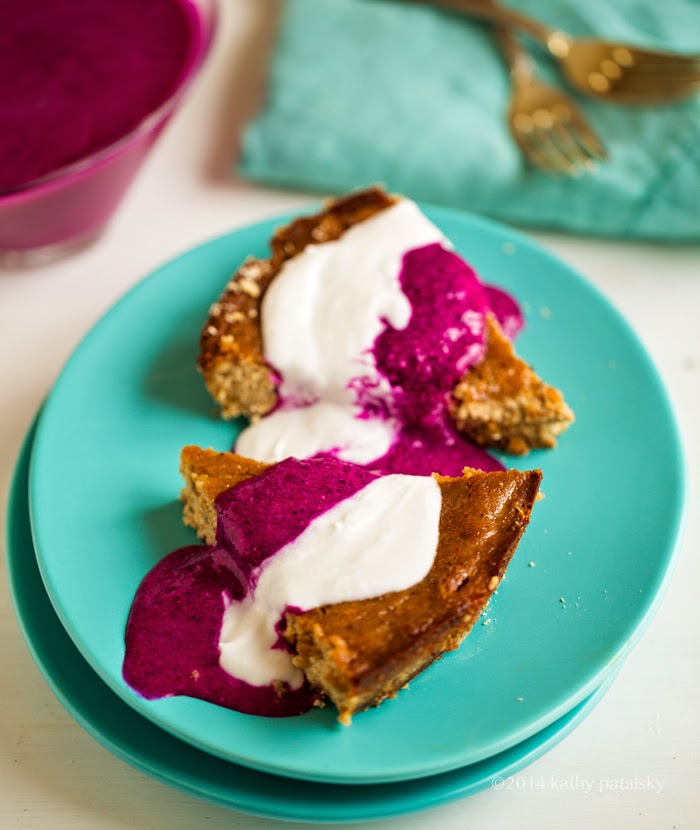 Brazil Nut Tofu Cheesecake
By Kathy PatalskyPublished 05/22/2014

Fluffy silken tofu and creamy Brazil nuts make this simple vegan cheesecake a blissful dessert! Oat-nut crust too.
Ingredients
¾ cup Brazil nuts, soaked overnight, drained
½ cup maple or agave syrup (dark)
½ cup coconut sugar
20oz silken tofu
¾ + a pinch of pink salt
1 ½ teaspoon Bragg's apple cider vinegar
¼ teaspoon vanilla extract of pinch of vanilla bean powder
¼ cup + 2 tablespoon extra virgin coconut oil
6-7 large Medjool dates, pitted
¼ cup warm water
1 cup oat flour or almond meal flour
Instructions
Soak the dates in the warm water for at least ten minutes to soften. Pour the dates and water into a blender along 2 tablespoon coconut oil. Process until the dates are crumbly but mostly smooth.
Pour the date puree into a large bowl and add the oat flour or almond meal. Fold until a thick mixture forms. Add a pinch of salt.
Lightly grease a large and deep pie dish or round cake pan, 9-10 inches in size. Spread the date flour mixture in the dish and press out until a ⅛″ thick crust forms. Set aside.
Preheat oven to 350 degrees.
Add the tofu, sugar, agave or maple, ¾ teaspoon pink salt, ¼ cup coconut oil, soaked/drained Brazil nuts, vanilla and vinegar to a high speed blender. (Blendtec used!) Blend until silky smooth. This will take 1-3 minutes from low to high speed.
Pour the nut-tofu mixture into the crust and place in the oven to bake for 65 minutes at 350 degrees. Note: Depending on your pan size – If you have leftover filling you can pour into muffin tins to make a few mini cheesecakes, pull from oven after about 25 minutes.
Cool for at least an hour in the fridge until slicing to serve. Store in the fridge
Yield: 1 cheesecakePrep Time: 00 hrs. 15 mins. Cook time: 01 hrs. 05 mins. Total time: 1 hrs. 20 mins. Tags: vegan, cheesecake,dessert
Pitaya Puree and Coconut Cream
By Kathy PatalskyPublished 05/22/2014

Pitaya and coconut make the perfect pairing! These sauces are lovely for topping pies, vegan cheesecakes, fresh fruit, brownies or eating by the spoonful! If you do not have pitaya freezer packs, sub with frozen acai or ¾ cup frozen berries of your choice.
Ingredients
1 cup + 1 tablespoon chilled coconut milk (aka coconut cream)
1 pitaya freezer pack or berry substitution (about ½ – ¾ cup)
splash of almond milk as needed
2 tablespoon agave or maple syrup
¼ cup liquid (non-dairy milk or liquid from coconut milk can, not cream part)
Instructions
Add the pitaya, sweetener and one tablespoon coconut cream to blender. Blend on low, add splashes of vegan milk until the mixture blends smoothly. Pour into a serving glass and set aside for immediate use.
For the coconut cream you can either blend the cup of coconut cream, ¼ cup liquid in a blender or even better, use a beater. Whip or blend until smooth. If you want more of a fluffy texture use a beater and add in some organic powdered sugar for an even thicker, fluffier texture. Pour into a small bowl and place in the fridge until ready to be used.
Yield: 1 cup eachPrep Time: 00 hrs. 01 mins. Cook time: 00 hrs. 10 mins. Total time: 11 mins. Tags: dessert,toppings,vegan
Yes, I said messy-goodness..