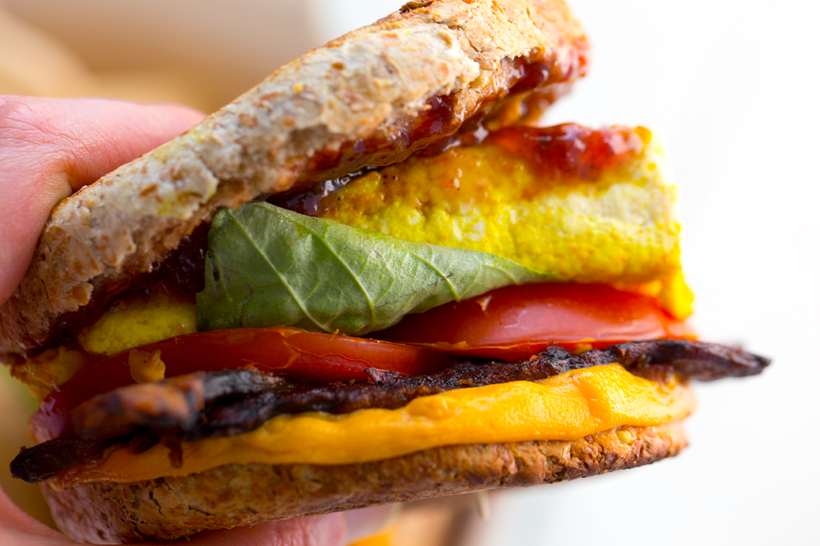 * vegan breakfast sandwich with eggy tofu
Do you ever feel like your breakfast is lacking?
Let's take a
world tour of breakfast
and check in on what
everyone else is eating as the sun rises and a new day begins.
Has an
Americanized breakfast
left you craving something
more?
Has it
left you
unsatisfied
and forced into becoming…
Or a
coffee-only
chugger?
Or a morning
carb addict
?
Donuts, fried eggs, hash browns with sugary red ketchup, corn syrup sweetened cold cereal, orange juice from concentrate, syrup-covered waffles, or
hugiant
blueberry muffins seem to be the
traditional
American breakfast fare.
But around the world, Americanized fare seems odd, overtly sweet and frankly, unhealthy.
When traveling to
Europe,
one of the greatest joys a tourist can have is to stay at a
bed and breakfast
and wake to be served a freshly prepared breakfast-traditional to the region. While your taste buds may be
in for a shock
to see
boiled tomatoes
,
baked beans, sliced cucumbers, sheep's milk cheese, soy sauce,
or
thick hot rice cereal
at their AM meal, the unique experience will open your mind to how incredibly diverse the breakfast world actually is.
You'll never look at a Pop Tart in the same way again.
(And hopefully you'll never eat one again either.)
Lets take a look at
breakfast around the world.
Hopefully it will inspire you to put down the cheese danish and pick up something new!
(Olive oil and sun-dried tomato toast anyone??)

JAPAN:
Steaming hot rice, miso soup, grilled fish, tofu and /or egg dish, nori (dried seaweed), and tsukudani (small fish and shellfish boiled down in soy sauce and sugar). Japan's traditional breakfast can appear quite elaborate. Many sauces, containers and liquids. But overall–the meal is incredibly light and healthy. The set-up appears to be the main portion of the traditional meal! However, the younger generation of Japanese are acquiring more western traditions including fast food, bread and coffee style meals. Or even simple grab-n-go meals like rice balls. The faster the better is the young-person's trend.
BRAZIL:
Black coffee, cows milk and white cheese are quite popular, as well as fresh juices (especially orange, guava, mango, cashew and passion fruit). Brazil is also the home of the very nutrient dense ACAI JUICE. Fresh ACAI juice is high in omega's and antioxidants. Brazil is also well-known for fresh young coconut water–an excellent potassium rich hydration beverage.
SPAIN:
In Spain and Portugal you will commonly find a roll with butter/ jam and a cup of coffee with a lot of milk. One delicious recipe is called Catalina Bread. In Catalan, olive country, bread is served with olive oil instead of butter, and a favorite breakfast treat is pan con tomate, slightly similar to pizza. It is made by brushing a thick, crusty slice of grilled bread with olive oil, garlic, tomato, and (sometimes) topping it with a slice of ham. Fried eggs and omelets are also popular.
ENGLAND:
A traditional English Breakfast, that you might find at a cozy B&B in the countryside will offer poached eggs, baked beans, fried tomatoes, mushrooms and perhaps bacon. Don't forget the English tea and scones. A modernized English breakfast will be more Americanized in contrast to the traditional fare.
IRELAND:
A proper full Irish breakfast is known as a "fry." Lots of fried meat and even bread. White and black "puddings" are also included. There may also be Irish soda bread, a slightly sweet, white-flour bread that is raised with baking soda, rather than yeast. It is covered in an assortment of raisins.
SCOTLAND:
Oatmeal, oatcakes, scones, and Arbroath smokies are all commonly eaten for breakfast in Scotland.
GERMANY, SWEDEN, NORWAY, DENMARK, FINLAND:
Large breakfasts are preferred in these regions. Common fare is cereal, eggs, a variety of breads with butter and jam, cold meats, cheeses, yogurt, fruit and fruit juices, tea, coffee, hot chocolate, or milk. The breakfast eater is likely to make a substantial early meal out of these foods. Also, Germans love coffee. They usually prefer it black in the morning.
FRANCE AND ITALY:

A "Continental breakfast," is adored in Italians and the French. They desire a morning meal consisting of two elements:
stimulant and sustenance.
Example,
coffee and bread.
So the cappuccino and croissant stereotype is true!
In Italy, the beverage menu options will be:
cappuccino, caffe nero, tè, or latte al cacao.
Both countries enjoy croissants, a brioche, a baguette or toast, served with butter and preserves.
BELGIUM:
Belgians do not eat Belgian waffles everyday, or even that often. Waffles are sold in touristy areas of the large cities, and are eaten as a snack. A Belgium breakfast consists of breads, toasted or untoasted, with several marmalade's, jams, and nut spreads, such as Nutella or even a bar of chocolate, sliced meats and cheeses. Pastries and croissants may be served on Sundays, but not weekdays. Belgians often enjoy coffee, tea, hot chocolate, water, or fresh juice at breakfast.
SWITZERLAND:
In the late 19th century the Swiss nutritionist Dr. Max Bircher-Benner was at work on a breakfast dish for his patients. Bircher-Benner advocated vegetarianism and eating foods as little processed as possible. Muesli, or "mix" as it translates into Swiss German, was a combination of raw grains (mostly rolled oats), nuts and fresh and dried fruits, which was served with yogurt or milk. It has become a very popular breakfast food in Switzerland and throughout Europe. In the United States, it has not caught on as much. Americans prefer granola, which is similar, though made with toasted oats and usually heavily sweetened and made with oil.
GREECE:
Breakfast isn't a big meal in Greece. Most people start off with a quick bite that might include a grilled roll, or fresh fruit with yogurt. Greek coffee (which is identical to Turkish coffee) is extremely popular and can be ordered without any sugar at all (sketo), medium-sweet (metrio), or very sweet (glyko), but it is not served with milk. Many people supplement their light breakfasts with a mid morning snack that includes bread, meat, and cheese.
AUSTRALIA:
The Australian breakfast is similar to the United Kingdom: bacon, eggs, toast with butter and jam, cereal with milk, and tea or coffee to drink. There are a few unique combos though: Toast, topped with either spaghetti or baked beans and bacon, is a popular morning dish.
RUSSIA:
Some Russians like coffee for breakfast, but strong, hot tea is more popular. A variety of breads (black bread being traditional), blini, sausages, fried eggs, and cucumber pickles are also typical breakfast items. Kasha is particularly common, especially for children. The word means "cereal," and it is not made with a specific sort of grain, although Americans are most familiar with buckwheat kasha (millet, semolina, oats, or rice might also be used). It is often served with tvorog (a soft curd cheese similar to ricotta) or sour cream and sugar.
CENTRAL AMERICA:
Staples for breakfast in Central America include egg dishes, chorizo and other sausages, tortillas, pan dulce (sweet bread), fresh fruit, fruit juices, and fried plantains. Chocolate beverages are especially popular in the morning. They tend to be much thicker and frothier than their counterparts in America, and they are often flavored with spices such as cinnamon or achiote. Egg dishes include: The well known Huevos rancheros and not so well known, Huevos motuleño-This dish is made by spreading refried beans onto fresh tortillas, then adding a fried egg or two, chopped ham, peas, and cheese.
The Costa Rican national dish is gallo pinto, which means "spotted rooster." The dish is a combination of fried rice and black beans, lightly spiced, that might be served with sour cream and eggs at breakfast time.
SOUTH AMERICA:
The South American breakfast tends to be light in the Continental style: a cup of coffee with plenty of milk and some bread or pan dulce (sweet bread). Medialunas, small croissants that are available either sweet or plain, are popular. Some may choose tea or yerba mate instead of coffee.
In Argentina, cafe con leche is served only in the mornings. By the afternoon, those who like their coffee with milk switch to cortados, which contain a little less of it. Another Argentine breakfast beverage is the submarino, which is a glass of steamed milk with a bittersweet chocolate bar melted into it. Mild hot chocolate perhaps.
ISRAEL:
Western-style breakfasts are common in Israel, although such combinations as eggs and bacon are only available in non-kosher establishments. For special breakfasts, locals and tourists enjoy a generous buffet spread that includes yogurt, herring, cucumbers, tomatoes, and other fresh fruits and vegetables in season.
CANADA:
Breakfast in Canada is similar to the United States, except for a stronger tendency to indulge in large spreads. Canada is the largest producer of maple syrup in the world and claims the pancake and maple syrup combo as a local specialty. Canadian bacon (ham), a popular side dish, is served in thin round slices. It is healthier than American crispy strip bacon.
INDIA
Here is what a blog reader added about breakfasts in India:
"I'm surprised you didn't include indian breakfasts in this post. I'm of south indian descent so i'm assuming it may be a little different in different areas of India…but i grew up on appam (similar to a pancake made with rice flour and yeast that is slightly sweet) either with a curry that was goat (or chicken) potatoes and carrots that also had coconut milk, the little ones can eat it with some sprinkled sugar and soaked in coconut milk.. There was also idly which were soft steamed cakes made out of rice flour served with sambar (a veg. stew with a plethora of vegetables and lentils) or with a coconut relish. on and of course dosa which is a thin rice crisp pancake (more savory then the apam) that can be filled with a potato masala and also served with sambar, or the younger kids loved all of this with a sprinkle of sugar…also of course there is the typical rice with yogurt with pickled lemon (usually when one is sick) and of course bread with jam and coffee and milk that is cooled down my tossing it from cup to cup in dramatic fashion..i love it…"
TURKEY
:
Special breakfasts include a full spread of ekmek (a typical Turkish bread, made with wheat flour and always served fresh) with preserves, honey, butter, boiled eggs, black olives, cucumbers, tomatoes, and sheep's milk cheese.
HONG KONG:
"When East meets West, Hong Kong gets more varieties of breakfast," says Charmain Tan, RD, Hong Kong AODA country representative. With Western styles of eating creeping into the country's culture, Tan says two distinct breakfast styles are emerging:
The older generation "maintains Chinese tradition by visiting a tea house 'Yum Cha' every morning," Most people go alone or with their spouse. There, people typically order one or two dim sums with a pot of Chinese tea, generally with free refills. Dim sum is Chinese cuisine that can involve a wide range of light dishes and is usually served in a small bamboo steamer basket.
"On Sundays, these tea houses are packed with families of three generations," Tan says. It is common practice for people to read a newspaper and socialize at breakfast.
The younger generation, which typically includes workers on the go at breakfast time, may grab a bun with a filling from a Chinese bread shop, with a box of soy milk or juice. "Others will have Western style fruit muffins or croissants with coffee," Tan says. "Young children will have a cup of milk or soy milk before leaving home and continue having their breakfast snacks at recess time," which may include an egg, sandwich, fish ball, or siu mei.
Much like an American coffee shop, Tan also describes "cha chun tien," a restaurant where a set breakfast is served, including ham and eggs, toast, and milk tea for a light breakfast—or beef steak, pork chop, egg, instant noodles, toast, and milk, tea, or coffee for a heavier meal. And, of course, says Tan, "We also have lots of McDonald's chains, which is especially popular on weekends."
MY OBSERVATIONS:
Japan fascinates me. Rice, soy sauce, fish, and soy–all for breakfast! Their breakfast foods are the same as those eaten at lunch or dinner. While in the USA, you may find lunch and dinner foods overlapping in similarity (but never really breakfast)–Japan's entire day of food uses the same ingredients and preparation styles. Also, one quote said that 50/50 of Japanese eat western-style vs. eastern-style breakfasts. And the western trend of skipping breakfast has begun to appear in Japan as well.
Can I say YUM to the Latin and Brazil styles of breakfast?!
Fresh fruit galore and some yummy sounding tortilla and spicy egg or tortilla dishes. Americans need more spice to their breakfast…hot sauce on eggs just doesn't cut it.
Another YUM to a few of the Spanish traditions. Especially the traditional crispy crusted bread smothered in olive oil and tomatoes. That would take some getting used to–but I think it would go quite well with a delicious fruit smoothie or fruit salad. Or even fresh squeezed OJ and black tea.
Who knew Germany loved its coffee so much! In fact they are the number one worldwide consumer of coffee! No wonder that German airport I visited served its coffee in a beautiful white porcelain cup–silver stirring spoon included.
One dietitian says that her favorite breakfast role model is SPAIN:
"Probably Spain. The combination of bread, olive oil, and tomato is based on the beneficial Mediterranean diet—and also because their breakfasts are simple, easy, and healthy. But I would replace the traditional Spanish ham with some turkey or low-fat cheese."
Savory Fare for Americans?
I say that Americans need to watch the
early morning sugar intake
and start experimenting with lighter, savory, protein denser foods–like rice based hot cereal with soy milk and berries. Or keep the eggs, but try poaching them with some whole grain toast. And even tortillas, beans and spicy salsa. Or that olive oil smothered bread in Spain–all yummy and healthy.
The fruit smoothie trend in America is a great one though. Just make sure it is a 100% fruit smoothie–no fro-yo or sherbet. And make sure you use high quality 100% pure juice.
Also, skipping breakfast can be considered a bad habit. But if you are a late eater, like many of the South American and even European regions–just be sure to get something very light a few hours into your morning–it will keep your blood sugar balanced if anything.
My list of ingredients to get creative with for your next international breakfast:
Hot steamed rice
Exotic juices: acai, guava, papaya, coconut, lychee, passionfruit
Beans
Tortillas
Poached Eggs
Olive Oil
Crusty Bread (A baguette style, thicker, less burnt version of toast)
Tomatoes
Mushrooms
Garlic
Muesli
Salsa or spicy tomato chutneys
rice based bowl (rice, soy milk, fresh fruit, nuts)
Morning Pizza Recipe, a la Spain
Try this…everyone knows that college students and kids
love
pizza for breakfast
right? And Spain's Catalina bread is the perfect inspiration for a twist on the American craving of morning pizza.
Well try some morning crusty bread "pizza"–coat crusty bread with olive oil, and a chopped fresh tomato marinated in some oil, vinegar or lemon juice, and spices. Add some sun-dried tomatoes or garlic, then add a pinch of cheese or soy cheese (if needed). Stick in toaster oven or microwave for a few seconds. Its like an international style breakfast pizza!
What worldly breakfast traditions are you fond of–or have you experienced in your travels???
A few great websites to peruse for more info:
http://www.cuisinenet.com/digest/breakfast/map_world.shtml
http://www.todaysdietitian.com/newarchives/tddec2007pg32.shtml
www.eatrightoverseas.org