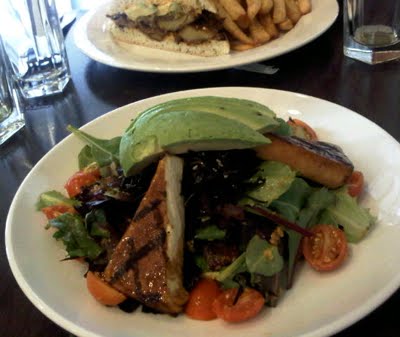 This past Sunday, I dined on a late lunch at Cafe Blossom East, upper east side NYC. I have been a huge fan of Blossom Restaurant downtown for a few years now, so when I suddenly found myself at 1st/79th with a growling tummy and a famished look in my eyes, I did the standard "looking at the outdoor menu" thing for 2 seconds, then yanked my husband inside to dine on heavenly vegan eats. I left with a glimmer in my eye and hop in my step. But was it a green juice or chocolate ganache glow? Hmm. Check out my feast review and photos from Cafe Blossom..
New Apartment Browsing makes for quite a busy weekend in NYC. Pounding the pavement for hours, days and what seems like years…
Subways uptown, downtown, walking from Mott street to Sullivan street, past a bazillion Starbucks, past fashionistas in SoHo, my tired flip-flop wearing feet slipping on the cobblestone of Mercer street, through Greenwich Village, Astor, stop for a soy chai, onto Union Square, metro uptown, the 6, whoops wrong side of the platform, crossover, upper east side and back again. Not to mention hiking six flights up and down and up and down stairs to check out a one bedroom apartment that most sane people would call an "oversized shoebox".
To say browsing for an apartment in NYC is a workout, is an understatement. But luckily, NYC is home to dozens of my favorite vegan hot spots. No matter what part of town I am in, I can find an oasis, a delicious healthy bite or sip and some calm from the urban storm…
NYC: Many Oasis's. East Village? I breeze into Liquiteria for a Papaya Paradise with spirulina smoothie. Gramercy/Union Square? One Lucky Duck juice and a mallomar. West Village? GoBo juice bar. UWS? Josie's juice bar it is. LES? Cruise up to Caravan of Dreams, sigh sadly at Teany, or pop down to Babycakes. SoHo? My favorite Le Pain Quotidien on Grand street or maybe some seasonal sorbet at MarieBelle. UES? Candle Cafe or GoBo. And now I can head to my new fave: Cafe Blossom. And I have many more hot spots, but this is a post about Cafe Blossom.. More of my restaurant picks in my FAQs here.
Tired. Weary. Food. Now? Please. Yes! You know the feeling: you are famished, exhausted and just about spent. Taxi to bed please!
My husband and I had been walking NYC city streets for five straight hours. My feet were numb. My legs were on autopilot. My brow was narrowed into an angry glossed-over stare. A tired pout on my lips. The honks, shouts, laughter and cries of NYC seemed to blur together into a restless hum. My senses were dulled beyond belief. I took careful caution when crossing the street because, lets face it, I really couldn't dart out of the way of an oncoming cab, hurried bus or delivery biker right now. I smelled a corner pretzel vendor and thought: yum, smells like heaven. Oh no, I must be famished!
We considered simply getting back on the metro or hailing a cab back to a nice cozy bed or couch asap, but then my mind flickered. We were somehow on the UES. A place we rarely journey to, to be honest. (Except for a special bite at Candle 79 or H and H bagel run). 80th and 1st, the street signs said. Well Cafe Blossom is just a street away! I googled on my Blackberry.
I could see the urban oasis in the fuzzy distance. Like a golden shimmering mirage in a heated desert. Walk sign: go. I hurried my legs to the doorstep. I scanned the menu stuck on the outside of the door – my focus fuzzy, the text blurred, taste buds dazed. Mushroom flutes with cashew cream??? My taste buds woke up the rest of my body parts "Get up, gt up! We are eating now!" Open door: insert self. Waiter? Table for two please…
The Cafe was surprisingly empty. A few scattered tables of quiet diners. I guess 4:30 on a Sunday isn't prime dining time for UES folks. We took a table by the window. Behind the bar. A late afternoon sunbeam reflected off the clear glasses and shiny wooden tables. The calm atmosphere was perfect for my buzzing mind.
Water. Still. My husband chugged it. The awesomely sweet waitress brought us menus. Her quiet gentle voice greeted us with a smile – I felt like I was at a spa it was so serene. Menu: open. Too many delicious things! Seitan skewers? Mushroom Flutes? Lentil Rings? And those are just the appetizers. Here is what we settled on for our lunch:
Two Juices: Field of Greens and Forest.
Appetizers: Mushroom Flutes with Cashew Cream Dipping Sauce.
My Entree: Grilled Tofu Salad with added avocado
Hub's Entree: Southern Seitan Sandwich with fries
Dessert: Chocolate Ganache to split.
Food Review:
Juices were delicious. Both green. Hub's forest juice had a nice kick from the ginger. My green juice was dark and hydrating. I chugged it.
The Mushroom Flutes were steamy hot and o-m-g amazing. Savory mushroom filling wrapped in crispy vegan filo dough flute. Warm. Crisp. Cashew cream dipping sauce. I kept remarking how they somehow tasted like a buttery grilled cheese sandwich from my childhood. I asked my husband if it would be weird to chug the last of the cashew cream sauce. He said no. But I restrained myself and instead dipped the garnish lettuce greens into the sauce and sucked them dry. Amazingly perfect appetizer.
OMG Mushroom Flutes Appetizer with Cashew Cream: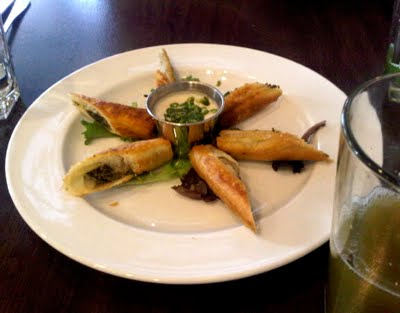 Grilled Tofu Salad (pic at top) with added avocado was just what my tummy was craving. My tofu was perfectly grilled. Firm, nice charred grill flavor. Greens were fresh and hydrating. Carrot dressing was light and flavorful. Avocado was perfectly fresh.
My husband's southern seitan sandwich was awesome. I took a few bites of seitan. Spicy, crispy, yummier and healthier than any 'meat sandwich' you will ever eat. My husband, who FYI for newbies, is not vegetarian, love, love, loved it. Fries were tasty too. Lightly spiced. He asked for dijon mustard on the side. The waitress found some for him.
Southern Seitan Sandwich: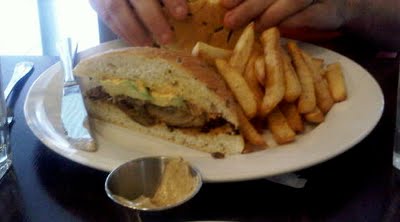 Dessert was pretty amazing. I actually wanted to order the lemon cheesecake or the blueberry apple fruit cobbler – but my husband loves chocolate desserts so I gave in. Glad I did. Moist, rich (yet light and fluffy) and dark chocolate truffles on the side. This dessert was the perfect cap to a perfect meal.
Chocolate Ganache Dessert for two: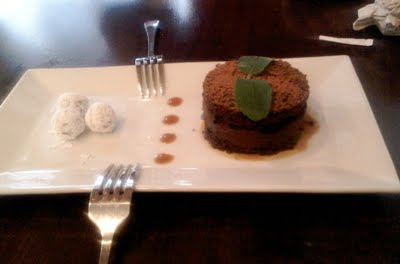 The end result: I was revived. My mind was working properly again. I actually glowed a bit. I said it was the green juice. My husband insisted it was the chocolate ganache.
Moi, with my Green Juice Smile: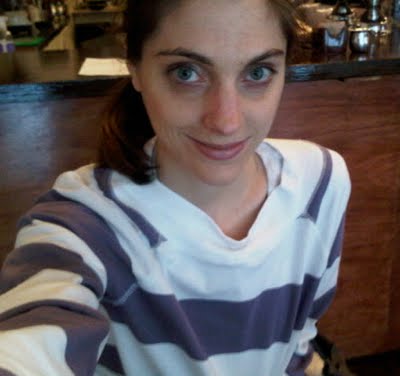 Cafe Blossom East is worth a trip to the UES – even if you are a downtown girl like me.
Cafe Blossom East – go go go.
1522 1st Avenue
between 79th and 80th.
Hours: Monday thru Friday from 11am to 9:45pm, Saturdays from 11am to 10:00pm and Sundays from 11am to 9:15pm.
Telephone: 212-988-2221
ps: it almost looks like right now the Blossom website has an error because it says Cafe Blossom is only the location on Columbus Circle. Hmm.. I hope they fix that. I was at the 79th and 1st location though. Its open and amazing! The menu (or pretty close to it), can be found here: http://www.blossomnyc.com/site/?page_id=1010
More info: www.blossomnyc.com