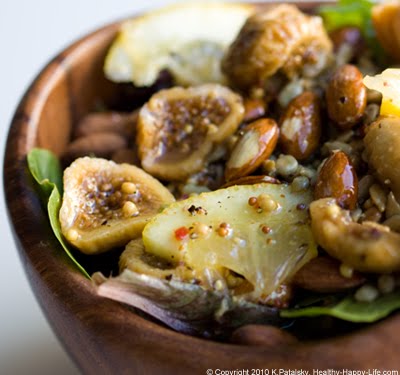 I grew up in California with a fig tree, plum tree, apple tree, cherry tree, olive tree and apricot tree in my backyard. Nothing tasted better than the fruit off those trees. Picked by hand. I'd eye a tiny green plum and watch it for weeks and weeks until it was ripe black purple. Juicy and plump. Our special plum tree was a goldmine of plums. My favorite kind of gold: fruit. Although I'm an NYC-er these days, I still miss my fruit-filled backyard and those tall swanky trees that I loved so much. My favorite spot to sit and think: a perfect little perch in my fig tree out back.
To bring me back to those innocent childhood days in the sun, I crafted my California Backyard Salad with Zesty Fig Dressing. California flavors galore: sunflower seeds, almonds, avocado, figs, plums and lemon. Dive into sunshine and get a taste of my childhood…
California in a bowl: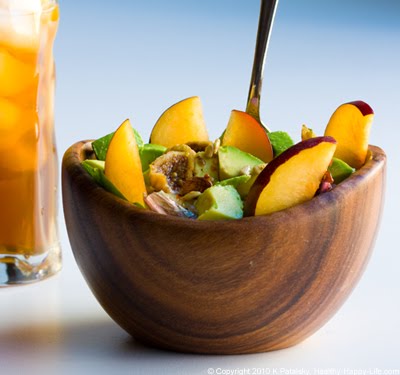 Avocados galore: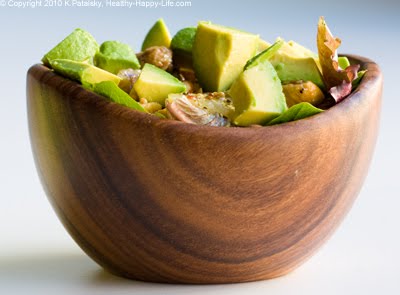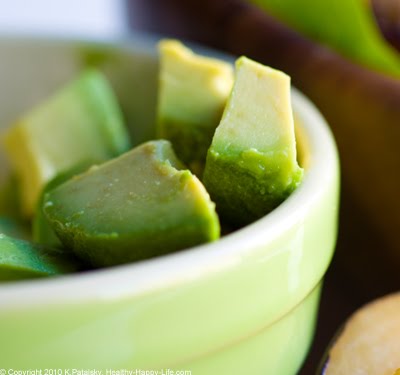 Sunny sunflowers seeds and almonds: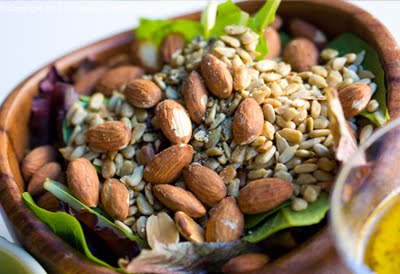 Zesty Fig Dressing: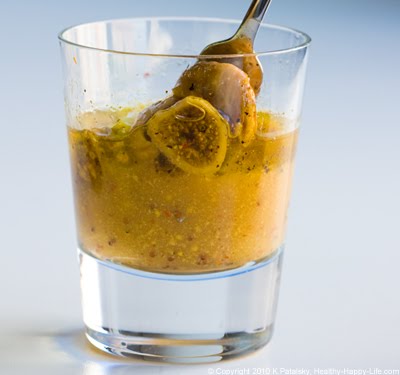 California Backyard Salad
serves 2
6 cups baby lettuce blend
1 ripe purple plum
1 ripe avocado
2 tablespoon almonds
3 tablespoon sunflower seeds
optional "cali" add-in's: artichoke hearts, diced tomato, sliced apples, walnuts.
Zesty Fig Dressing
1 part maple or agave syrup
1 part lemon juice and a few thin slices
1 part apple cider vinegar
1 part whole grain mustard
2 parts EVOO
black pepper
6 figs, sliced
Directions:
1. Whisk dressing together.
2. Place salad greens in serving bowls. Drizzle with a bit of dressing – be sure to get those figs to fall into your salad. (You can also toss greens with dressing separately.)
Dressing: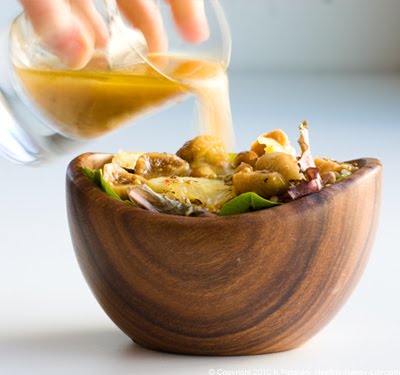 3. Prep veg/fruit: slice plum, dice avocado.
4. Sprinkle sunflower seeds and almonds over greens.
5. Add avocado cubes and plum slices.
6. Drizzle with more dressing.
serve!