This post is sponsored by House Foods Tofu.

I am so excited to kick off National Soyfoods month by partnering with House Foods for their 50 Plates of Tofu recipe series. Today I am sharing my home state-inspired California-Style Smoky-Sweet Tofu Avocado Toast. Get this go-to, sunshine-y recipe and hear more about the 50 plates series…
Follow All the Recipe Posts in this Series:

1 – California Avocado Toast
2 – Southwest Tofu Burrito with Avocado
3 – Creamy Cashew Tofu Pot Pie
4 – Gooey Butter Cake
5 – Cherry Tofu Parfaits
6 – Southwest Tofu Quinoa Bowl
7 – Salt and Pepper Tofu Skewers with peanut sauce
8 – BBQ Tofu Corn Kale Ranch Salad
9 – Beer-Battered Tofu Tacos
10 – Baked Alaska Inspired Pudding
California avocados provide the dreamy base for this recipe..

Add heirloom garnet-red tomatoes, easy candied almonds, loads of lemon and of course that flavorful skillet tofu on top..
50 Plates. This is such a cool project guys! In honor of National Soyfoods month, House Foods is launching 50 Plates of Tofu, a recipe campaign that brings to life one tofu-based recipe for each state. I am pretty excited to kick off my part of the series with a recipe inspired by my home state of California.
The map so far, via House Foods Facebook..
California Tofu Recipe. I chose an avocado toast with candied almonds and lemon because all those ingredients remind me of Cali. We eat a lot of avocado toast in these parts! And citrus trees like lemon are plentiful in California – they call it Orange County for a reason. I also used a California avocado and California almonds to create this easy recipe.
House Tofu Cubes. Today I did a fast and easy skillet preparation for my smoky-sweet tofu cubes. I sliced the cubes as small as I could so they would be perfect for topping toast! Then I added some maple syrup, smoked paprika, olive oil for the pan (California olive oil actually, ha) and some salt and freshly ground black pepper to taste. Loads of lemon juice and zest. This is a sunshine-y meal that reminds me of California.
Why I Love this Tofu Project.. Tofu is always growing in popularity as vegan and vegetarian diets become more mainstream. But reality check, it still remains one of the countries most underrated foods. Which is so crazy to me because it is so incredibly versatile and malleable! Not to mention an excellent, complete source of plant-based protein.
50 Plates of Tofu aims to help educate Americans on this versatile product. I am so excited to see all the 50 recipes unfold over the next few months! I participated with ten recipes and I will be sharing them all here in the blog. From one-dish meals to salads to appetizers and yes a few super yummy desserts. I love that tofu is incredibly versatile and can be used in both sweet and savory recipes. House Foods Tofu comes in organic and conventional product lines and is always Non-GMO Project Verified. Silken tofu is one of my very favorite egg replacers when baking. Tofu as an egg replacer always gives me fluffy muffins and the best chewy-fluffy textured cookies. Plus, it adds a boost of plant-based protein. Win. I also adore tofu scrambles as well as skillet tofu cubes to add to salads and toasts.. like today's recipe.
Make this recipe your own by adding additional toppings. Try these California-approved options:
– sprouts (Cali fave for sandwiches)
– chopped lettuce or other leafy greens
– sliced radishes
– crumbled raw walnuts or walnut oil
– sliced apple
– pomegranate seeds
– shredded carrots
– carb-lover's spin: sub out the avocado for mashed sweet potato and hummus!
– chopped artichoke hearts
– diced Medjool dates
..so many ideas and options!
Those almonds though.. You can make the almond clusters as sweet or natural as you'd like – depending on how much maple syrup you add. These were nice and sticky, while my first batch was a bit less sweet. You can customize a bit!..
Sticky-sweet clusters of almond on top accent the buttery smashed avocado, juicy tomato, lemon accent and of course those tofu cubes.
Follow Along! You can follow House Tofu's 50 Plates Series here on my blog as well as by following them on Facebook: @HouseFoodsAmerica (btw not all recipes will be #vegan, but obviously all of mine will be!)
disclosure: this post is sponsored by House Foods Tofu's 50 Plates Series, but all opinions are my own.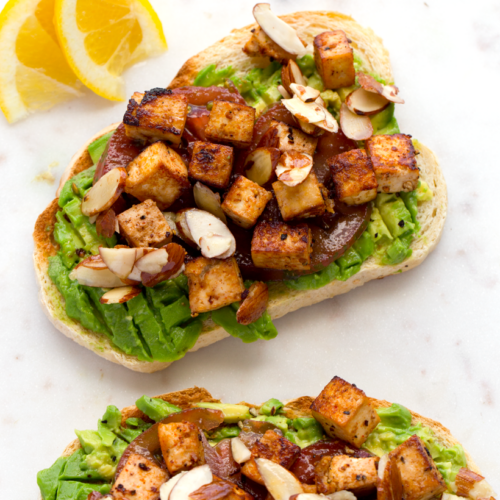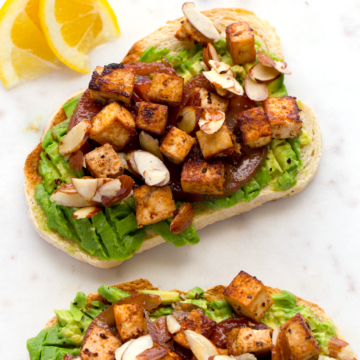 California-Style Smoky-Sweet Tofu Avocado Toast
This totally California-style snack or meal is booming with flavor. Toasty little smoky-sweet cubes of tofu top avocado toast with sliced tomato and quick candied almonds. This is like a "BLT" only way better, IMHO. Fast and delicious go-to meal!
Print
Pin
Ingredients
2 large slices sourdough bread (or alternative)

1 avocado, pitted and sliced

1 small tomato, sliced

1 lemon, sliced into wedges + zest for topping
Tofu:
½ package House Foods Tofu, extra-firm, cubed

1 tablespoon maple syrup

2 teaspoon extra virgin olive oil

⅛ teaspoon smoky paprika

salt and pepper to taste
Almonds:
½ cup sliced almonds

2 teaspoon maple syrup

salt to taste
Instructions
Warm a skillet over high heat. Add the almonds and toast for one minute. Add in the maple or coconut syrup and sauté for another 30-60 seconds, tossing the almonds with the sticky syrup as everything sizzles. Turn off heat, toss the almonds in the sticky syrup one last times, and transfer the coated almonds to a small bowl. As they cool, the sweetener will become nice and sticky. Top with a pinch of salt – to taste.

Rinse out the skillet so the leftover syrup does not burn with the tofu. Warm the skillet again and add the oil. When the oil is hot, add the tofu. Sauté for three minutes, until the edges start to brown. Then add in the maple syrup and smoky paprika. Sauté for another two minutes. turn off heat. Add the salt and pepper to taste and set tofu aside.

Add the avocado to the slices of bread and smash with a fork. Squeeze a bit of lemon juice on top and sprinkle with a pinch of salt.

Add the tomato, tofu and almonds over top the avocado. Add pepper and lemon zest on top to taste. Slice and serve.