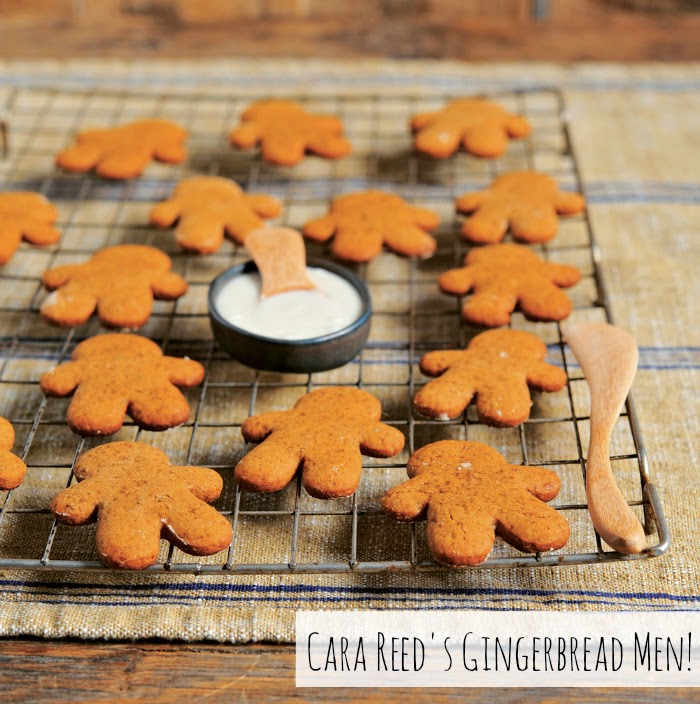 A few weeks ago I opened the pages of my friend Cara Reed's new book, Decadent Gluten-Free Vegan Baking. It is gorgeously filled with loads of dreamy dessert photos, cravable gluten-free baking recipes, tips and advice. So today I am sharing Cara's recipe for Gluten-Free Vegan Gingerbread Men Cookies, just in time for those holiday parties on your calender.
Gingerbread Men. Hot Holiday Dates. Or gifts! These little men are even adorable and delicious enough to double as a homemade gift! So start baking, grab some red cellophane or gift boxes and check everyone off your holiday gift list. I mean, who wouldn't smile at a plate of these delicious little fellas? And if all else fails, you can bite off a few heads to squash holiday season stress. Right?
Get Cara's recipe, and my recipe that I tweaked a bit because I was out of a few things, some holiday baking advice and a GIVEAWAY of Cara's book..
(photo at top is copyright and courtesy of Cara Reed, interior of her book. All other cookie images by me.)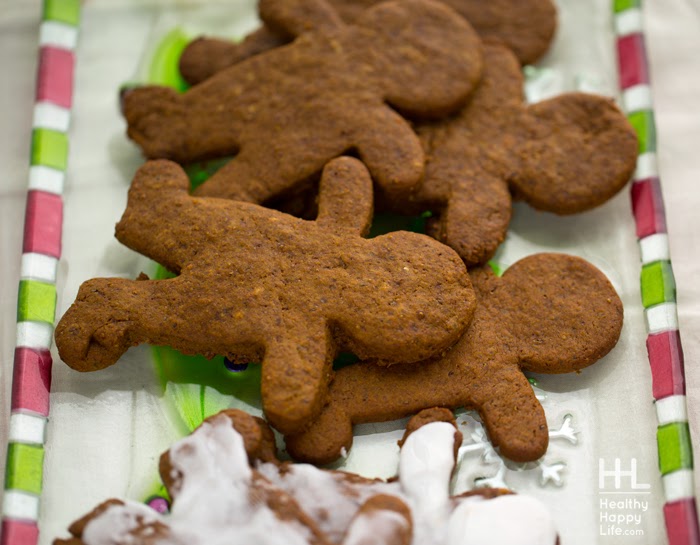 You can see my recipe substitution of chia seeds poking through the little men. Use ground chia or ground flax as the recipe calls for, for less texture…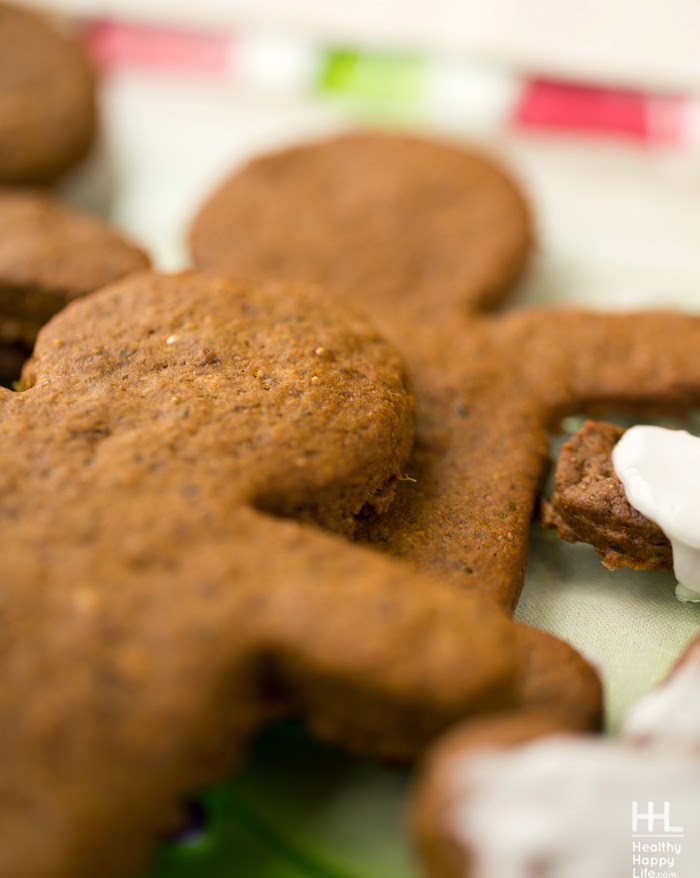 Baking Advice: Embrace Your I-Am-Not-Martha-ness. One perfect cookie in the bunch is more than good enough. Seriously. If you think holiday baking has to be perfect, with elegantly frosted sugar cookies and perfectly placed sprinkles, think again. The best cookies have a little character. Go on, serve your Gingerbread Men with twisted arms, lopsided heads and crinkles in their toes. No biggie. I promise, they taste just as amazing as Martha's. And these are gf and vegan!
A Few Tweaks. I actually tweaked Cara's recipe a bit. I was out of flax, so I subbed with whole chia seeds. Use ground chia seeds if you do not like that chia seed texture. I was also out of Cara's gluten-free flour ingredients so I used half oat flour and half wheat flour. So not 100% gf for me, but that's ok. Oh! And I was even out of vegan butter so I subbed with virgin coconut oil and ½ teaspoon salt to replace the salt in the vegan butter. And I was out of ground cloves, so I added in some nutmeg and a bit more ginger because I love things spicy. Lots of little tweaks, but the subs worked beautifully! I double checked Cara's book, and she indeed has a great section on substitutions, so I felt good making a few changes based on what I had on hand.
I loved these little cookies, and we gobbled them down for breakfast along with some fresh fruit and lattes.
I mean, if you can't eat cookies for breakfast in December, when can you eat cookies for breakfast?
Frosting was a simple and sweet..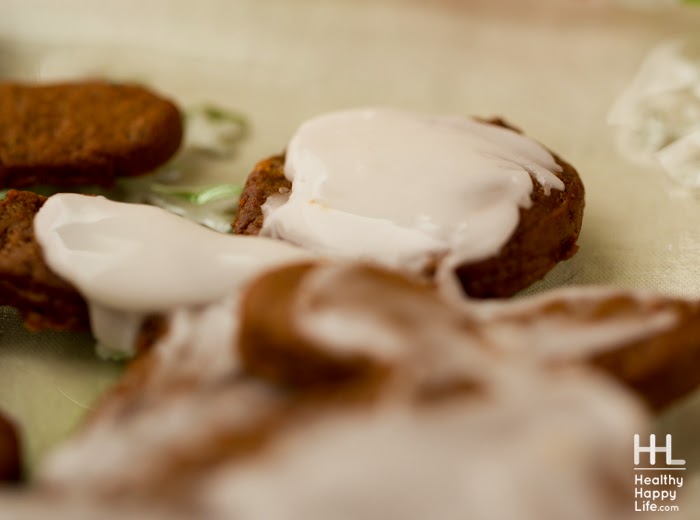 Cookbook Review. This book is filled with recipes that you will want to actually MAKE, not just gawk at and drool over. These pages will get used! I love Cara's tips at the end of each recipe and I love how minimalist and cute the cookbook design is, very un-intimidating for newbie bakers or for anyone who may not know how to bake "gluten free" or "vegan." You can do this. Cara will help. And the desserts will be amazing. Some highlights: homemade sprinkles, Pumpkin Spice Muffins, German Chocolate Cake, Strawberry Frosted "Pop-Tarts," Peanut Butter Cup Bars and Maple Donuts. And if you have never checked out Cara's AMAZINGLY creative blog, go on and check it out. She submits so many yummy things to my site FindingVegan.com, I love browsing her gallery! Another yummy photo..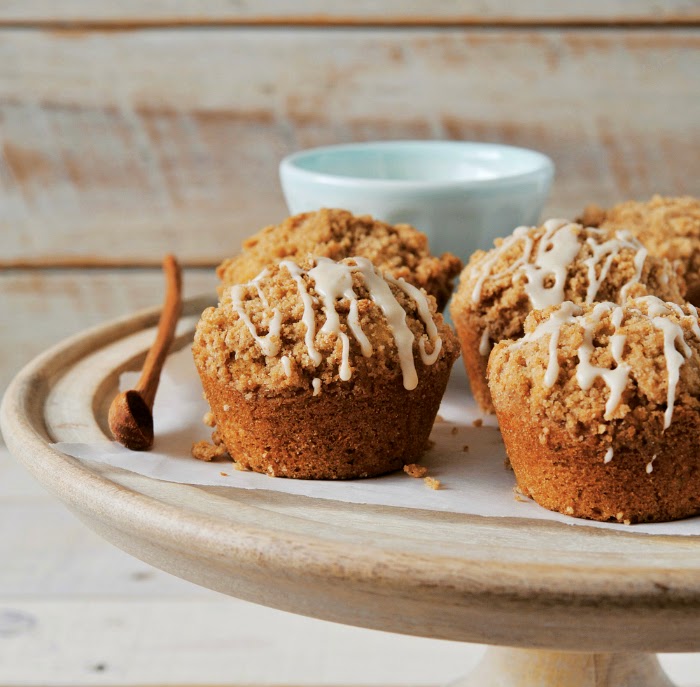 *photo copyright Cara Reed, Pumpkin Spice Muffins
And do not forget to enter the cookbook giveaway at the end of this post!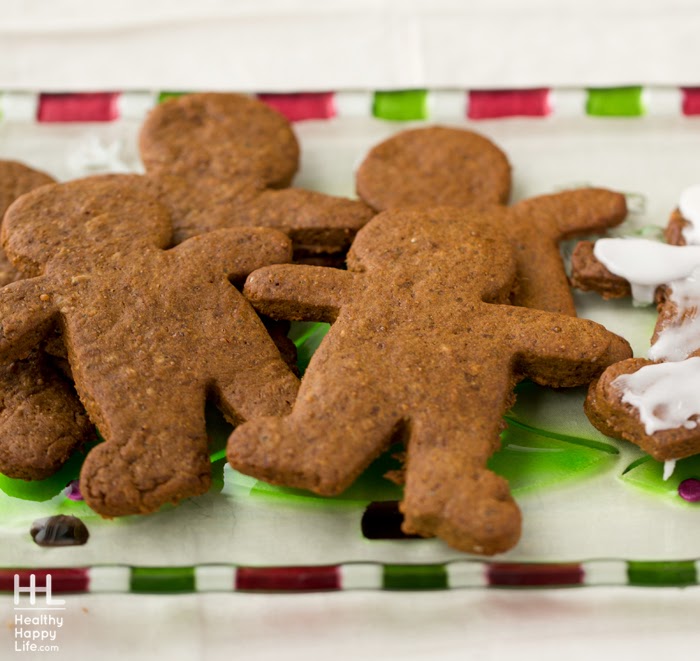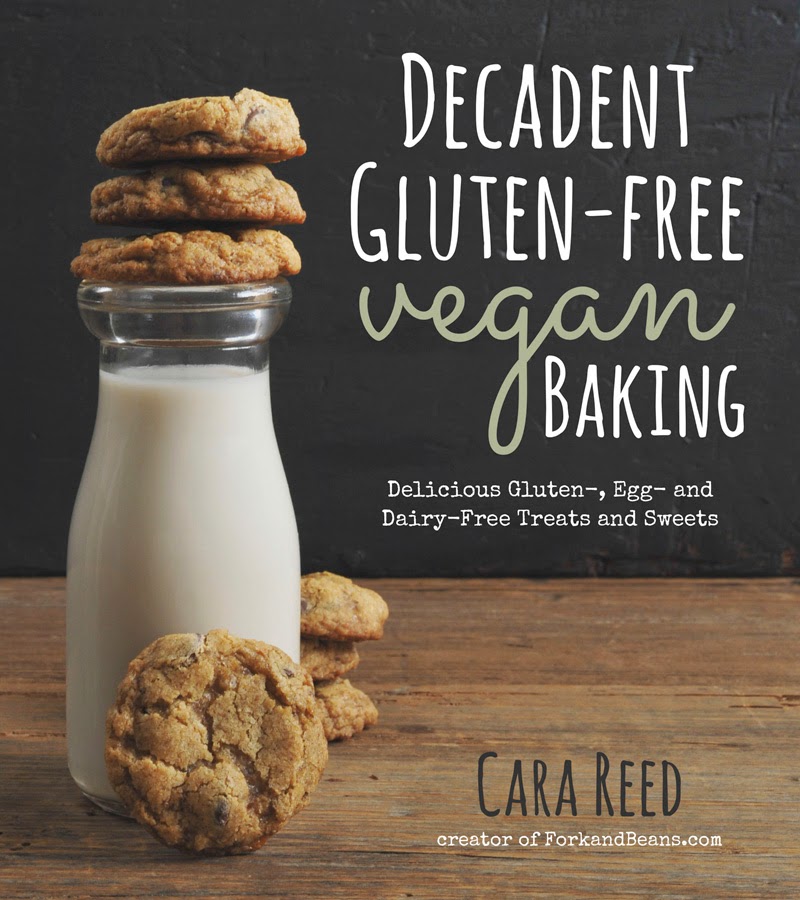 Cara Reed's Gingerbread Men
By Cara ReedPublished 12/05/2014

From Cara: Nothing screams the holidays like a big batch of these cookies filling your home with
the amazing aroma of ginger and molasses. This roll-out dough is not only
beautifully textured, but it also tastes great straight from the bowl (or so I have
heard) .
Ingredients
½ cup / 112g vegan butter
2 ½ cups / 413g Cara's All-Purpose Blend (Flour) (pg 166 in her book)
1 teaspoon baking soda
1 teaspoon ground ginger
½ teaspoon ground cinnamon
¼ teaspoon ground cloves
½ cup / 50g granulated sugar
½ cup / 176g unsulphured molasses
1 Tbsp/7 g flaxseed meal plus 3 Tbsp/45 ml warm water
1 batch Royal Icing (page 158)
Instructions
In a large bowl, beat the vegan butter with an electric mixer on medium to high
speed about 30 seconds or till softened.
Whisk together the flour blend, baking soda, ginger, cinnamon and cloves. Beat half
of this flour mix, sugar, molasses and flaxseed soaked in water into the butter. Beat
until thoroughly combined. Stir in the remaining flour.
Divide the dough in half and create 2 balls. Place in a bowl, cover and chill for about
3 hours or until easy to handle.
Preheat oven to 375°F/190°C. Line a baking sheet with parchment paper.
On a lightly floured surface, roll each half of dough between 2 pieces of parchment
paper into ⅛–inch/3-mm thickness. Create shapes into the dough using the cookie
cutter of your choice. Place 1 inch/2.5 cm apart on the prepared cookie sheet.
Bake for 7 to 10 minutes until the edges are lightly browned and firm. Cool on the
baking sheet for 1 minute before transferring cookies to a wire rack.
Decorate with Royal Icing.
CARA'S TIP: While you are rolling out a portion of the dough, keep the remainder in
the fridge. The longer the dough sits out, the stickier it becomes, causing it to be a
hassle to work with. The chilling process allows it to be workable.
Yield: 2 dozen cookiesTags: dessert,glutenfree,cara reed
Buy Cara's book on Amazon!