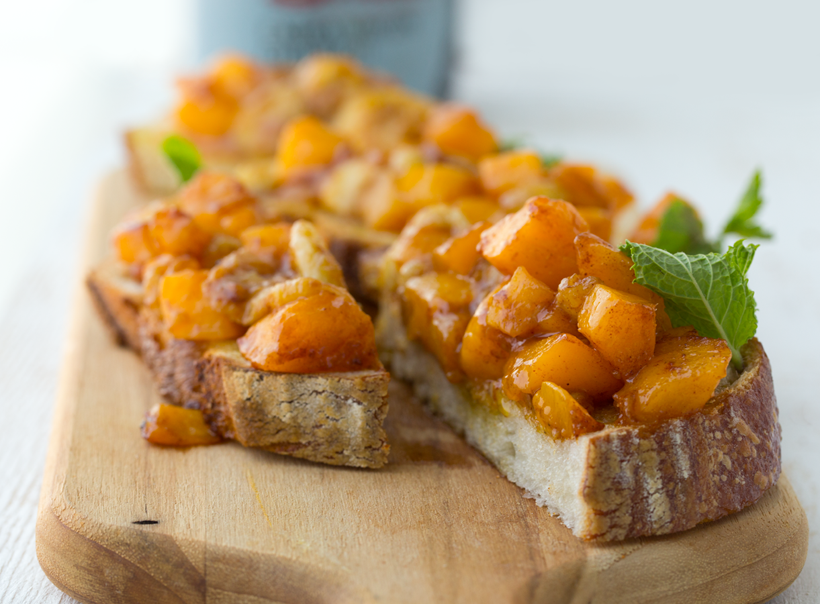 I have always loved the flavor of caramelized bananas with vanilla, cinnamon and a touch of sea salt. So I decided to take that sticky-sweet inspiration and turn it into a dessert bruschetta that can be whipped up in minutes and is oh, so dreamy. My Caramelized Mango and Banana Bruschetta..
Perfectly juicy and sweet mango.. (you could also use peaches or pineapple)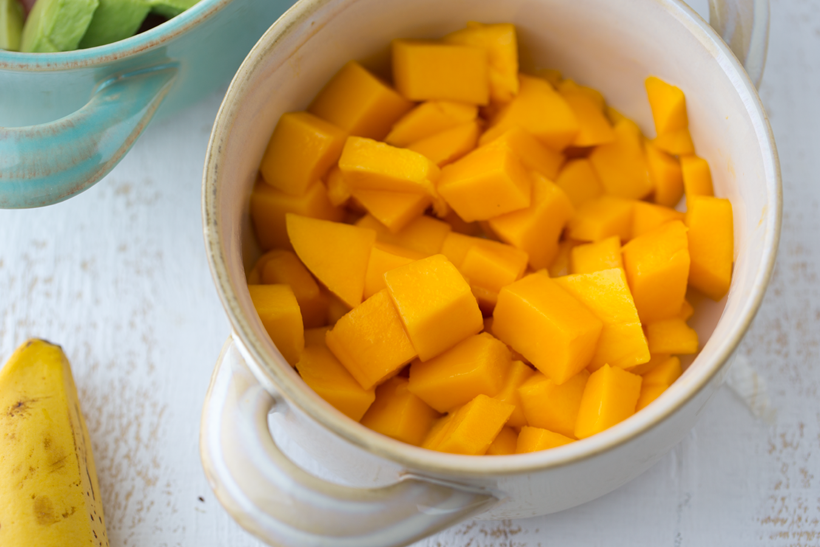 Tossed in cinnamon and vanilla..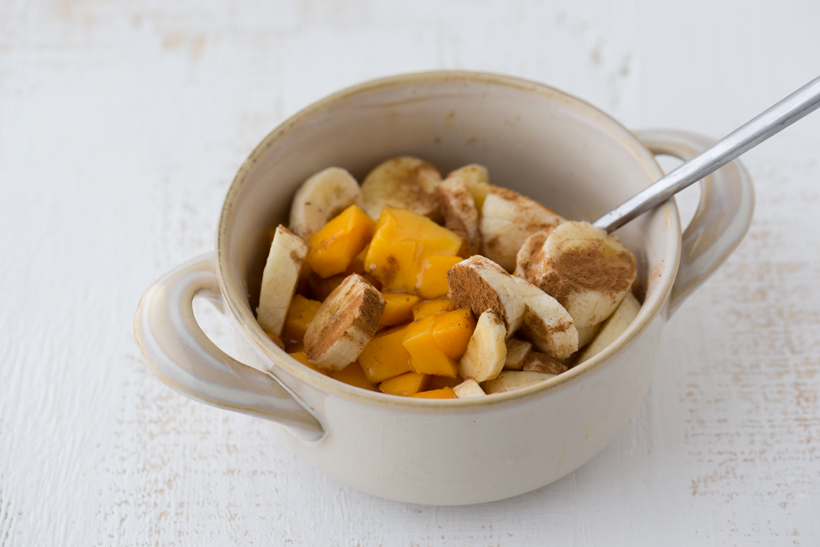 Caramelized in a flash using EVOO in a sizzling skillet..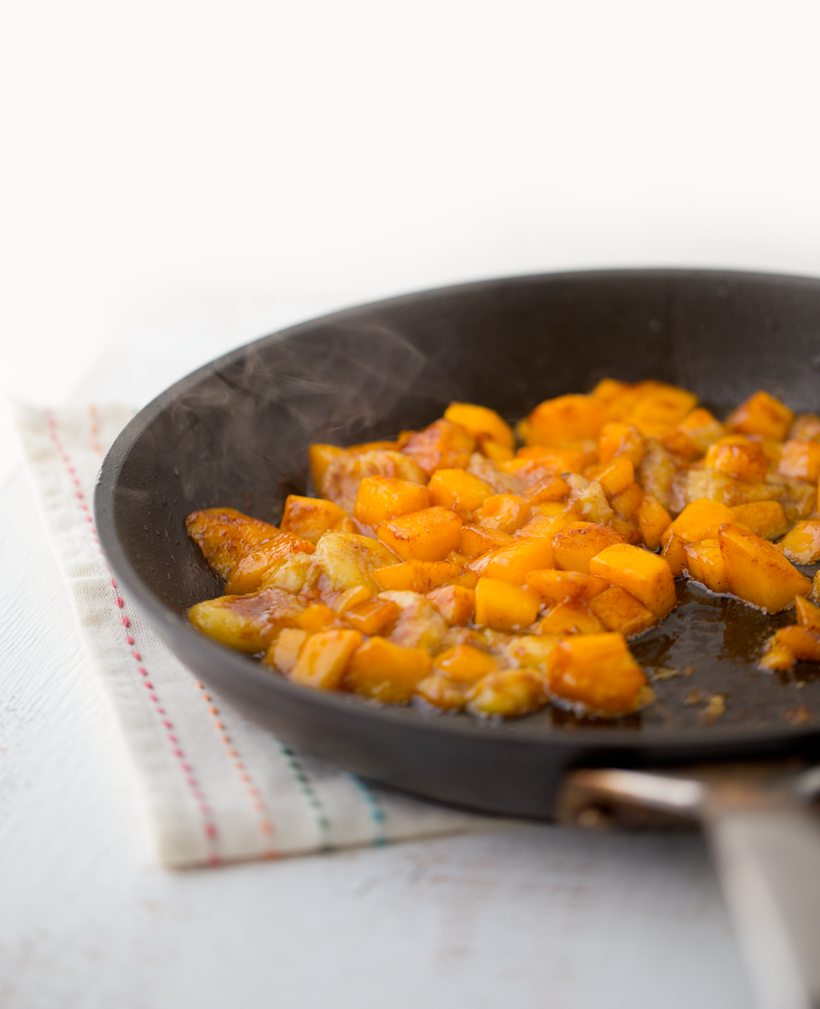 Layered on thin slices of warmed crusty bread..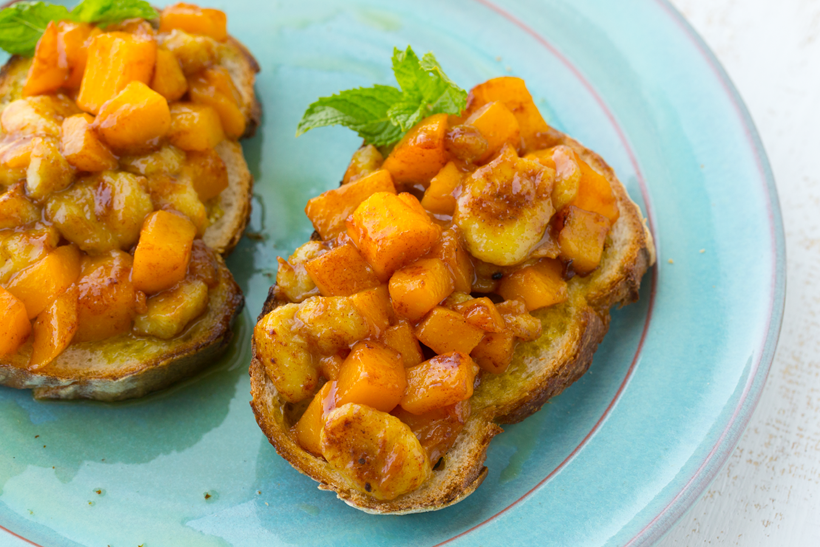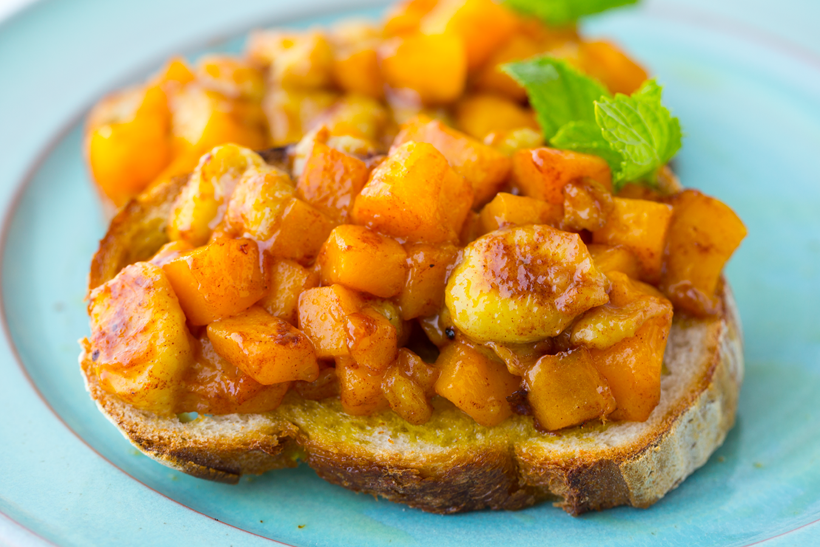 The bread becomes moist from the EVOO and juices from the caramelized fruit.
Velvety richness from buttery extra virgin olive oil..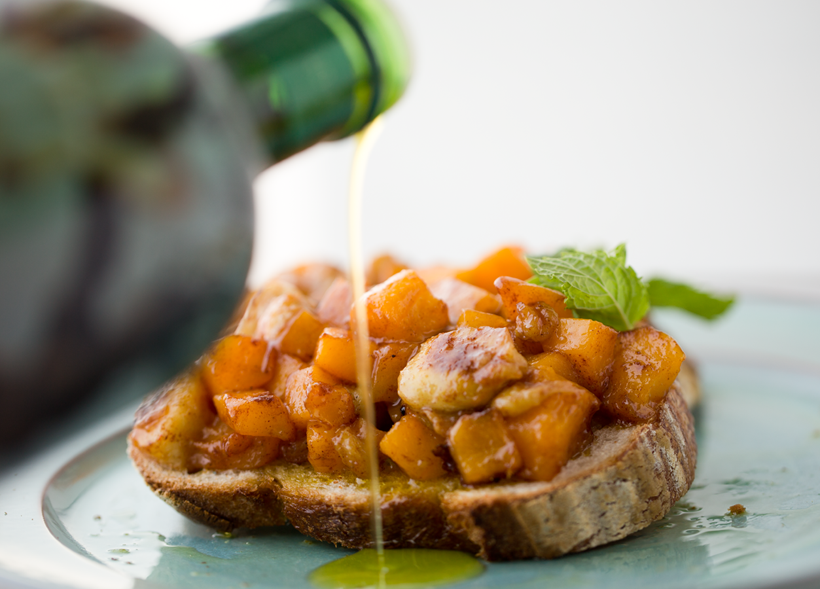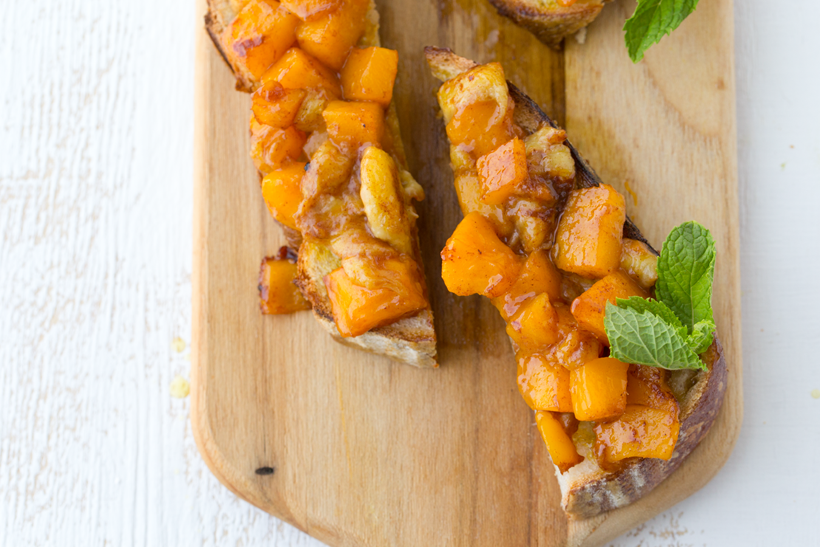 Served warm, this dessert bruschetta is cozy, rustic, cravable.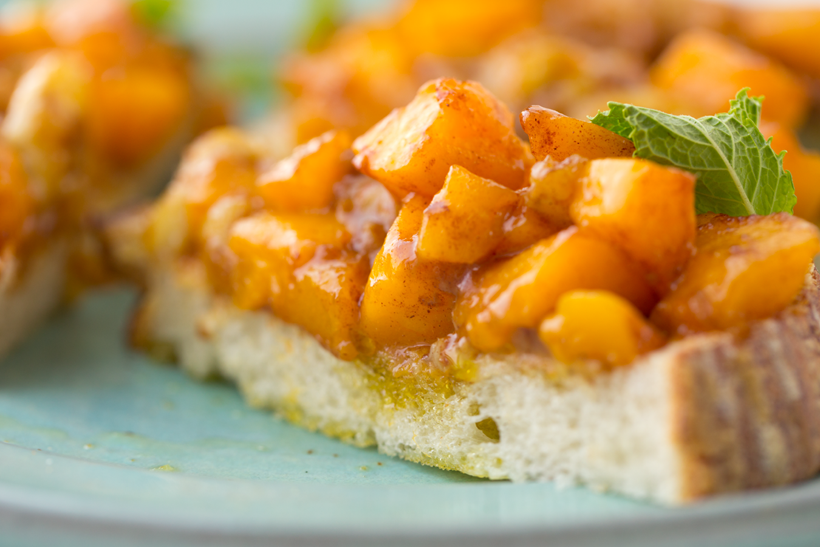 When I went to Italy last fall, one of my favorite things to order on the menu was bruschetta. I was in awe of how simple the presentation was, yet how vibrant and bold the flavors were. The garlic, tomatoes, sweet basil. The secret to its brilliance? The simplicity paired with the high quality of ingredients. So for this dessert recipe I took that hint and made sure that my fruit was perfectly juicy and ripe, the EVOO fruity, complex and buttery.
Fruit, bread and olive oil. Sizzled into something magical.
I was completely winging this recipe all the way through, not really knowing how it would turn out. But those fragrant aromas of cinnamon, vanilla and caramel let me know that the first bite would be insane.
A la Mode. I can only imagine how yummy these would be served alongside a scoop of coconut-vanilla bean vegan ice cream! #servingsuggestion
Topping for Anything.Aside from the lovely crusty bread, you could totally use this fruit to top pancakes, waffles, oatmeal and as one savvy commenter suggested.. lettuce wraps!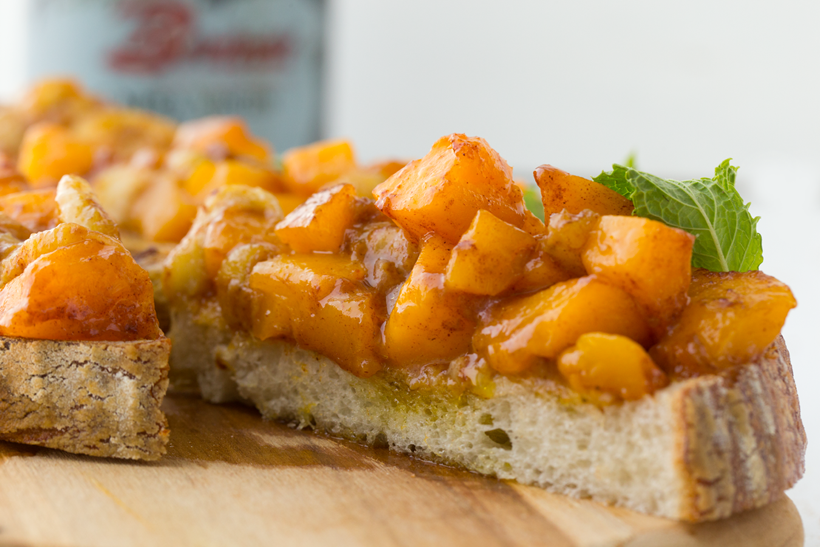 Mango-Banana Dessert Bruschetta
By Kathy Patalsky
Published 07/29/2015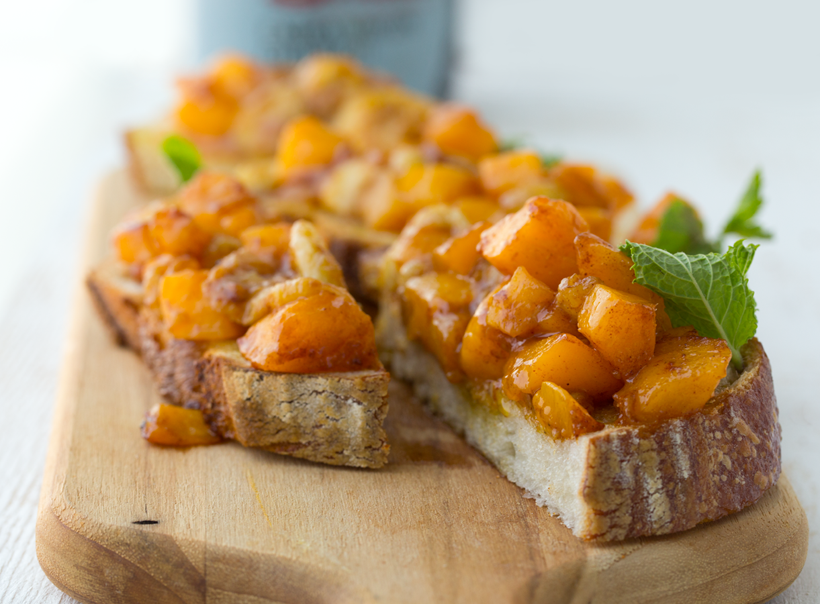 This sticky-sweet dessert bruschetta is absolutely delicious and so easy to make. Cinnamon, vanilla and EVOO flavors accent.
Ingredients
1 large ripe banana, sliced
1 mango, cubed
½ teaspoon cinnamon
½ teaspoon vanilla extract
1 tablespoon Bertolli extra virgin olive oil
1 teaspoon maple syrup
⅛ teaspoon salt
bread: 2-3 large slices of french bread or any crusty bread – if using smaller baguette rounds, you will need about 8 slices
to serve:
drizzle of EVOO to taste
a few fresh mint sprigs
serving suggestion: serve alongside a scoop of vegan coconut-vanilla bean ice cream!
Instructions
Prep your mango and banana and place the freshly sliced fruit in a small bowl. Add the cinnamon, salt, maple and vanilla extract and gently toss.
Heat oven to 400 degrees and place your loaf of bread in the oven to toast and warm. The bread will be toasted in just a matter of minutes, so when it starts to brown a bit, turn off heat and set bread aside.
Warm a large skillet over high heat. Add the one tablespoon Bertolli extra virgin olive oil. When oil is hot, add in the mango and banana mixture. Sauté on high for about 3-4 minutes, or until the fruit is caramelized and tender, but not overly mushy.
Slice into your loaf of bread and place 2-3 large rounds of bread on a cutting board. Spoon the caramelized fruit mixture over top. Slice the bread into triangles, dividing each slice into to pieces. Note: If you are using smaller slices or baguette slices, you do not need to slice in half.
Add the bruschetta slices to a serving platter and garnish with fresh mint. Drizzle additional EVOO over top so that the bread is well saturated with sweetness from the fruit and richness from the EVOO. Serve warm.
Yield: 4 servings
Prep Time: 00 hrs. 10 mins.
Cook time: 00 hrs. 10 mins.
Total time: 20 mins.
Tags: appetizer,dessert,bread,italian,olive oil,banana,mango,fruit,sweet,vegan,cinnamon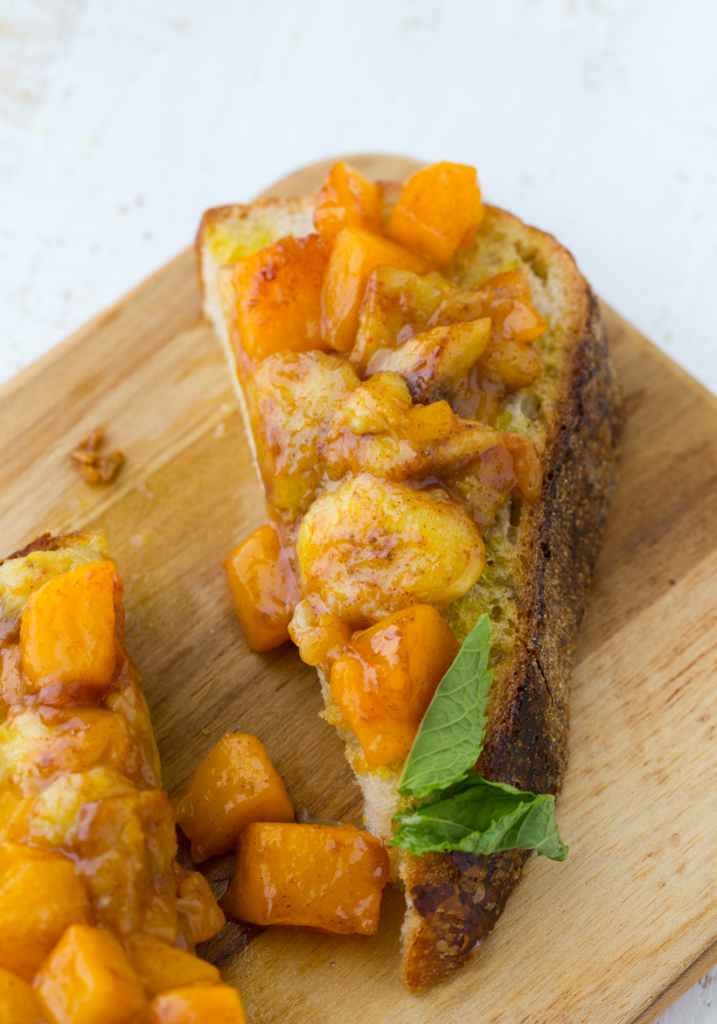 Thank you to Bertolli for sending me this giant bottle of their extra virgin olive oil to play with in honor of their 150th anniversary.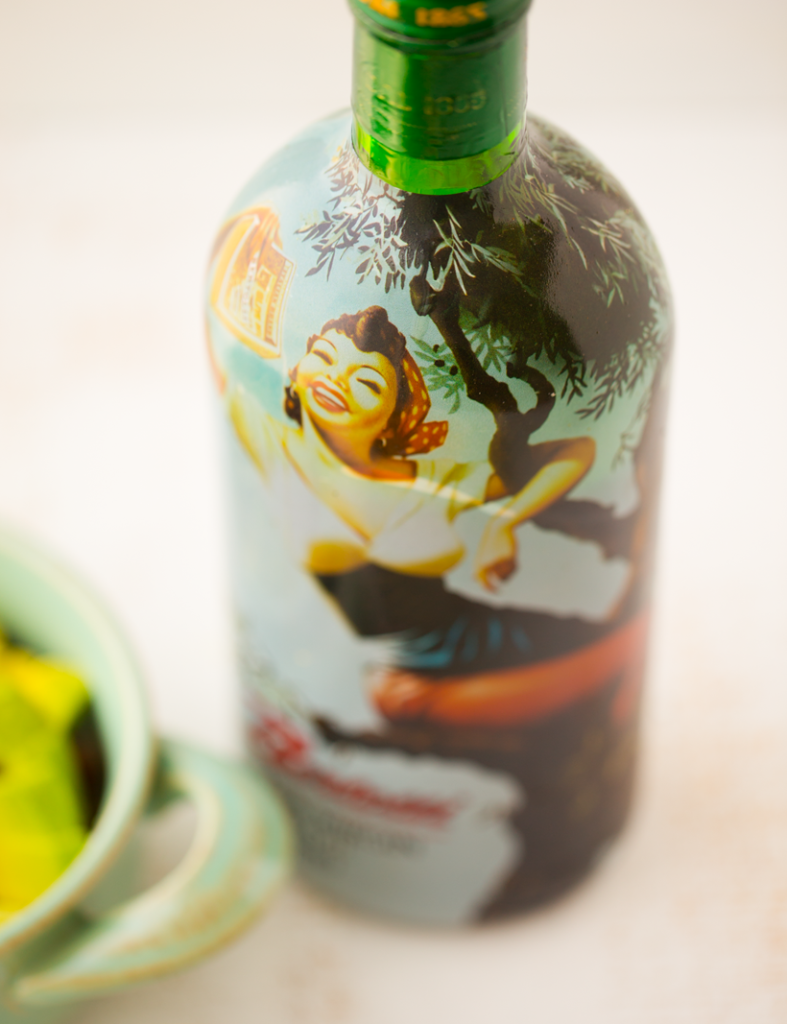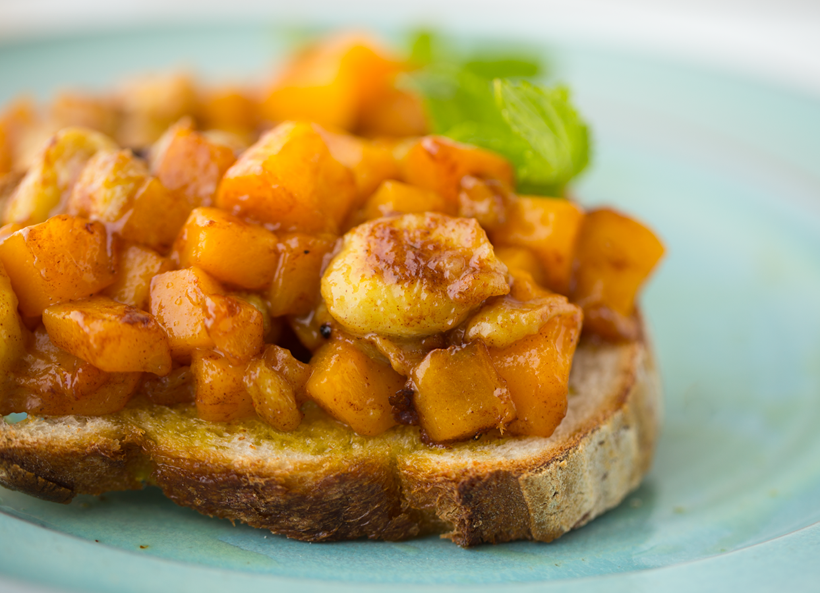 You can serve like this or slice into triangles, depending on your bread size…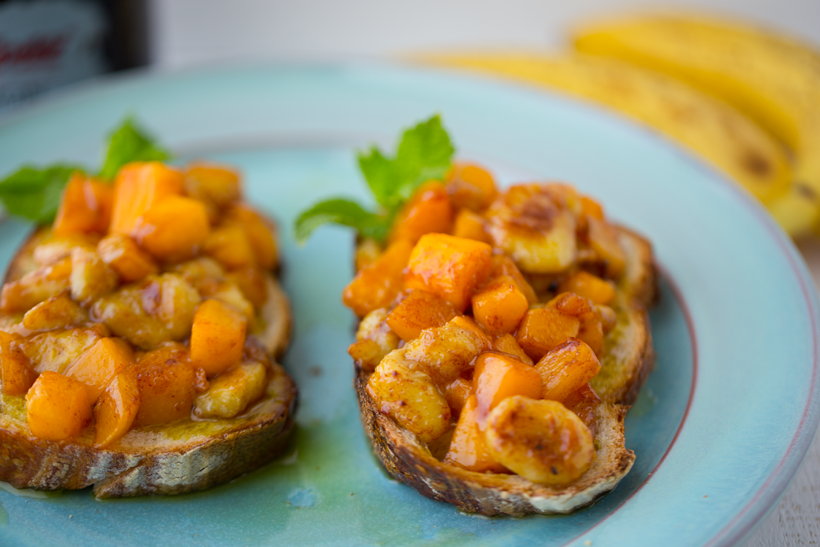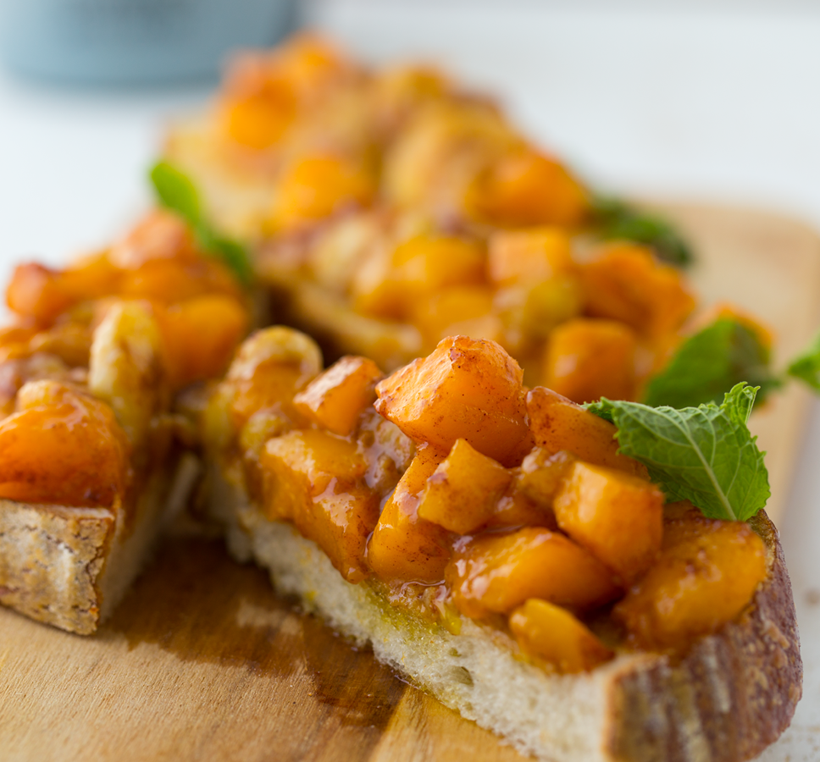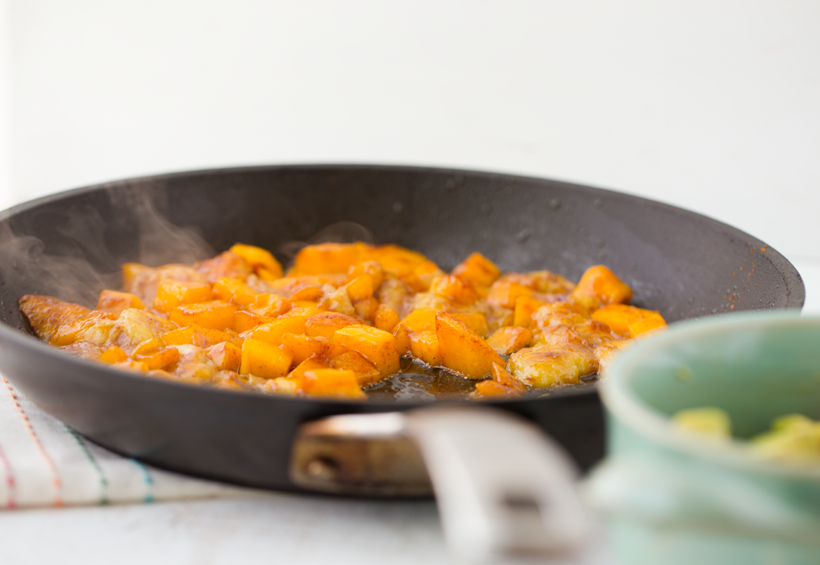 pssst.. did you notice that I changed things up a bit? Photos are not wider, hooray!