Today's Veggie Girl Power superwoman is Carolyn Scott-Hamilton, aka The Healthy Voyager!
Four words I'd use to describe Carolyn: worldly, charismatic, energetic and warm. Get to know Carolyn!..
Well-Traveled Vegan! Ah, what I wouldn't give to grab my passport and a carry-on bag and jet out into the horizon with Carolyn leading the way. When I think of worldly vegan ladies my mind darts to Carolyn, aka the Healthy Voyager.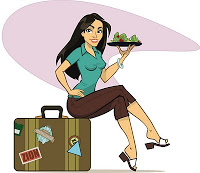 When I first stumbled upon Carolyn's website, I was impressed and envious of her photos, stories and videos from traveling around the world. Carolyn is an expert on healthy, vegan travel – and her fun and vibrant personality turns every travel experience into an exciting adventure!
Carolyn is a sort of modern, vegan Carmine Sandiego.
Vegan Travel Made Fun! The internet seems to be saturated with travel websites – but I love to visit Carolyn's site as a sort of vegan calm island in the middle of a travel hurricane. Straight advice with fun tips and quips from Carolyn's smart and sassy point of view. Her videos are incredibly entertaining and informative. Someone give this woman her own show! I'd watch!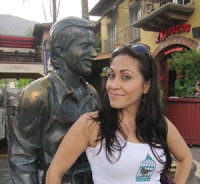 Travel with Carolyn. Travel the world with Carolyn, without ever leaving your desk! Read Yummy Yosemite, Palm Springs: More than Just Suntanning and Golf, Vegan Las Vegas, Conscious Camping or her Healthy Holiday Travel Tips – or simply tune into Carolyn's Radio Show which launched summer 2009. (My HV radio interview.)
…And if you really want to travel with Carolyn, check out her Healthy Voyager Travel Tours!
And yes, Carolyn even has her first cookbook coming out next fall! Yum.
A few of Carolyn's stellar travel videos..
Santa Barbara…
Kenya…
..see how easy it is to gleefully get lost in Carolyn's fabulous world (and website)?! Restaurant Reviews, Travel Videos, Radio Show Interviews and Tips, Product Reviews, Travel Advice, Recipes and Photos. So much travel, so little time. But for now, lets get to know Carolyn's VGP side…
Veggie Girl Power Interview: Carolyn Scott-Hamilton, of HealthyVoyager.com
1. DRIVE: Yawn, sunrise, what is the first food/drink you reach for to start your "Veggie Girl Power" day?
Carolyn: Depending on the weather it's either a hearty green juice or chai tea with home made almond milk ; )
2. SKILLS: What foods/veg products have you discovered that you simply couldn't live without?
Carolyn: Oh man, well, i try to eat as clean as possible so I try to stay away from the faux meats and cheeses. But I'm not gonna lie, I do indulge in some gardein chick'n, daiya cheese and field roast every now and again!
3. HEART: As a "Veggie Girl Power" trailblazer you inspire many girls, who or what has inspired you?
Carolyn: Well, even though these gals aren't remotely vegan, I do love what Paula Deen and Rachel ray have done for home cooking. Each had humble roots and because of their love of food, people and their fun personalities, they have really inspired a whole new generation of home cooks. From gals who just liked to cook to empires of cookbooks, products, shows and restaurants, I'd love to soon become the healthy version of them and be the voice of the special diet market.
4. EXPERIENCE: When people ask you why you 'went VEG' what is your usual answer?
Carolyn: For health! It's been 12 years and I read a book called "Fit For Life". The light bulb went off and I never looked back. I've spent the last 12 years studying holistic nutrition, cooking and just growing as a healthy vegan ; )
5. CREATIVITY: Anyone can eat carrot sticks and hummus, but give us your most creative/oddball vegan snack idea!
Carolyn: I really love having quick snacks ready when I'm in a time crunch. And quick doesn't necessarily mean unhealthy. You can have it all. I really love veggie wontons because I can heat them up really quickly, throw some braggs on them and have a tasty, well balanced snack in a flash. You can make gluten free, whole grain wrappers and keep them on hand in the freezer. Assemble a bunch of veggie dumplings with your fave shredded veggies, freeze and heat as needed! I dig cucumbers, onions, garlic, spinach and a little lemon zest in mine ; )
6. DEDICATION: When you first "went veg" what was the hardest part? – and how did you overcome those obstacles?

Carolyn:I didn't know a single vegan so I basically lived on cucumber sandwiches and guacamole. So I guess lack of variety was tough for me. but I quickly came to find ways to get creative in the kitchen while more and more veggie places began to open up just in time!
7. WISDOM: Words to live by: what is a favorite life tip or quote of wisdom?
Carolyn: Lead by example. For me, I've never been a "soapboxy" or "preachy" vegan. I chose this lifestyle for myself and by proving that I can travel the world, have a full social calendar and maintain my health, I feel that my lifestyle is the perfect way to illustrate how fulfilling and beneficial a plant based diet can be. You get more bees with honey so being a positive example gets way more folks interested in what you're doing then by being forceful and negative.
8. GRACE: How do you respond to negative comments from critics, in real life or online?
Carolyn: For the most part, I let stuff roll off my back. I've been very lucky as I really present my information in a fun way so I've not gotten much flack. But as with anything in life, if you are living your truth, don't let anyone else's problems become yours. I figure negativity towards others comes from an unhappy place, or fear of the unknown, and therefore it's unjustified for anyone to be putting their crap on you. Keep on truckin'!
9. PASSION: What is the one message that you always try to project to your fans/followers?
Carolyn: Every little positive step counts. Don't discount the baby steps toward a bigger goal, a lot of little steps will eventually lead to your destination. Rome wasn't built in a day ; )
10. PERSONALITY: Who would you award the "Veggie Girl Power" label to? And what have you learned from them?
Carolyn: My mom ; ) She just celebrated her 1 year "veganiversary" and I'm so proud that she is really embracing the lifestyle for her health and well being ; ) She is spreading the word to many back home and I'm so excited to have her on my team! It's never too late to take an active role in your health!
Bonus Holiday Question: Veggie Girl Advice! – How do you get through the (not-always-veg-friendly) holiday season smiling and feeling fabulous from the inside-out?

Carolyn: I cook a lot and host get togethers. And if I'm going to other parties, I bring a fabulous dish that knocks everyone's socks off. The way to a skeptics mind is through their taste buds! Plus I don't skimp on my workouts!
Hear more from Carolyn on her website: HealthyVoyager.com
Twitter: @healthyvoyager
Healthy Voyager Facebook Fan Page
You Tube Channel: Healthy Voyager
Plus Carolyn's first cookbook, The Healthy Voyager's Global Kitchen, is due out in November 2011!!
..Lots of new spin off shows and other projects coming soon as well.
Complete VGP Series Schedule 2010
Last Years VGP Series 2009