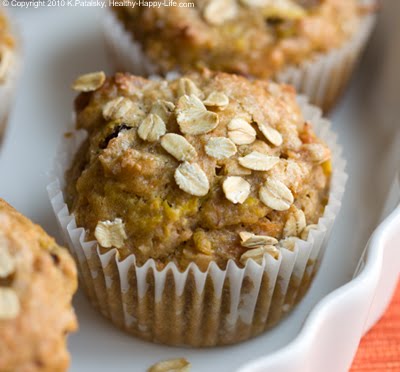 I've always been a carrot cake loving girl, and these hearty sweet Carrot Almond Spice Protein Muffins remind me a bit of carrot cake – minus the decadent cream cheese frosting. These muffins are packed with little nubbins and textures of flavor: crushed almonds, grated carrots, sweet raisins, whole grain oats and orange peel. And warming spices like cinnamon, nutmeg, ginger and cayenne – a pinch of sugar 'n oats on top.
Protein Muffins. These muffins are packed with protein from a whole block of silken tofu, almonds, soy milk and whole grains. I'll show you my way to make any tofu muffins as light and fluffy as air. These muffins freeze like a dream – just unthaw one overnight and your grab-n-go breakfast snack is done. Get my recipe…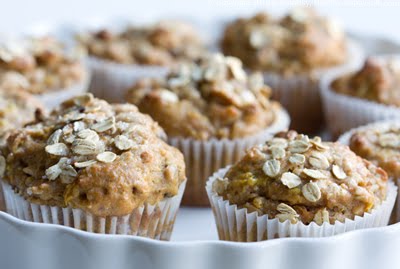 It Beets Me! I had a few golden beets leftover from the weekend, so I decided to do half grated carrots and half grated raw golden beets. You can do all carrots, all beets, or a blend like me. Up to you. You can use red beets if you want, but obviously that will drastically change the color of your muffins.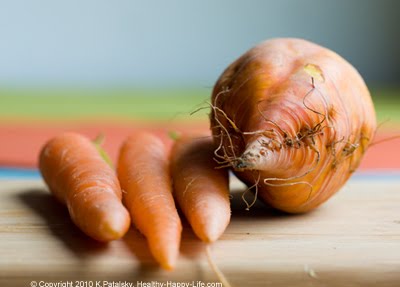 Protein Muffins. Egg-Free. These muffins have such a firm and hearty consistency that you'd guess there were eggs in them. Not so. I've placed an entire 19 oz. block of silken tofu in these muffins. 48 grams of tofu per block. So that's roughly an extra 2.4 grams of protein per muffin – just from the tofu add-in.
Oil Added. Or Not? I'll confess to you that half-way through pouring these muffins I realized that I forgot to add canola oil! I quickly mixed in a tablespoon to the leftover half bowl of batter and filled the rest of the cups. And to be honest, the difference in taste between the oil-free and oil-containing muffins was minimal. So if you want to nix the added-oil, go ahead – the tofu has enough fat in it to give these muffins moist flavor. But you certainly can add in the oil – I put it in the recipe as you can see below.
Muffins or Loaf. You can make 2 loaves, one loaf and 12 muffins, or 20 muffins from this recipe. I know, that's a lot of muffins! That's why I froze about ¾ of my prepared recipe. I've been unfreezing muffins all week and they taste amazing! Perfect with a spicy mug of hot chai and along side my morning papaya bowl.
My Tofu Trick. Baking delicious, fluffy muffins without eggs is easy. I've replaced the usual muffin eggs, aka binding ingredients, with silken tofu. Most of the time I will use fruit purees, squash purees, grated veggies, yogurt or vital wheat gluten as my 'binder' ingredients – but here I used tofu. My secret for keeping the tofu light, silky and fluffy is to blend the wet batter ingredients (including the tofu) in a blender. Then whip the batter by hand once all the ingredients are folded in. I don't use a stand mixer. Probably because my two juicers, blender and toaster use up all my appliance counter space in my kitchen. Of course, if you have delegated a patch of land to your stand mixer, you can use it after you have blended the tofu in said blender. Get my yummy carrot muffin recipe, and chomp away…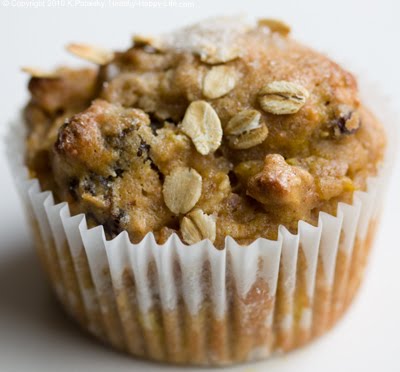 Chomp: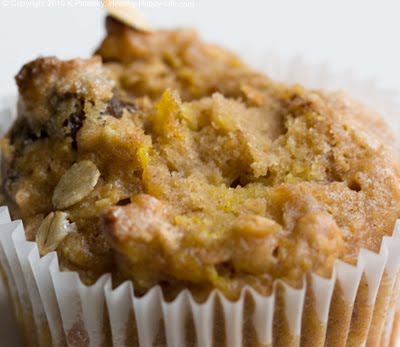 Carrot Almond Spice Protein Muffins
vegan, makes 20 muffins

Dry Ingredients:
1 ¾ cups whole wheat flour
⅔ cup rolled oats
1 cup sugar
1 tablespoon dried orange peel spice
1 tablespoon baking powder
1 ½ tablespoon cinnamon
¼ teaspoon cayenne
½ teaspoon nutmeg
1 tablespoon sea salt
optional: 1-3 tablespoon brewer's/nutritional yeast
Wet Ingredients:
19 oz. silken tofu
1 tablespoon apple cider vinegar
¼ cup agave syrup
⅓ cup soy milk
⅔ cup chai tea concentrate (or apple juice)
2 tablespoon canola oil
1 teaspoon raw ginger, grated
Fold-in's:
1 ½ cups grated carrots (or golden beet/carrot combo)
⅔ cup crushed unsalted almonds
⅓ cup raisins
Topping:
pinch of sugar and oats over top each muffin
Directions:
1. Preheat oven to 400 degrees.
2. Mix all the dry ingredients in a large mixing bowl.
3. Grate your carrots or beets. Or combo of carrots/beets. Set aside.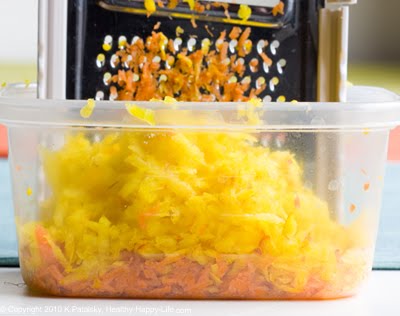 4. Add all your wet ingredients to a blender. Blend on low until the tofu if smooth.
5. Pour the wet ingredients (should be a thick yogurt-like consistency) into your dry ingredients mixing bowl. Stir in by hand until a nice lumpy batter forms.
6. Fold in the almonds, carrots/beets and raisins.
7. Line muffin cups or lightly grease with oil. Fill cups. You can also make a loaf by using a bread pan. Sprinkle a pinch of sugar/oats over top each muffin or loaf. For muffins: bake at 400 degrees for 22 minutes. For loaf: bake at 425 degrees for 40 minutes. *I made 12 muffins and a small loaf with this batter. I froze the muffins and they unfreeze like a dream*