Today, LA has been beautifully stormy. The wind has been rustling through the palms as a dark grey sky hangs overhead. Drippy roofs shine in the pale daylight as a busy stream of rain races to the puddle-filled ground. The air is cool and fresh and fluffy.
Perfect soup weather!

I made this super easy, vegan, Ginger Carrot Soup yesterday and then again today! Yup, we went through four pounds of carrots this weekend. I hope I don't turn orange. Luckily, there are plenty of leftovers from today's batch for tomorrow's lunch. This recipe is just so good and easy I couldn't resist. I crave that hum of warmth from the ginger, accenting the sweet carrot flavor.
Get the recipe + my how-to video!..
This weekend, this soup and kitten paws = things that are cozy.

This simple recipe includes spicy raw ginger and creamy carrots and an accent of richness from vegan butter to bring things together. I hope you give this soup a try and infuse your body with some beta carotene!..
Vitamix it! Ok, so I kind of added a step to this recipe by cooking the carrots first — a bunch of people pointed that out on Facebook so I wanted to clarify! You could absolutely toss everything right in the magical Vitamix and blend until warm. I would add about 1 cup or more water. And then boom, amazing soup is done. I boiled first to show this step for those that might now have a super high speed blender. So there you have it. Both ways == amazing easy soup! And ps. Learn all about my love of Vitamix and how to order one with free shipping!
Want it Spicier? If you crave an even spicier soup, you can play around with adding these ingredients:
* jalapeño
* cayenne
* add more raw ginger
* chipotle powder
* harissa
* black pepper
* smoky paprika

Vegan Butter Sub. If you do not have vegan butter you can easily substitute extra virgin olive oil, just be sure to add in at least ¼ teaspoon sea salt as well.
Sweet Potato Version? Another yummy way to make this soup is to do half carrots and half sweet potato. I find the potato adds a more velvety texture, while just the carrot keeps thing nice and light. I actually love the carrot version because I feel like I can eat a larger portion and so it feels more hydrating to me.
The Secret Is. The trick to this soup is the make sure you cook the carrots enough, so they are tender when you blend them. And then next, you really need to blend the soup very well. Ginger tends to be stringy, so you really want to blend it all the way to super smooth.
Accent Ingredients. There are so many ways to change the flavor of this soup. Here are just a few ingredients you can play around with to add..
* cinnamon
* turmeric
* raw or roasted garlic
* smoky paprika (a must for me!!)
* maple syrup (for more intense sweetness)
* vegan mayo (swirled in or on toast) (also a must for me)
* extra virgin olive oil
* lemon or orange juice or zest
* nutritional yeast
* chopped onion
Share this soup with a friend!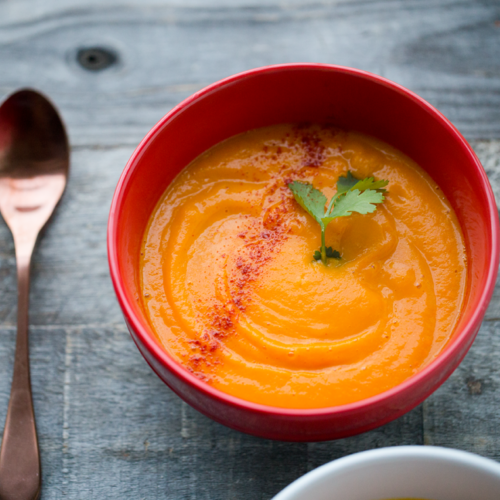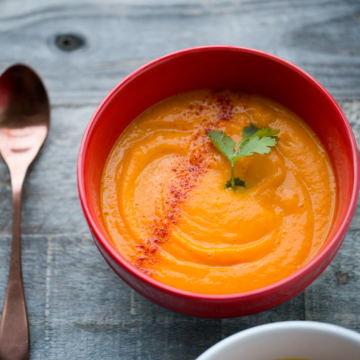 Carrot Ginger Soup
This super simple and flavorful carrot ginger soup can be made in just about 20 minutes and only contains four main ingredients. Love this amazingly healthy and soothing soup.
Print
Pin
Ingredients
2lbs of organic carrots, roughly chopped + stems and knobby tops removed

4 cups vegetable broth + more to taste if desired

2-3 tablespoon fresh ginger root, peeled

1 tablespoon vegan butter (Earth Balance)
Optional:
½ teaspoon salt + pepper to taste

spices to taste: cayenne, cinnamon, turmeric, smoky paprika

1 bay leaf

maple syrup, to taste

cilantro or parsley garnish
Instructions
Bring a large pot of water to a boil and add carrots. Boil until tender enough to slice with a butter knife. Drain carrots from water and add to a large container of a high speed blender, like a Vitamix. Discard the water from the large pot.

Add the ginger, vegan butter and veggie broth to the blender.

Add optional salt, pepper and spices – or you can add these later while soup is simmering.

 Blend soup from low to high for 2-3 minutes, until very smooth and silky.

Pour soup into same large pot. Place over low heat. Add the optional bay leaf and and additional spices or maple syrup.

Simmer on low, covered, for at least five minutes. This will remove all the air bubbles that for during blending. Serve warm. I like smoky paprika and a hint or parsley or cilantro on top to accent.