This dreamy, party-perfect appetizer is going to be a must-have recipe for the upcoming holiday season! My vegan walnut-crusted Cashew Cheese Spread is made without the need of a cheesecloth. The texture is spreadable and smooth, yet firm enough to create a pretty cheese shape and to allow you to rim the edges with whatever nut or herb you'd like.
So before the official holiday season begins, test this out a few times and you will see how easy and impressively delicious this 'cheese" appetizer is!..
Cashew Cheese Play. Cashew cheese is such a fun recipe to play around with in the kitchen because there are so many ways to flavor it. I started out this recipe brainstorm thinking I wanted a cheese ball, but ending up being absolutely in love with what it ended up being. Uber creamy, spreadable and party-perfect cheese dip. And the best part is that you do not need a cheesecloth to make this, as you might with a cashew cheese ball.
BUT if you really want to make this into an actual cheese ball, which will have a drier texture and slice, then by all means, pull out your cheesecloth and drain a bit more moisture out of this mixture. But for today, I wanted to make things as easy as possible. And luckily, the taste and texture of this recipe is super dreamy.

How to enjoy it. We have been enjoying this spread on bread, veggies and bagels all weekend long. SO GOOD on toasted bagels! Add a slice of tomato and bit of spinach or red onion – capers or sprouts and boom – bagel bliss.
Bake it! One extra step I did not take is to actually BAKe your cashew cheese. For this method, you prepare as is, but instead of chilling in the fridge, you scoop the mixture into an oven-friendly serving dish and bake it at a low temp for a few hours. You can see how I do this in this recipe: Baked Cashew Cheese.

Party-perfect snack.

Vegan Party Recipes:

– Cashew Cheese Dip (today's recipe)
– Aged Cheese Spread (store-bought varieties)
– Hummus
– Paté
– The best garlic artichoke spinach dip
– Cauliflower-Pumpkin Dip
– Guac + Veggie Platter
– Pub Cheese Dip
– Nachos
– Wild Blueberry Crostini
– Cheese Toast
– Bruschetta
– BLT Roll-ups
– Sweet Potato Fritters
– Pink Dip
– Avo-dilla
The walnuts were a lovely "crust" for my cheese, but you can try any chopped nut or seed or herb you'd like.
I loved this spread on a bagel for breakfast..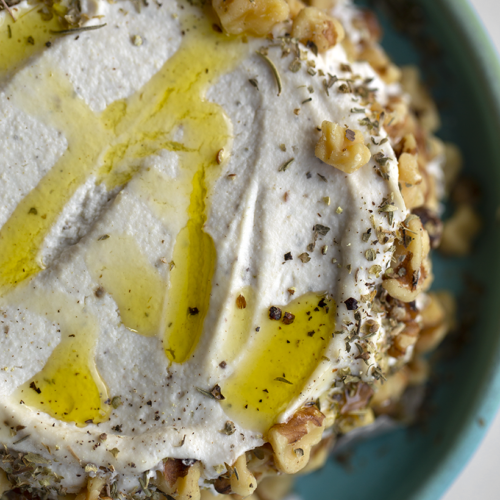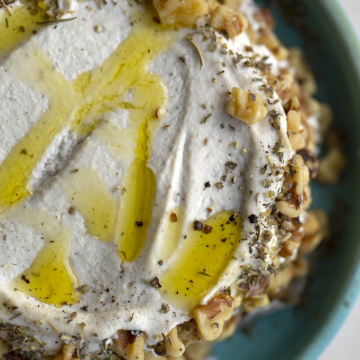 Cashew Cheese
This super velvety, spreadable, dippable cashew cheese is perfect for spreading on bagels, crackers or veggies. Dairy-free. Party-perfect.
Print
Pin
Ingredients
2

cups

raw cashews

8

oz

vegan cream cheese, plain (Kite Hill advised)

4

tablespoon

lemon juice, about one juicy lemon

1 ½

tablespoon

agave syrup

2-5

tablespoon

water

1 ½

teaspoon

Italian herbs seasoning, salt-free

⅛

teaspoon

black pepper (or to taste)

¾ -1

teaspoon

sea salt

raw walnuts for edges – or another nut, seed or herb

extra virgin olive oil for drizzling over top – optional
Instructions
Place your cashews in a medium bowl and fill with water. Place the bowl in the fridge. Allow the cashews to soak overnight, or for at least six hours.

The next day. Drain water from cashew bowl. Rinse the soaked cashews in water by filling and draining the bowl they were soaking in. Drain all the water a final time and pour the soaked cashews into a blender container. A food processor can also be used.

Also add to the blender: cream cheese, agave syrup, lemon juice, Italian seasoning, pepper and salt. Blend from low to high until silky smooth. You will want to stop and scrape down the sides of your blending container a bit. Blend for a good 3-4 minutes and finish with a very high speed to really smooth and fluff the mixture.

Line a small and tall bowl with parchment paper. You can either use 2-3 pieces of parchment, or simply fold it over a few times. You want about 2-3 layers of paper lining the bowl. The paper will collect a bit of moisture from the cheese.

Pour the cashew mixture into the bowl. Smooth the top. Cover top of bowl with plastic wrap.

Allow the cashew cheese to chill in the fridge for at least an hour.

Lift the parchment out of the bowl and onto a plate. Tear the edges of the parchment so that you have trimmed any visible parchment paper from the cashew cheese and it is just sitting on a layer of parchment. Take your walnuts and press them into the edges of the cheese. Also sprinkle a bit of pepper and herbs if desired. Drizzle some EVOO over top – optional.

Serve! If making ahead of time: you can now cover the cheese again and chill in the fridge overnight to firm up the texture even more.
nutrition estimate | per serving
Calories:
220
kcal
|
Carbohydrates:
13
g
|
Protein:
6
g
|
Fat:
18
g
|
Saturated Fat:
4
g
|
Polyunsaturated Fat:
2
g
|
Monounsaturated Fat:
6
g
|
Sodium:
33
mg
|
Potassium:
181
mg
|
Fiber:
2
g
|
Sugar:
5
g
|
Vitamin A:
6
IU
|
Vitamin C:
3
mg
|
Calcium:
30
mg
|
Iron:
2
mg
But wait, I have a question…
Why the vegan cream cheese? So I know what you might be thinking when you read the recipe below, why is there store-bought cream cheese in a DIY recipe??? Well for all you made-from-scratch loyalists, YES, you can absolutely omit the cream cheese and just do 100% cashews. Reference a few of my blogposts if you'd like: here and here and here. To sub out the cream cheese with cashews: I would add one more cup of raw cashews, in place of the cc. However, I highly advise giving the recipe below "as-is" a try. The combo of taking Kite Hill cream cheese and blending it with cashews is just CRAZY GOOD. I can't even really describe the texture it is just so dreamy and rich, yet elegantly spreadable and devourable. The subtle herb, pepper and lemon accents are just perfect. Give it a try, and tell me if you love it.
Pin for later..