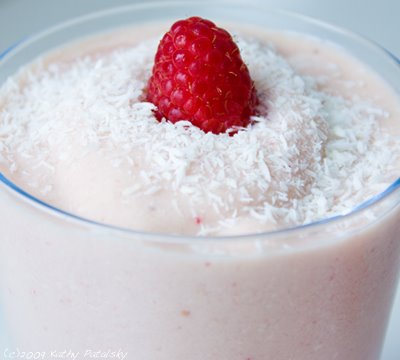 This dessert smoothie blends into swirls of pink and white with berries on top. I dare you to slurp a straw-ful of my Chai-Berry Short-Cup smoothie without feeling light and dreamy…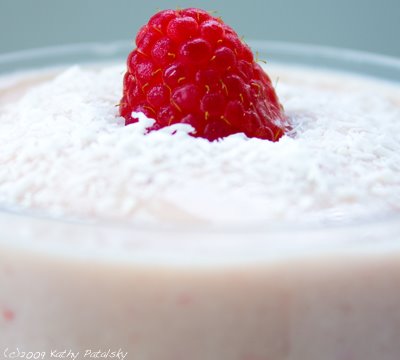 My Chai-Berry Short-Cup will gladly go up against a Strawberry Shortcake any day! This dessert smoothie is sweet and creamy with a nice punch of nutrition as well. Packed with protein, berry antioxidants and potassium, this smoothie is guilt free!
Bolthouse Farms Chai. I used the brand Bolthouse Farms chai in this smoothie. It is a vanilla soy-milk based chai. But if you can't find this exact brand you can easily brew your own sweet/spicy chai, add soy milk and a few dollops of agave syrup. However, I adore the Bolthouse Farms brand for this smoothie.
Here is the delightfully sweet recipe…
Chai-Berry Short Cup Smoothie
vegan, makes 2 servings
1 ½ cups Bolthouse Farms Vanilla Chai Tea drink
½ raw banana
½ frozen banana
3 tablespoon raw unsweetened coconut shreds
½ cup frozen strawberries
1 cup coconut water ice cubes
6 raw raspberries (optional)
Blend until smooth!
Garnish with coconut and fresh berries.
*For an extra icy-creamy dessert treat add a scoop of vanilla soy cream!
Bolthouse Farms (chai brand): http://www.bolthouse.com/