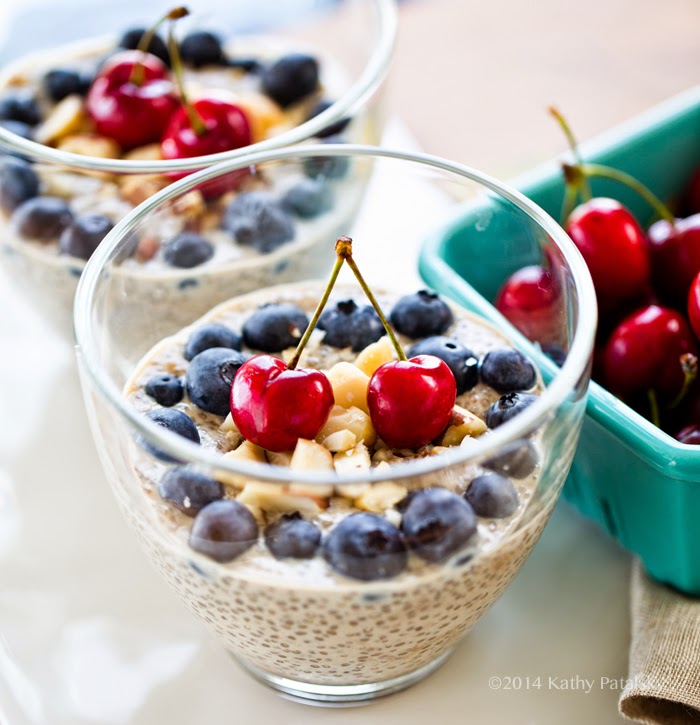 Well hello there beautiful Cherry Berry Chia Seed Pudding! This is a recipe you will want to have in your fridge. Just knowing that it is there will make you feel better. Why? Well because at any moment, breakfast, lunch, snack or dessert you can reach into your fridge and pull out this healthy choice dish, and within seconds be immersed in a cloud of chia seed pudding bliss! Making healthy choices during your busy day should be easy! This recipe can help.
Silky chia seed pudding is accented with cinnamon, sweetness and optional berry and protein powders. Cherries, berries and Brazil nuts on top. Plus, I am so excited to finally have a new cooking video up for you guys! Get the recipe and video..

I adore chia seeds! I have used them in everything from puddings and breakfast bowls to smoothies and baking projects..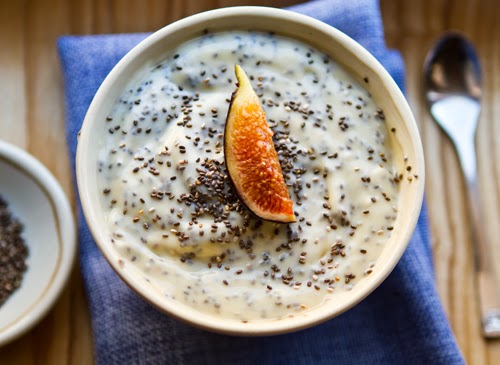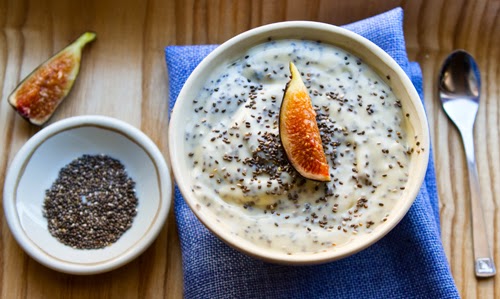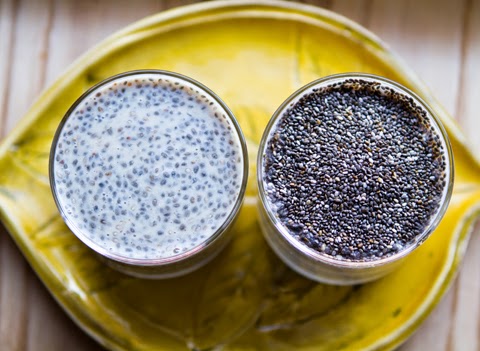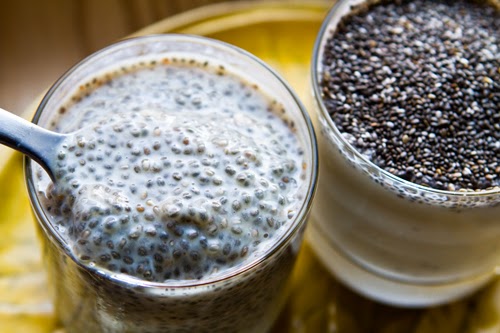 So today I put a very berry and cherry spin on my fave chia recipe. With a video!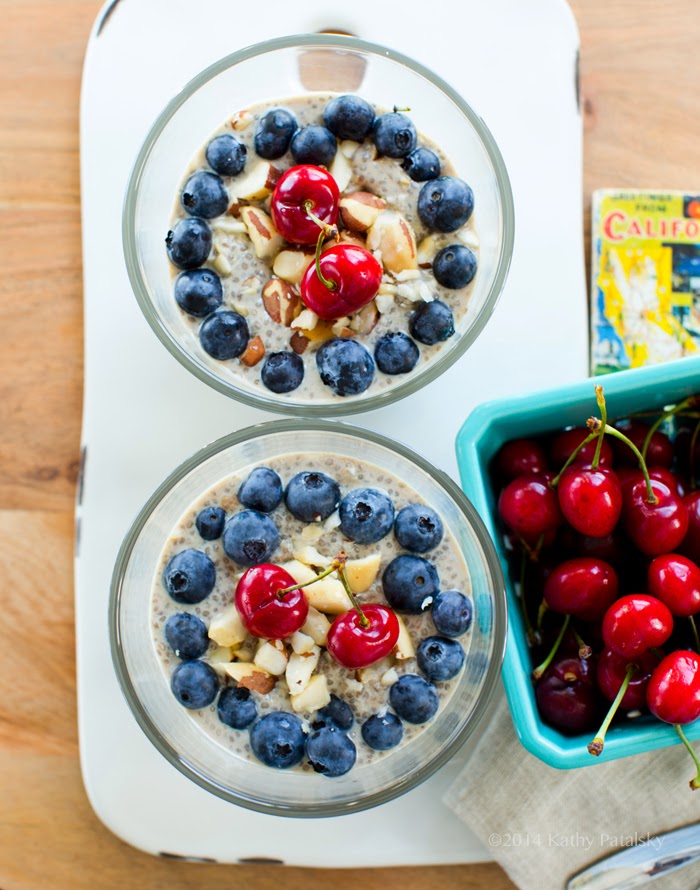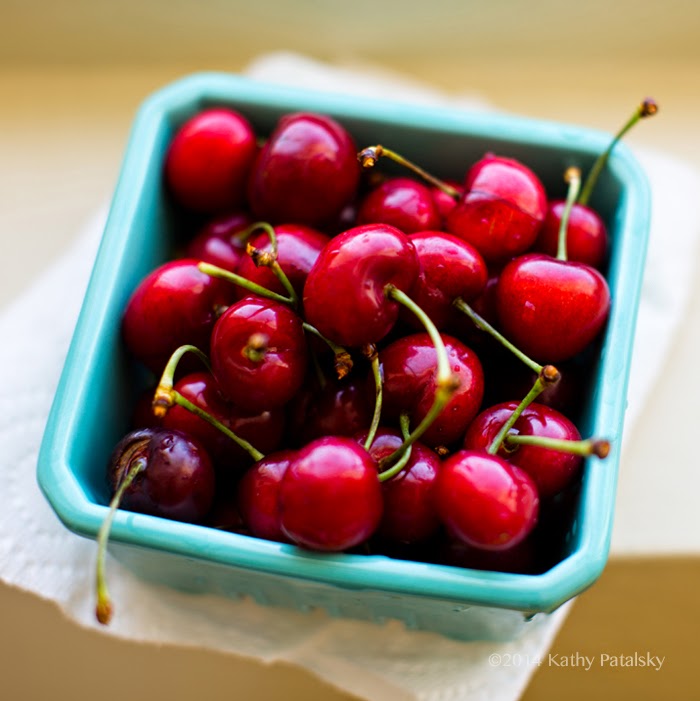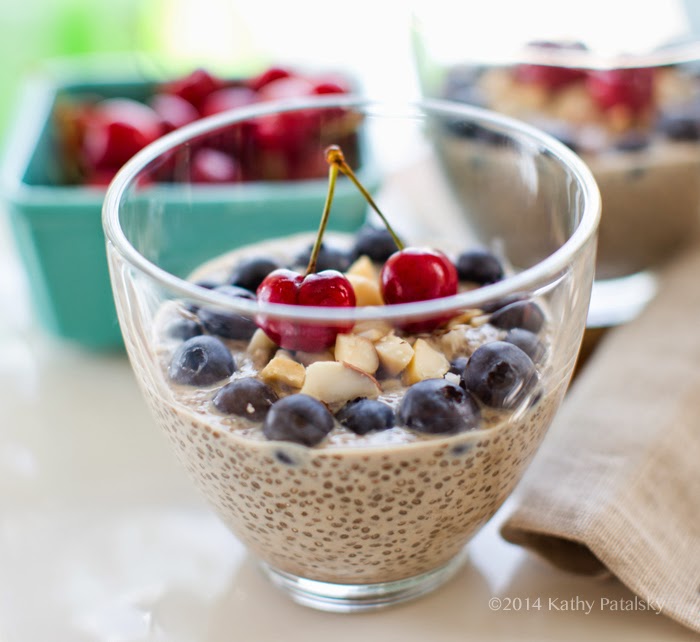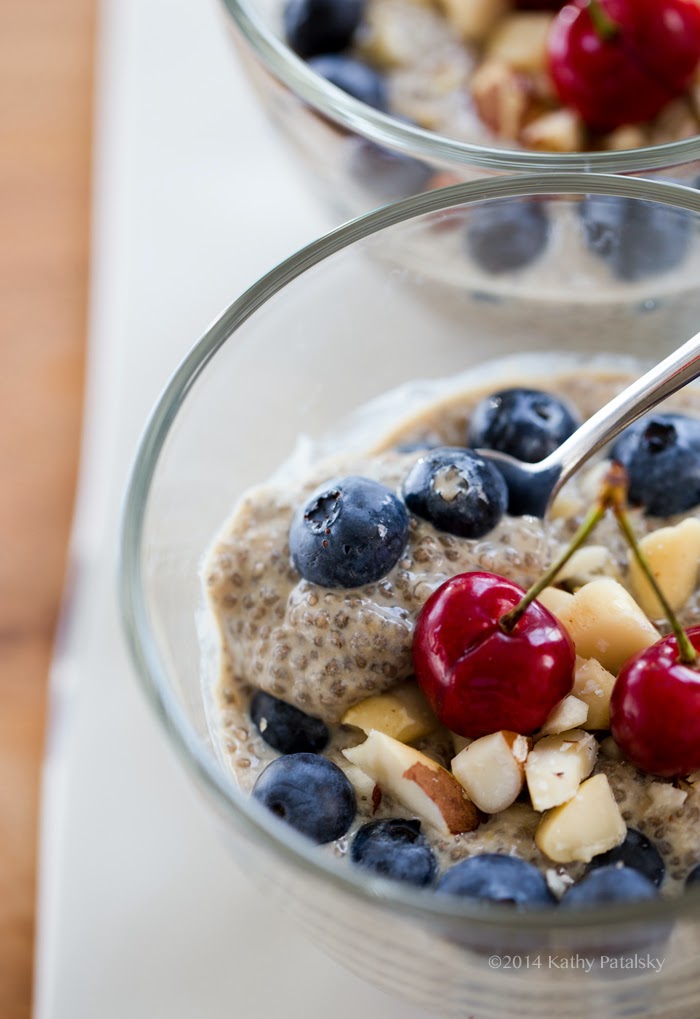 The theme of a lifetime: Progress Not Perfection. And that applies to me and cooking videos too.
Videos! I am super excited to finally get back in a recipe video groove here on HHL. I have been putting off videos because I have long been using the excuse that I do not have the "perfect" setup for shooting videos. My kitchen is too dark and not in the right angle, so what is a girl to do? Instead of shunning videos I decided to rig a nice white tabletop and just start shooting recipes + tips + chatter in my living room where the light is good. So these first few videos are not perfect, but I hope you will like them! Because I love talking to you guys face to face ..er.. face to camera? 🙂
Today's recipe is a classic that I know you guys are probably familiar with, but it is such a wonderful recipe for spring and summer, when fresh fruit is everywhere, that I wanted to pull it out and into the spotlight once again.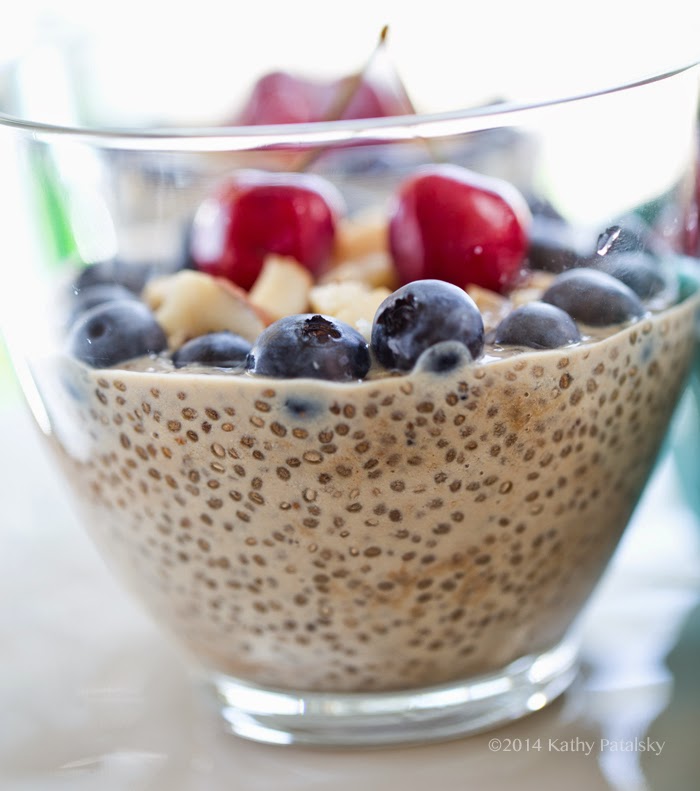 Why chia seeds?
* 1 oz chia seeds contains about 140 calories, 4.5g protein, 11g fiber, omega-3 fatty acids, manganese, calcium, phosphorus and more.
* Chia seeds are easy to ad to smoothies, salads, baking recipes and of course this pudding!
* Chia seeds keep fresh in the fridge for quite a long time, so you can buy in bulk without worry.
* chia seeds are yummy! And fun to say. ch-ch-ch-chia.
Today's video followed by the recipe — watch in 720p HD setting for best viewing!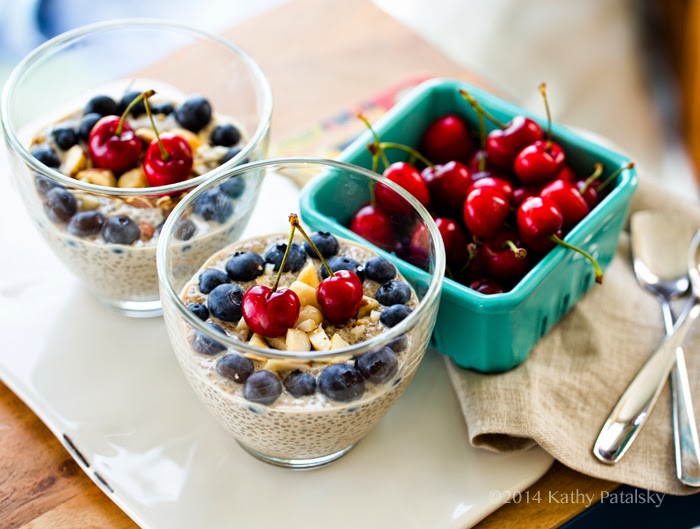 Cherry Berry Chia Seed Pudding
By Kathy Patalsky
Published 05/12/2014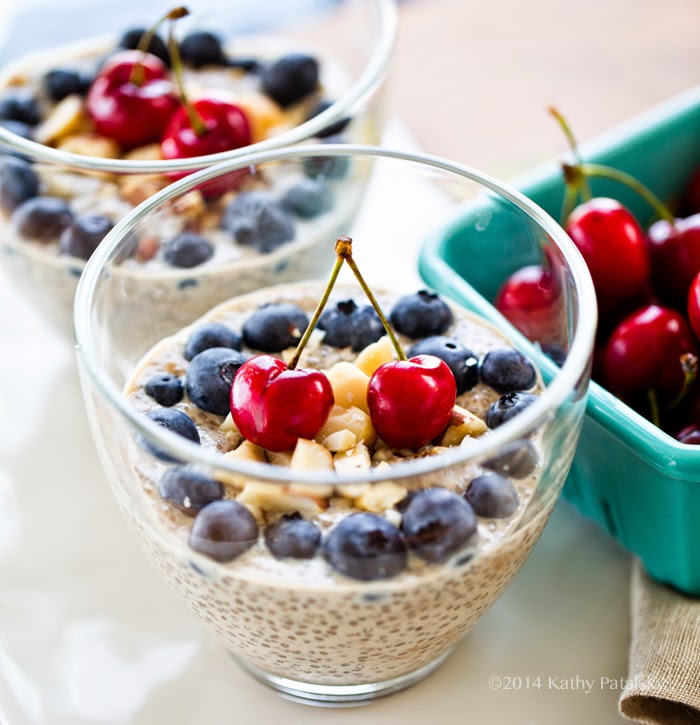 This breakfast approved chia seed pudding celebrates berry season!
Ingredients
5 tablespoon chia seeds
1 cup + 1 tablespoon almond milk
pinch of pink salt
pinch of cinnamon
1 scoop rice protein powder (opt'l) – Philosophie's Berry Bliss used
1-2 teaspoon maple syrup, grade B (opt'l)
½ cup organic blueberries
4+ cherries
4-5 Brazil nuts
Instructions
Combine the almond milk and chia seeds in a tall glass. Add the cinnamon and salt. Stir briskly for about a minute or two. If adding the protein powder and optional superfoods, stir those in now too. You can also add a sweetener if you want your chia seed pudding on the sweeter side. A teaspoon or two of maple or agave syrup should do it.
Place glass in the fridge for at least four hours, overnight is best, try to stir at least a few times during that time to prevent the chis seeds from clumping up.
When the pudding is thickened and ready you can transfer it to serving dish(es). Top with a ring of blueberries, the chopped Brazil nuts and cherries. You can keep the cherries whole with the stem or remove the pit and stem.
Serve right away or chill in the fridge, covered, until ready to serve. I like to consume my pudding within a day of making it.
Yield: 1-2 servings
Prep Time: 00 hrs. 10 mins.
Cook time: 00 hrs. 00 mins.
Total time: 10 mins.
Tags: chia seeds,breakfast,berries,make ahead
More CHIA SEED recipes:
* How-to master overnight oats and chia pudding
* Mint Matcha with Chocolate Drizzle Chia Pudding
* No-Bake Chia Cheesecake
* Super Blueberry Toasted Coconut Chia Seed Pudding
* Summer Seeded Watermelon Frosty
* Wild Blueberry Chia Oatmeal
* Secret Ingredient Matcha Shake with chia seeds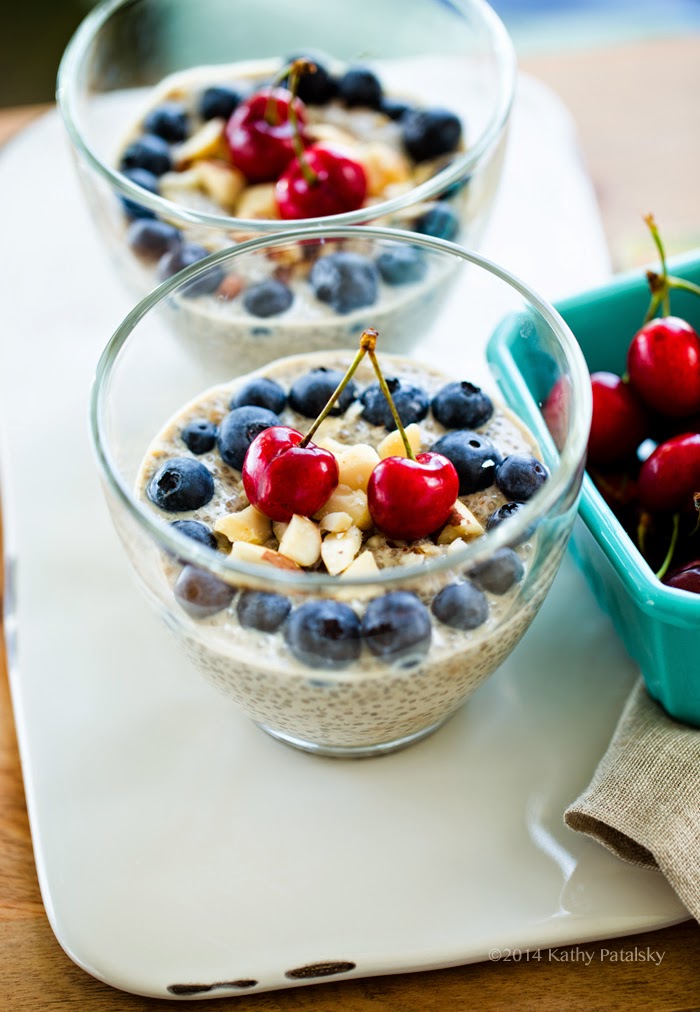 shameless kitty shot.. bunny sleeping. I mean, cat.