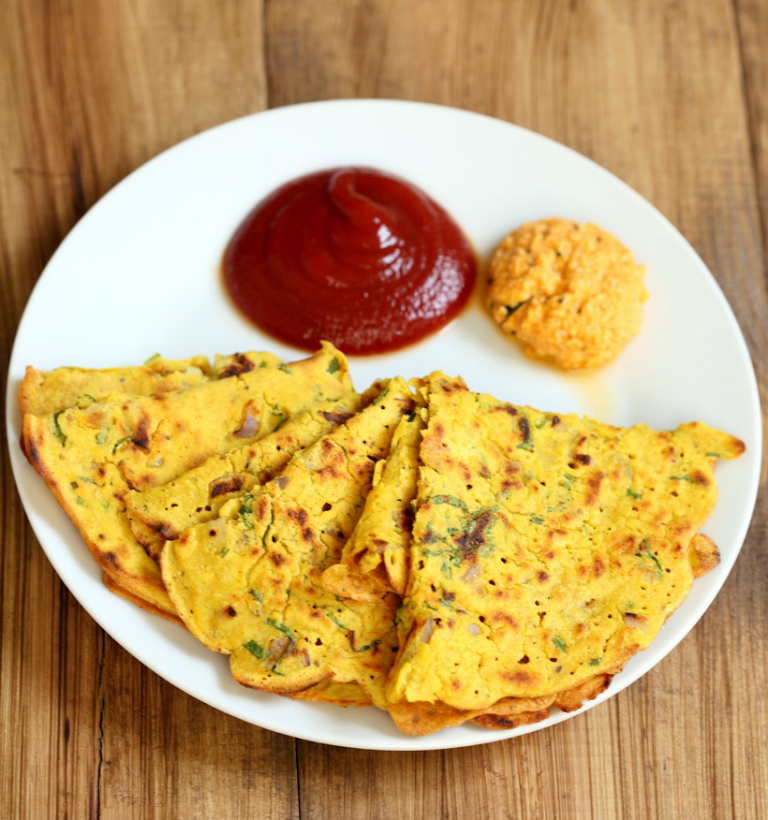 I am so happy to be celebrating my friend Richa's amazing cookbook today by sharing her recipe for "Mom's Chickpea Flour Pancakes." Richa writes for one of my favorite vegan blogs Vegan Richa. If you love Indian food you do not want to miss this review!..
Check out these beautiful + delicious recipes from the book.. (photos Copyright © 2015 by Richa Hingle)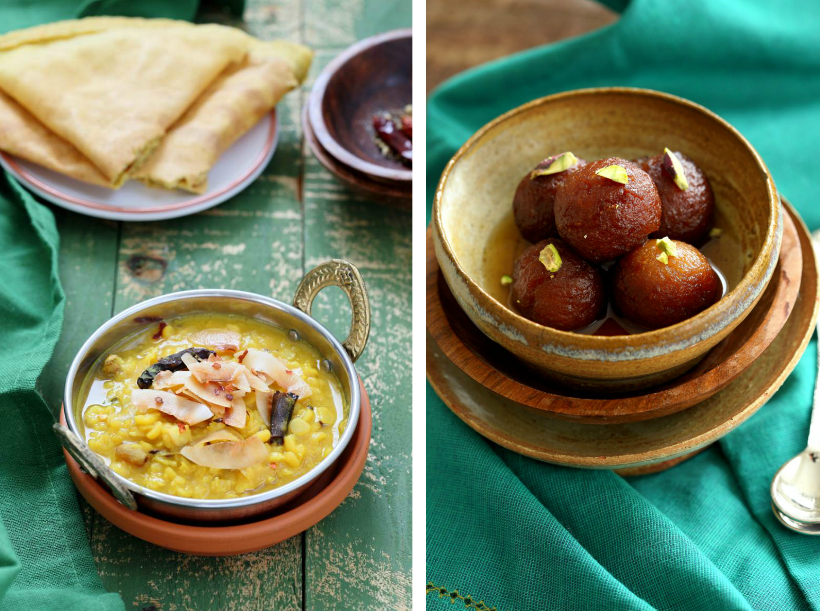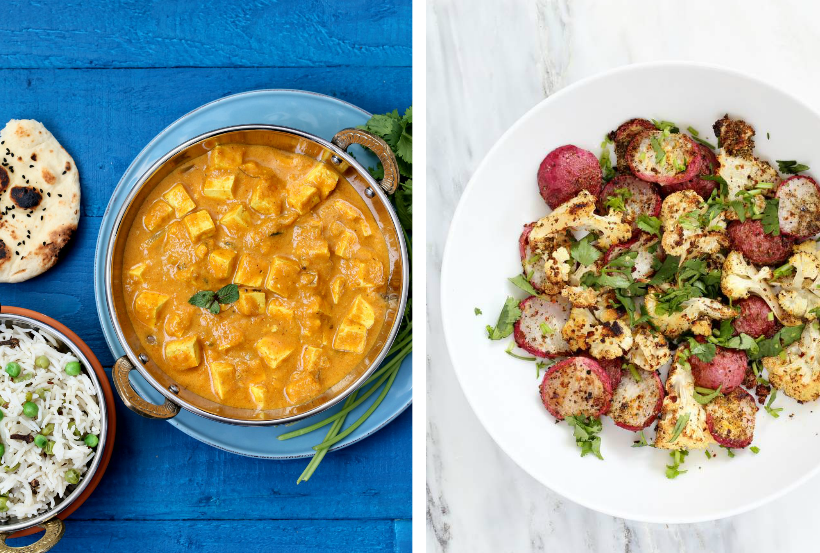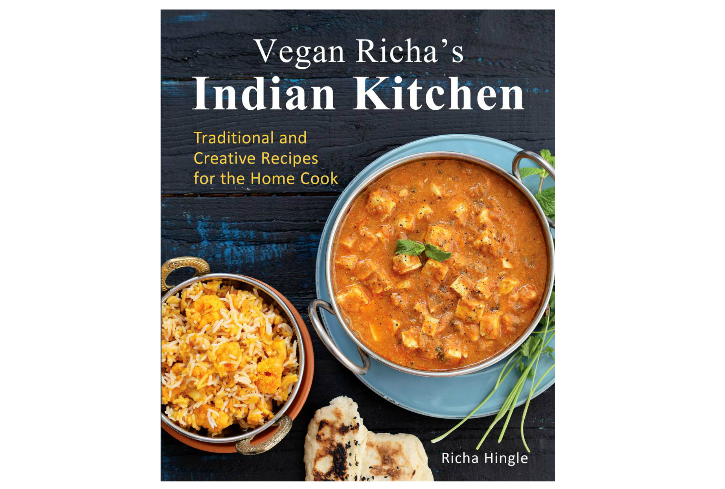 I was so excited when Richa's cookbook "Vegan Richa's Indian Kitchen" plopped on my doorstep. I was thrilled to flip through the colorful photos, delicious recipes, Indian cuisine cooking tips and massive ingredient guide. That ingredient guide is so important and helpful for someone like me who is not familiar with some of the more unique ingredients in Indian cooking.
I immediately found a handful of recipes I was dying to try. Like these:
– Street-Style Tempeh Wraps (page 37)
– Savory Split Pea and Rice Zucchini Cakes (page 43)
– Yellow Lentils and Rice (page 131)
– And of course Masala Chai Tea! (page 28)
More Indian Food Please. A few years ago I had a photo project that consisted of about five vegan Indian recipes. I went to a special grocery store, bought some new-to-me ingredients and started cooking. My kitchen smelled AMAZING. I loved the flavors and I instantly decided I needed to cook more Indian meals in my kitchen.
But months passed and I never followed through. I wasn't cooking with those dreamy Indian cooking ingredients stashed away in my pantry. The recipes felt too hard, too exotic and just out of reach. I felt alone in my Indian cooking goals!
..Richa's cookbook to the rescue! I am once again inspired and even better: EMPOWERED to start cooking more Indian meals in my house.
This book is a must-have item for every cookbook collection! Buy Vegan Richa's Indian Kitchen on Amazon
And today I wanted to share this recipe from Richa's book because these fluffy, egg-looking pancakes look ah-mazing. They will be gracing my breakfast (or dinner!) table very soon. Hope you make them as well and we can swoon together.
And you need to check out Richa's amazing blog for delicious recipes, beautiful food photos and loads of sincere cooking inspiration.
Also check out Richa's amazing collection of recipes on FindingVegan.com.
Mom's Chickpea Flour Pancakes
By Richa Hingle
Published 08/06/2015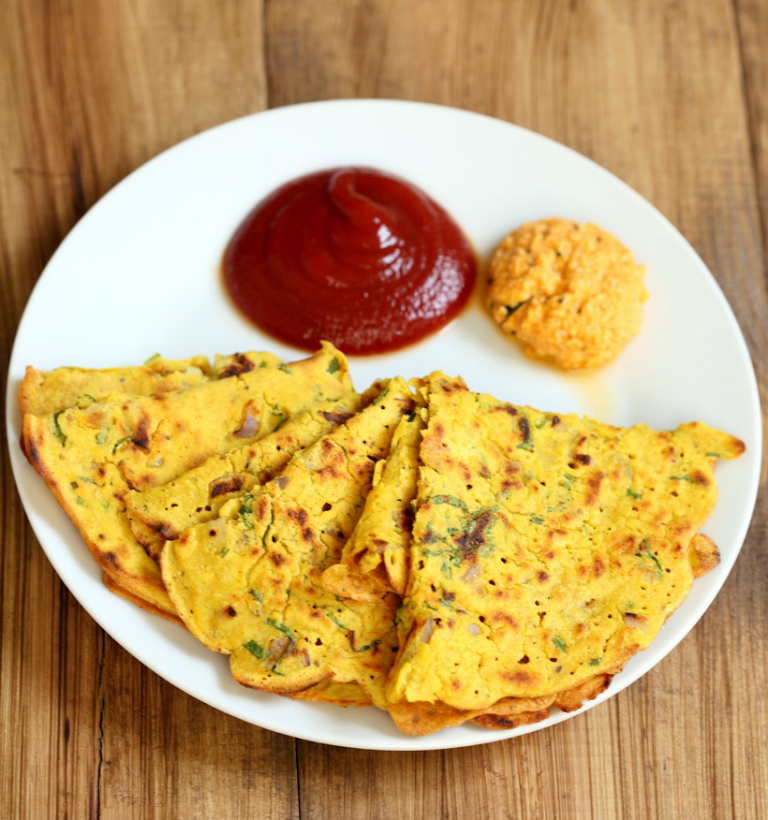 From Richa: This is my Mom's chilla recipe. It is also known as pudla. The classic Indian pancake made with chickpea flour is a popular breakfast in North India. These chillas in the simplest form are easy and perfect for breakfast, a snack, or a side flatbread. For a veggie omelet version, add less water for a thicker batter and add leavening such as baking powder. Add finely chopped vegetables such as zucchini. (Recipe from Vegan Richa's Indian KitchenCopyright © 2015 by Richa Hingle. Used by permission Vegan Heritage Press, LLC.)
Ingredients
1 cup chickpea flour, garbanzo bean flour, or besan
1 ½ cups water
¾ teaspoon salt
¼ teaspoon turmeric
¼ teaspoon cayenne
¼ teaspoon carom seeds or cumin seeds
½ cup finely chopped red onion
1 hot green chile, finely chopped (remove seeds to reduce heat)
¼ cup packed chopped cilantro
1-2 tablespoon + 1 teaspoon safflower oil, divided
Instructions
In a bowl, combine the chickpea flour and ¾ cup water. Whisk to get a smooth consistency. Whisk in another ½ to ¾ cup water to make a thin lump-free batter. (If using besan, you will need less water).
Add the salt, turmeric, cayenne, carom seeds, onion, chile, cilantro, and 1 teaspoon of oil, and mix well. Let the batter sit for 5 minutes.
Heat a skillet over medium heat. When the skillet is hot, drizzle a few drops of oil on the skillet. Spread the oil using a paper towel. Pour a ladle full (¼ to ⅓ cup) of the batter onto the skillet. Spread the batter by moving the skillet to make a 6 to 8-inch pancake. Drizzle a few drops of oil on the edges of the pancake.
Cook until the edges start to leave the pan and the bottom is golden brown, 4 to 6 minutes. Flip and cook for 2 to 4 minutes. Continue to make the rest of the pancakes. Serve hot.
Yield: 8 pancakes
Prep Time: 00 hrs. 15 mins.
Cook time: 00 hrs. 30 mins.
Total time: 45 mins.
Tags: indian,cookbook,vegan richa,pancakes,chickpea
Recipe from Vegan Richa's Indian Kitchen Copyright © 2015 by Richa Hingle. Used by permission Vegan Heritage Press, LLC.