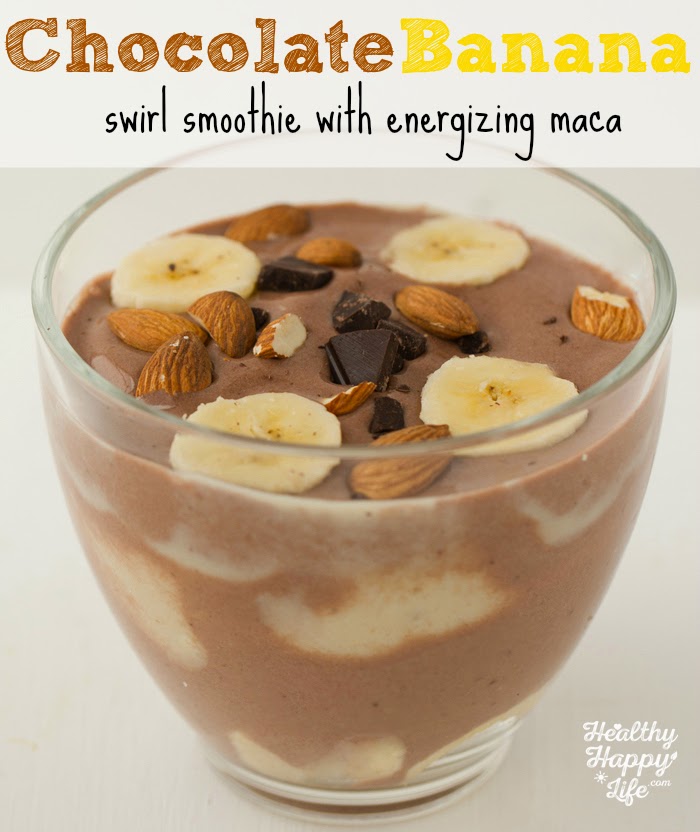 This light, frosty and delicious Chocolate Banana Swirl Smoothie contains two layers of smoothie goodness. A fresh and sweet banana layer, swirled into a rich and creamy chocolate layer, all hinted with nutmeg and nutty maca powder for an energizing boost. When you are craving chocolate, this healthy recipe satisfies. Plus get two bonus wellness beverage recipes. And enter a mini giveaway!..
Well hi. Yes, I DO love chocolate.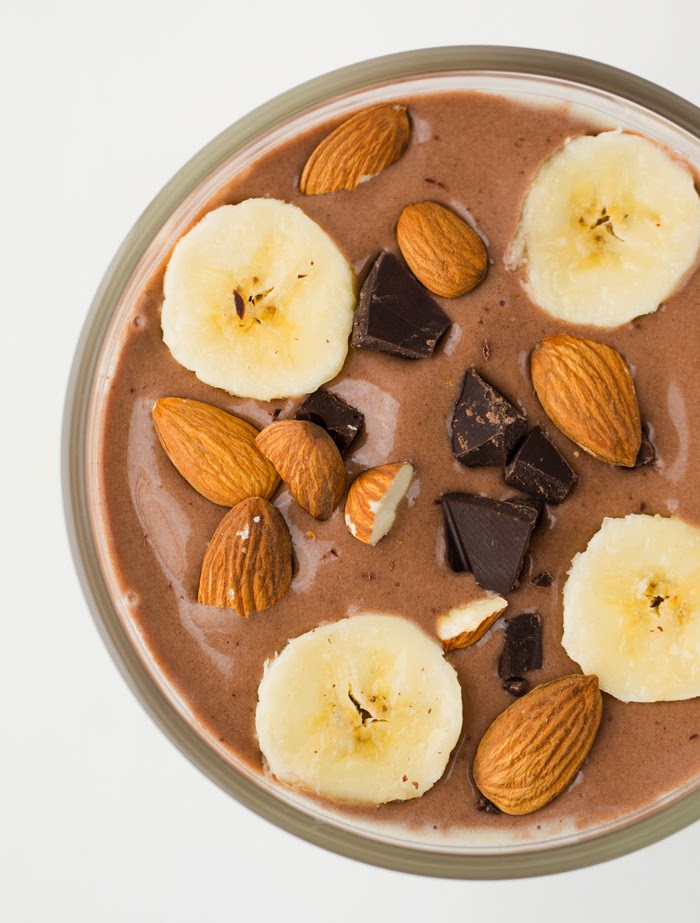 But First and First…
THANK YOU. I need to say thank you for the response to my last blog post, my Healthy Happy Vegan Kitchen cookbook pre-order bonanza. Please check out all the pre-order freebies (like a 50-page wellness guide and meal plan!) if you haven't already. Details on that here. Like HHVK on Facebook: facebook.com/HealthyHappyVeganKitchen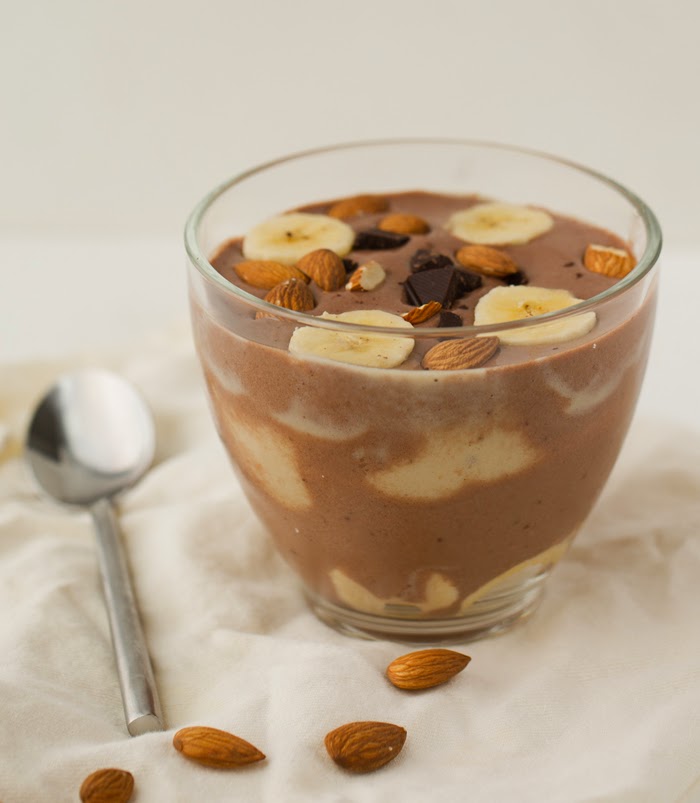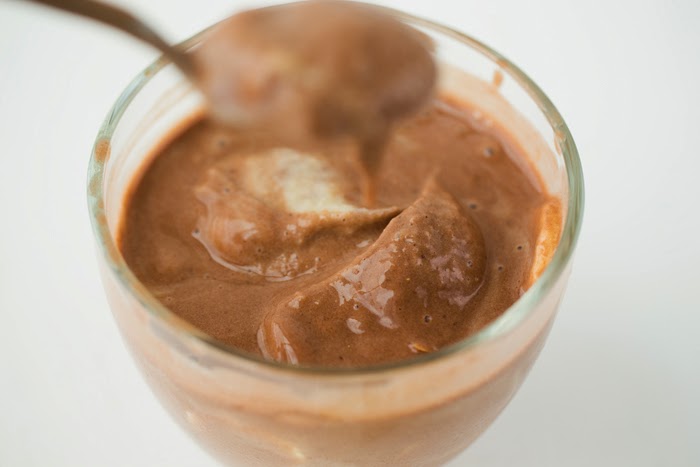 This smoothie is similar to my favorite almond banana energy shake, but instead of almond butter, I have added in some rich chocolate and maca — and a few whole raw almonds sprinkled on top for crunch-appeal. Of course if you wanted to add in a spoonful or peanut or almond butter that would be delicious too.
But as is, this is a very light and frosty-amazing blend that is low in fat and rich in banana-y C-H-O-C-O-L-A-T-E flavor. You can really taste the banana mingling with the chocolate. Naturally sweetened and dairy-free, this creamy frozen bliss is a winner!
Bananas, in case you needed a reminder, are incredibly healthy. They contain fiber, potassium, vitamins C and B6, magnesium and they are fat free. I love them because they always make my stomach feel great because I find them very easy to digest. I love the quick boost of energy from the sweetness.
I have always loved the idea that bananas are nature's energy bar. They come in their own little biodegradable wrapper (aka banana peel) and they offer up a wide variety of energy and nutritional benefits.
Another nutritional boost to this smoothie is the maca powder. I found some great info on maca over on VegKitchen, such as.. "Grown in the mountains of Peru, it has been called "Peruvian ginseng"" and among some possible benefits: mood balance, vitamins, energy, hormonal balance and more. Maca is one superfood that I highly suggest you look into adding to your smoothie-add-ins pantry. I love HealthForceNaturals product here: Healthforce Macaforce Vanilla Spice, Powder, 350-Grams
Two Bonus Recipes! Happy to share these two bonus wellness recipes for you to try, both from the wellness-savvy folks at Dole Fresh. I love this Dole Tonic, all green and amazing. And check out the pineapple-infused "Running Man" at the end of this post!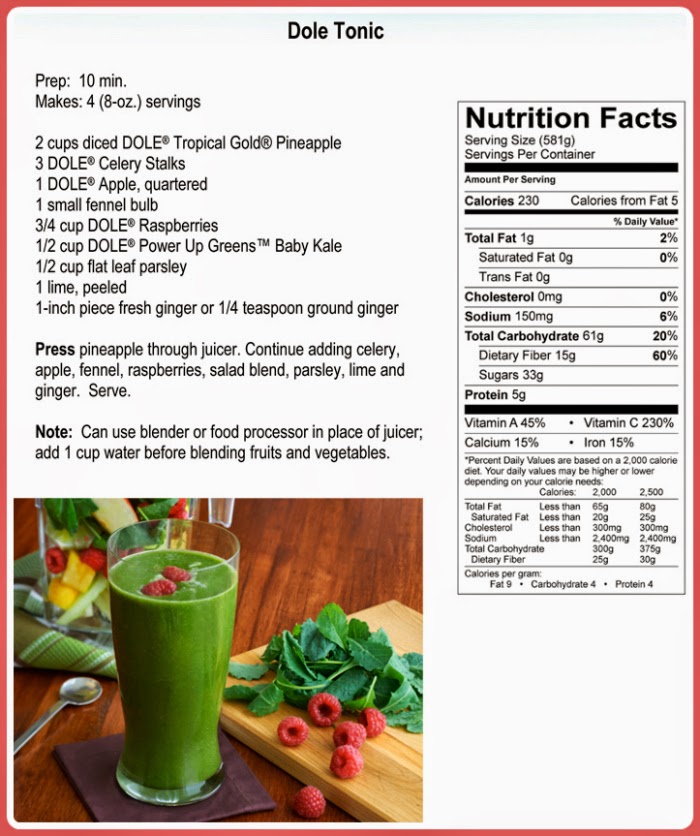 Win a Dole Yoga Mat + Copy of 365 Vegan Smoothies! Little mini giveaway for you guys who are continuing to strive for wellness in 2015! Enter to receive a bright green, totally energizing Dole Salads Yoga Mat + a copy of my book 365 Vegan Smoothies + a handful of salad and banana coupons .. because free bananas are always a good thing! Here is the yoga mat, my kitties use it just as much as me.. Entry form at bottom of post!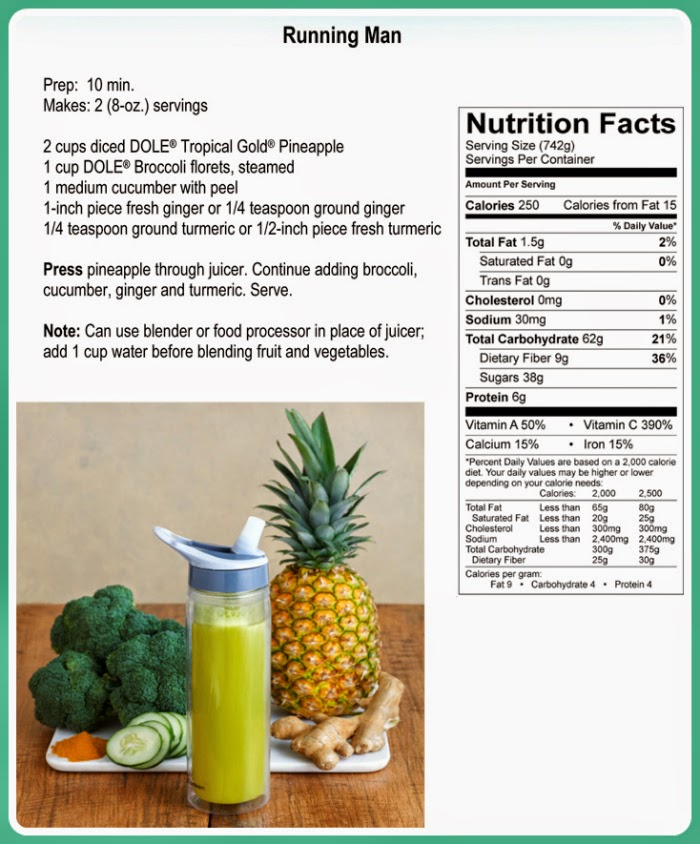 disclaimer: this post is sponsored by my friends at Dole, but all opinions are my own.
*disclosure: This post contains a Vitamix affiliate link. Ready to buy the best blender ever? Get free shipping by using my link!