This post is sponsored by House Foods Tofu.
Chocolate-covered cherries are a favorite for a reason. Well, today's dessert celebrates that flavor duo, via parfait glass..
These Chocolate Cherry Pie Tofu Parfaits are easy to make and serve up what feels like a very fancy, restaurant-quality dessert – pretty parfait glasses and all. Super silky cherry pudding mingles with chocolate accents for a dreamy, spring-inspired treat…
Cherries. It is cherry season and I am obsessed. I bought a tiny container at the farmer's market over the weekend and they were the first thing I dove into when I got home. The container was gone in just a few minutes.
Cherries are not only delicious, they are super good for you! Cherries contain powerful antioxidants like anthocyanins and cyanidin. They are also rich in fiber and vitamin C. They even contain, iron, calcium and vitamin A.
For today's recipe, you can use fresh or frozen cherries. Frozen pitted cherries are a bit easier and swifter, but fresh will be even more fancy.
Tofu Pudding Parfaits. These parfaits are made easy, silky and protein-packed by using House Foods soft tofu. The texture is ah-mazing, with that accent of coconut oil to thicken things up and all the lovely sweetness from the sweet-tart cherries and maple syrup. The crumbly chocolate cookies add the perfect texture pairing. Crunchy, light and crumbly alongside soft, silky and rich.
Before adding the cherry topping..

Glam Them Up Even More. Add a garnish of a chocolate dipped cherry on top! I wish I had though to do that for the photos! simply rinse and dry fresh cherries (dry well) – melt some vegan chocolate, dip and chill in the fridge until the coating is hardened. Use as a pretty + delish garnish! (If using fresh cherries, just remember to tell your guests that the cherries are not pitted. Or pit them before dipping.)
50 Plates. This recipe is part of the House Foods 50 Plates of Tofu recipe campaign that brings to life one tofu-based recipe for each state. Follow along here.
My '50 Plates of Tofu' Posts so far:
– California Avocado Toast
– Southwest Tofu Burrito with Avocado
– Creamy Cashew Tofu Pot Pie
– Gooey Butter Cake
– Cherry Tofu Parfaits
Also follow along on the House Foods Facebook Page.
More About Tofu. I love that tofu is incredibly versatile and can be used in both sweet and savory recipes. Tofu is an excellent source of complete plant-based protein. House Foods Tofu comes in organic and conventional product lines and is always Non-GMO Project Verified.
disclosure: this post is sponsored by House Foods Tofu's 50 Plates Series, but all opinions are my own.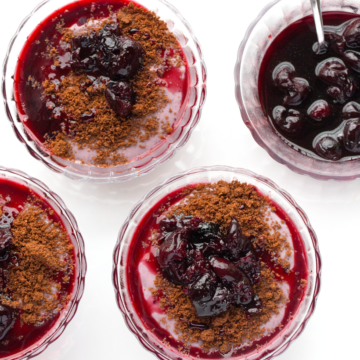 Chocolate Cherry Pie Tofu Parfaits
This dreamy pudding parfait combines all the flavors of a chocolate covered cherry and the best pie ever. Creamy, rich, cherry tofu pudding swirls with chocolate cookie crumble and easy stovetop cherry topping. This is a Utah-inspired cherry dessert your family will fall in love with. 
Print
Pin
Ingredients
Pudding:
1 package House Foods Tofu, soft


⅓ cup maple or agave syrup


⅓ cup virgin coconut oil, melted


¾ teaspoon vanilla extract


1 cup pitted cherries (frozen or fresh)


¾ teaspoon salt

Also:
1 ½ cups crispy vegan chocolate cookies (any brand)

Cherry Topping:
1 cup pitted cherries (frozen or fresh)

¼ cup vegan sugar
 
Instructions
Add the vegan chocolate cookies to a blender or food processor. Blend until processed into fine cookie crumbs.

 Evenly distribute the cookie crumbs between the four serving pudding dishes, reserving about two tablespoons of cookie crumbs for the topping.



Add the pudding ingredients to a blender and process until smooth.

Pour the pudding over top the cookie crumbs in the dessert cups. Add a sprinkle of the leftover cookie crumbs over top each of the desserts. Cover cups with plastic wrap and place the dessert cups in the fridge. Reserve any leftover pudding in a separate dish – or make larger pudding sizes.



For the cherry topping: Add the cherries and sugar to a small sauce pot. Warm over medium-high heat, stirring briskly as the mixture bubbles and the sugar melts. Cook for about 2-3 minutes, or until the cherries have softened into a pie filling-like texture. Remove from heat and pour this topping into a separate small bowl. Place in the fridge. (Note: if you want a thicker consistency, add 1 teaspoon cornstarch to the mixture.)

Chill the pudding and topping for at least a half hour, longer for a more firm texture.

 Serve by spooning the cherry topping over top the pudding.