If you love reaching for a 'bar' when you want a quick energy snack or a healthy treat, these homemade vegan bites and bars are your ticket to satisfying your craving the homemade way.
I like to call these "Mini Moon Bars" and "Trail Truffles" because of the nutty raw trail-mix-y goodness in each bite and because they kinda remind me of "Luna" bars which I have always loved. With some raw Lara-bar-ness built in too.
The Flavors. Nutty seeds like sunflower and pumpkin seeds mingle with buttery raw walnuts which are rich in omega-3's, minerals and healthy fats. Add in some sticky sweet brown rice syrup, creamy raw almond butter, a few secret spices and an optional coating of maca-infused dark chocolate for an energizing treat worth dreaming about. Make a batch of these bites, lock them in your freezer and enjoy them all week long…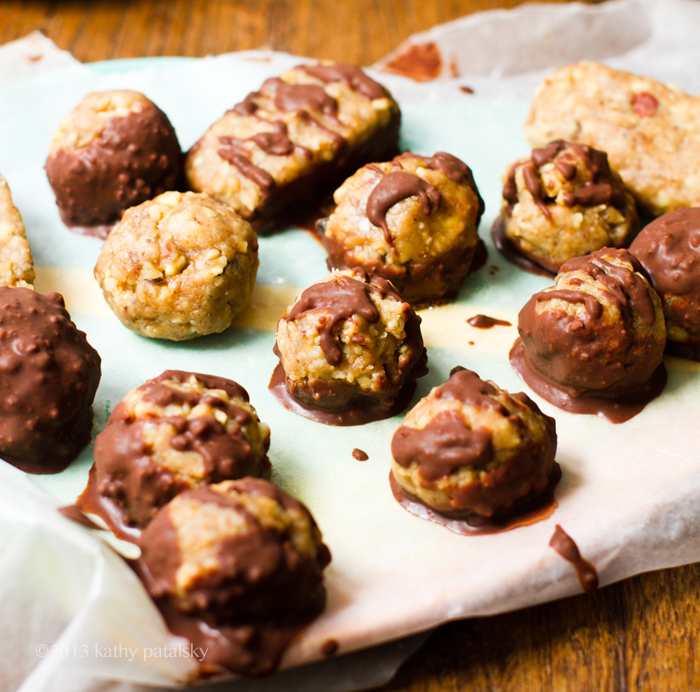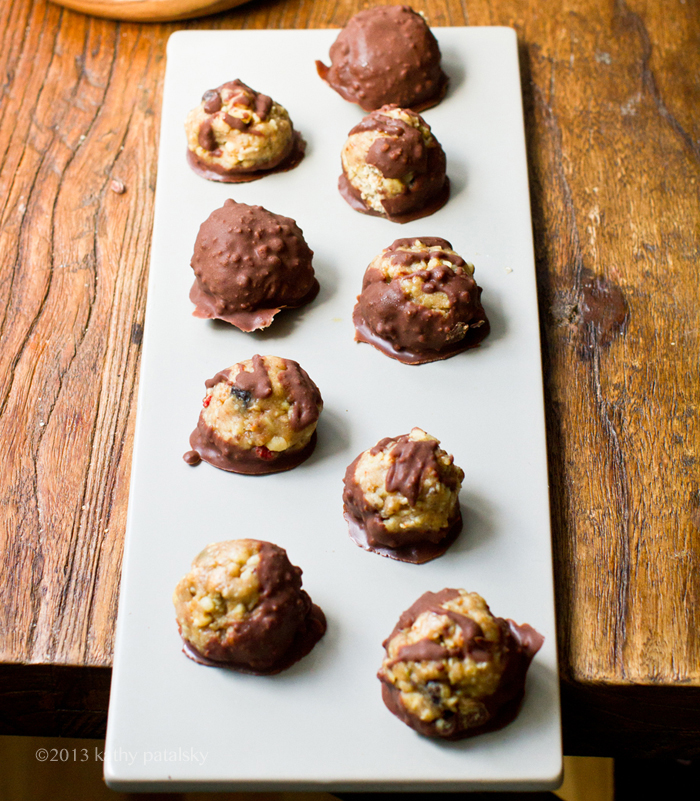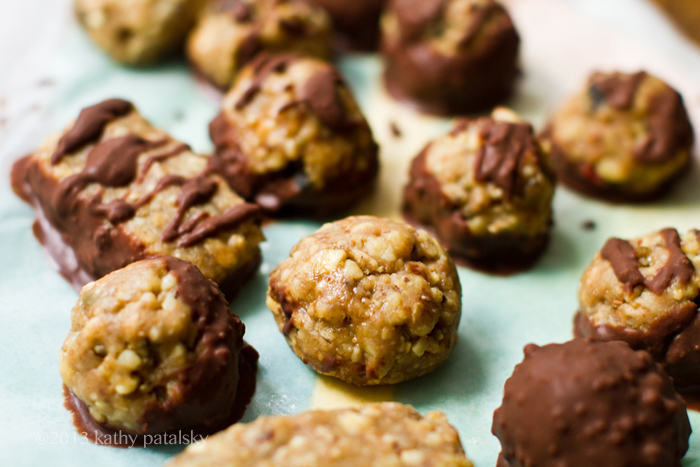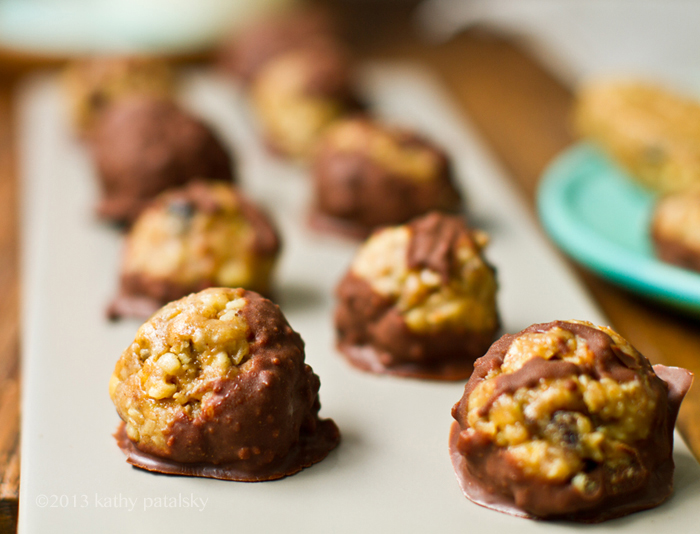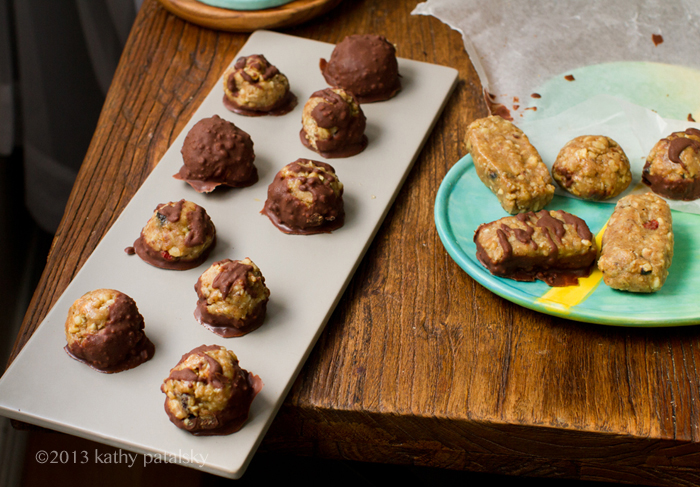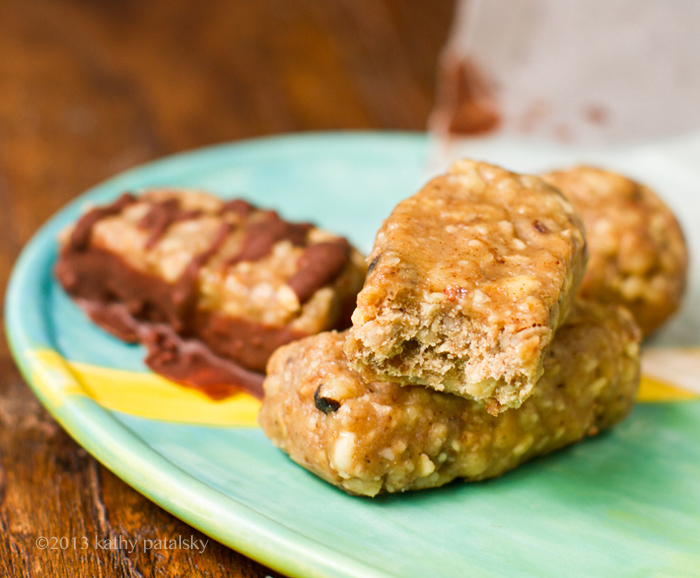 Healthy Stuff…
Walnuts.
Sunflower seeds.
Maca powder sprinkled into the melted chocolate drizzle.
Organic brown rice syrup as the sweetener.
Raw almond butter.
Sweet chewy organic raisins (or another dried fruit of choice!)
Optional goji berries.
Antioxidant rich dark chocolate.
And anything else you want to toss in the mix! (The best part is these bites and bars are totally customizable to whatever trail mix-style ingredients you currently have in your pantry.)
Servings. This recipe makes 18 bites or about 10 mini bars.
I really like making mini bars because these bites are so dense and rich that you just need a few bites to satisfy.
Each bite is around 80 calories. So mini bars are around 150 calories. (A tad less than 2 bites in one bar.) (Chocolate drizzle not included in calories)
Puff it. Lighten the Load! If you want to enjoy larger portions of these treats without increasing the calorie content, simply add in some puffed rice or another grain you love. Adding puffed grains like rice will create a crunchier texture if that is what you are craving.
You will want to make these bites again and again, so creative options are in order!..
A few must-try add-ins:
* Green-it! Add in some spirulina powder to make these bars green-infused! just like your favorite store-bought "greens" bars.
* Seed-it! Chia or flax seeds are an easy addition to these bars.
* Double Cacao! Add a heaping teaspoon of raw cacao powder to the mixture for double chocolate bars and bites!
* Protein-infused. Toss in your favorite hemp, pea, rice or other protein powder to add an extra boost of protein to each bite. (If you use stevia-sweetened protein be sure to reduce the brown rice syrup a bit.)
Raw Option: Make these bites raw by omitting the chocolate. Be sure to use all raw nuts and nut butter. But if you want "raw" chocolate smothering your bites – you can make your own raw chocolate drizzle by warming organic coconut oil and blending in raw cacao powder. It will harden like a dream upon chilling.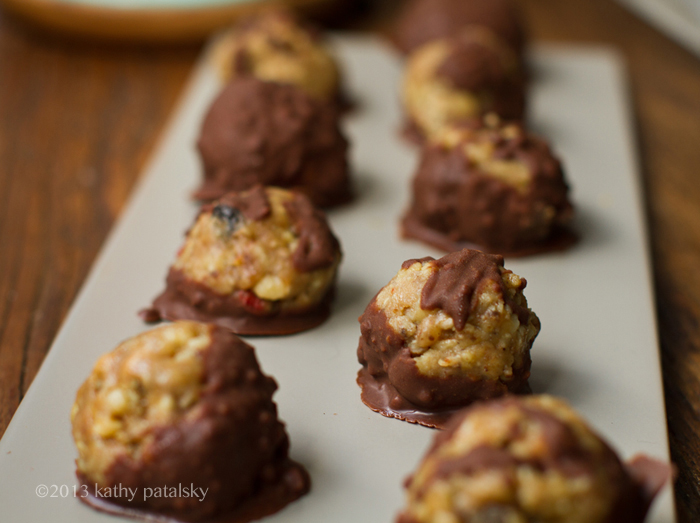 Chocolate-Covered Almond Butter Energy Bites or Bars
vegan, makes 18 bites or 10 mini bars
½ cup raw sunflower seeds
¼ cup raw pumpkin seeds/pepitas
¼ cup organic raisins (or do half raisins and half goji berries)
½ cup Raw Walnuts
1 tablespoon organic coconut oil (refined or unrefined works)
2 ½ tablespoon brown rice syrup
3 tablespoon almond butter
¼ teaspoon cinnamon
⅛ teaspoon vanilla extract or use raw vanilla bean seeds
dash of nutmeg (optional)
Chocolate-Maca Drizzle:
1 tablespoon organic coconut oil
¼ cup dark chocolate chips
1 teaspoon maca powder
Directions:
1. Add your seeds and nuts to a food processor or Vitamix. Process until smooth – with a few chunky bits as well. I like a mix of fine nut/seed meal with chunky bits too.
2. Add the raisins to the mixture and blend for a few more seconds so that the raisins are roughly chopped.
3. Add the nut mixture to a medium mixing bowl. Warm the almond butter, brown rice syrup and coconut oil until it is in a thick liquid state (a few seconds in the microwave will do this). If you want your bars raw, you can allow the ingredients to naturally come to room temperature until soft enough to stir together.
4. Fold the almond/coconut mixture in with the nut mixture. Add the spices and vanilla too. Fold until well combined.
5. Place the mixture in the freezer for a few minutes to firm up just a bit.
6. Melt your chocolate in the microwave or make your raw chocolate. (Gena has a great recipe here!)
7. Start rolling balls or forming your bars by hand. Dip them in chocolate (or not) and lay them on a lightly greased piece or parchment or wax paper. Drizzle chocolate over top as desired.
8. place in the freezer. The bites should be firmed up in just about ten minutes. Store in your fridge or freezer. These will stay delicious for a good month in your freezer since they are high in healthy fats from the nuts and high-fat foods usually freeze quite well.
Next time I am going to make "spirulina-infused bites! With mac-chocolate on top of course.."